February is here! It's a fun month for gross motor planning with a variety of different ideas to make movement fun all February long. With events such as the Super Bowl and Valentine's Day, February gross motor can be a breeze. I'm excited to share with you different February gross motor planning ideas to get you started on the right foot with all your planning needs.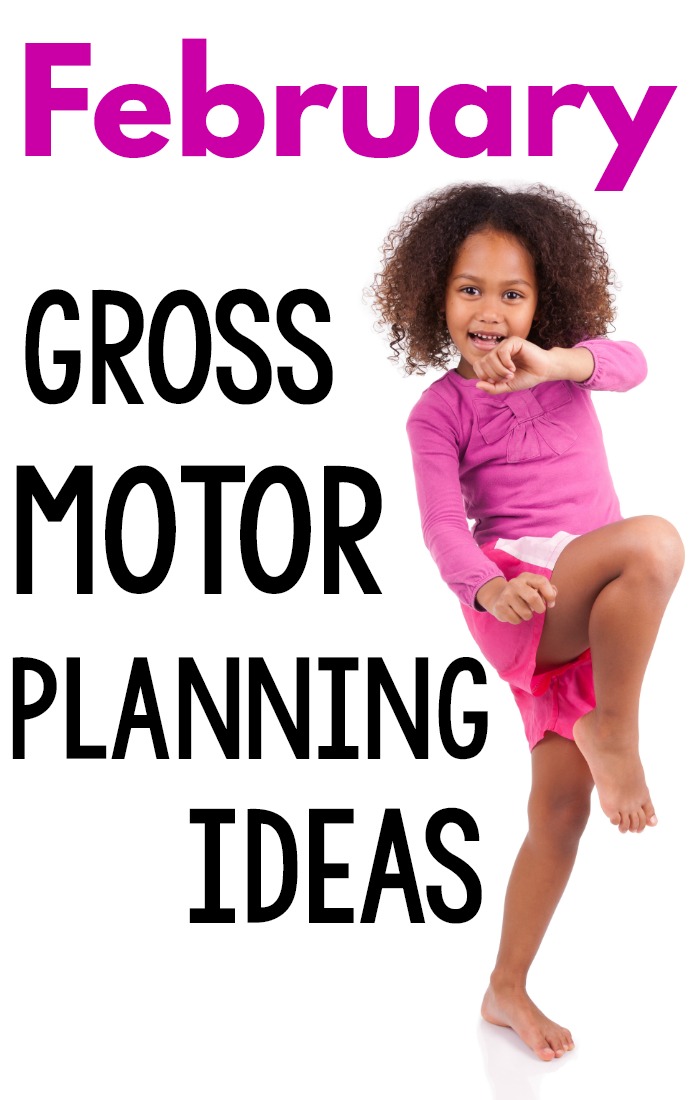 February Gross Motor Planning Ideas
February gross motor planning is broken down into four different weeks. Check out all of the freebies included! There is also a bonus Patriotic Yoga Freebie included in the planning to go along with Presidents day!
Groundhog's Day
Not necessarily a themed week but a little extra for Groundhog's Day. Punxsutawney Phil is out looking for his shadow, this game is all about shadows! In this game kids move their bodies to imitate the shadow figure.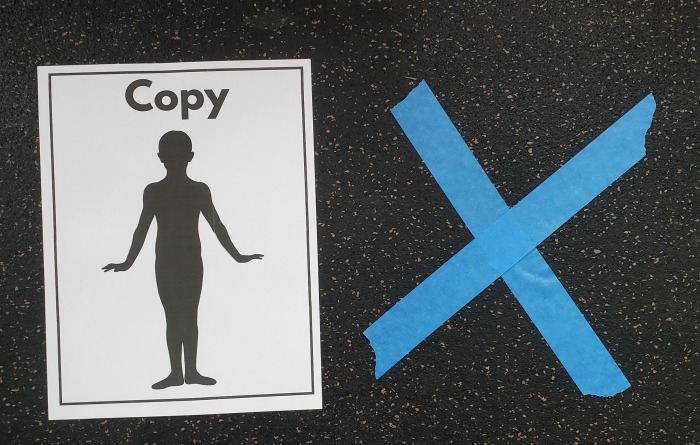 READ ABOUT THE GROUNDHOG'S DAY GROSS MOTOR ACTIVITY HERE
Football Week (Super Bowl)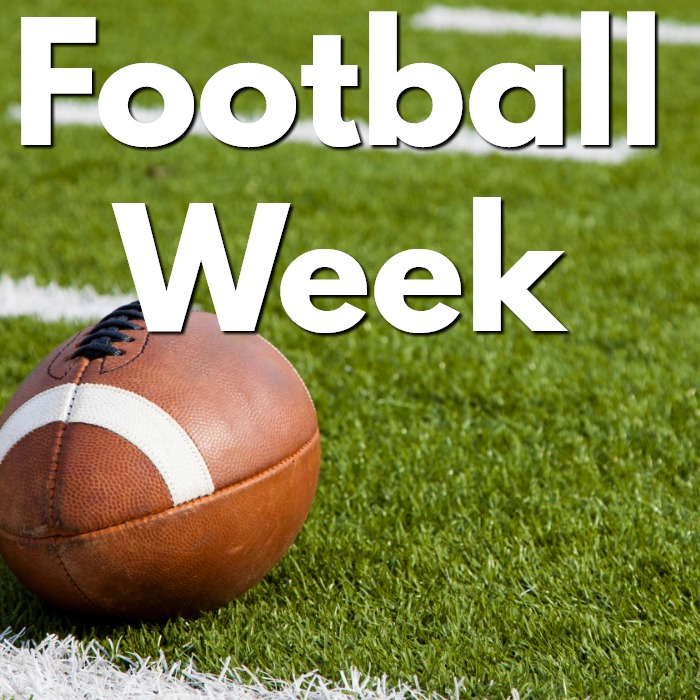 Football Week – This week may take part at the end of January into the beginning of February or may be bonus activities during your week. It's perfect timing to try these football based activities when the Super Bowl or Pro Bowl is taking place. I like to use these activities both the week before and after the Super Bowl, but they can really be used year round especially for your football crazy kids!
I love the fact that Football brings in gross motor activities such as agility drills (get free agility cards in the freebie library) and would even be a fun time to incorporate some Tabata as football players would!
If you need a fun game start off with a free football themed gross motor matching game that is available in the Freebie Library!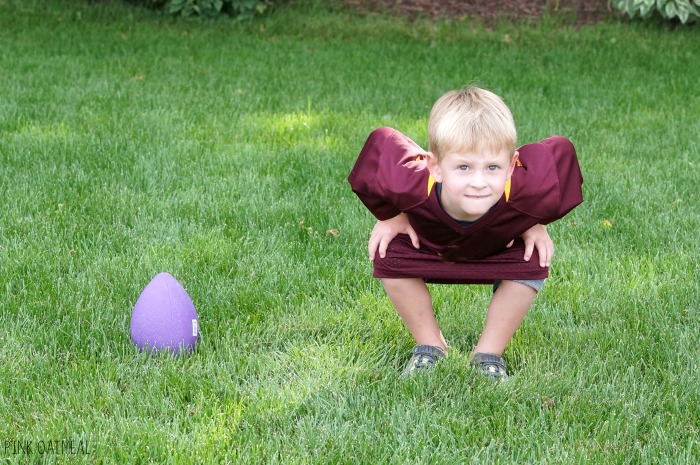 Fast, fun, and effective movement can be achieved with these quick and easy football gross motor and brain break moves. Read about all of the different ideas for incorporating fast and fun football themed movement.
Go Digital With Football
Pink Oatmeal has fun ways that you can bring the football or Super Bowl theme digital. The Football themed digital gross motor game can be played in person or used for distance learning/teletherapy. This can be played on a tablet or computer. You can even print it out and use the game as printables.
GET THE FOOTBALL THEMED GROSS MOTOR GAME
Sports themed yoga
is another excellent activity that is perfect for football week.
Fine motor activities perfect for this week can be found in the Sports Fine Motor Activities Pack.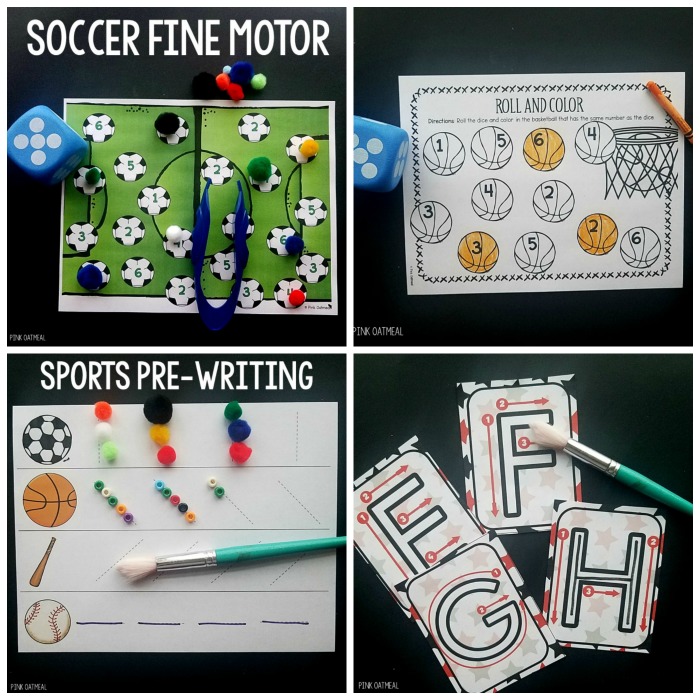 February Motor Planning – Valentine's Day Week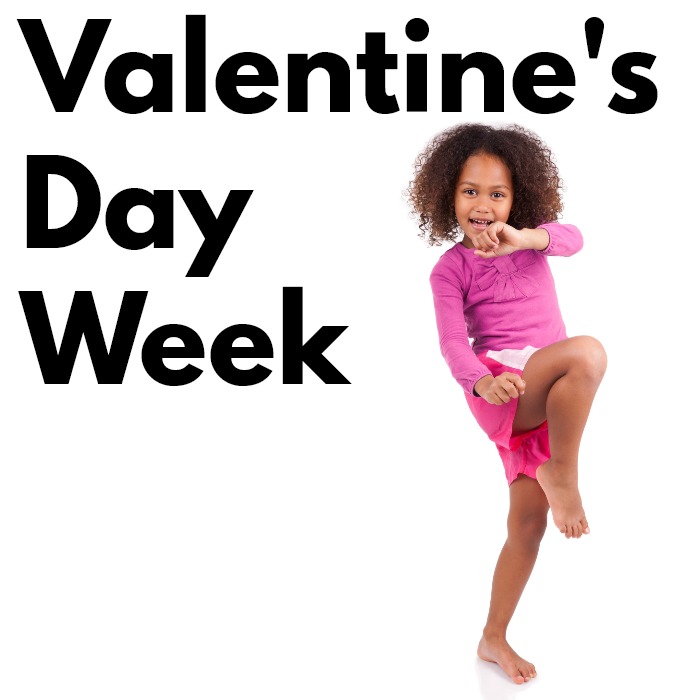 READ ALL OF THE VALENTINE'S DAY MOTOR PLANNING IDEAS
Start off with Valentine's Day Yoga. Try these pose ideas with a Valentine's Day theme!
Need fast, fun, and effective? Check out these Valentine's Day brain break ideas.
The Conversation Heart Hop is a great way to move with a Valentine's Day theme. This can also easily be played in musical chairs form!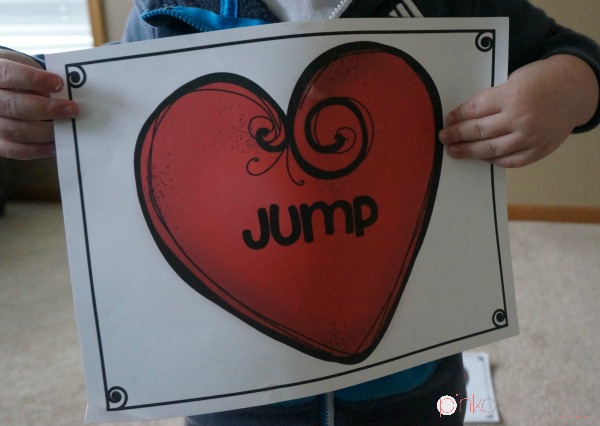 Try the Valentine Delivery Relay and see how fast the Valentine's can get delivered!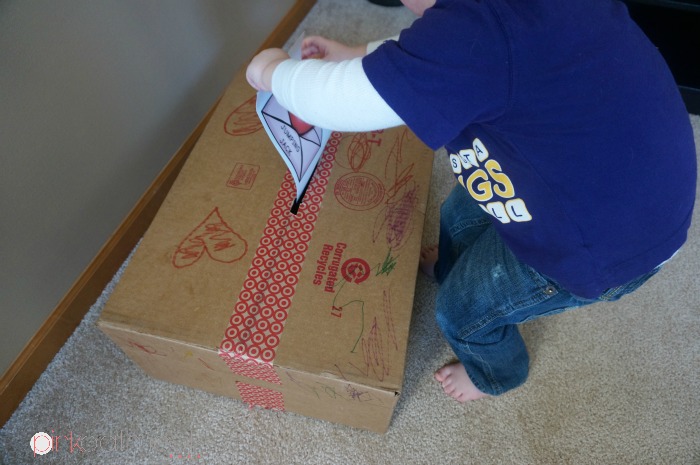 See even more fun Valentine's Day Gross Motor ideas here!
The Conversation Heart Digital Brain Break Game (PowerPoint Game) is so much fun! Watch the kids move their bodies as the timer counts down. Great to play on an interactive whiteboard, computer or tablet!
The
Valentine's Day Dance
board game is a fun matching and moving game that is available for members only.
The Valentine's Day Monster Wheelchair Movement Game is a must try! Pick a monster, meet the monster and get to know their name. Try the movement that your monster requests!
GET THE VALENTINE MONSTER WHEELCHAIR MOVEMENT GAME
Creating obstacle courses or motor/sensory paths are fun and pretty easy with the
Valentine's Day Sensory and Motor Path printables
. I especially like how easy it is to change them up by switching up the printables or changing the arrangement. Check out one way of setting it up in the video below. I also love to add the handprints to the wall for more vertical surface work! The
Valentine's Day Fine Motor Activities
are a must for Valentine's Day week. Read all about the different
fine motor activities for Valentine's Day
.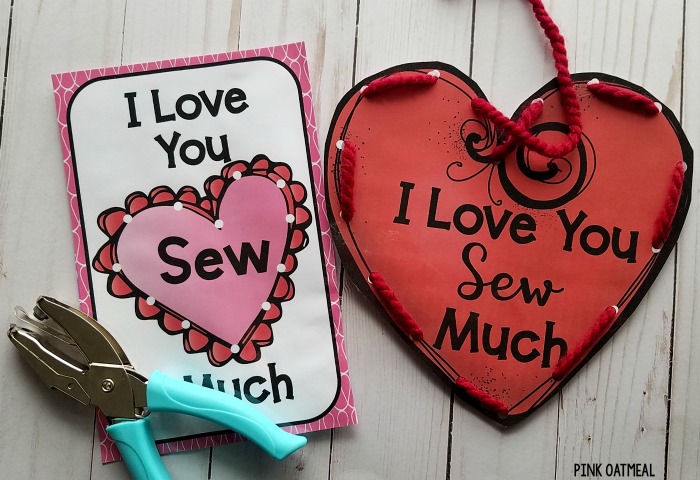 Get your free Valentine's Day Flowers fine motor activity in the freebie library.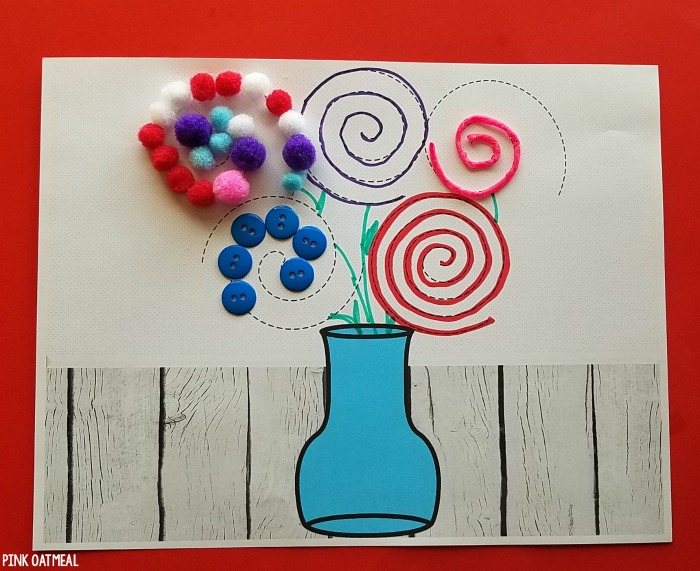 .-—-> READ ABOUT EVEN MORE VALENTINE'S DAY MOTOR PLANNING ACTIVITY IDEAS HERE <——
February Gross Motor Planning – TRANSPORTATION WEEK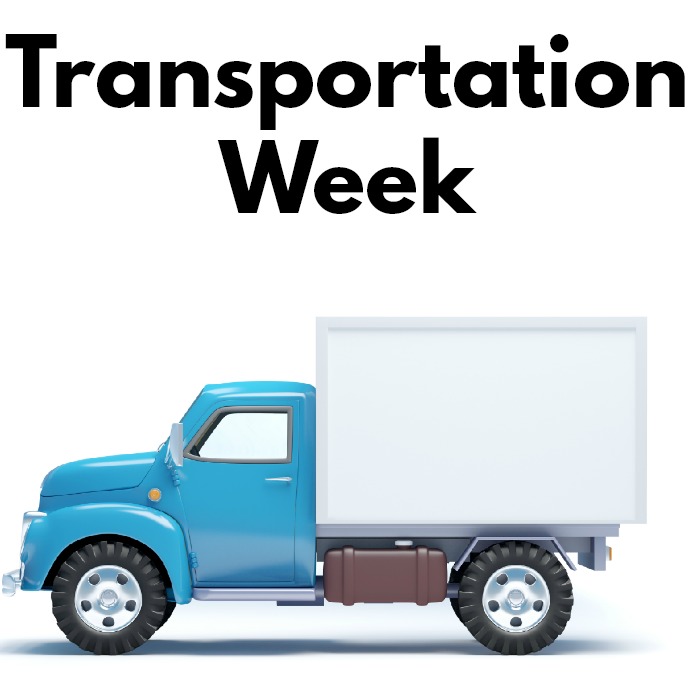 Transportation is a fun theme to incorporate during the month of February. It's fun and the kids love things that go making it easy to make the kids move with this theme. See all the transportation gross motor planning ideas here!
Start off by grabbing Transportation Brain Break freebies from the freebie library and move like all different transportation vehicles.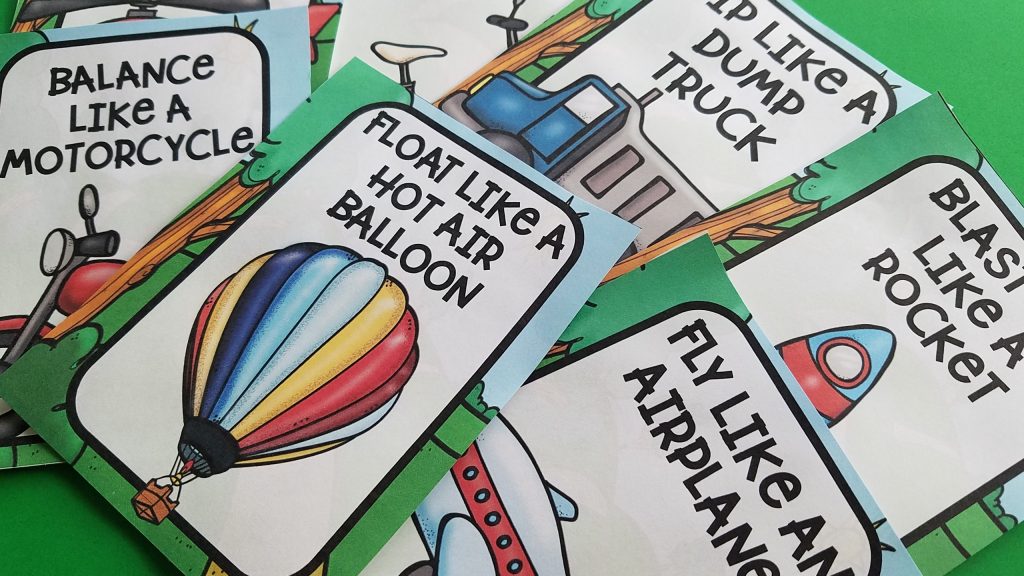 Try out these transportation yoga ideas! Pose like a plane, boat, or try some hot air balloon breathing!
Much like the bobsled races, car races can be done with a transportation theme. Use a laundry basket and race along the carpet. Incorporate pushing or pulling in this activity.
Do you have bigger trucks or cars that can be pushed or raced? These are great for racing along tape lines.
Work on the vertical surface. With matchbox sized cars create tracks on paper or use tape on the wall. Move the cars along the roads. Great for using the upper extremities. Do this activity in standing or high kneeling.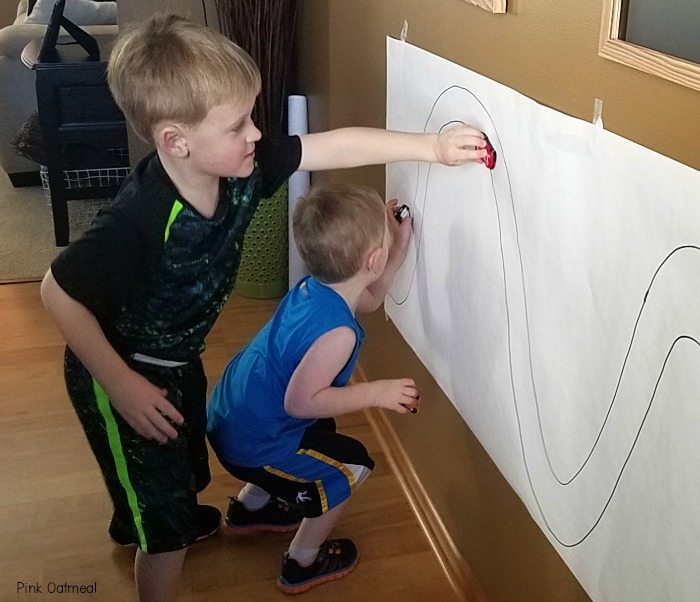 Scooter boards, push toys, or riding toys are perfect with this unit. Set up cones to work on driving through! Get parking signs!
Train track agility drills are another great way to work on gross motor skills. Draw a train track as an agility ladder and use these Train Track Agility cards.
For all of your transportation themed fine motor activities the Transportation Fine Motor Activities Pack pack is a must. This pack includes several fun fine motor activities that go perfect with the transportation theme.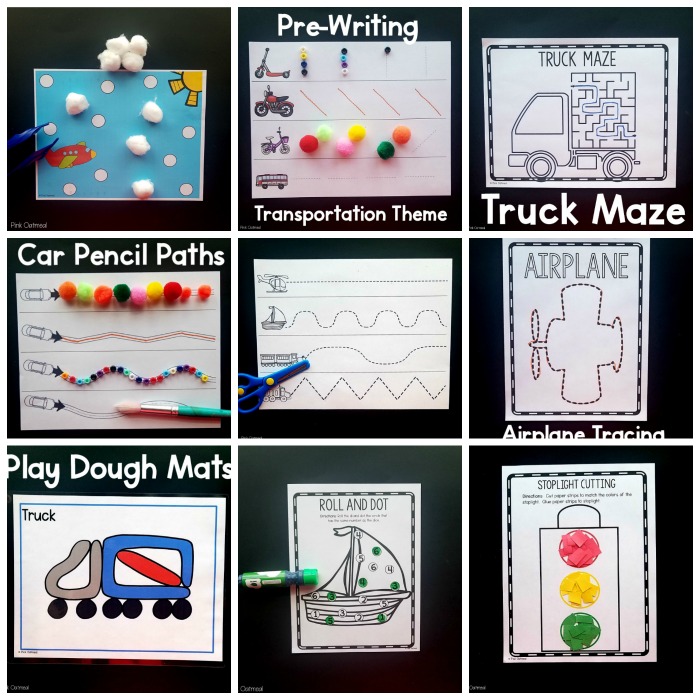 –—-> READ ABOUT EVEN MORE TRANSPORTATION MOTOR PLANNING ACTIVITY IDEAS HERE <——
February Gross Motor Planning – Pet Theme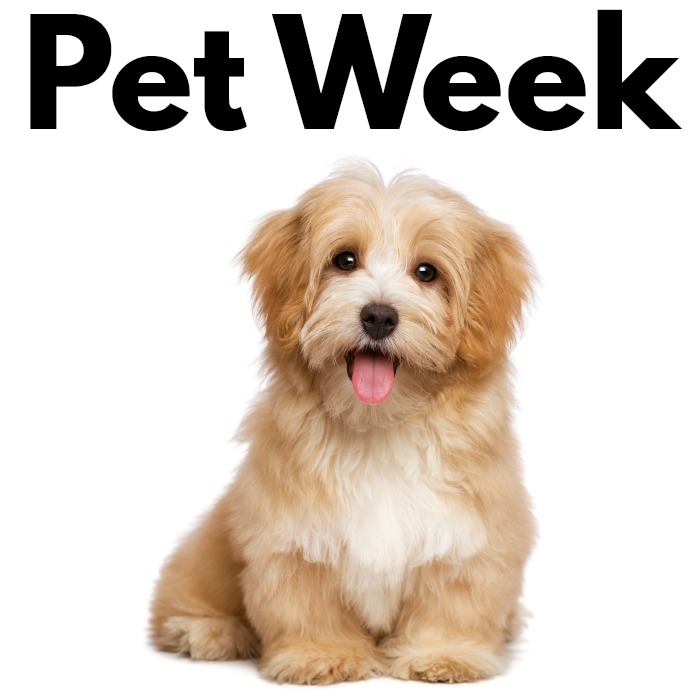 Who doesn't love their pets!?! How many kids do you know that talk about their pets all the time? Being animals, pets are fun and easy to incorporate into gross motor!
Start off with these pet themed yoga ideas. Pose like your dog, cat or goldfish!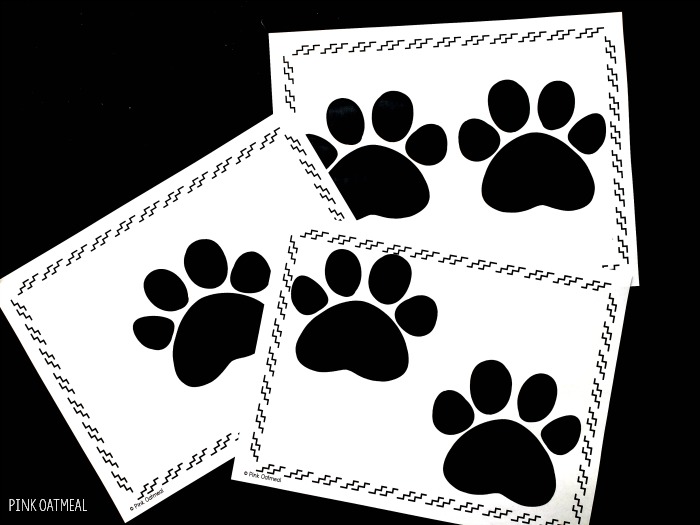 Doggy prints motor and sensory paths. are a great way to work on gross motor skills this week. Set up a course of pet foot prints to follow. This is a great activity for motor planning.
Bean bag in bowl using dog dishes (check the dollar store) or baskets are great for this unit to work on eye-hand coordination. Line up the dishes and have the kids toss the bean bags in.
Kibble Transfer – An easy game where you can use real pet food, cereal or cotton balls. The idea is to work on transferring the kibble while staying stable on an exercise ball.
Check out more fun ways to move like an animal.
For your pet themed activities, the Pet Themed Fine Motor Activities Pack is everything you need. This pack consists of several fun ways to work on fine motor skills with a pet theme.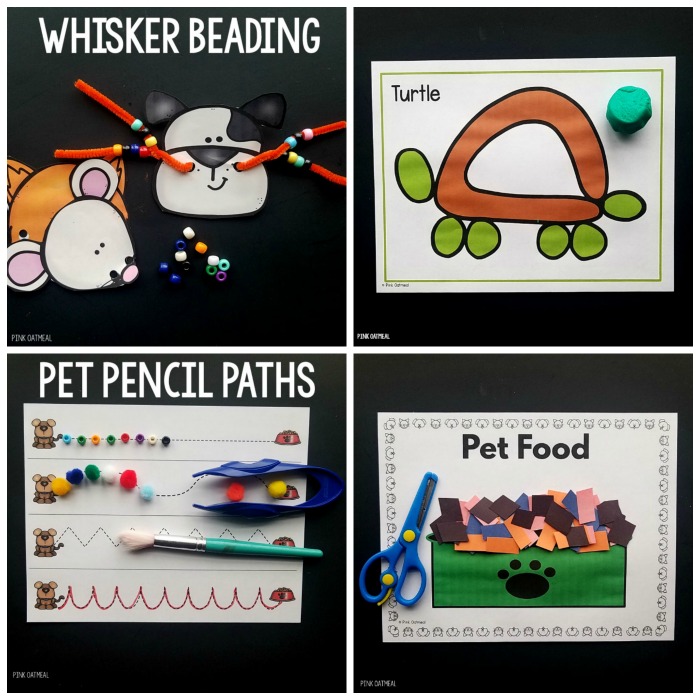 ——–>READ ABOUT EVEN MORE PET MOTOR PLANNING IDEAS HERE<——–
Patriotic BONUS + Freebie
February is busy for gross motor planning! Be sure to grab your Patriotic Yoga freebie in the freebie library. This is perfect to add to your gross motor planning around President's Day!
Pink Oatmeal members only also get access to Patriotic Fine Motor Activities in the member bonus section.