With Valentine's Day quickly approaching it's the perfect time to add this theme into your fine motor and gross motor activities. Fine motor with conversation hearts and cupid is the best. At a young age (3-5) I'm not a big fan of tons of worksheets, but instead working on fine motor through manipulatives and play as much as possible. Check out some of the fun Valentine's Day themed motor activities!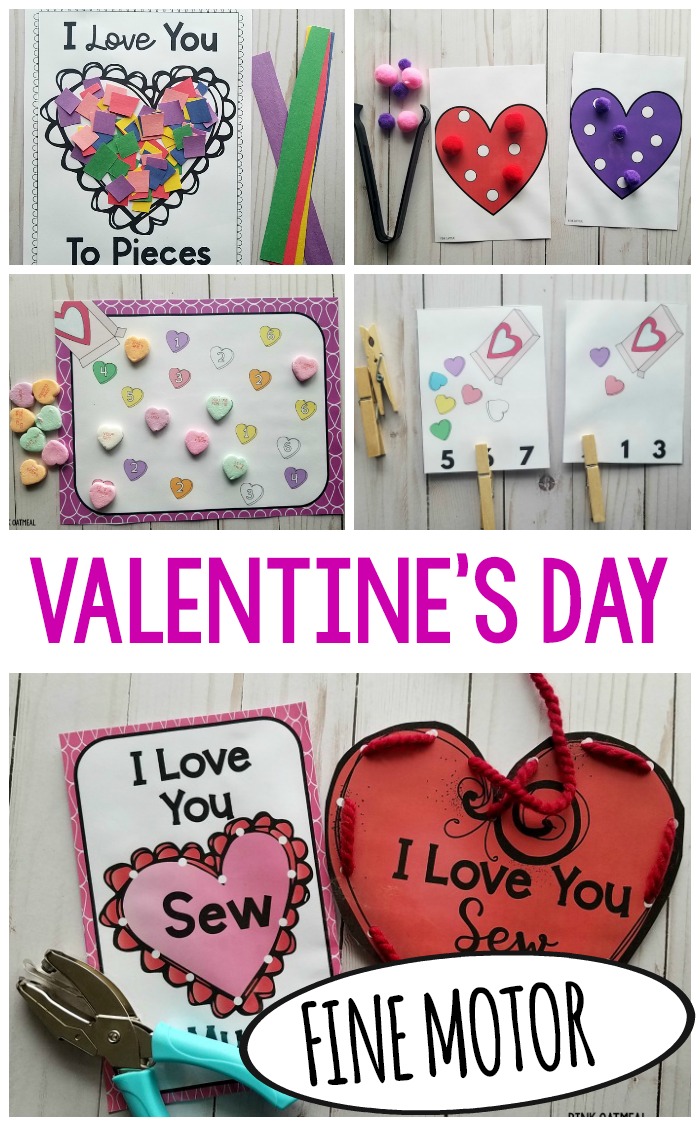 Valentine's Day Fine Motor Activities
Affiliate links are used below to promote products I recommend. These links will have the word affiliate before them. I receive a commission if any purchases are made through these links. Please see my
disclosure policy
for more details. Valentine's Day is perfect for fine motor and gross motor skills. Check out some of these fun Valentine's Day gross motor activities. This week we've been trying out some fun Valentine's Day fine motor and my preschooler has put his stamp of approval on these activities. Instead of begging for the iPad during his "quiet time" he's starting to ask what "game" he can do today. We have all of these activities available for you in the
Shop
!
Valentine's Day Flowers – Freebie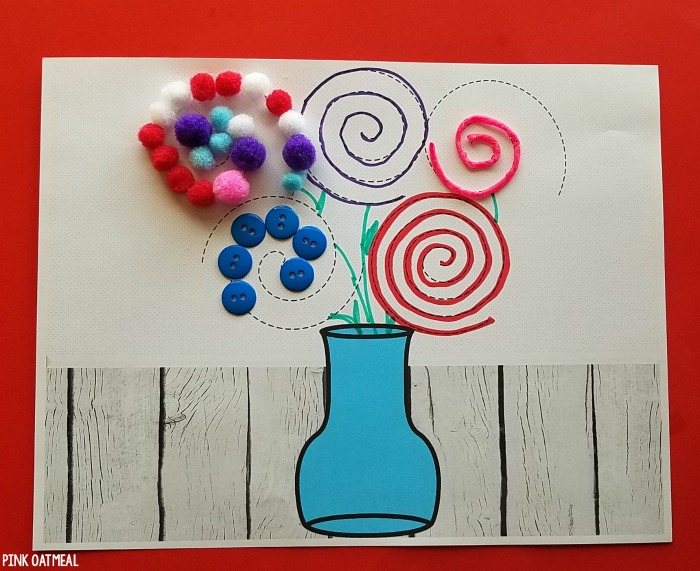 Start off with this fun flower themed freebie. Print off the sheets and laminate if you want to use them over and over. If you prefer one time use these would be fun for a Valentine gift. Use Wiki Sticks, Crayons, Markers, or manipulatives to create your vase of Valentine's Day flowers. This freebie can be found in the
freebie library
.
Conversation Heart Roll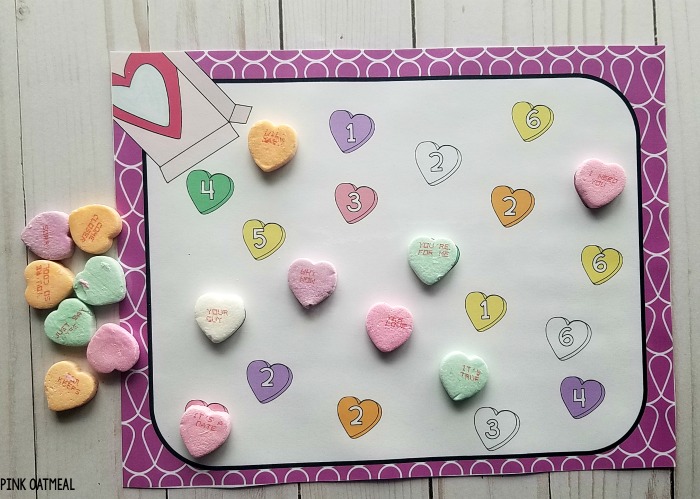 Print and laminate conversation heart board for longevity. Roll the dice. Find the conversation heart that has the same number as the dice. Cover that heart using a conversation heart. Use the tongs, tweezers, fingers etc. to transfer the conversation heart to the game board. To increase the challenge, match the color of the conversation heart as well.
Heart Pom Sort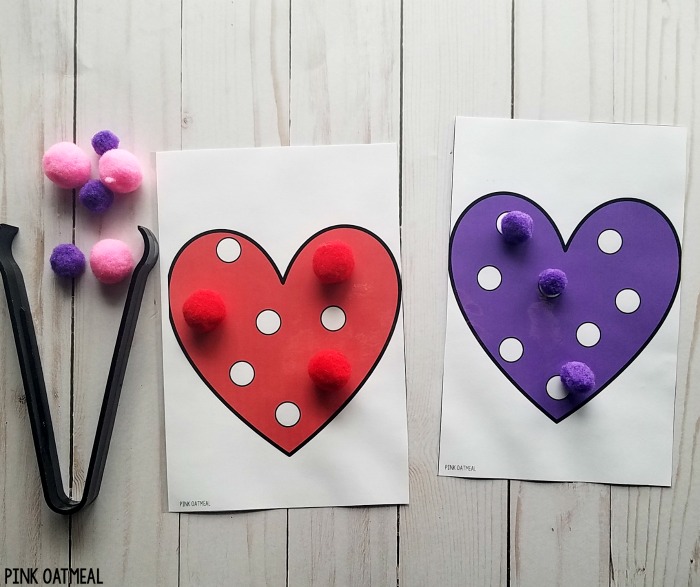 Laminate and cut out hearts. Using a card stock paper will make the skates more durable and last longer. Place Poms in a container or nearby. Use tongs, spoon, or hands to match poms on correct color skate.
I Love You To Pieces Cutting and Glue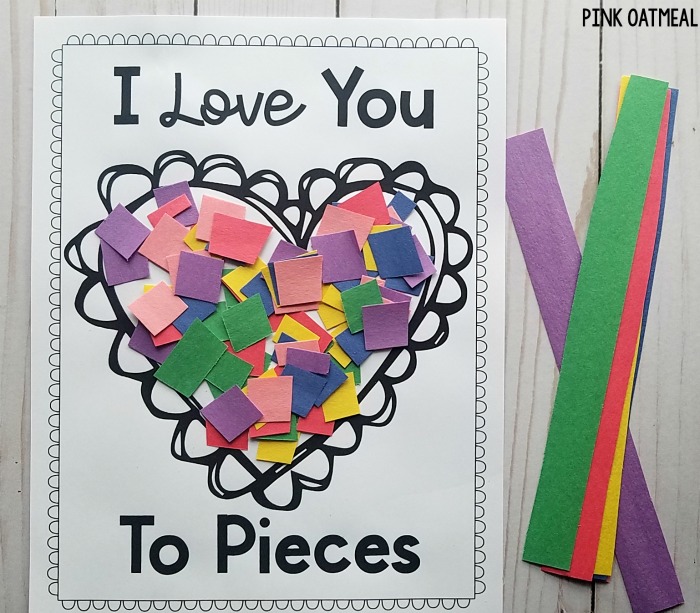 Print the I Love You To Pieces Sheet. Using a variety of different scrap papers cut small pieces of paper to fill up the heart! Use glue to add the pieces of paper to the heart.
Valentine's Day Lacing Cards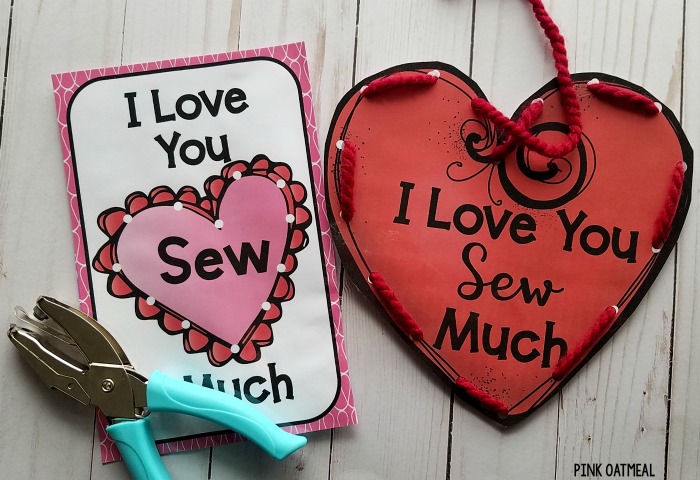 Print and laminate (optional) lacing hearts. Using a card stock paper will help to make the cards last longer so they can be used year after year. Use a hole punch to punch out the lacing holes – great fine motor activity. Lace around the heart using string, yarn, or shoe laces. Two sizes are included for your ease and ability to punch holes (depending on your hole punch). This also works as a great project to bring home!
Conversation Heart Clip Cards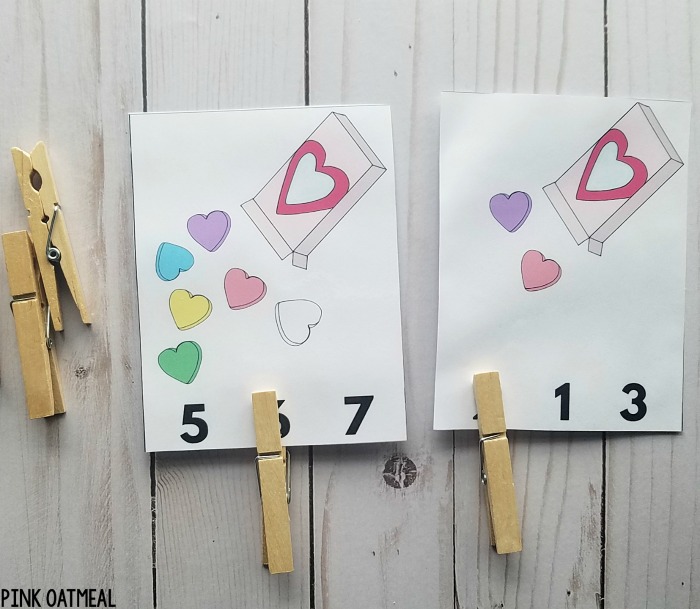 Laminate and cut your conversation hearts card. Place the clothes pin on the correct number indicated by the number of conversation hearts on the card. Cards are for numbers 0-12. This also works on one to one correspondence skills!
Valentine's Day Pre-Writing Strokes
Here are two different Valentine's Day Fine Motor Activities. The first is pre-writing strips.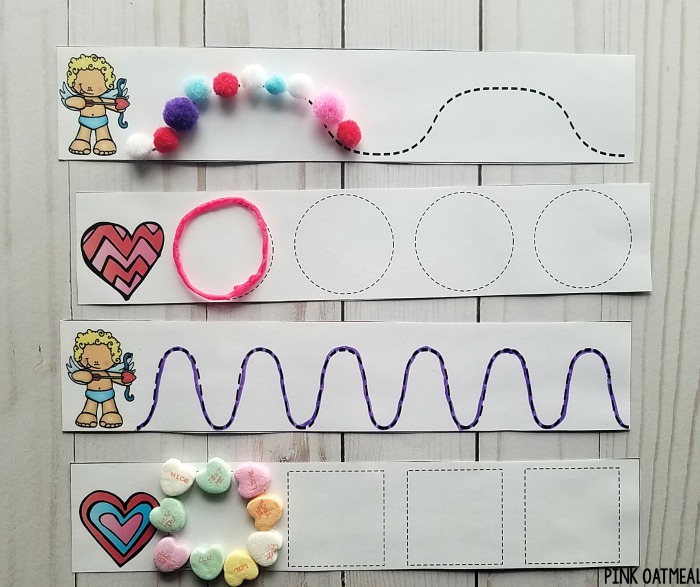 Laminate and cut out pre-writing strips Use a dry erase marker for writing so it can easily be wiped off lamination and re-used again. Pre-writing strips can be practiced in multiple ways. Use of fingers to follow lines. Follow the lines with a paint brush Use materials such as Wiki Stix to go over lines and shapes. Follow the lines with pipe cleaners. Follow the lines with manipulatives (like conversation hearts)
Valentine's Day Writing Station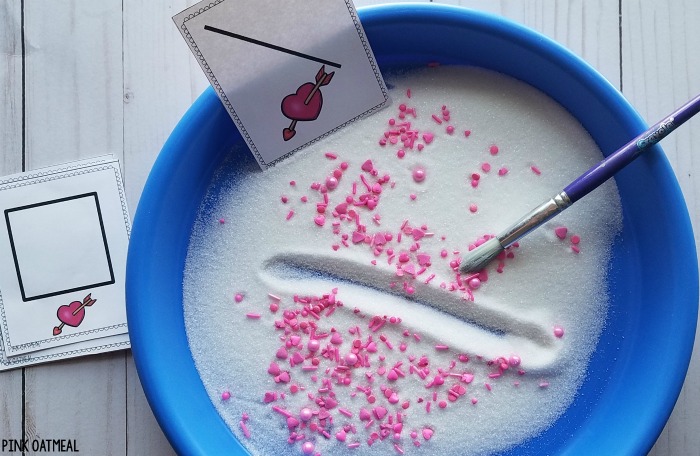 Laminate and cut out cards. Fill a tray with sand or salt. Adding glitter or sprinkles can add to the Valentine's Day Theme. Use fingers or paint brush work on pre-writing strokes and letters.
Go Digital With Pre-Writing
Pink Oatmeal has a fun and engaging digital pre-writing game that can be yours today! This Valentine's Day sea creature themed game is a cute way to engage kids in pre-writing. Pick a sea creature. Meet your sea creature and get to know their name. Try the pre-writing stroke that they ask you to do. Go back and meet more Valentine sea creatures and try more pre-writing strokes.
GET THE VALENTINE'S DAY DIGITAL PRE-WRITING GAME TODAY
This game is fun to print and play! Use a tablet or computer, print off the strips. Play the game digitally, while performing the pre-writing strokes on paper!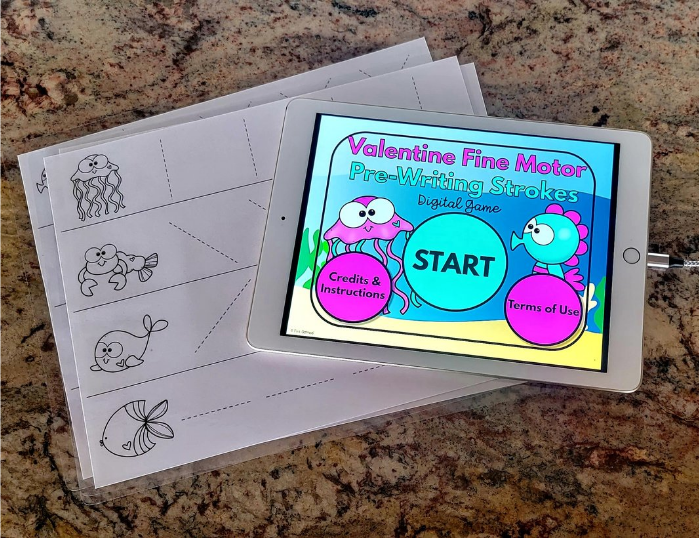 Get Your Valentine's Day Fine Motor Activities
At Pink Oatmeal we understand that you are busy. We want to make these activities easy for you so we've done the work of creating them and putting them in a pack for you. Grab all your Valentine's Day fine motor activities today! ALL of the above activities are included for you in this pack! There are 32 pages of printables so you can enjoy these now and continue to use them over and over again! Get them in the
Shop !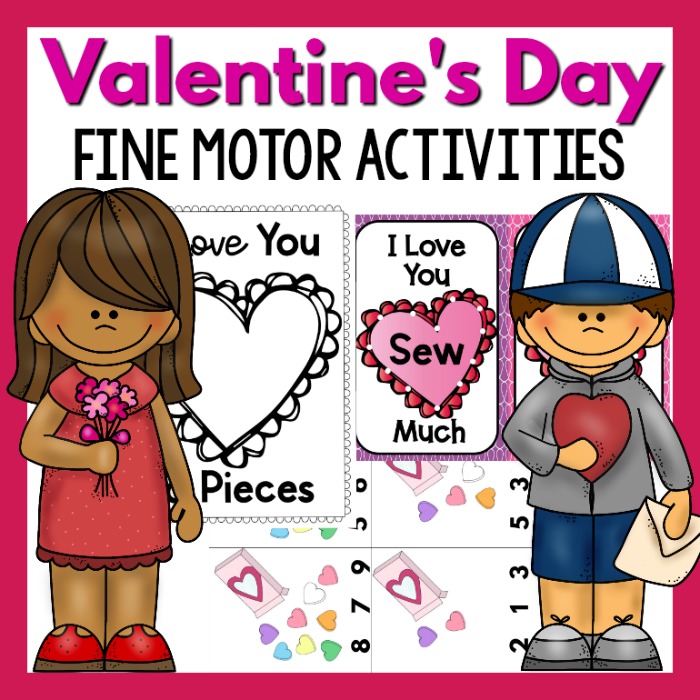 Valentine's Day Resources For You
Pink Oatmeal has a huge selection of ready made Valentine's Day resources for you! There are printable resources, digital resources, games, yoga cards, fine motor activities and more. Safe yourself time, energy, and effort by getting your hands on these Valentine's Day resources today!
CLICK HERE TO SEE ALL OF THE VALENTINE'S DAY RESOURCES FROM PINK OATMEAL
Click on the NAME of the resource to get a full description of what is included.