My three year old chose to have a transportation themed birthday party this past year.  The party was a hit with the girls and boys alike.  Often times the transportation theme will make its way into preschool as well.  If you are looking for a fun addition to this theme or for something a little extra for your transportation lover look no further!  Transportation gross motor moves are not only beneficial but a lot of fun!
 
Transportation Gross Motor Ideas
Spin Like A Helicopter
Spin in both directions!
Pedal Your Bike
Sit in a chair and move your legs or lay on your back and pedal your legs above your head!
Fly Like An Airplane
Place your arms out to the side and tip back and forth.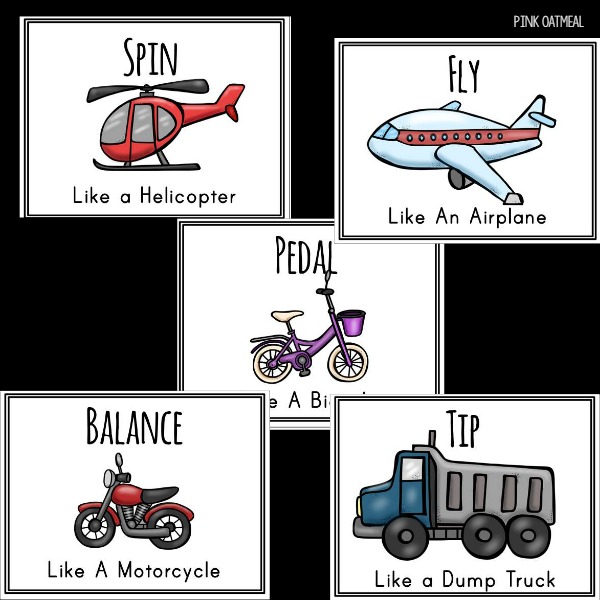 Blast Off Like A Rocket
Squat down and jump!
Tip Like A Dump Truck
Tip side to side!
Balance On Your Motorcycle
Balance on one leg!  Try it on each side.
Get these in Pink Oatmeal's Freebie Library! 
More Transportation Movement Ideas
Do you think these movement cards look like fun?  Then you must also check out Transportation Themed Yoga Ideas on the blog.  Incorporating yoga into your classroom, home, or therapy may have so many benefits.  You can also get a Transportation set of Yoga Cards and Printables. They are perfect for your transportation lover or to go with a transportation unit.  All the benefits of yoga with a transportation theme! 


I WANT TO HEAR FROM YOU
Let's connect!  Pink Oatmeal is on Facebook, Pinterest, Twitter, and Instagram!  Come follow me!
YOU MAY BE INTERESTED IN
My store at Pink Oatmeal is full of ideas to get the kids moving at home, in the classroom, and in therapy!  If you prefer Teachers Pay Teachers you can find me there too!