It's that time of the year when most people are watching football in some way.  Maybe they are just watching the big game for the commercials but football is the theme.  I love the football theme because it can be used across so many different age ranges!  Kids can really relate to it, both boys and girls.   This time of the year is the perfect time to fit in some football gross motor and fine motor planning activities!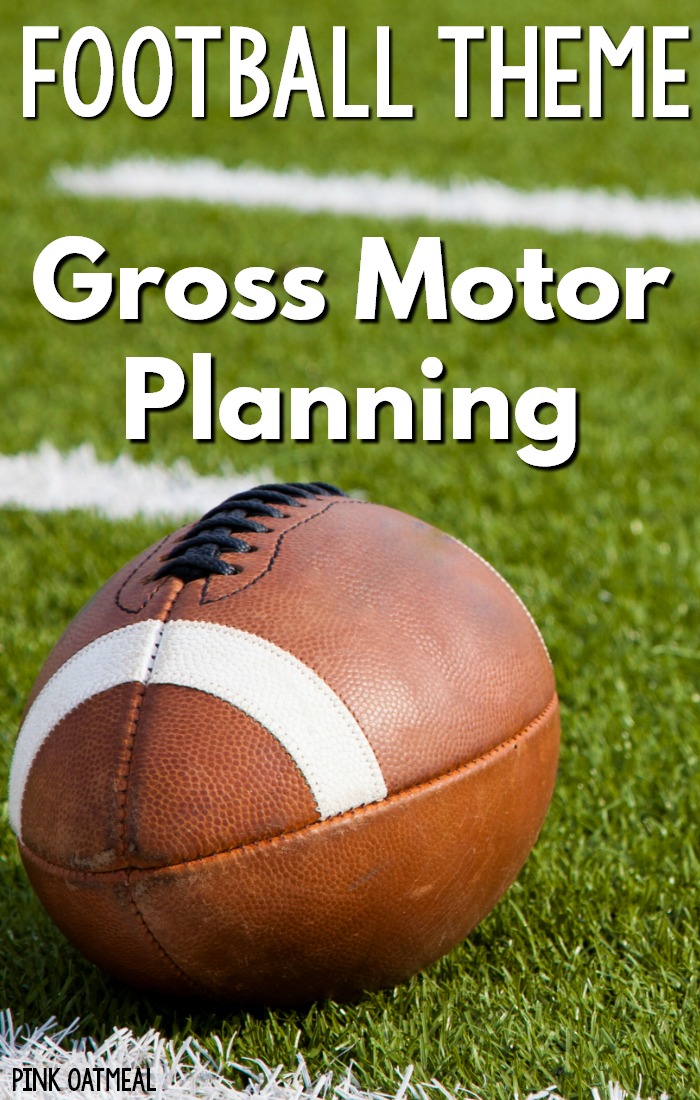 Football Gross Motor and Fine Motor Planning
All of these activities are football related with physical activity, gross motor, and fine motor in mind.  Most of these activities are fun for kids of all ages!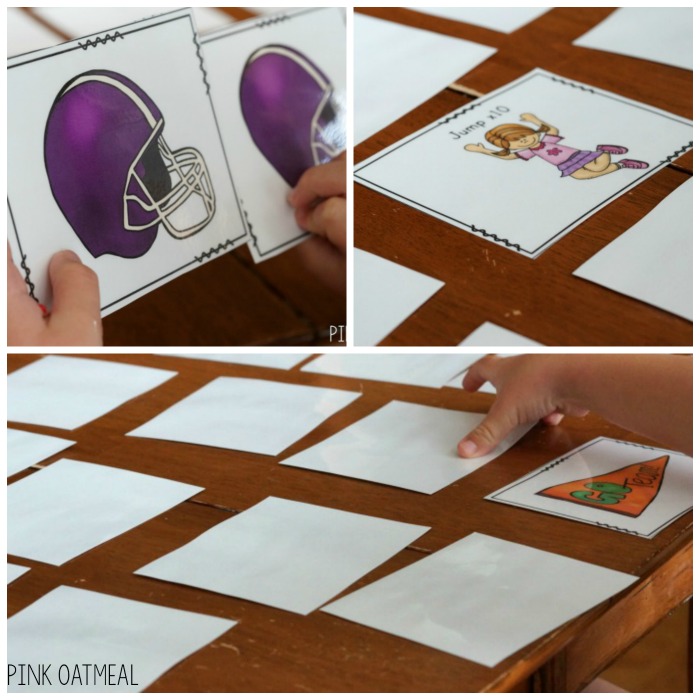 Start off with a simple football themed matching activity that incorporates movement that can be found in the freebie library.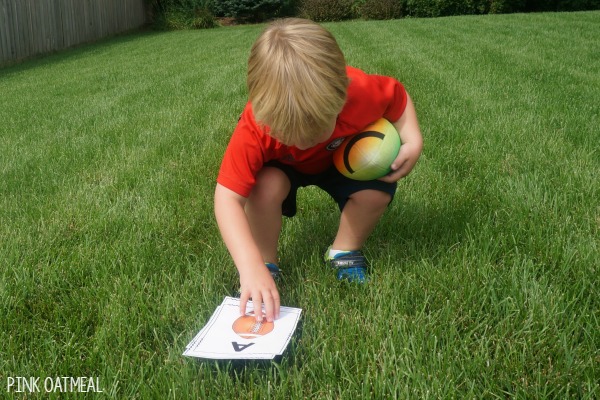 Try the football relay.  Do this in teams or as individuals.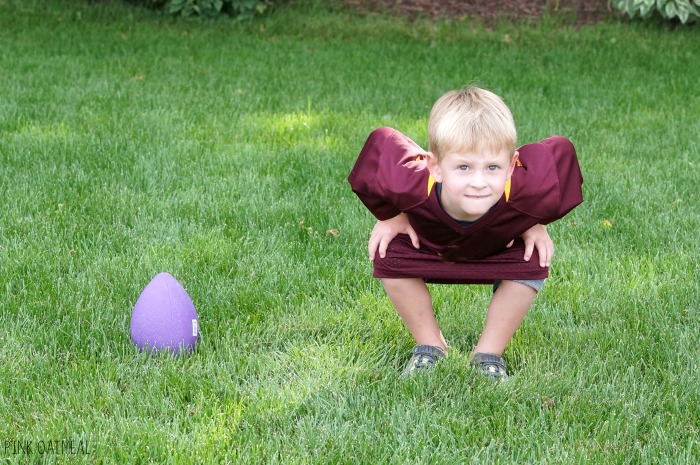 Need something fast, fun, and efficient?  Football themed brain breaks are for you! Check out all the ideas to move with a football theme.
GET THE FOOTBALL THEMED BRAIN BREAK CARDS
Basic agility drills are great at this time of the year too.  Set hula hoops down side by side and practice drills.  You could also use sidewalk chalk and do several of these agility drills.  You could spend a lot of time making different obstacle courses out of different agility drills! Use printables to change up the agility course so it seems new each time!
GET PRINTABLES TO MAKE YOUR OBSTACLE COURSE
You could even grab the free footprints out of the freebie library to change up the agility course that way! 
Football Digital games are a must try! They are great in person and for distance learning or teletherapy. 
GET THE FOOTBALL THEMED DIGITAL MOVEMENT GAME
This is also a great time to work on shuttle runs or relays.
The Race to the End Zone board game is a fun and engaging dice game that involves gross motor skills!
GET THE RACE TO THE ENDZONE GAME AND MORE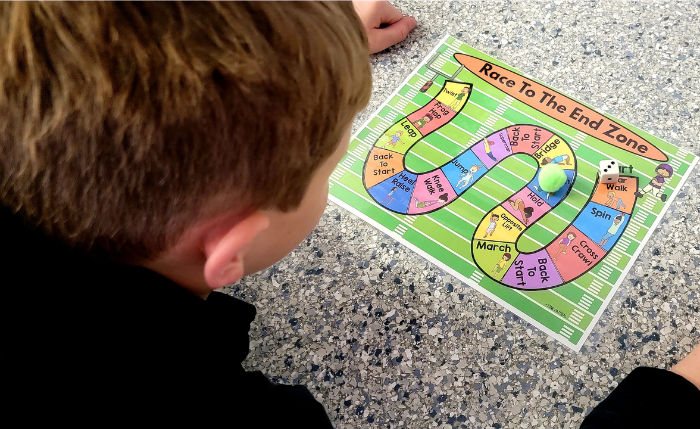 Another fabulous dice game with a football theme is field goal dice. Try to color all of your field goals to win!
GET THIS IN THE FOOTBALL THEMED MOVEMENT GAMES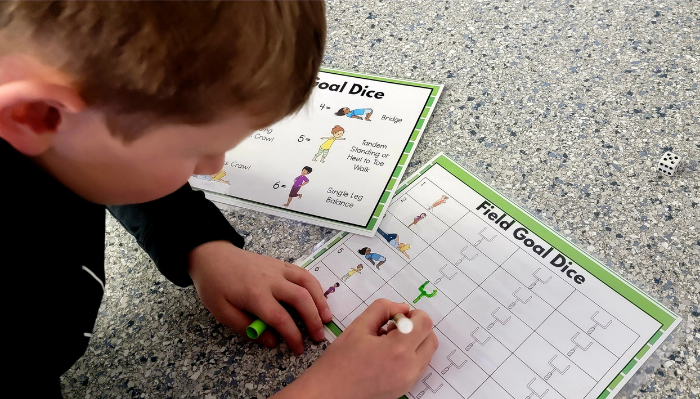 If you have  hula hoops or speed rings (affiliate link) use these to set up a tire course.
Sports yoga is another fun idea to add to your football or Super Bowl theme!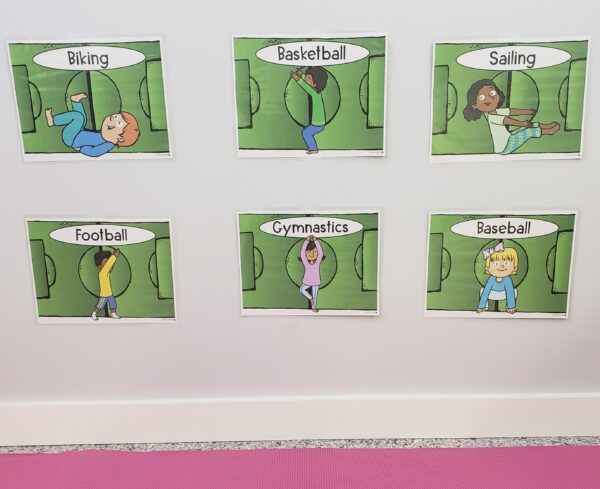 Work on the vertical surface with different challenges that stick with the football theme. 
OPTION 1: Tall kneel on a Bosu ball while coloring in the football on the vertical surface. 
GET THE FOOTBALL IN THE SPORTS FINE MOTOR PACK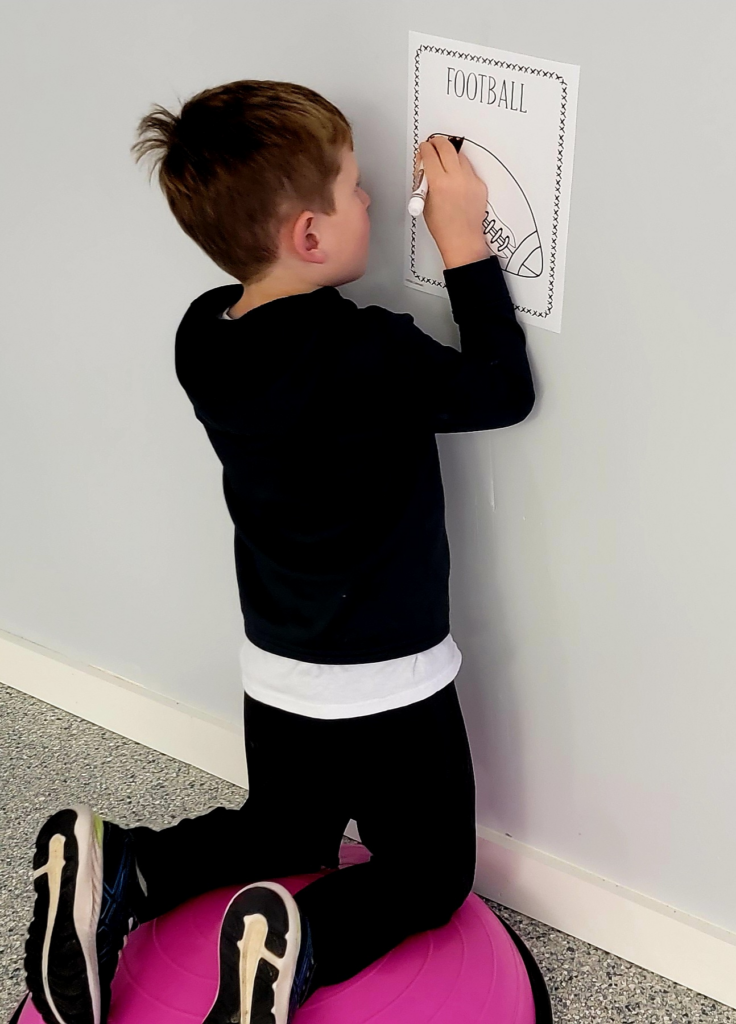 OPTION 2: Stand on a wedge and work the football themed word find!
GET THE WORD FIND IN THE FOOTBALL THEMED MOVEMENT GAMES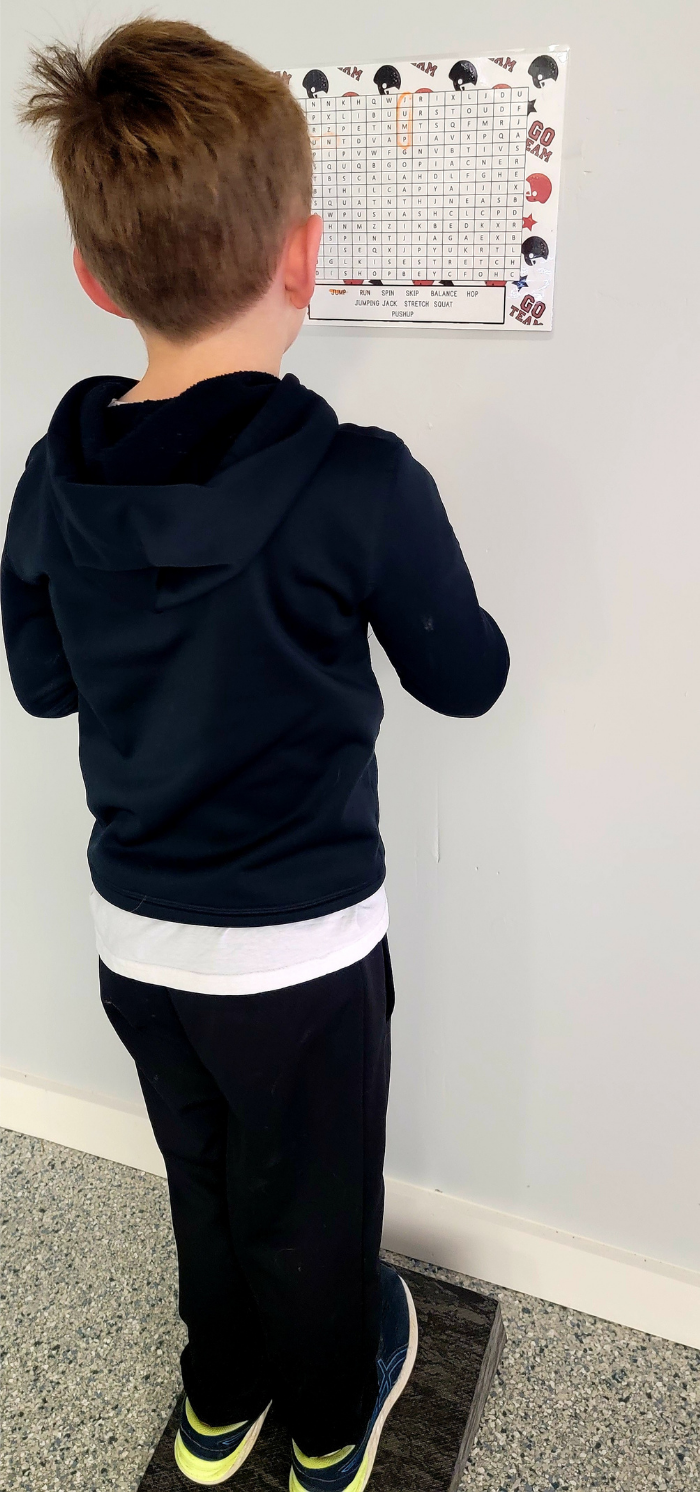 OPTION 3: Stand on the Bosu and work on following the football pass!
GET THIS IN THE SPORTS THEMED FINE MOTOR PACK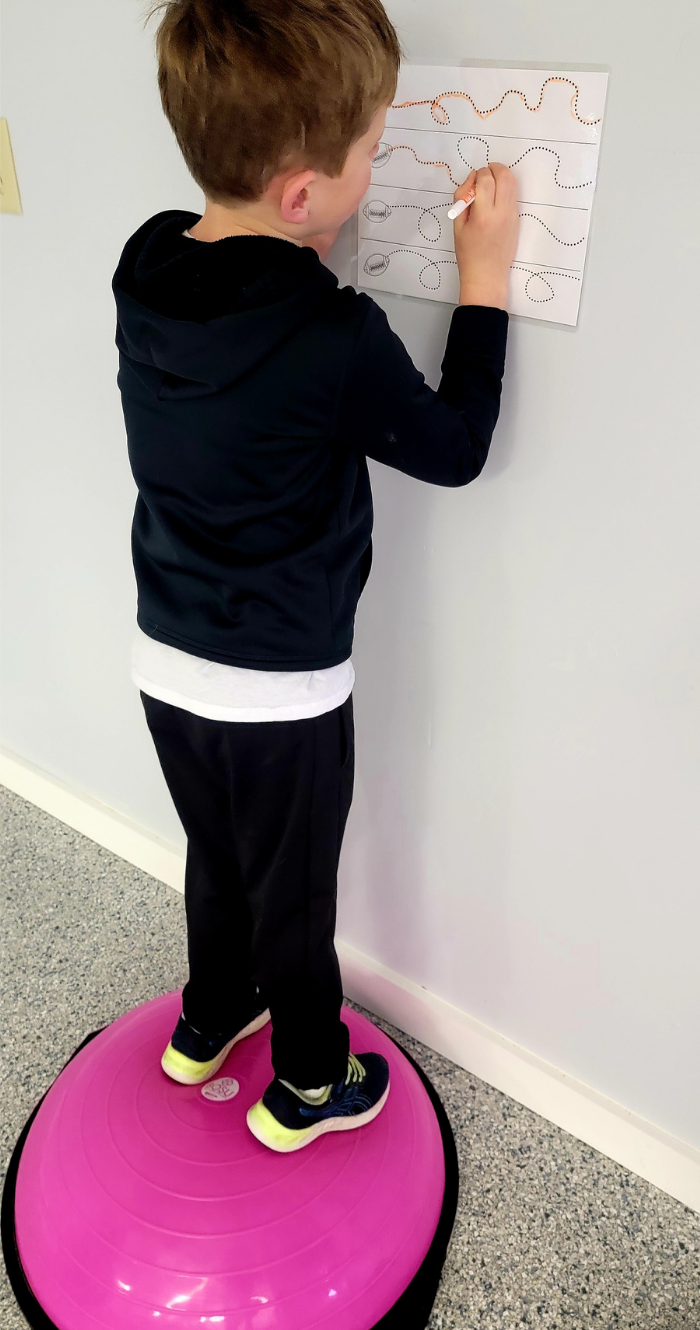 The vertical surface activities can easily be changed up by changing up the equipment or positions used. Use balance boards or an air disc. Try tall kneeling, half kneeling, or with one foot on a box. The options are endless, yet you can stick with with football theme.
Of course it's a good time to work on eye-hand coordination.  Incorporating toss games, such as throwing a football through a suspended hula hoop or pool noodle (in circle form) is a great way to work on this skill.
Football Themed Fine Motor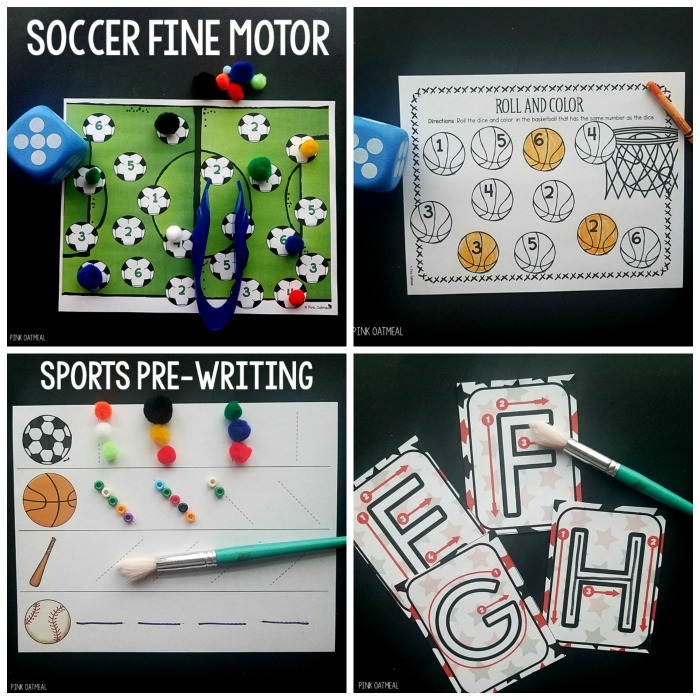 A sports themed fine motor activity is perfect for your football week.  You can get these ready made for you in the sports themed fine motor activities pack! 
Get Your Football Themed Resources
Pink Oatmeal has a huge collection of resources that are ready to go for you that go along perfect with a football theme. These resources are fabulous for your football fanatic, at Super Bowl time, at college bowl time or to use all year long.
SEE ALL THE SPORTS RESOURCES FROM PINK OATMEAL
Click on the name of the resource below to get a detailed view of the resources perfect for your football theme from Pink Oatmeal.