Valentine's Day is just around the corner.  Besides Valentine's Day boxes and Valentine's what other plans do you have for your classroom, home or therapy?  How about trying some Valentine's Day Yoga?  Even if you are new to yoga these fun Valentine's Day themed poses work great for the beginner to the every day yogi!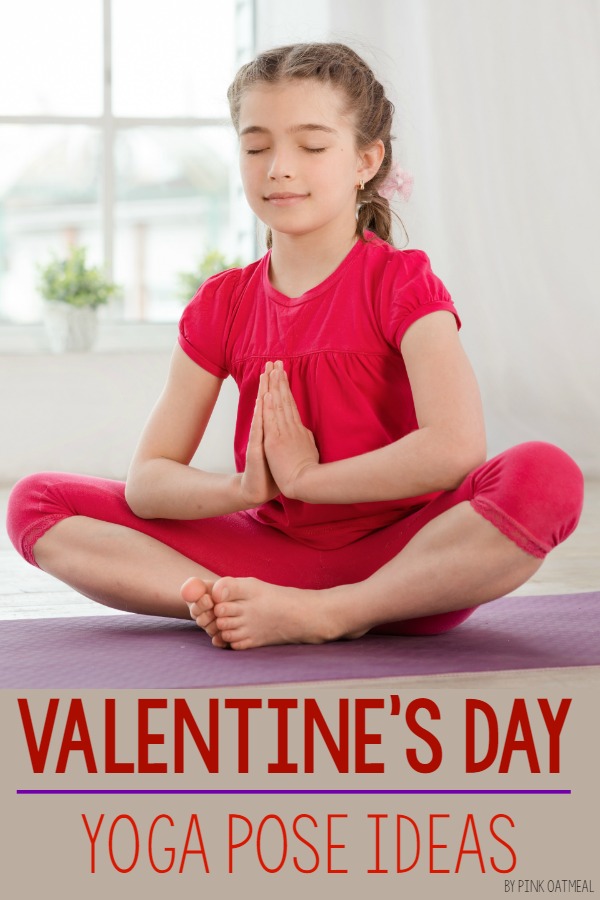 Kids Valentine's Day Yoga Pose Ideas
The Valentine's Day themed yoga pose ideas are sure to be a hit with your kiddos! Many of the poses are traditional yoga poses with a Valentine's Day spin.  If you love these pose ideas you can get them in cards and printables with detailed descriptions and fun pictures in the Pink Oatmeal shop or on TpT.  Have fun!
Flower Pose
Flower Pose
Balloon Breathing 
Sit on the floor with your legs crossed OR stand tall with feet shoulder width apart.  Place your hands in front of your heart or on your stomach.  Breath in through your nose and out through your mouth. Focus on calming your body and breathing.
Heart Pose
Butterfly Pose
Valentine Delivery Pose
Airplane Pose – Work on delivering the Valentine into a mailbox.
Cupid Pose
Warrior Pose – Shoot Cupid's Arrows
Open Heart Pose
Cobra Pose
Gift Pose
Child's Pose
Arrow Pose
Stand tall with your feet hip width apart.  Place your arms over your head with your palms together. Bend forward at the hips keeping your arms over your head.  Hold and breathe!
Secret Admirer Pose
Start out kneeling making sure you are sitting back on your heels.Place your hands on your knees. Spread your fingers out wide. Take a deep breath in and raise up into tall kneeling. Hold and repeat.  Don't let your secret admirer see you!
Valentine's Day Yoga Cards and Printables
Do you love the idea of Valentine's Day Yoga, but want it ready made and easy to use at all times? I don't blame you!  I have  Valentine's Day Yoga Cards and Printables available for you in the shop or  Teachers Pay Teachers store.  There are two different sets to choose from.  Both sets include the same poses but have a different presentation!
Real Kids Valentine's Day Yoga
Grab this set of yoga cards that has pictures of real kids in Valentine's Day themed poses!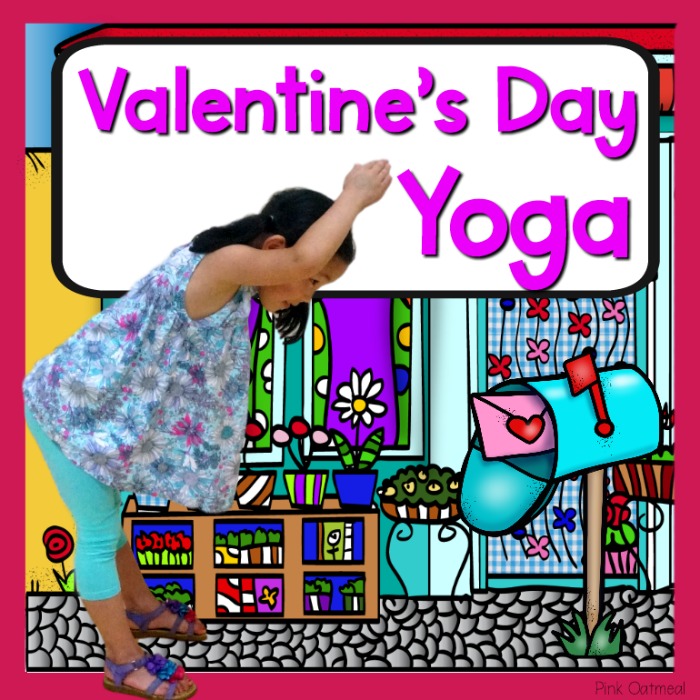 Valentine's Day Yoga
This set of yoga cards has the same poses but clip art Valentine's Day pictures instead of kids in the poses.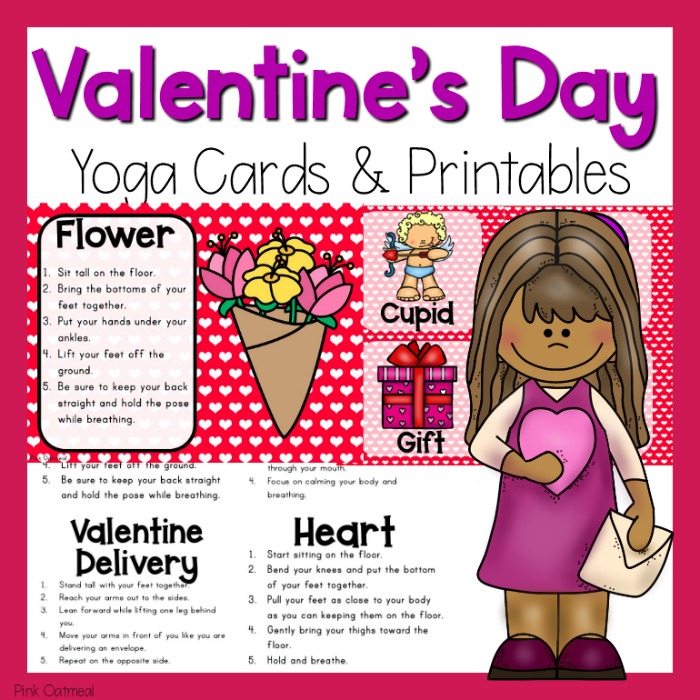 I WANT TO HEAR FROM YOU
Let's connect!  Pink Oatmeal is on Facebook, Pinterest, Twitter, and Instagram!
YOU MAY BE INTERESTED IN
My store at Pink Oatmeal is full of ideas to get the kids moving at home, in the classroom, and in therapy!  If you prefer Teachers Pay Teachers you can find me there too!