Sports are something that my boys go crazy for.  So much so that my 14 month old girl walks around the house holding a football card saying "football" and smiling.  They love to bring their basketball, baseball, and football sports activity cards to daycare/preschool for everyone to do and everyone at daycare/preschool loves them.  With all the sports love happening we've taken on sports themed yoga as the next fun way to add movement with a sports theme.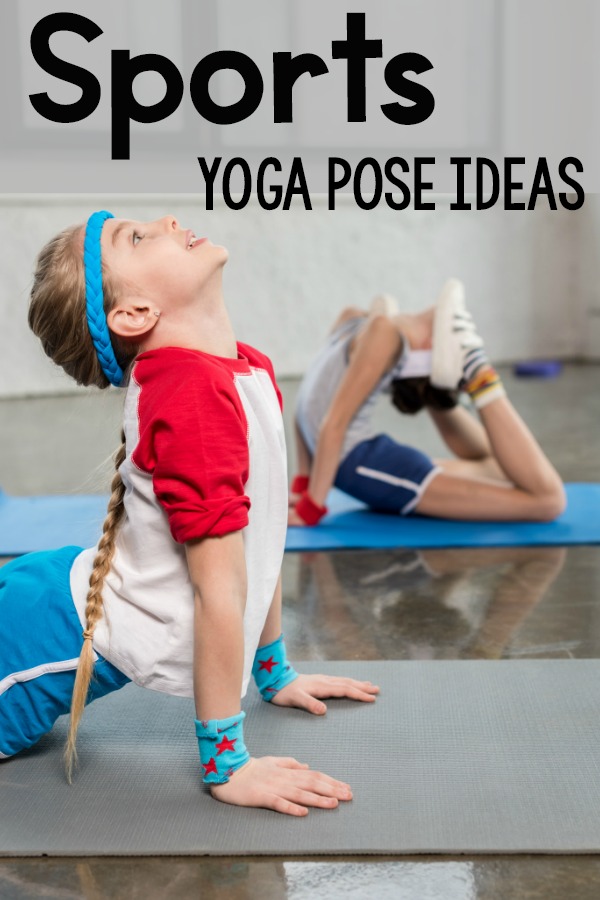 Sports Themed Yoga Poses
Each sports yoga pose represents something associated with the sports.   Modify the poses as needed.  Let the kids enjoy the yoga and be creative with their poses.  If you really love this idea be sure to stop by the shop  to get your ready made set of cards and printables for your own use!
Biking 
Bicycle Pose
Basketball
Chair Pose – Think of shooting a basket.
Football
Warrior 1 – Hold your arms up like you are signaling touchdown.
Baseball
Squat like a catcher.
Ice Skating/Hockey
Airplane – Imagine gliding across the ice.
Swimming
Lay flat on your tummy.  Clasp your hands behind your back.  Lift your shoulders off the ground. Hold.
Gymnastics
Tree Pose – Don't lose your balance.
Sailing
Boat Pose
Bowling
Happy Baby Pose – Roll side to side like a rolling bowling ball.
Soccer
Stand with your legs spread apart.  Turn your feet so they are slightly facing outward.  Slightly bend your knees and hold. Move your hands in front of you like a soccer goalie.
Snowboarding
Start by standing tall.  Step one foot behind you and place that foot so it is facing slightly outwards. Place your arms parallel to the ground. Bend your front knee. Ride your snowboard and breathe!
Diving
Forward Fold – Let your arms hang like you are getting ready to dive.
Golf
Stand tall with your arms at your sides.  Bend forward at your hips.  Clasp your hands together and let your arms hang.  Move your arms side to side like you are swinging a golf club.
Dancer 
Dancer Pose
Sports Themed Yoga Cards and Printables
Bring sports themed yoga to your home, classroom or therapy with your own set of dinosaur cards.They are perfect to carry with you if you travel, to have as a free play option, or for brain breaks.  They are an excellent resource for therapists and special education teachers as well. There are two versions available from Pink Oatmeal – they are the same poses with a different presentation.
Sports Kids Yoga Cards and Printables
This set of yoga cards and printables includes real kids in the sports themed poses.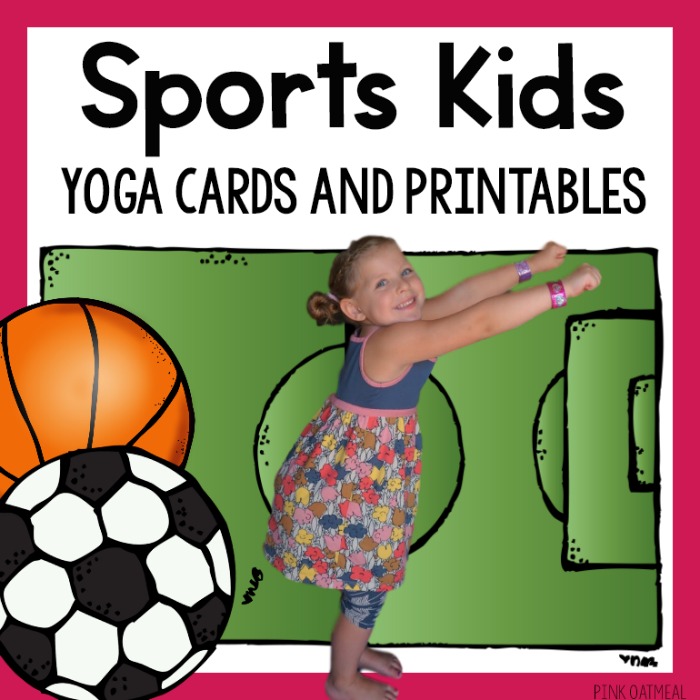 Sports Yoga
This set of yoga cards and printables contains pictures of dinosaur themed objects with explanations of how to get into the poses.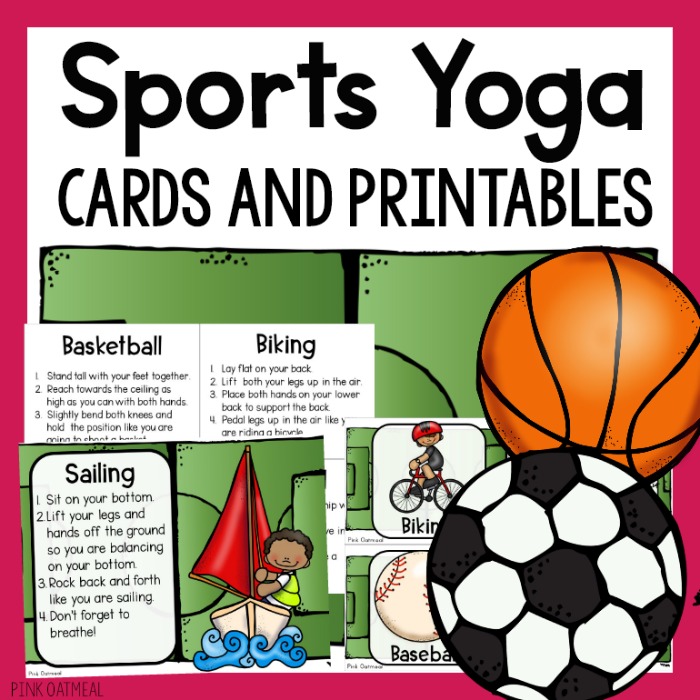 Sports Themed Movement Bundle
SAVE BIG!!! How about having both sets of yoga cards AND 4 different sets of sports themed brain break cards.  You can have all of it with the Sports Themed Movement Bundle at a significantly reduced cost.