In no time, football will already be starting!  Do I even dare say that? Summer tends to go a bit too fast!  I'll admit, I will sit down and watch a football game.  There aren't too many other sports that I can sit through an entire game.  Football is quite popular with some of my kids at school too. Like baseball, I work to incorporate fun movement based strengthening, range of motion, and body awareness activities with a football theme.  The kids love this and it works great!  I've divided up my football brain breaks/movement ideas into different categories.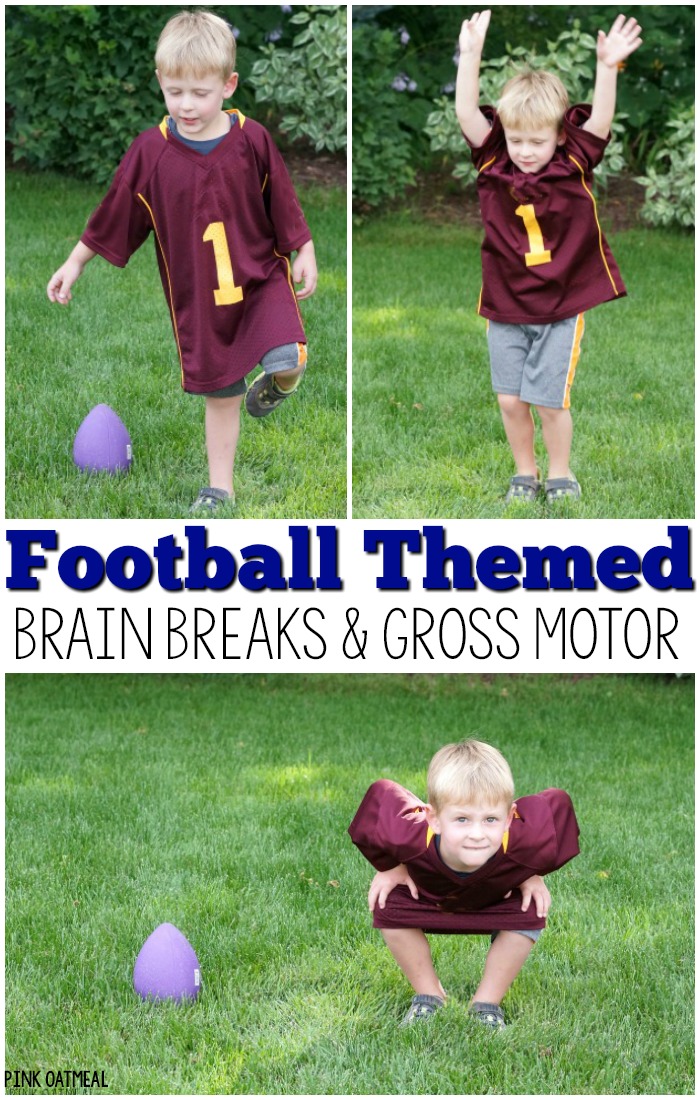 Football Brain Breaks
Football brain breaks are fun, fast and effective.  You can incorporate these gross motor movements into gross motor time, brain breaks, use them in PT, OT, or SLP as well as at home.  They are perfect for the fall and at Super Bowl time.  The best part is you can get a set of ready made football themed cards in the shop or at TpT!
Warm-Ups
Side Steps, Cross Over Steps, High Marches, Heel Walks, Toe Walks, Giant Steps, Backward Walking
Game Ready
Fast Jumps, Side To Side Jumps, Forward/Backward Jumps, Hop Across the Room, Side To Side Cuts, Knee Hugs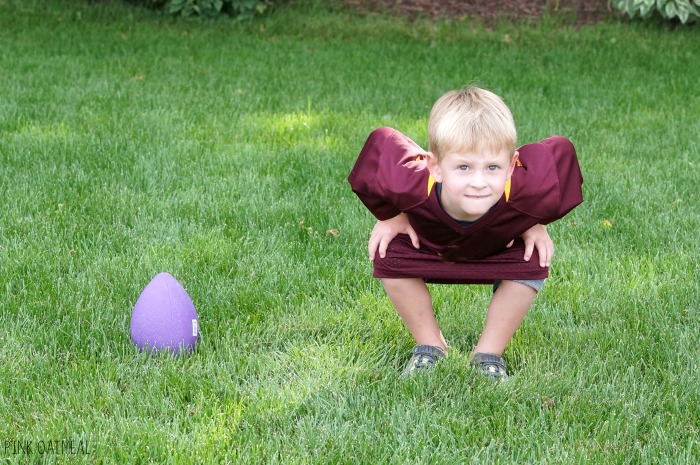 Weight Room
Squats, Lunges, Heel Raises, Toe Raises, Jumping Jacks, Sit-Ups, Bridges,
Game Planning
Squat, Jump, Clap Repeat – Any sequence of movements that require movement and motor planning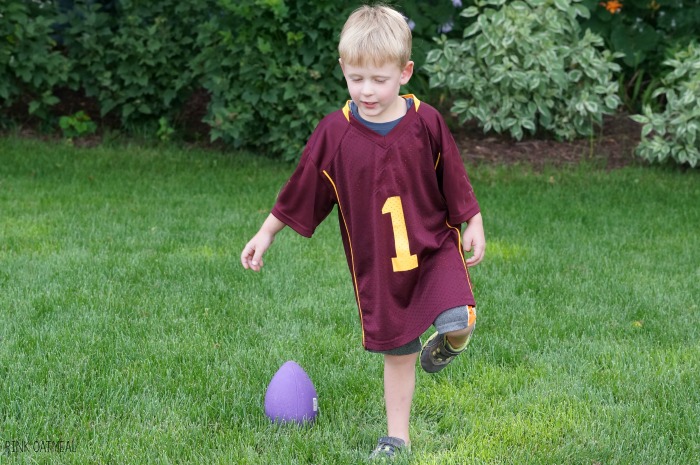 Balance Drills
Heel To Toe Standing, One Leg Hopping, Single Leg Standing
Victory Celebration
Victory Dance, Fist Pumps Around The Room, Over Head To Floor Clapping
Cool Down
Touch Your Toes, Twist Side To Side, Shoulder Blade Squeezes, Deep Breathing
See It In Action
OTHER IDEAS
If you have access to cones you can add drills with running around cones, weaving through cones, or jumping over cones.  Access to an agility ladder would be a fun way to incorporate side stepping, jumping, and patterning drills.  I personally don't have an agility ladder but I have found a way around it by using chalk to draw my own ladder outdoors on the cement!
GET YOUR OWN SET OF FOOTBALL CARDS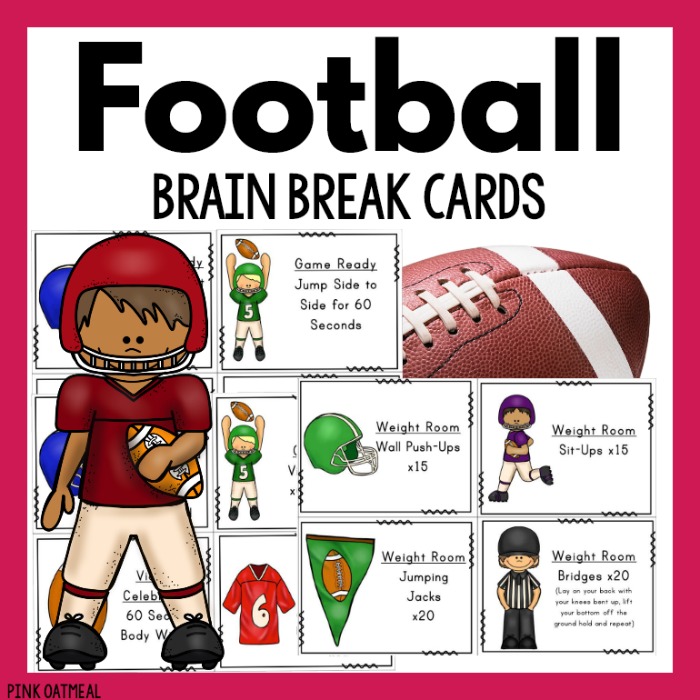 Get Your Football Themed Resources
Pink Oatmeal has a huge collection of resources that are ready to go for you that go along perfect with a football theme. These resources are fabulous for your football fanatic, at Super Bowl time, at college bowl time or to use all year long.
SEE ALL THE SPORTS RESOURCES FROM PINK OATMEAL
Click on the name of the resource below to get a detailed view of the resources perfect for your football theme from Pink Oatmeal.