One of my favorite fitness activities has become  Tabata workouts.  Tabata workouts are intense, short duration training that follows a specific format.  The name Tabata comes from the doctor and researcher that came up with the workout.  The Tabata workout is quick and effective making it a nice option to incorporate into the home, classroom and therapy.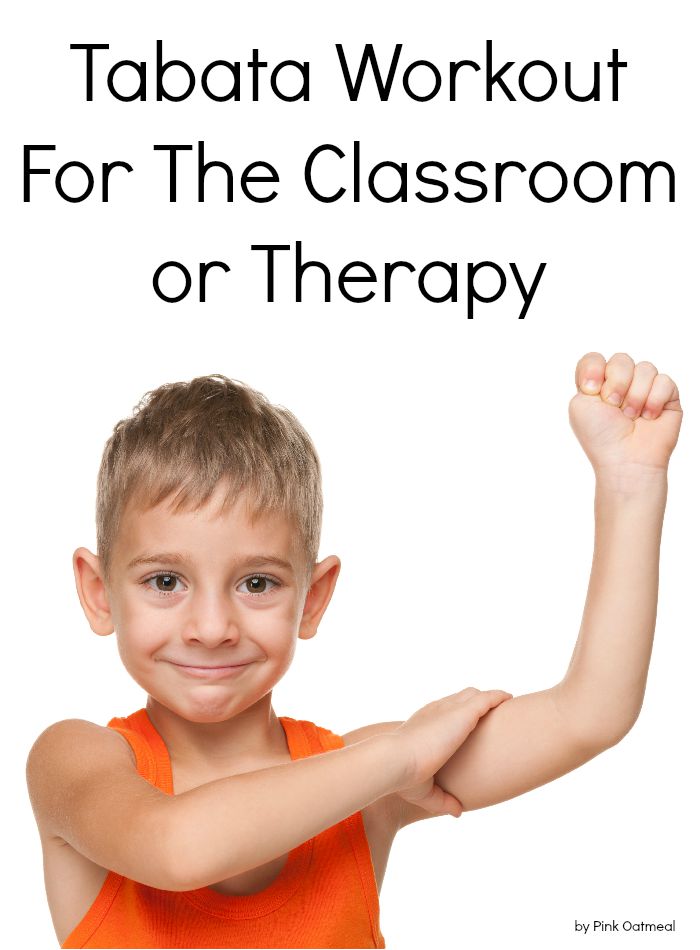 Tabata Workout
Tabata workouts consist of:
20 Seconds of a high intensity exercise. – During this time period I encourage working hard!
10 seconds of rest.
Repeated 8 times for a total of 4 minutes.
Why Tabata Workouts For The Classroom?
Research Shows Us…
Regular participation in physical activity improves academic performance.
Single sessions of physical activity can enhance attention and memory.
The effects of physical activity on brain health may explain improvements in academic performance.
Tabata Workout Resources
I love the free tabata timer apps that you can get on your iPad or smartphone.  You simply have to do a search to find several to choose from.  There are free and paid versions.  I'm currently using a free version on my iPad.
Exercises
I come up with these on my own based on the skill level of the kids that I see.  The exercises can be as simple as squats, running in place, lunges etc.    I also have a ton of brain break cards that have several different ideas of activities that could be incorporated into tabata workouts.

Other Considerations
I like to warm up before if time allows.  That may be simple dynamic exercises (marches, arm circles etc.).
When doing tabata workouts I always try to include as much full body exercises as I can.  For example, if I am having someone run in place I encourage pumping there arms really fast as well.
More Movement In The Classroom Ideas
Follow Pink Oatmeal's board Kinesthetic Learning on Pinterest.


YOU MAY BE INTERESTED IN
My Teachers Pay Teachers store has ideas to get the kids moving at home, in the classroom, and in therapy!
I WANT TO HEAR FROM YOU
Let's connect!  Pink Oatmeal is on Facebook, Pinterest, Twitter, and Instagram!