March is here and full of great options for gross motor planning. With St. Patrick's Day, the basketball tournaments, spring etc. it makes it easy for March gross motor planning. Check out all of the different ideas for March gross motor planning.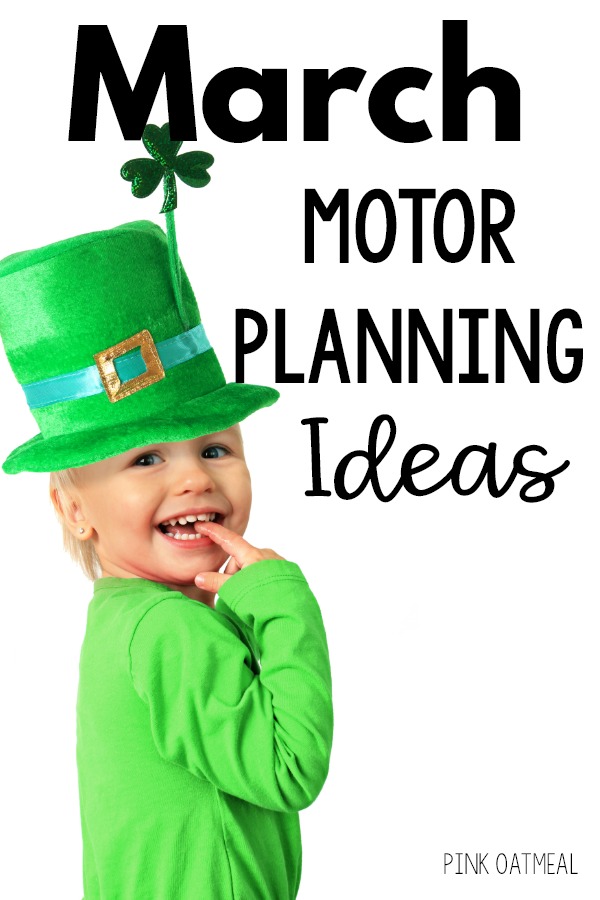 March Motor Planning – Ocean
Start off the month with an ocean theme. At this point in the year we are all hoping for a little warmer weather, at least where I'm from. You can read in detail about ocean themed gross motor and fine motor ideas in this post.
Start this week off by incorporating ocean themed yoga! This is fun and easy movements that anyone can do these fun movements!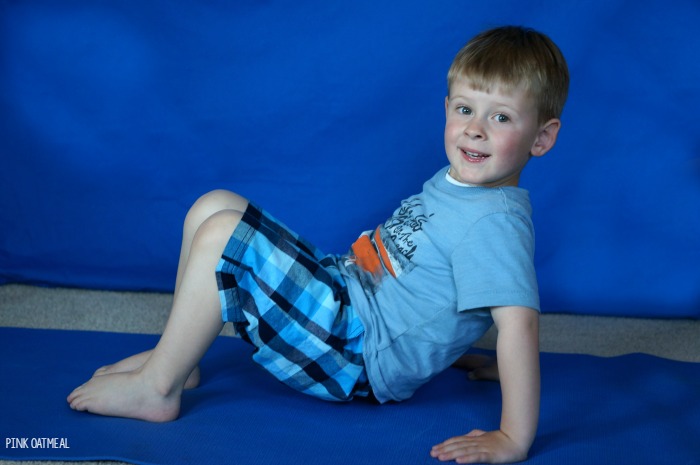 I also love to incorporate easy ocean moves that are pretty open to how the kids want to interpret them. It's fun to see the different ways they come up with to move their bodies!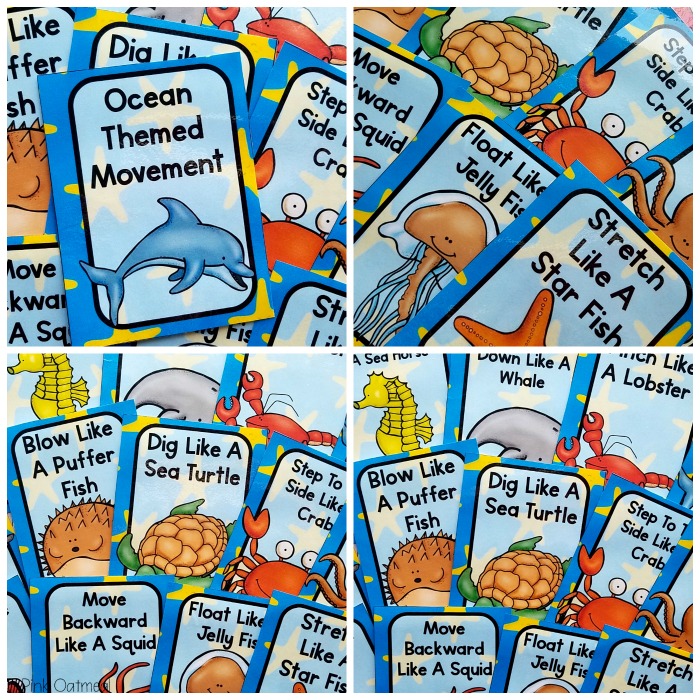 How about some fishing this week? Check out this fun idea for fishing. Yes, those are candy canes, but using pipe cleaners would probably work well too if you don't have candy canes on hand.
This is the perfect time to use the Ocean Themed Fine Motor Activities Pack! Your kids will love working on fine motor skills with an ocean theme!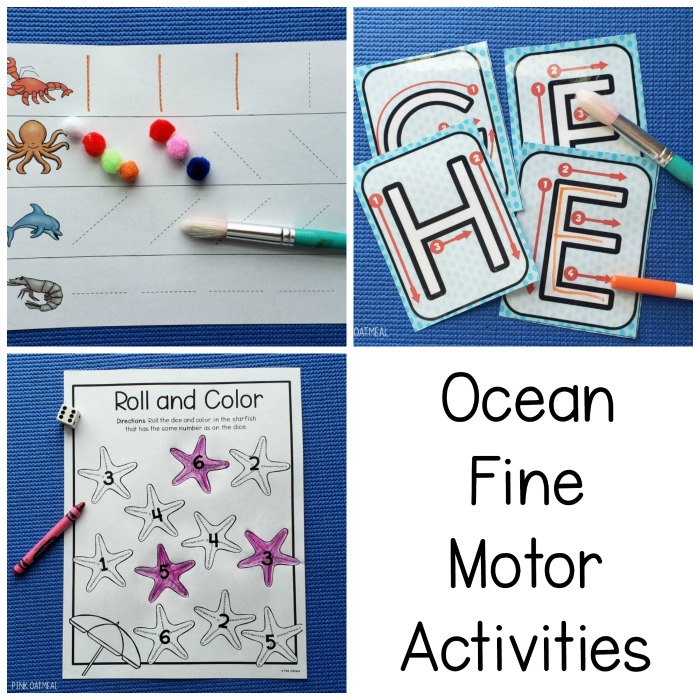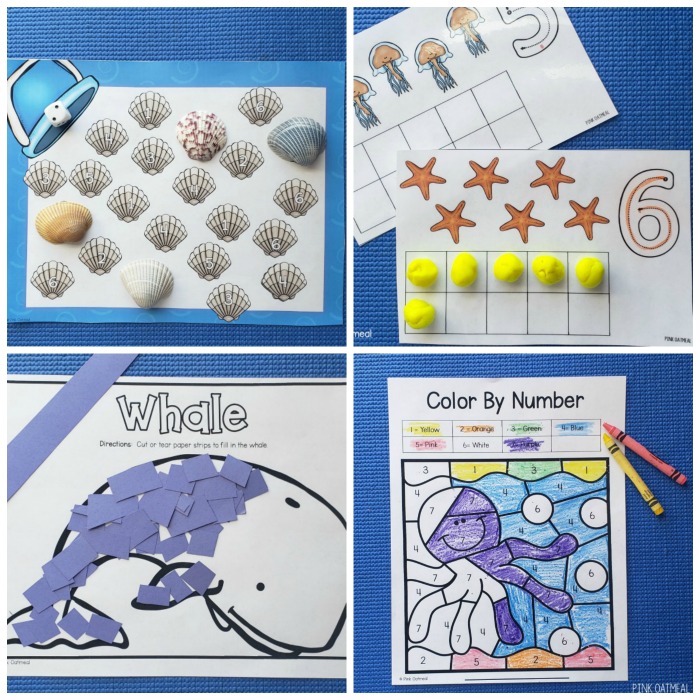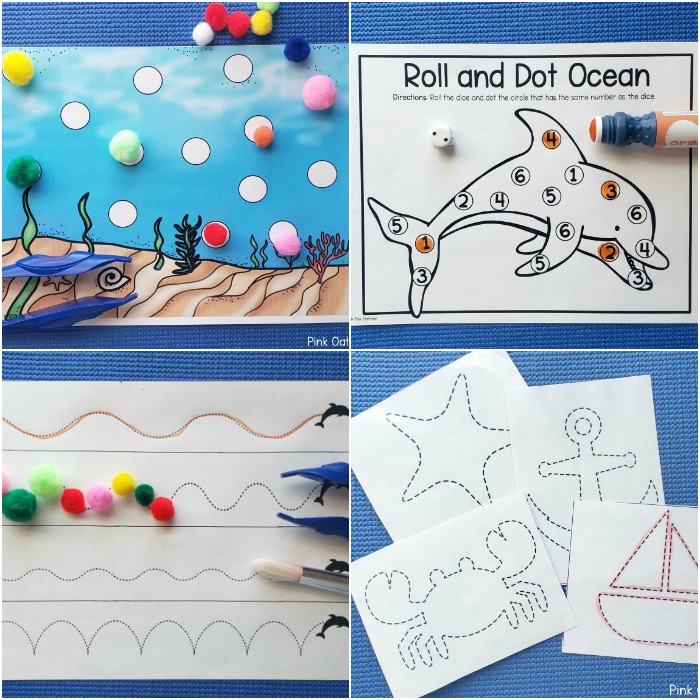 See even more ocean themed gross motor planning ideas.
March Motor Planning – Basketball
It's tournament time! Almost every place you turn there is some mention of basketball. If you are a basketball fan or have any basketball fans this is the theme for you. Read in detail about all of the awesome basketball themed gross motor and fine motor activities here.
Need a fast and easy go to with no equipment necessary? Check out these basketball brain break ideas and move your body like a basketball player!
Agility is a big part of basketball. This is a great time to stop by the Pink Oatmeal freebie library and get free agility cards or footprints to use with your agility ladders.
Along with agility drills,
Tabata
drills are perfect for basketball players.
Adding sports themed yoga is perfect for this week!
Traditional Basketball Games – Play some of the traditional games such as P-I-G or H-O-R-S-E. You could even try a free throw shooting contest (or something much closer).
TIP: Do you have old trophies, ribbons, or medals laying around your home? If so this may be a good time to make them useful again and give them out as awards for working hard on basketball gross motor skills. This was one of the things that I've done with my old awards and the kids LOVE it!
Need fine motor activities for this week? Look no further than Sports Themed Fine Motor Activities!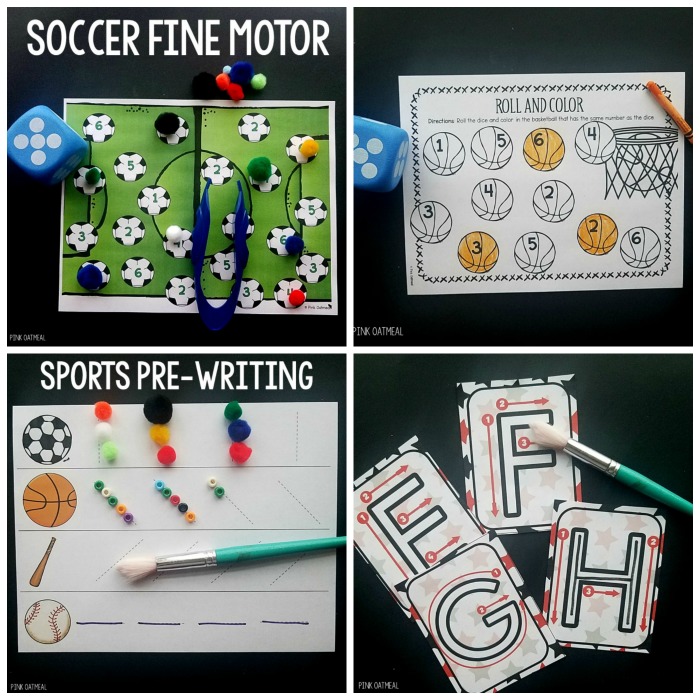 Check out even more fun ideas for incorporating basketball into gross motor activities.
March Gross Motor Planning – St. Patrick's Day Week
St. Patrick's Day is such a fun theme for both gross motor activities and fine motor activities. It's one of my personal favorites! Read in detail about St. Patrick's Day gross motor an St. Patrick's Day fine motor planning activities.
One of the best ways to start this week is with The Rainbow Relay. It is a great way to get some movement in while learning the colors of the rainbow!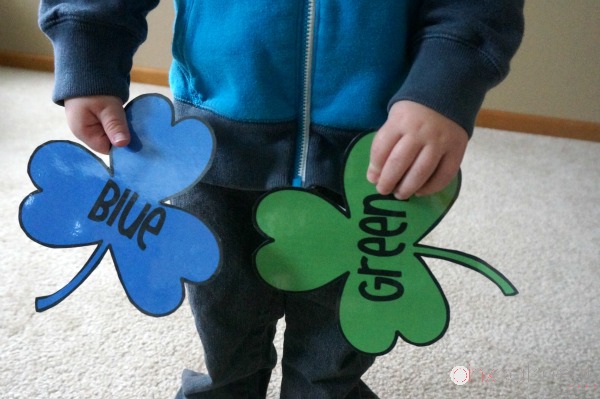 The Clover Hop is an easy and fun activity perfect during St. Patrick's Day week.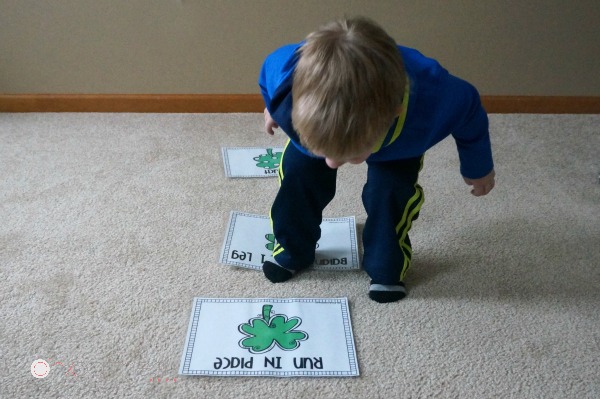 Of course there is St. Patrick's Themed Yogaposes. These are easy and fun movements that have a St. Patrick's Day theme. There is no need to let the word yoga intimate you. Anyone can do them!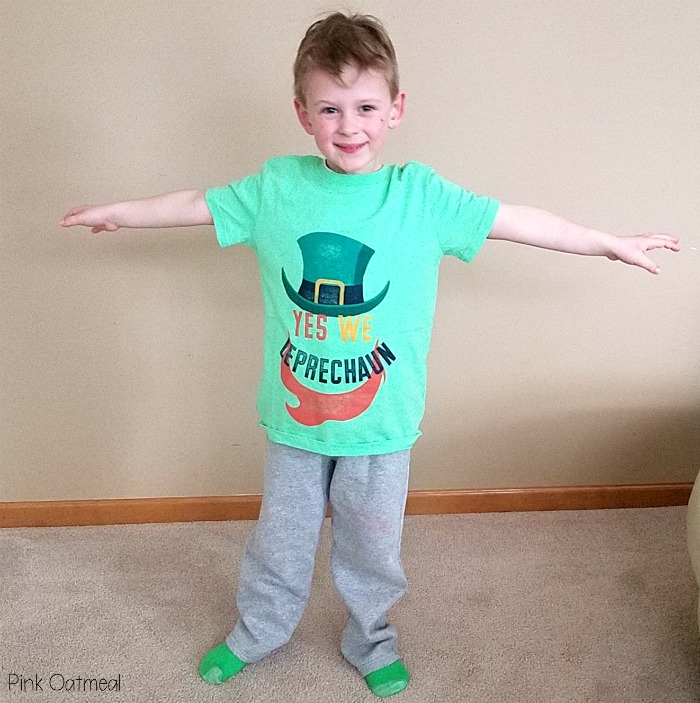 Fast, fun, and effective with no equipment and very little space shouts St. Patrick's Day brain break cards!
Add to your sensory or motor path or create your own St. Patrick's Day themed obstacle course. This can be done easily with the St. Patrick's Day Motor/Sensory Printables. See them in action below!
Do you like tech games and want to try a movement game on your interactive white board? These games are also great for distance learning and teletherapy. There are a couple great options from Pink Oatmeal.
ST. PATRICK'S DAY MOVEMENT GAME
St. Patrick's Day Brain Break Game.
St. Patrick's fine motor activities are done for you! Get
St. Patrick's Day Fine Motor Activities
here!
March Gross Motor Planning Ideas – Circus
The circus is so much fun! It's the perfect theme to add to any motor planning. Read in detail about all of the circus themed motor planning ideas!
Circus Yoga is the perfect way to start. This is a great way to work on strength, body awareness, and flexibility with fun. No need to be a yogi, these moves are fun and easy!
Get FREE circus themed movement cards in the freebie library.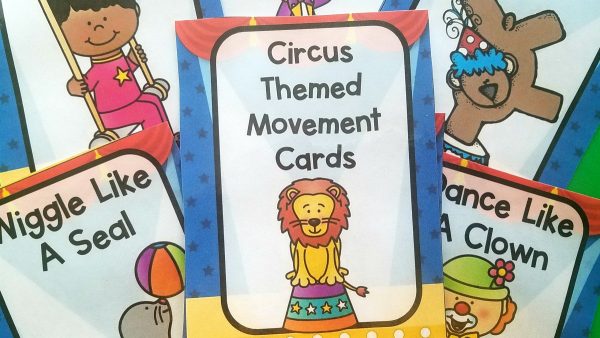 I love any kind of silly relay for a circus theme. One of my favorites is the pool noodle. You can see even more fun relay races for kids here like the one in the video below!
Use a hula hoop as a "flaming hoop". Think of all the different ways you can move through the hoop like the video below!
Circus Fine Motor is covered for you! Get all of the different
circus fine motor activities
.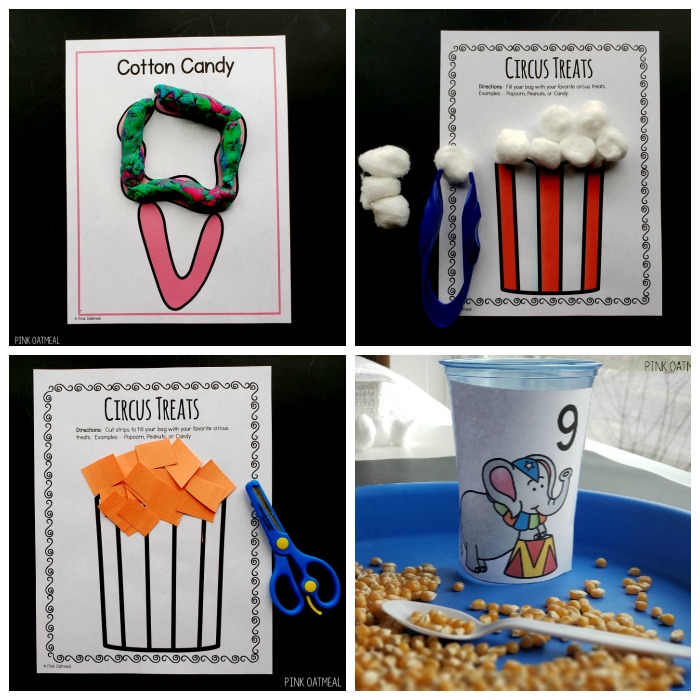 March Motor Planning Bonus Week – Spring
With March comes Spring. Well, not always in Minnesota, but in many parts of the country. Spring is a fun time to splash in puddles and thing gardens, flowers, and more!
Read in detail about spring themed gross motor ideas.
Want digital? Check out the Spring Themed Digital Gross Motor Game! This can be played digitally or printed and used as printables.
GET THE SPRING THEMED GROSS MOTOR DIGITAL GAME
Read in detail about
spring themed fine motor ideas
.
One of my favorite Spring time games is Bumble Bee Relay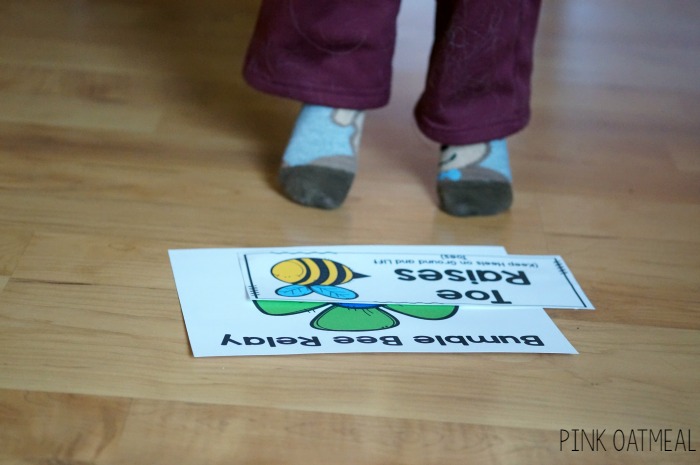 Spring Yoga is a fun and easy way to move bodies with a spring theme. No need to be a yogi for these fun moves! We even like to make it more fun by creating an obstacle course!
The puddle jump game is a fun and simple way to move and get gross motor skills in!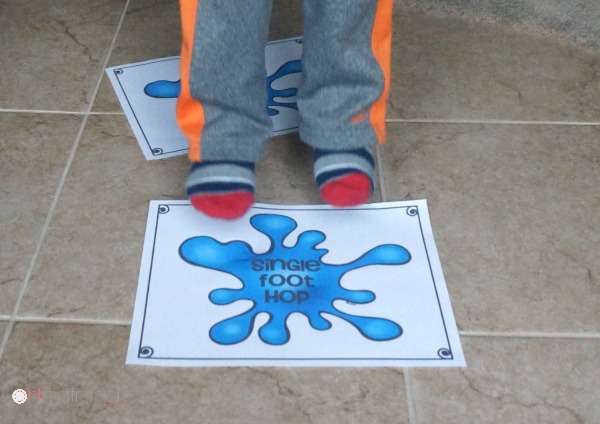 Fast, fun, effective and very little equipment or space are needed when you try out the Spring themed brain break ideas.
The Spring Themed Wheelchair Movement Game is another great option to keep with the spring theme!
GET THE SPRING THEMED WHEELCHAIR MOVEMENT GAME
Baseball season has begun! Get the
baseball measurement gross motor game
from the freebie library!
Spring themed fine motor activities can be found here.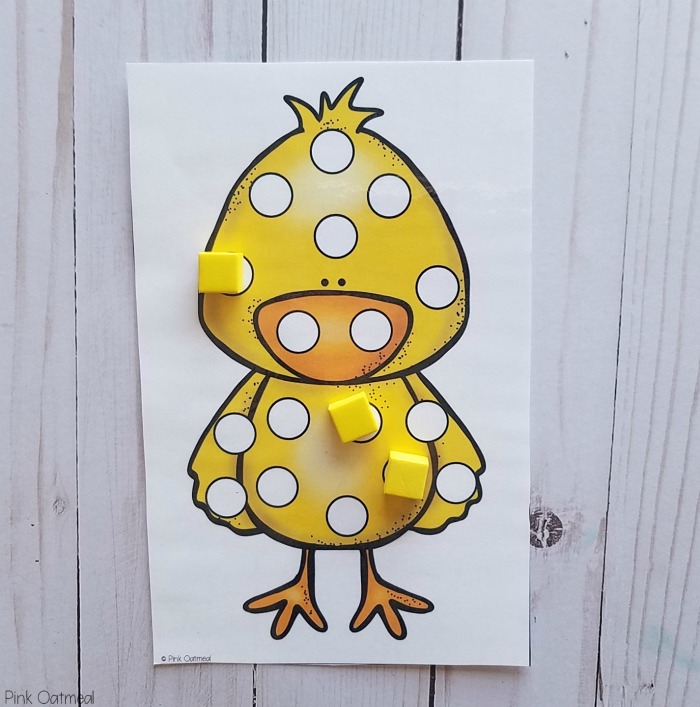 Be sure to check out all of our ideas for motor planning by the month and theme!