Spring is just around the corner! The snow is starting to melt, the days are longer, the sun is shining and the kids are even more wiggly! The problem is that there is still lessons to be learned and tests to be taken. Make it a little easier on the kids by giving them opportunities to move! These Spring themed movement ideas are perfect for the wiggly kiddos! Work on gross motor skills or give the kids a Spring themed brain break!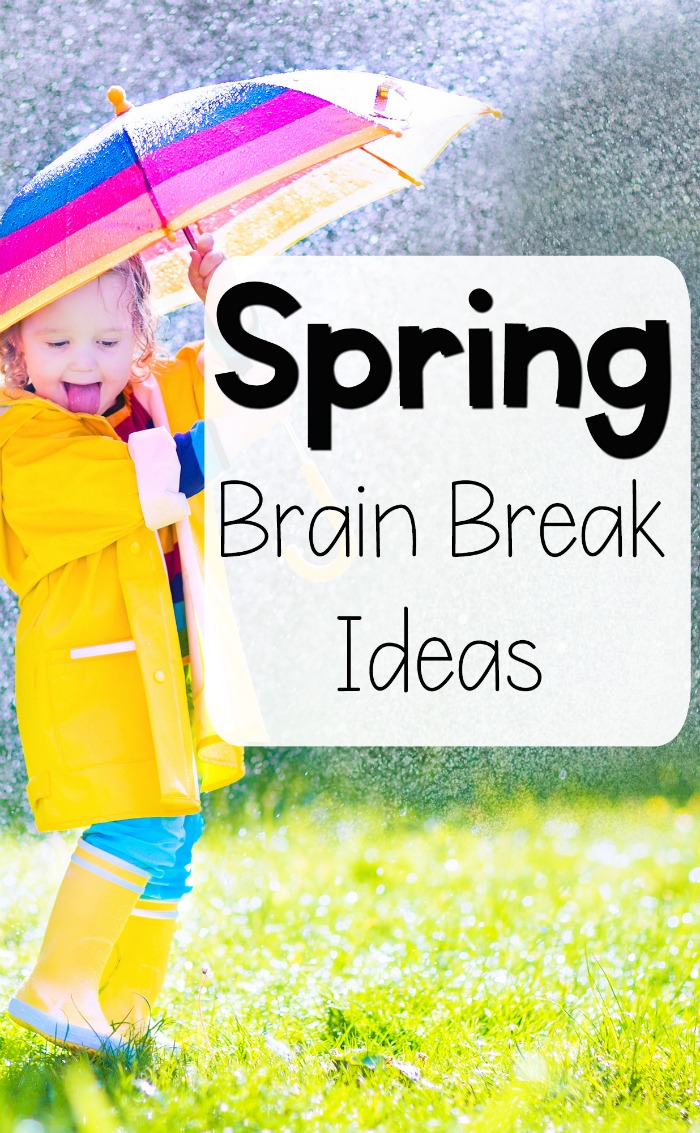 Spring Themed Movement Ideas
The great thing about these ideas are that the number of repetitions and duration of time can easily be adjusted based on your needs! I like to make sure the kids are working hard and getting re-energized!
Rain Dance
Body Wiggles, Free Dance, Twist Each Direction, Spin Each Direction
Flower Picking
Squat, Lunge, Toe Raises, Heel Raises
Mud
Giant Steps Across The Room, High March Across The Room, Knee Walk Across The Room, Cross Over Steps Across The Room
Robin
Right Leg Balance, Left Leg Balance, Tandem Standing, Walk Around The Room and Move Arms Up and Down
Frog Jumps
Jump In Place, Jump Side To Side, Jump Forward and Backward, Jumping Jacks, Right Foot Hops, Left Foot Hops, Fast Jumps, Big Jumps
Puddle Jumps
Two Foot Hop Across The Room, Leap Across The Room (Right Foot Lead), Leap Across The Room (Left Foot Lead), Jump and Turn
Fly A Kite
Run In Place, Walk Heel To Toe Across Room, Side Step Across Room, Walk Backward Across Room
Butterfly
Forward Arm Circles, Backward Arm Circles, Shoulder Blade Squeezes, Sit On The Floor With Bottoms of Feet Together & Move Knees Up and Down
Bee
Tiny Steps Across The Room, Tiny Jumps Across The Room, Wrist Circles, Move Across The Room and Back As Quietly As You Can
Spring Break
Patterned Movements (Example: Jump, Clap, Twist Repeat) Be Creative!
Want Digital Games Movement This Spring?
Another must play digital option perfect for spring is the butterfly counting game. This is perfect for BOTH in person and distance learning. This game can be played on your computer, tablet, or interactive whiteboard. Your kids will LOVE this game and so will you.
GET THE BUTTERFLY COUNTING GROSS MOTOR DIGITAL GAME
The Spring Themed Wheelchair Movement Game is another great option to keep with the spring theme!
GET THE SPRING THEMED WHEELCHAIR MOVEMENT GAME
Try the
Spring Themed Gross Motor Game
! Choose from different spring themed objects and move like them. A great in person, distance learning or teletherapy activity.
GET THE SPRING THEMED GROSS MOTOR DIGITAL GAME
Spring Themed Brain Break Cards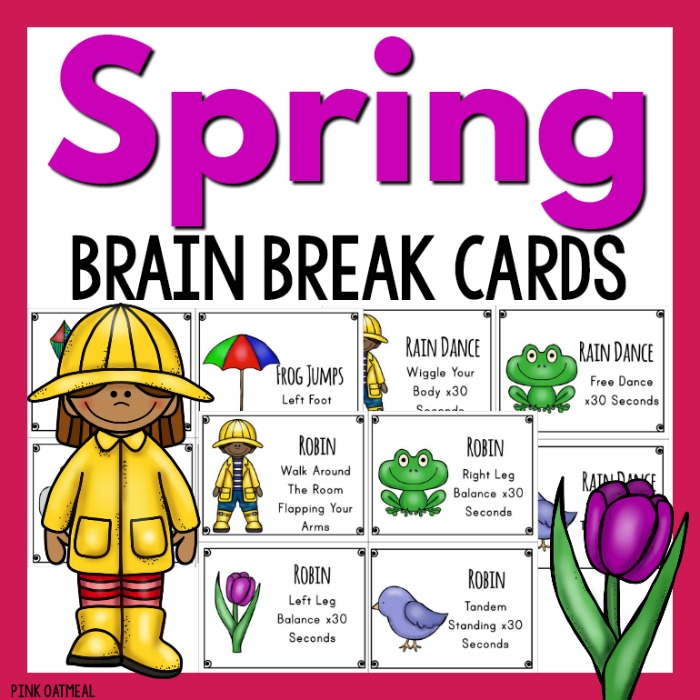 Do you love the idea of spring themed brain break cards, but want them ready made for you to have at any time? I don't blame you! I have them available for you in my shop on the blog. Stay at the store and shop around and find brain breaks for all seasons and themes! The Spring brain break cards consists of 48 brain breaks with a Spring theme!