It's officially basketball season. Big C received a mini basketball hoop for Christmas this year.  It's been a huge hit.  He constantly wants to go in the basement and "shoot hoops."  Thank goodness for unfinished basements!  He isn't the only kid I know who seems to really enjoy basketball.  For that reason I have come up with some ideas to engage kids in movement with a basketball theme. These basketball themed gross motor and brain break ideas are quick, fun, and easy to do almost anywhere.  Nothing is needed but a little bit of space!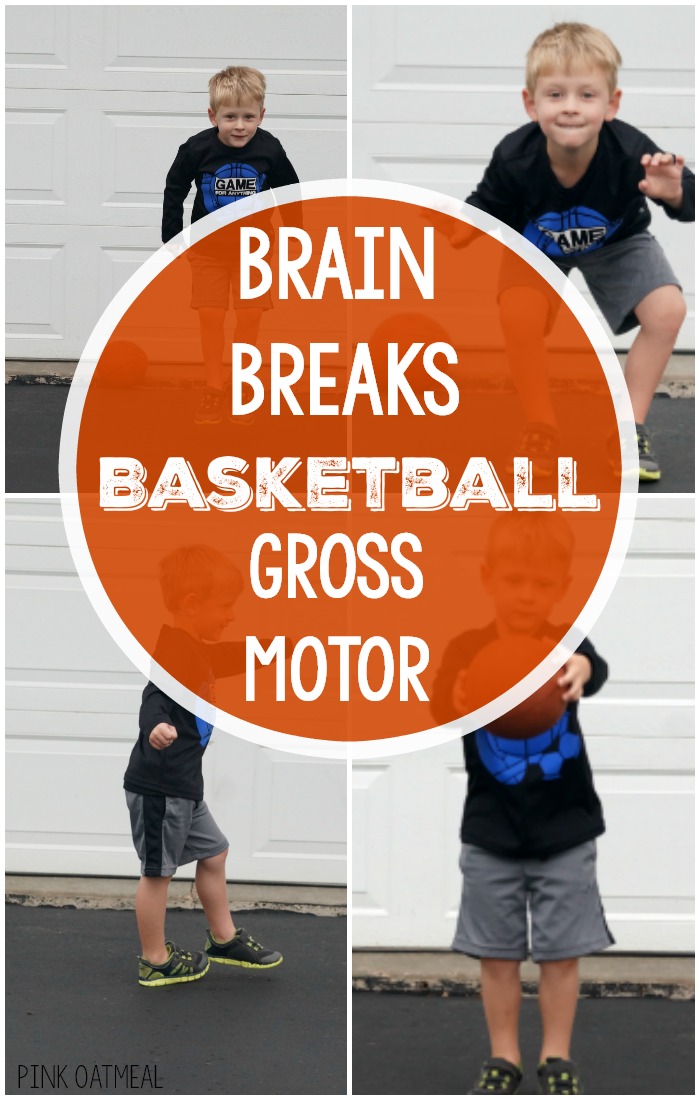 Basketball Themed Gross Motor and Brain Break Ideas
When doing basketball themed brain breaks I am always flexible with how to use them given the situation.  Some of my kids like to pretend they are a certain player or playing against/for a certain team.  Here are some of my favorite ways to incorporate a basketball theme into brain break ideas.  Duration and repetitions can be decided based on your situation. These are great during basketball season and especially at tournament time!  The great news is you can also get ready made basketball themed cards in the shop or at TpT!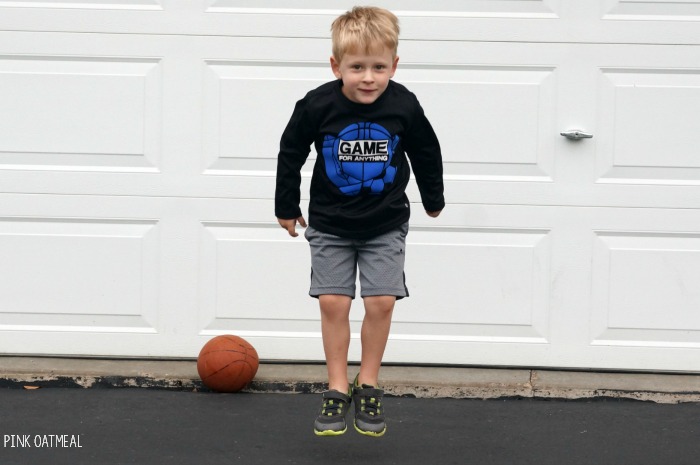 Warm-Ups
Arm Circles Forward/Backward, Shoulder Shrugs, Toe Touches, High Marches, Jumping Jacks, Reach For The Sky and Touch The Floor, Butterfly Stretch
Defense
Side Shuffle, Jump Side To Side, Squat and Step Sideways Maintaining Squat, Staggered Feet Jumps,
Shooting
Jump Shots, Right Handed Lay-Up (Left Foot Jumps), Left Handed Lay-Up (Right Foot Jumps), Free Throw (Squat To Stand)
Passing 
Chest Pass, Right Hand Pass, Left Hand Pass, Overhead Pass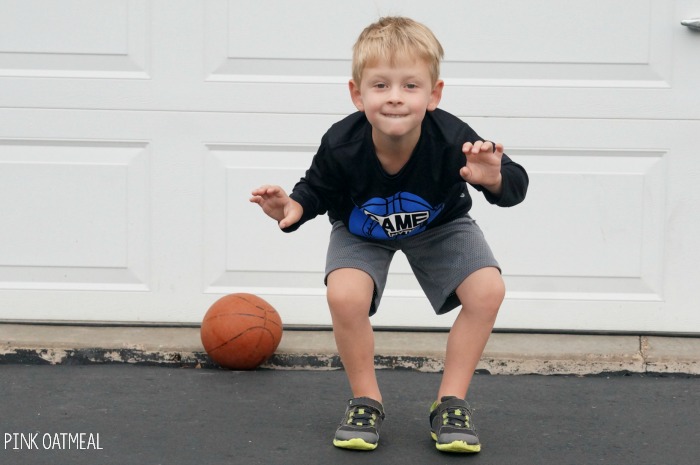 Weight Room
Lunges, Squats, Heel Raises, Toe Raises
Play Book
Patterning (Example: Jump, Spin, Clap Repeat)  Use a variety of movements in different order and make it fun!
Offense
Skip, Gallop, Run In Place, Chair Run (Run While Seated In Your Chair Moving Your Arms and Legs), Dribble- Move Your Hands Up and Down, Spin Move- Spin To The Right and To The Left
Agility Drills
Front To Back Jumps, Fast Jumps, Right To Left Foot Hops, Jump and Grab Knees, Jump Rope In Place, Cross-Over Steps, Jog In Place, Power Jumps (Squat To Jump)
Celebration
Jump and Spin in Circles, Victory Dance, Cut Down The Net – Climb Moving Arms and Legs , Huddle Up – Sway Side To Side and Forward/Backward
GET YOUR OWN SET OF BASKETBALL CARDS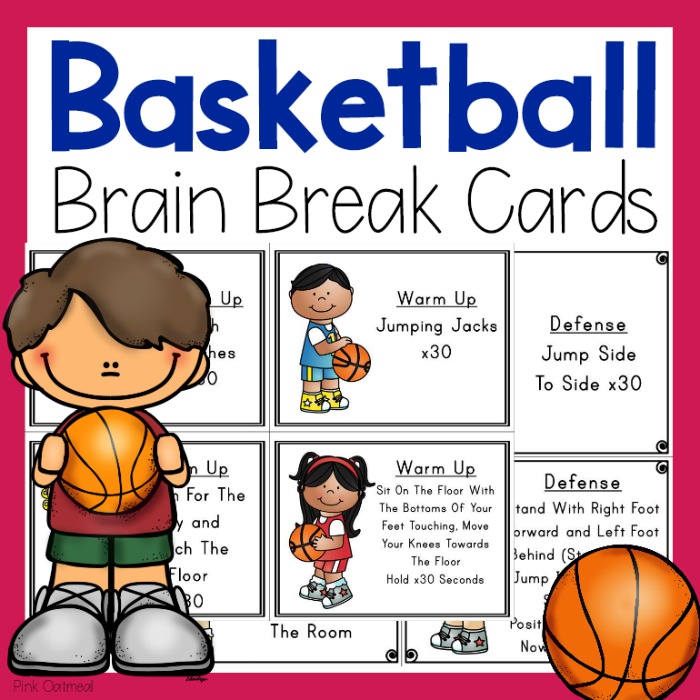 If  you love the idea of basketball brain breaks but don't want to put it together yourself I don't blame you!  I have a full set of 48 cards available at the shop or in my Teachers Pay Teachers store for download.    It can also be bought in a bundle along with my baseball and basketball brain breaks.


 Get the bundle in my shop or at my Teachers Pay Teachers store.  They are a fun and exciting way to get the kids moving.  They are perfect to incorporate into stations, baseball units, morning meetings, or as brain breaks.  Make movement fun!
MORE MOVEMENT IDEAS
Follow Pink Oatmeal's board Gross Motor on Pinterest.


YOU MAY BE INTERESTED IN
My store at Pink Oatmeal has ideas to get the kids moving at home, in the classroom, and in therapy!  If you prefer Teachers Pay Teachers you can find me there too with even more ideas to get the kids moving!
I WANT TO HEAR FROM YOU
Let's connect!  Pink Oatmeal is on Facebook, Pinterest, Twitter, and Instagram!