We love combining all things movement and learning at our house.  This includes literacy and letter recognition activities.  My boys are both preschool aged kids with one being 5 and one being 3.  My three year old is working on letter recognition in his preschool, and my five year old is working on letter sounds.  That being said, I've come up with a few different ways that we can work on letters and the alphabet that they both enjoy.  These movement based activities can be used starting with letter recognition.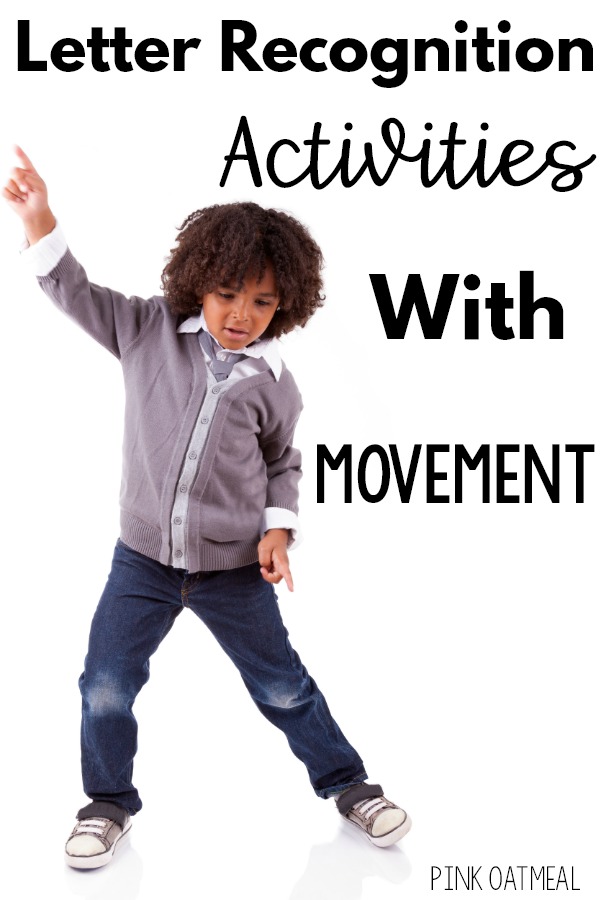 Letter Recognition Activities – With Movement
All of the following activities incorporate movement.  When doing these letter recognition activities I don't get crazy about perfection.  I let my boys move and learn about the letters, sounds and their bodies all at the same time.
Alphabet Movement Activity
This alphabet movement activity is easy and fun.  Very little space is necessary, but plenty of movement and learning is happening.  We take each letter of the alphabet and talk about a different object that starts with that letter.  From there, the boys move their body like that object.  We use Alphabet Movement Cards as a visual for this activity.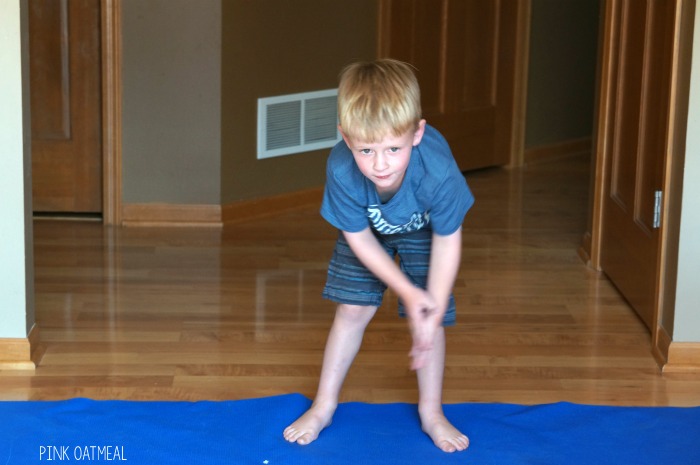 For example, the letter E.  We talk about an elephant.  The boys are able to look at the visual card or printable.  My three year old is getting to work on letter recognition while my five year old works on the letter sound.  They move their bodies like an elephant and are able to relate this all to the letter E.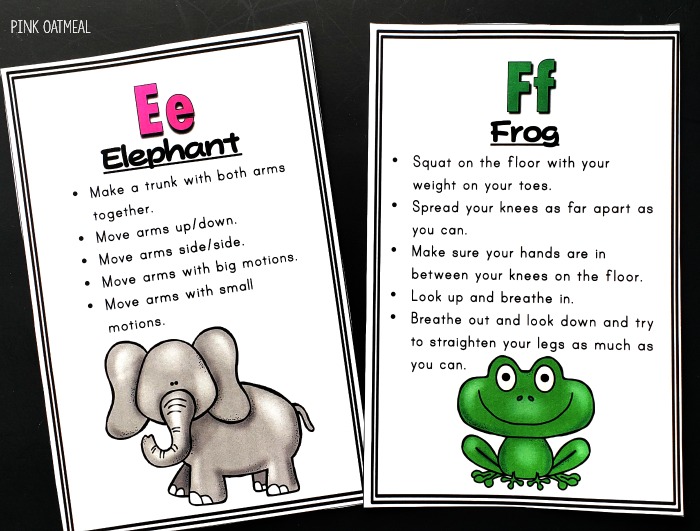 Alphabet Yoga
I love this for both letter recognition and any type of letter sound activity.  Don't let the word yoga scare you.  If you saw some of our poses (I should say my poses) you would understand.  There is no need for perfection when doing these yoga poses and movement activities. Each pose represents a letter from the alphabet.  For example, the letter M is for the moon pose.  These are all of the different kids alphabet yoga poses that we use.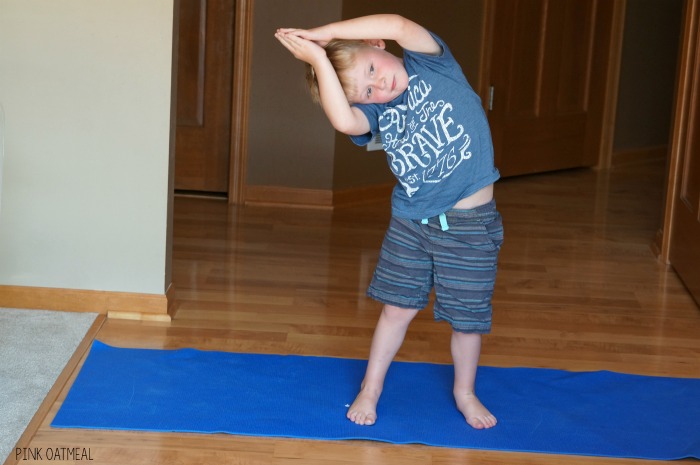 Again with this activity, we use visuals with Alphabet Kids Yoga Cards and Printables so that my three year old can see the letter and my five year old can add sounds.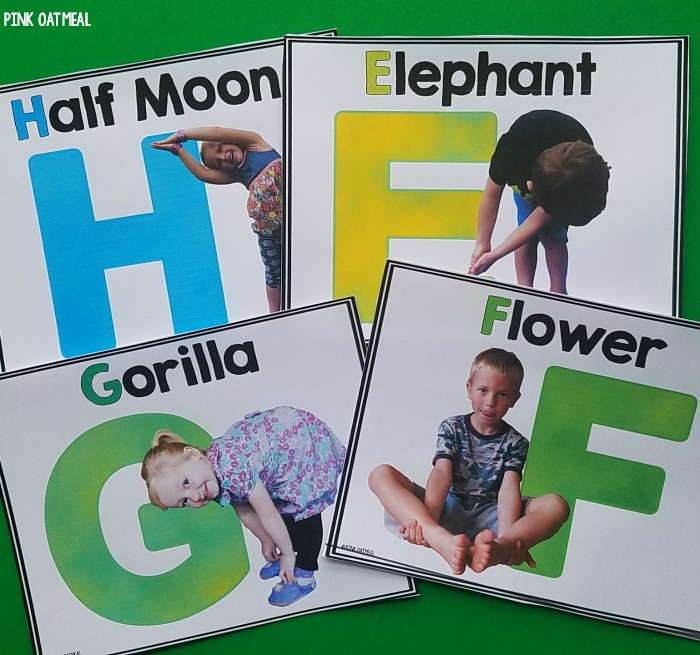 Alphabet Moves – Letter Recognition Activity
For the next alphabet activity, I like to add a little magic or fairy dust.  In this activity, the boys transform their bodies into the actual letter of the alphabet.  It's extra fun if you have a little bit of glitter, confetti or a magic wand that you can use.  They get a kick out of that added piece!  
Like the other activities, we use visuals by using Alphabet Moves – Magic Theme Cards so that boys can see the letter they are working on.  I show them the alphabet printable and wave the magic wand.  We created the wand that I use when we were doing forest themed fine motor activities.  Once I use my wand they transform their bodies into letters of the alphabet.  They LOVE this activity and both are learning so much about letter recognition and letter sounds all while getting in movement.
Alphabet Movement Books
Another fun way we've added movement into the alphabet is by creating Alphabet Movement Books.  My 5 year old does the actual tracing of the letters.  My three year old isn't ready to be tracing letters yet.  He likes to help with the coloring and moves his body all while working on his letter recognition skills.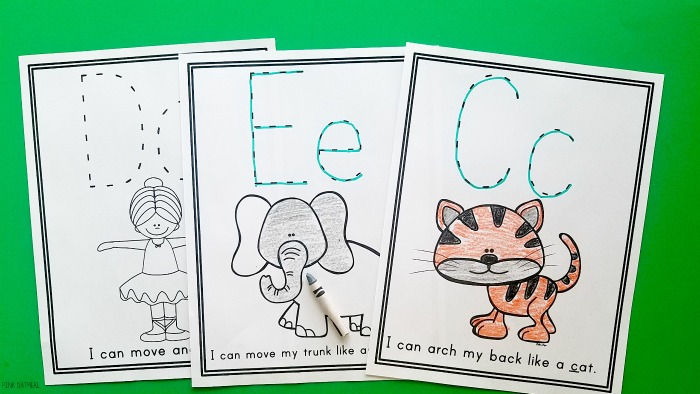 Letter Recognition Scavenger Hunts
My boys are really into scavenger hunts right now.  That being said, we do letter recognition scavenger hunts.  The Letter Hunt is a great way to work on letter recognition activity.  My three year old can look at the letter and hunt for the matching letter.   I will also add different large motor skills into this hunt.  For example, I may have them skip or gallop instead of walk to find different letters throughout the scavenger hunt. The letter hunt is available to you for free in the Freebie Library!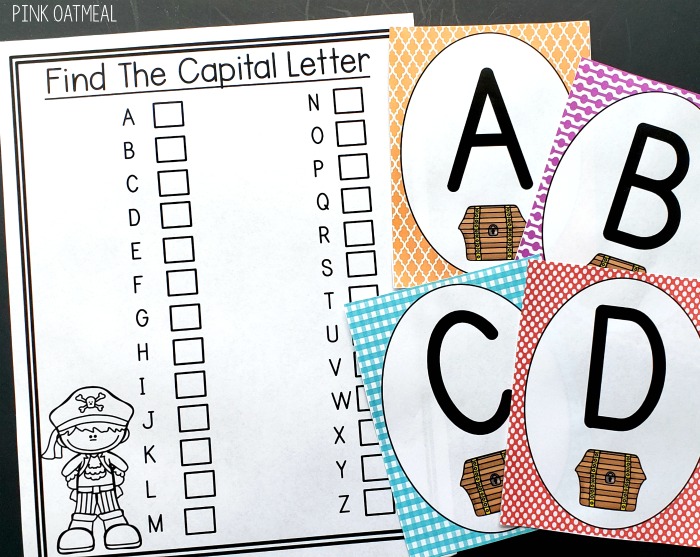 Letter Recognition Movement Activities
Think of how great it would feel to have all of these letter recognition activities created for you and ready to use!  With these activities you can feel confident that you will have everything you need to make learning about letters fun.  You will have screen free activities that involve movement.  You will have kids that beg to do more and more.  You will be able to incorporate physical activity without taking away from instructional time.  Pink Oatmeal has created all of movement based alphabet recognition resources you need.  You can get started today when you purchase the Alphabet Movement Bundle!