The ocean is a great theme for gross motor and fine motor activities! The ocean life and ocean activities make it fun and easy to incorporate movement into your gross motor planning. Whether you are a teacher, therapist, or parent these ocean themed fine motor and ocean themed gross motor planning ideas are for you! Be sure to check out all of the motor planning ideas from Pink Oatmeal.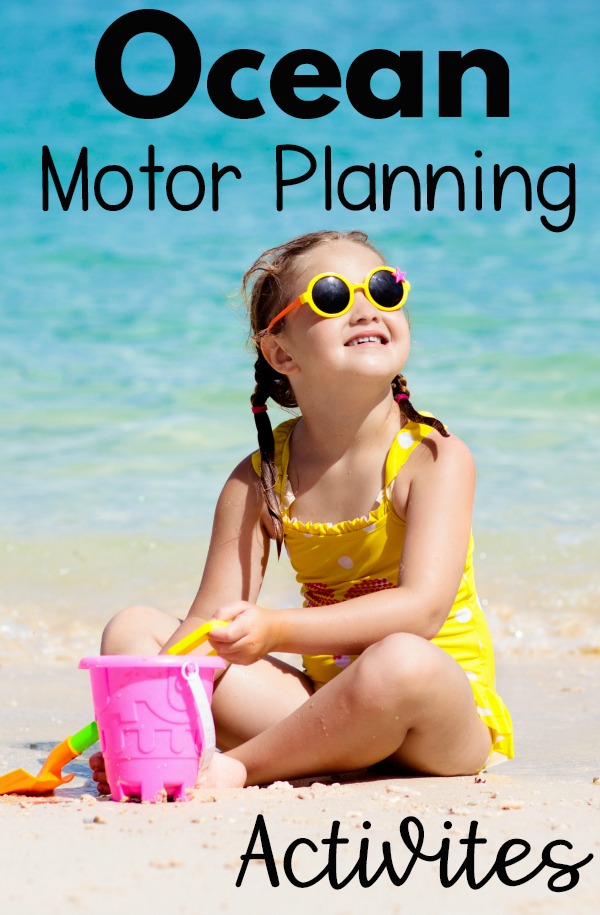 Ocean Themed Gross Motor Ideas
Ocean themed yoga is the a perfect way to get the kids moving. The kids get to move their bodies to be just like all the different creatures of the sea/ocean such as a crab, octopus and whale! You can read all about the different movements/poses in this blog post! These are seriously the best! The kids are so engaged!
GET THE PINK OATMEAL OCEAN YOGA CARDS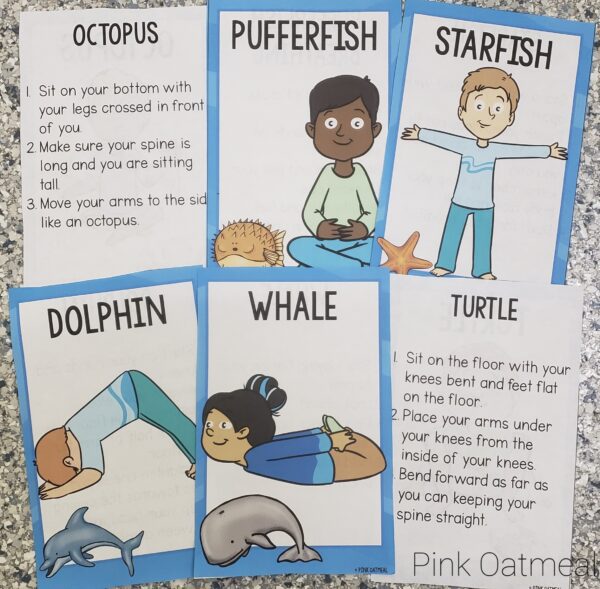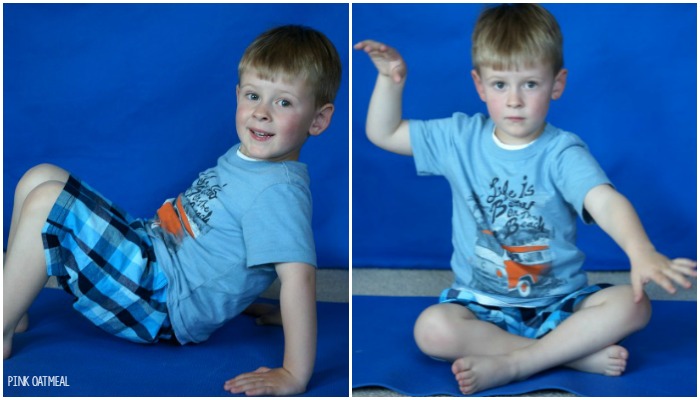 How about some fishing this week? Check out this fun idea for fishing. Yes, those are candy canes, but using pipe cleaners would probably work well too if you don't have candy canes on hand.
Speaking of fishing, Pink Oatmeal has
fishing themed movement cards
that are fast, fun, and efficient!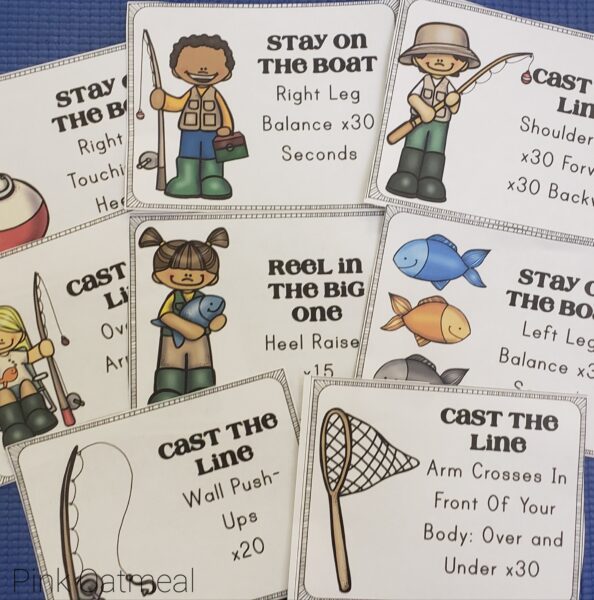 The ocean is full of islands. Island hopping is a great activity to add to the ocean theme. Use pillows or mats. Move forward or backward when trying out this activity!
Love simple moves? Then you'll love these
Ocean Themed Movement Cards
!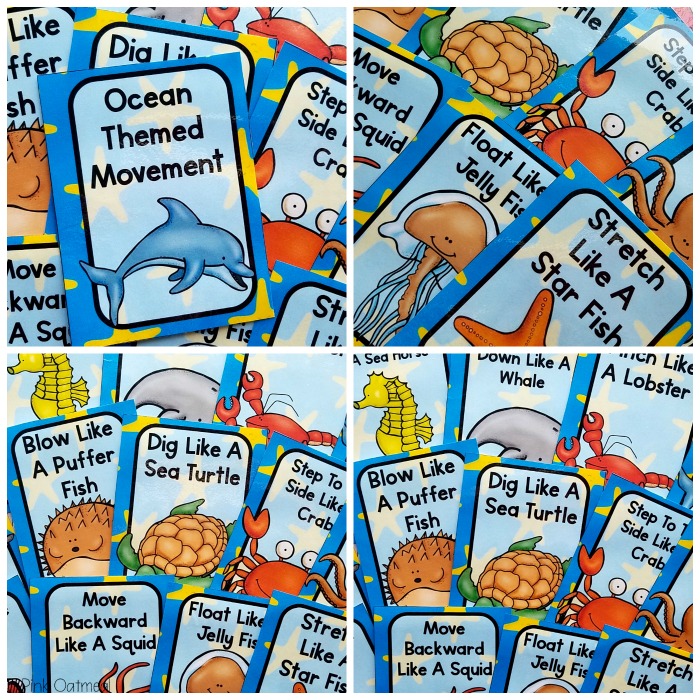 Lifeguard/Beach Ball Stations – These stations are part of the community helpers movement pack to represent the lifeguard. Place the different color beach balls on the wall. Now work on balance with knee taps or toe taps. You can also work in quadruped reaching for the different color beach balls!
GET THE COMMUNITY HELPERS MOVEMENT STATIONS TO GET THE LIFEGUARD/BEACH BALL GAME
Ocean Scooter Boards
– Have the kids laying on their stomachs and place fish on the floor. Fish can be plastic fish (this is what I use), fish on paper, paper cut fish etc. Have students scoot around picking up the fish. Next, try it in sitting on the scooter board!
The seashell or ocean animal scoop
is another great way to work over the peanut ball. Use ocean animals. I have several
like this
(affiliate link). and scoop them. This can be done in the seated position or prone over the ball.
Ocean Themed Digital Games
Try this fun ocean themed digital game. These can be played on a computer, tablet or interactive whiteboard. An awesome option for distance learning.
GET THE OCEAN THEMED DIGITAL GAME
How about a mermaid theme to go with your ocean unit? Meet the mermaids, get to know their names, and move like them. This can be played digitally or you can print it and use it that way too!
GET THE MERMAID THEMED MOVEMENT GAME

Roll, Riddle, and Write! This fun game is perfect for working on writing/fine motor skills keeping with the ocean theme!
GET THE RIDDLE, ROLL, WRITE OCEAN THEMED GAME
How about midline crossing plus visual motor skills?!?! This fun game incorporates midline crossing with an ocean theme!
GET THE OCEAN THEMED VISUAL DISCRIMINATION MIDLINE CROSSING GAME
Another great option is the beach themed digital game available in the freebie library!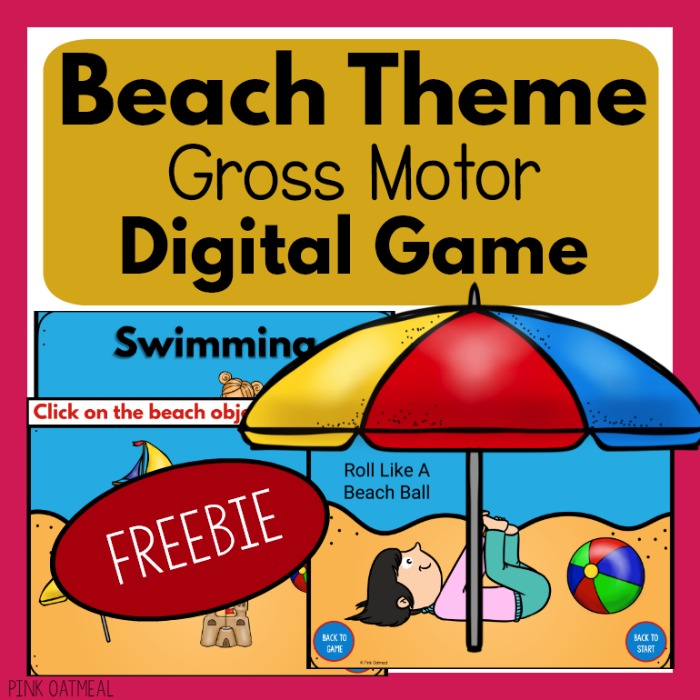 When you think of the ocean how about surfing?!? Pink Oatmeal has an awesome surfing themed gross motor game that works on one to one correspondence along with movement! This game can be played on your computer, tablet, screen cast onto a television or played on an interactive whiteboard. This is a great option for BOTH in-person and distance learning.
GET THE SURFBOARD COUNTING GROSS MOTOR GAME
Ocean Themed Fine Motor Activities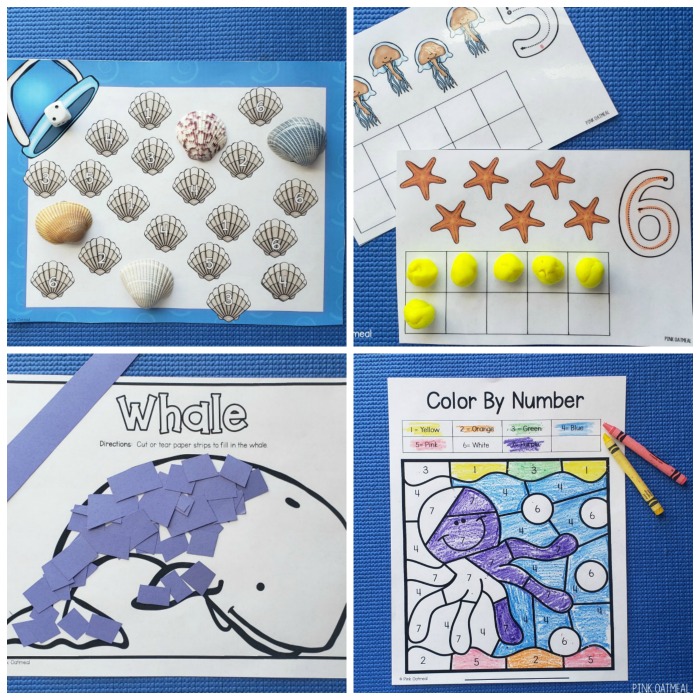 Ocean Fine Motor Activities – Eleven different easy, quick, and fun ocean themed fine motor activities can be found in the ocean themed fine motor activities pack. This is a must to save you time and effort and leave you feeling good about your ocean themed fine motor activities.
The summer fine motor pack from Pink Oatmeal also gives you plenty of other options for an ocean or beach theme!
GET THE SUMMER FINE MOTOR ACTIVITIES PACK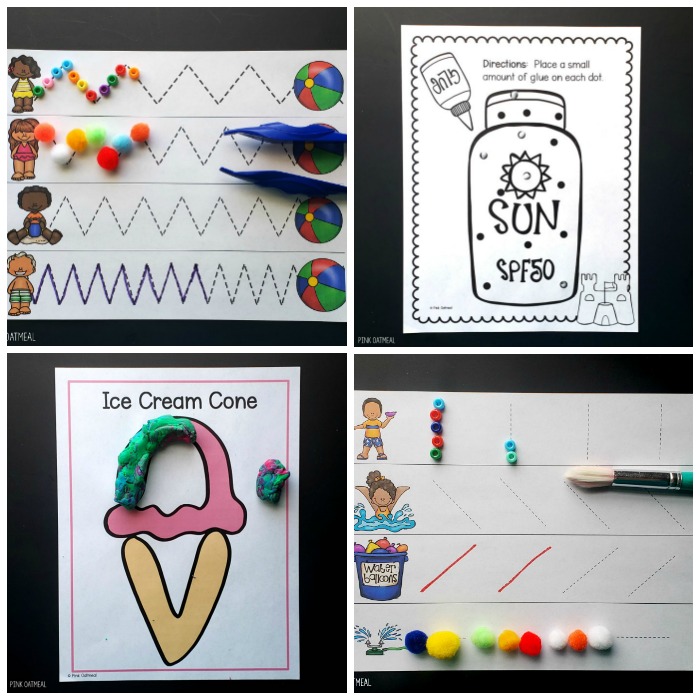 Ocean Themed Activities
Think about how great it would feel to have everything you needed for ocean themed fine motor and gross motor skills created for you and ready to use now! Not only will you have fun ocean themed motor activities, but you can also feel confident knowing that you and your kids will love these while at the same time working on motor skills. This is the perfect way to combine movement and learning! Pink Oatmeal has everything you need ready to go. Buy the Ocean Motor Pack today!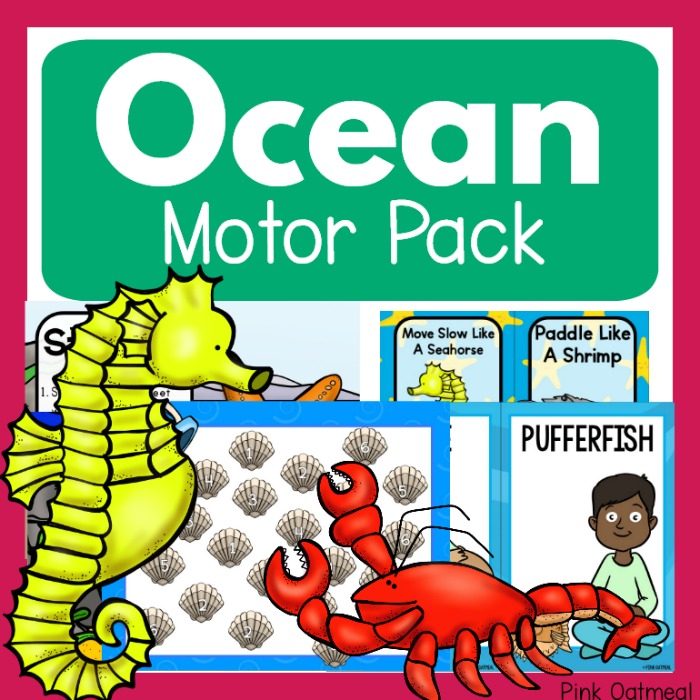 I Want To Hear From You!
Let's stay connected! You can find me on Facebook, Twitter, Instagram, or Pinterest. I'd love to hear from you!