I recently got lost in the world of Pinterest looking for ideas from bloggers on a theme for C's upcoming birthday.  Okay, really it's not until August, but I wanted to start getting ideas.  I found a lot of really cool themes and ideas, but the circus theme seemed to stick with me.  I loved all the different options for games, food, and cute decorations.  The real reason the circus theme stuck with me was the physical therapist in me loved how so many games involved motor play.  I already do circus yoga, but I've been inspired to incorporate more circus themed activities into motor play and possibly a birthday theme.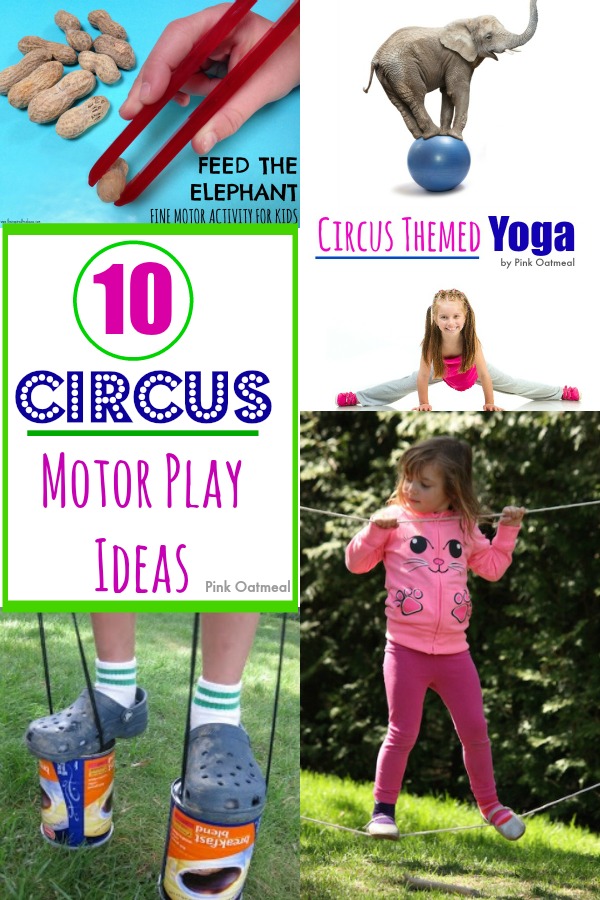 Circus Themed Motor Play For Kids
Ball Pit – The ball pit is perfect for the circus theme and perfect for all ages young and old.  It's a great gross motor activity for working on core strength!
Feed The Elephant – The Inspired Treehouse shares a fun fine motor game perfect for a circus theme.
Circus Yoga – Incorporating yoga with a circus theme is a blast for the kids.  A good way to work on strength, body awareness, and flexibility with fun.

Parachute Games – Childhood 101 shares 6 fun parachute games.  Perfect for a circus theme in my opinion!
Circus Obstacle Course – Laly Mom shares ideas for a circus themed obstacle course.
Flaming Hoops – The Inspired Treehouse shares a fun gross motor circus themed activity.  What kid doesn't want to jump through flaming hoops?
Stilts – Teach Mama shares how old coffee cans can turn into stilts.  Perfect for challenging balance and perfect for a circus theme!
Tight Rope – I love Happy Hooligans version of the tight rope!  I love how simple it is to create and all the great strength and balance work involved with the activity!
Ring Toss – I loved the simplicity of the ring toss from ABC's to ACT's.  Perfect game to work on that eye-hand coordination.
Potato Sack Race – This game was the best!  I remember doing this when I was young.  So much fun and great for balance, strength, and coordination!
What's your favorite kind of circus game?  I'd love to get more ideas! 
I WANT TO HEAR FROM YOU
Let's connect!  Pink Oatmeal is on Facebook, Pinterest, Twitter, andInstagram!
YOU MAY BE INTERESTED IN
My store at Pink Oatmeal is full of ideas to get the kids moving at home, in the classroom, and in therapy!  If you prefer Teachers Pay Teachers you can find me there too!