May is just around the corner. For many, the weather is warming up and the end of the school year is approaching. It's also a time where there is lots of energy to be burned. Gross motor and fine motor planning for the month of May includes camping, sports, safari, and cowboy/cowgirl themes. Also, be sure to check out the fun free May gross motor printables!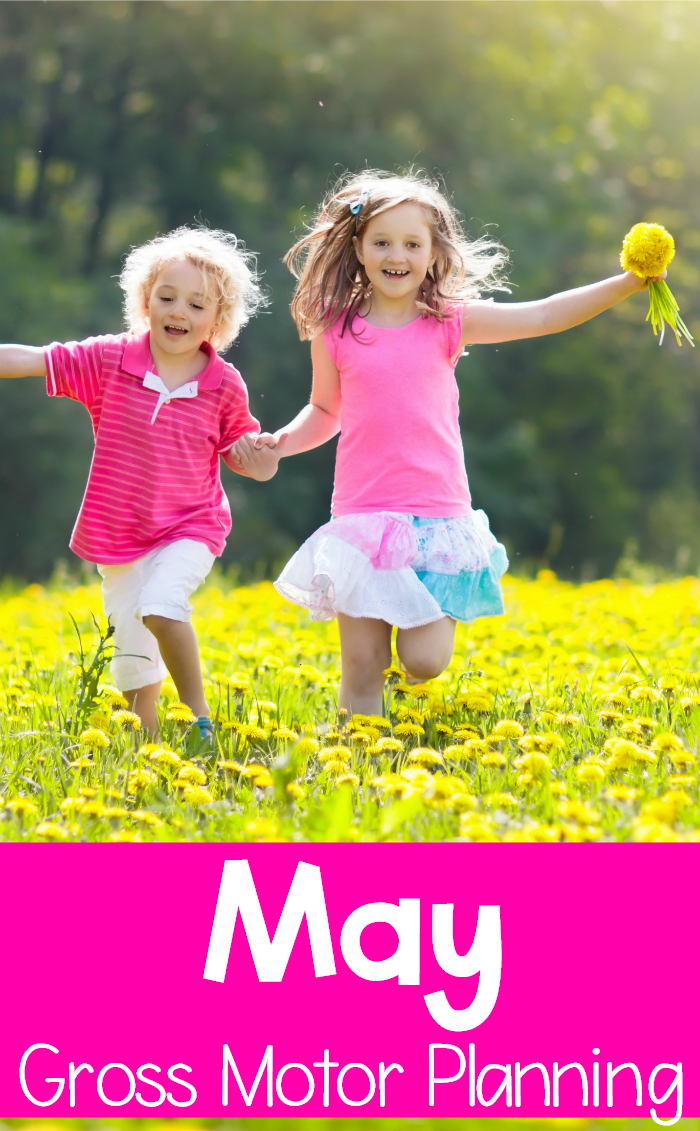 May Gross Motor Planning
Affiliate links are included in this post. They will be marked affiliate link prior to the link. Please read my full disclosure for further details.
Using themes can make gross motor time fun as well as easier for you to set up. Breaking them down in weeks can add some order. It's okay to have some of the themes overlap a bit and they don't need to be in any certain order. There is no hard and fast rule about how many activities need to be done. You may find that you prefer a few different themes then what is suggested. You can also check out all our other motor planning ideas and themes here!
Cinco de Mayo
This can celebrated one day or celebrated as a theme. Make it a fiesta. Pink Oatmeal has resources available to you for in person distance learning or teletherapy.
The Cinco de Mayo moves game is a fun way to move with this theme. Pick a fiesta friend, get to know their name, and do the move they ask of you. This is great for BOTH in person and distance learning. If working in person, add this to an obstacle course to make it even more fun!
GET THE CINCO DE MAYO GROSS MOTOR DIGITAL GAME
Another fabulous option for Cinco de Mayo is Pink Oatmeal's Cinco de Mayo moves brain break cards. These are fast, fun, and effective. Pick a card and do the move. These can be done with an entire classroom, a small group, or one kiddo! Make them part of a scavenger hunt or obstacle course.
GET THE CINCO DE MAYO MOVES CARDS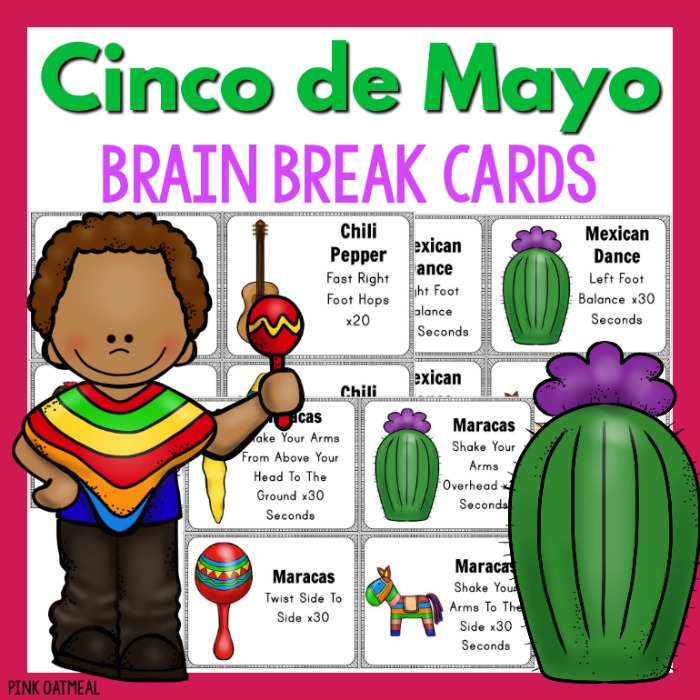 May Gross Motor Activities Planning – Camping Week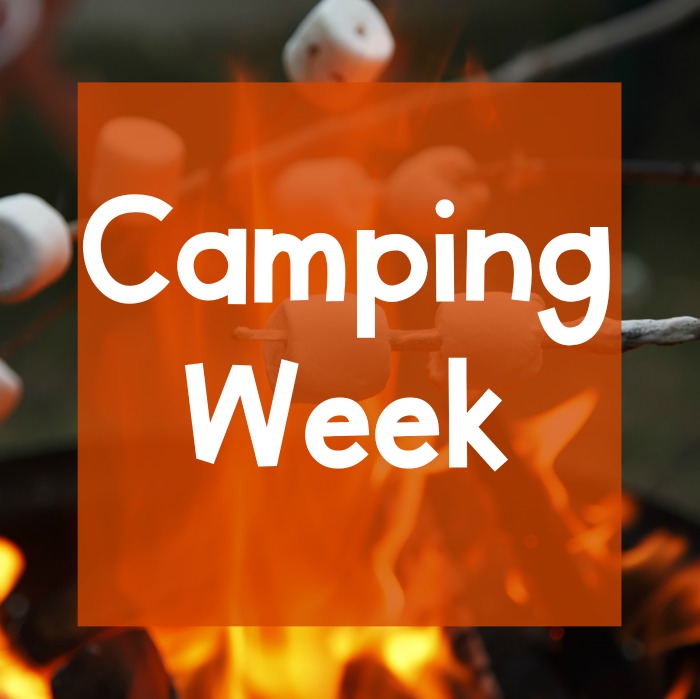 Pink Oatmeal has a huge post on camping themed gross motor and fine motor activities that you need to check out. Below is a brief overview of the camping themed games and ideas.
Camping season is here. It's a super fun theme to use in your May gross motor planning. Start off with these fun camping themed yoga pose ideas – whether you've never done yoga or are a yogi you will love these fun ideas!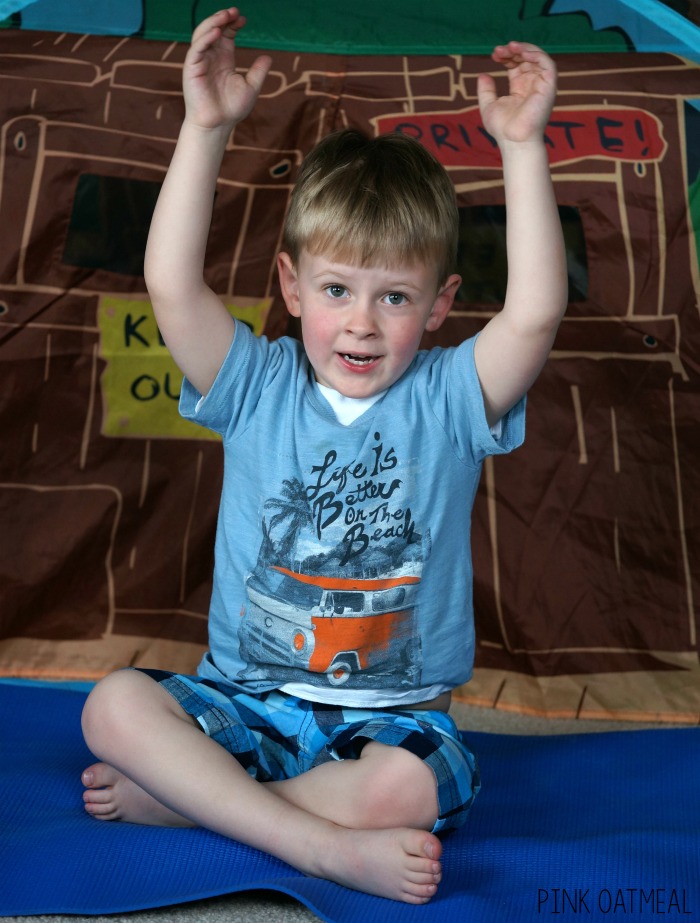 Camping and fishing often go hand in hand. Check out all these fun fishing themed ideas for movement!
Corn hole (affiliate link) is another classic camping game. There is no need to have the official corn hole game, use balls of paper or tin foil and throw them into a garbage can!
Relays are fun camping games that can be played with friends. Check out all of the fun relay races for kids.
Pick out some of your favorite stuffed animals that you may see while camping and try this flying animal game – it's great for core strength!
Camping is also the perfect time for a scavenger hunt which is great for gross motor! Get your free nature scavenger hunt in the freebie library!
For fine motor work with a camping theme check out the 10 different camping themed fine motor activities.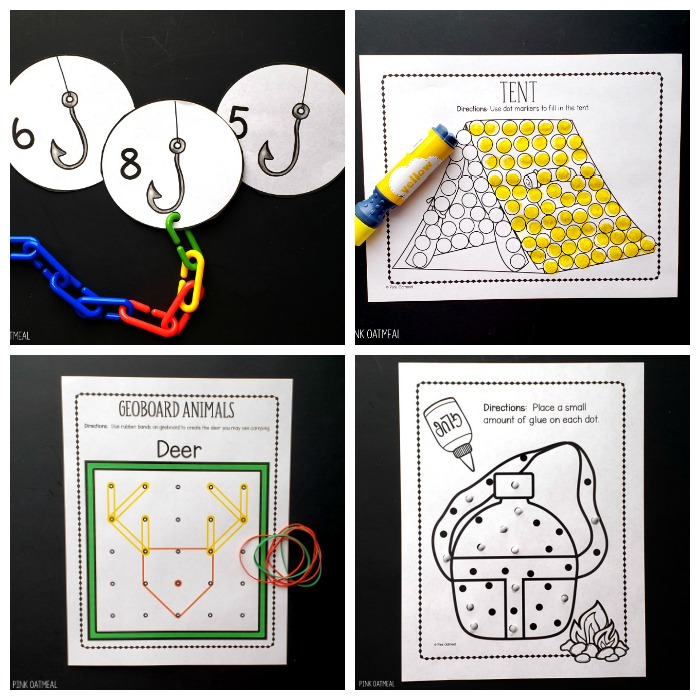 May Gross Motor Activities Planning – Sports Week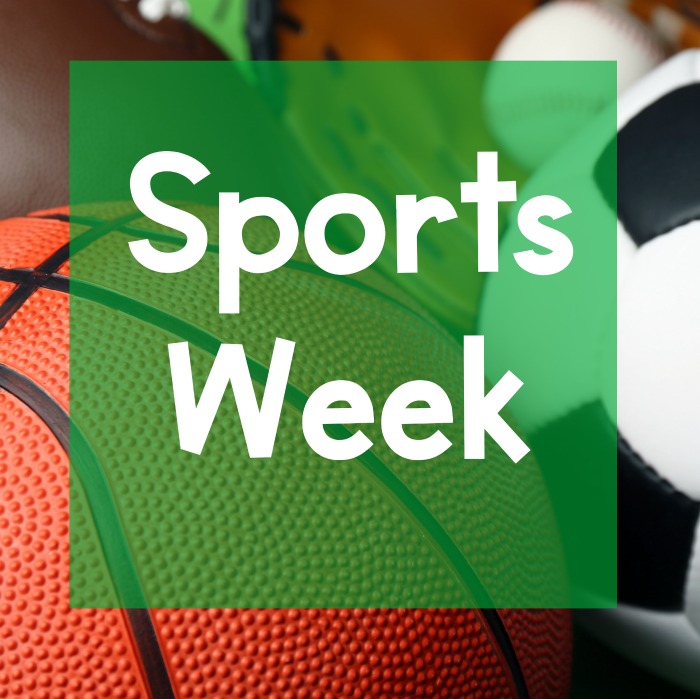 Since it's easy to get outside most everywhere it's the perfect times for sports. This may include playing some of these sports outdoors or it may include fun simple ways to move with a sports theme indoors too.
Fast, fun, and effective ways to get movement into the day can be done with these short sports themed brain break activities. Check out the fun and different ways to move with a basketball, football, baseball or soccer theme. Get all of these movements in this pack right now!
This is a great time to add in agility drills. Use sidewalk chalk, tape, or an agility ladder to create your agility courses. See several different agility drill ideas.
Be sure to grab your free hockey themed brain breaks from the freebie library.
Try the football relay.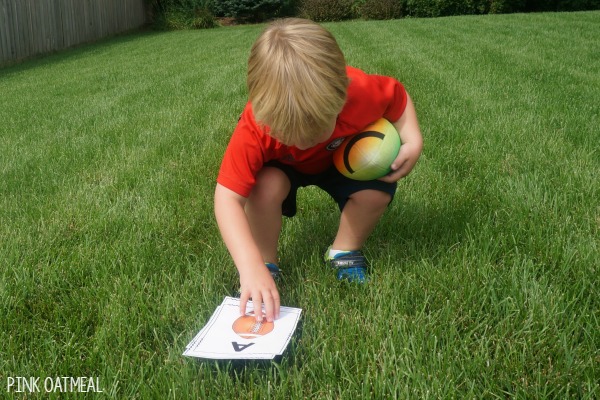 Check out all of these fun ways to incorporate basketball into gross motor.
Check out even more ideas for football gross motor planning.
This kick the cup game is a fun way to incorporate sports and learning!
Get your FREE football themed matching game with movement in the freebie library!
Don't miss out on the eight different sports themed fine motor activities to try this week.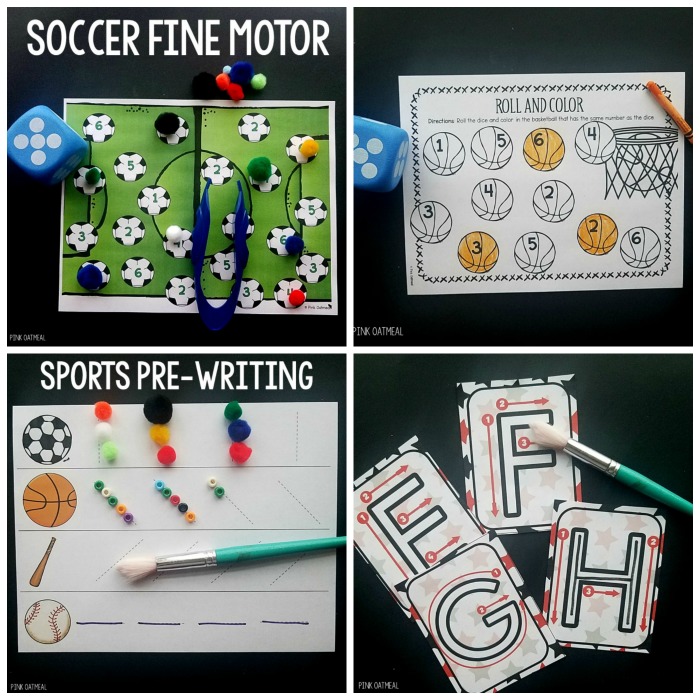 May Gross Motor Activities Planning -Safari/Jungle Week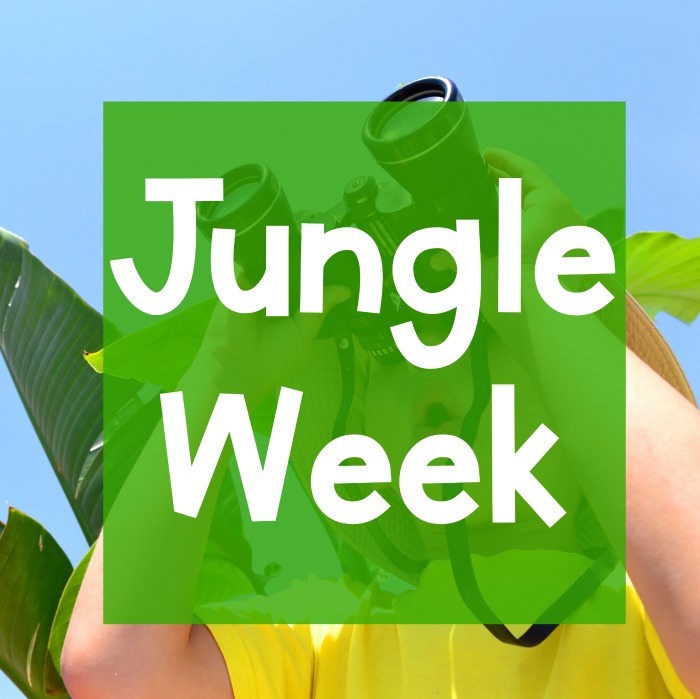 Who doesn't love a trip to the jungle or a safari? It's a fun theme to incorporate for gross motor planning.
The jungle is full of animals! Check out these great ways to move like an animal.
Get your Animal Actions to hang up around the room! There is a Real Kids version available too.
Try out Jungle/Safari themed yoga! Everyone from a novice to a seasoned yogi will love these ideas.
Need something fast, fun, and efficient? Try out these Jungle/Safari themed brain break ideas. Most of these activities can be done in under 1 minute with very little space needed.
Set up jump ropes or streamers between chairs and have the kids move through the jungle vines!
Animal tag is a fun game to use with a jungle and safari theme especially if you can get outside!
May Gross Motor Activities Planning – Cowboy/Cowgirl Week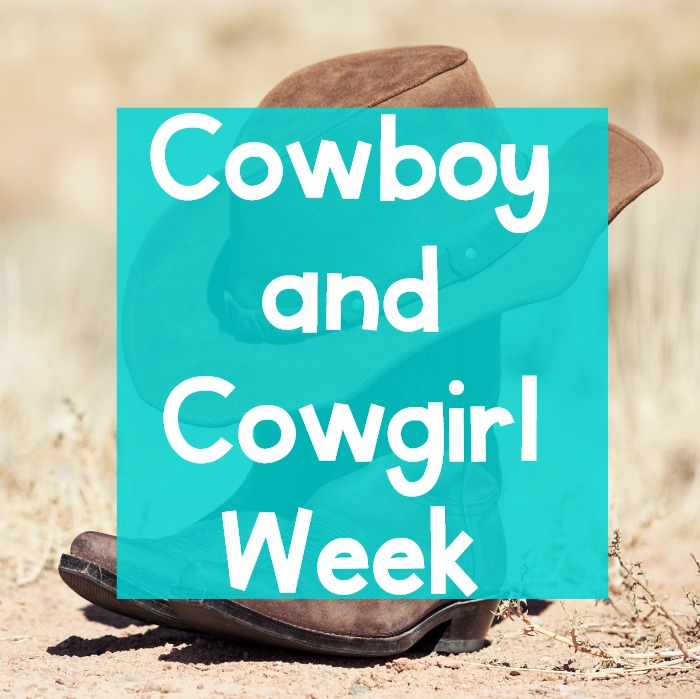 Start out with these fast, fun, and efficient cowboy/cowgirl themed activities. These are perfect for a warm-up, brain break, or card game activity.
Try your hand at cowboy yoga. An easy and fun way to move your body with a cowboy theme. Everyone new or old to yoga will love these ideas!
This is a great time to ride stick horses. An economical way to do this is to use pool noodles as your stick horses (like these) if you don't have any on hand.
Try herding the animals. This activity can be played with balls or balloons.
This is a great time to use jump ropes (lassos). Try traditional jump roping. Lay the ropes on the floor and jump over 1, 2, 3 or more. Place the jump ropes between chairs and work on jumping over them.
This is also a great time for a ring toss (horseshoe toss game). Make your own rings by taping together the ends of two pieces of rope or (affiliate link) get this set.
This may also be a great week to add some desert themed motor activities into the mix.
As for cowboy/cowgirl fine motor activities, be sure to check out these nine different western themed fine motor activities.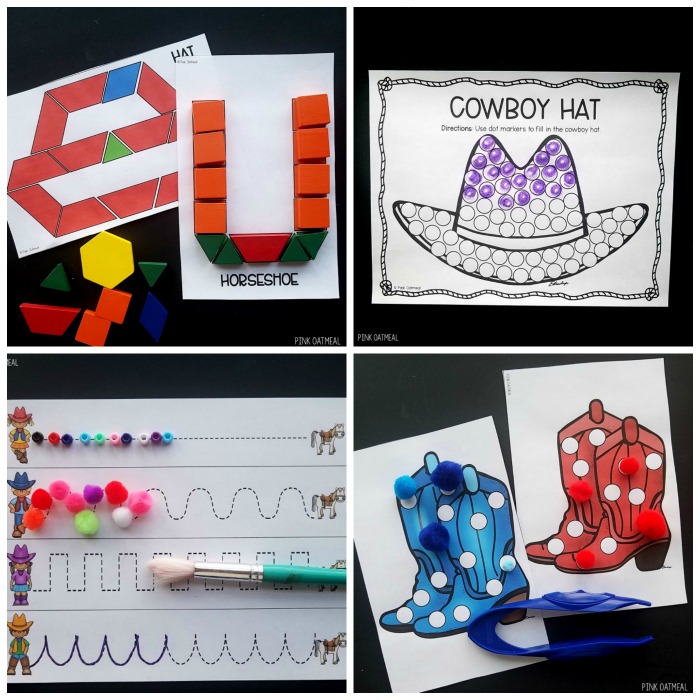 May Freebies
For many, May marks the closing weeks of the school year. Award your hard working kids with these awesome free fitness awards in Pink Oatmeal's freebie library!
The last Monday in May marks Memorial Day. Don't forget to grab your free Patriotic Yoga in both the clip art and kids version out of the freebie library.
Have fun moving the month of May. Don't forget to check out all of our other gross motor and fine motor themes for each month TO GET EVEN MORE THEMES PERFECT FOR MAY!