Have you ever heard the term visual perception? So what exactly is it? In short, visual perception is the ability for the brain to make sense of what the eyes see. Visual perception is very important part of our everyday lives! It's a huge part of how we interact with the environment. Did you know that you could have 20/20 vision, but still have difficulty with visual perception skills?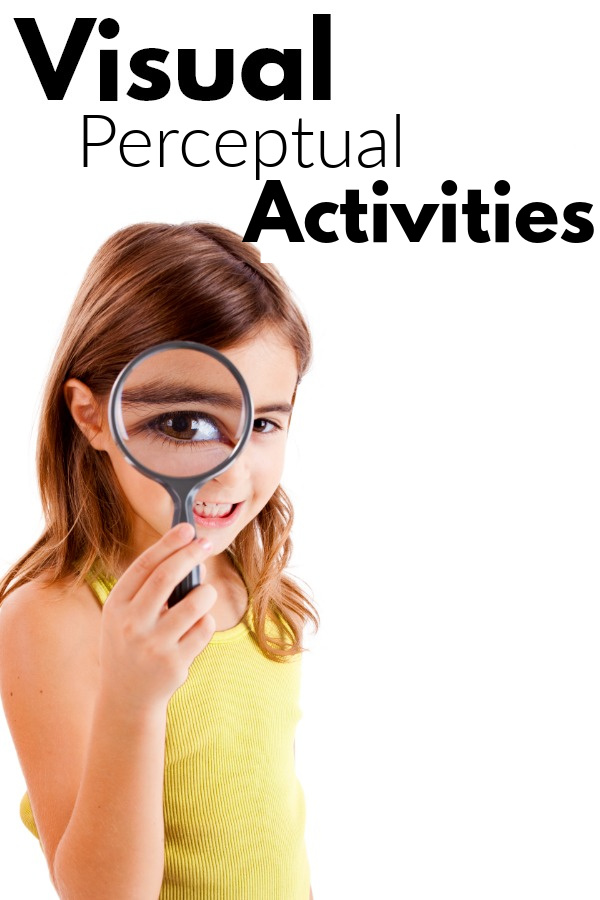 Visual Perception
Visual perception is composed of several different skills. Here is a breakdown of some of the skills.
Visual discrimination – This is the ability to match two objects that are the same.
Form constancy – This is the ability to recognize that two objects are the same even if they are a different size, color etc.
Figure ground – the ability to find an object when it is hidden in a busy background.
Visual closure – This is the ability to identify two objects that are the same even if part of one is missing,
Visual memory – This is the ability to remember visual information.
Visual Perception In Everyday Life
Visual discrimination -An example of visual discrimination is being able to sort quarters and nickels into two different piles.
Form constancy – An example of this would be understanding that both a large green apple and smaller red apple are both apples.
Figure ground – An example of figure ground is the ability to complete "I Spy books". Another example would be picking out a friend in a large crowd of people.
Visual closure – An example of visual closure would be digging through a toy box and finding the toy you are looking for when only part of the toy is visible.
Visual memory – An example of visual memory would be copying words from a chalk board to a sheet of paper.
Visual Perception and Motor Skills
Vision plays a huge part in motor skills! Visual perception is a huge part of visual motor skills also known as visual motor integration. Visual motor skills in short is interpreting visual information and responding with a motor action.
Let's put this in a real world scenario. You are out on a walk and there is a puddle in front of you that you step around. You've now taken that visual information, interpreted it and completed a motor action to avoid getting wet in a puddle.
Another example of this would be playing catch. A ball is tossed to you and you reach out your hands to catch it. Once again, you've taken the visual information to complete a motor task. If you struggled with the visually perceived information, you would struggle to catch the ball,
Visual Perception Activities
Pink Oatmeal has several fun activities available for you to work on visual perception skills! These games are fun and engaging! All of the games come in a digital version, with the ability to print several of the games as well.
Pink Oatmeal has a fun series of "Find It" games! These games have you use your vision to find an object. Once you find it, you have a task to complete.
GET THE FIND IT MAKE IT PATTERN BLOCKS GAME
GET THE FIND IT MAKE IT DOUGH GAME
GET THE FIND IT WRITE IT
GET THE FIND IT MOVE IT GAME- PURSE ITEMS
We know that being able to match items is an important part of visual discrimination. The Circle Match Game is a fun way to work on this skill! Use the circle match digital game both in person or with distance learning and teletherapy.
GET THE VISUAL DISCRIMINATION CIRCLES IN ACTION
Work on those letter reversals while moving. Pink Oatmeal has a fun game that helps you work on differentiating between different letters. When you get it right you get to move!
GET THE LETTER REVERSALS GROSS MOTOR GAME
Vision Resources
Above are just a handful of the fun and engaging ways to work on vision from Pink Oatmeal. Pink Oatmeal has a huge selection of resources that you can use right now!
CLICK HERE TO SEE THE VISION RESOURCES FROM PINK OATMEAL
The best deal by far is the Vison + Motor Skills Bundle. This bundle gives you so many fun games at a major price reduction.
You can also click on name of the resource on the image below to get a full detailed view of that resource.