Are you looking for a fun addition to your jungle theme or jungle unit?  Maybe you are looking for a fun brain break or want to try yoga that the kids can relate too?  Maybe you have kids that love animals or the jungle?  Jungle yoga is your answer to all of these questions!  Check out all the fun jungle yoga pose ideas and make yoga fun!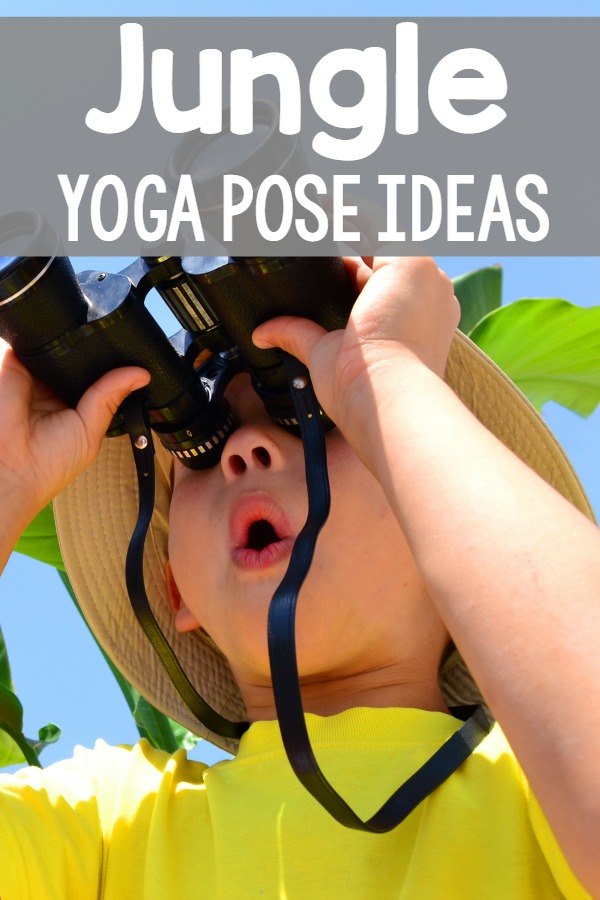 Jungle Yoga Pose Ideas
When it comes to yoga and kids  I let the kids be creative with the poses.  I don't focus on perfection, and I always make sure it's safe and fun!  If you love these pose ideas I have ready made cards in my shop or Pink Oatmeal's Teachers Pay Teachers store.
Panda
Place hands and feet on the floor. Walk forward on hands and feet without knees touching the floor. Try walking backwards without touching your knees to the floor.
Tiger
Start out on your hands and knees. Reach your right arm in front of you. Reach your left leg behind you. Hold. Repeat on the opposite side. Continue repeating side to side.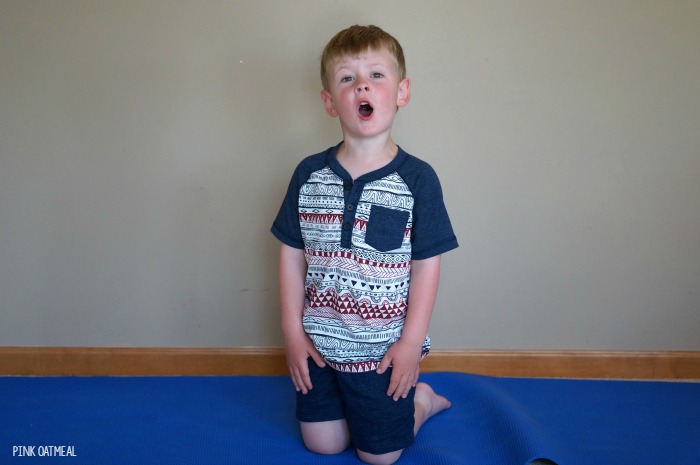 Lion
Lion Pose – Add a ROARR!
Monkey
Start with feet hip width apart. Move down into a squat position. In this position move side to side. Add Monkey noises if you'd like.
Parrot
Dancer's Pose
Zebra
Cow Pose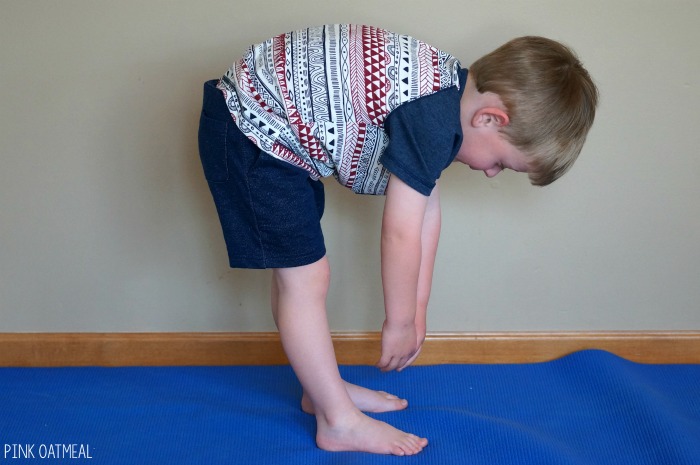 Gorilla
Stand tall with your arms at your sides. Bend forward at your hips. Let your hands hang in front of you, touching the floor if you can. Hold the pose and breathe or if you feel like it, let your arms swing.
Hippo
Child's Pose
Tree
Tree Pose
Snake
Cobra Pose – Add a hiss like a snake.
Giraffe
Start on your hands and knees. Reach one hand up to the sky as high as you can reach and hold for a few seconds. Switch sides and reach your opposite hand up to the sky and hold a few seconds. Repeat.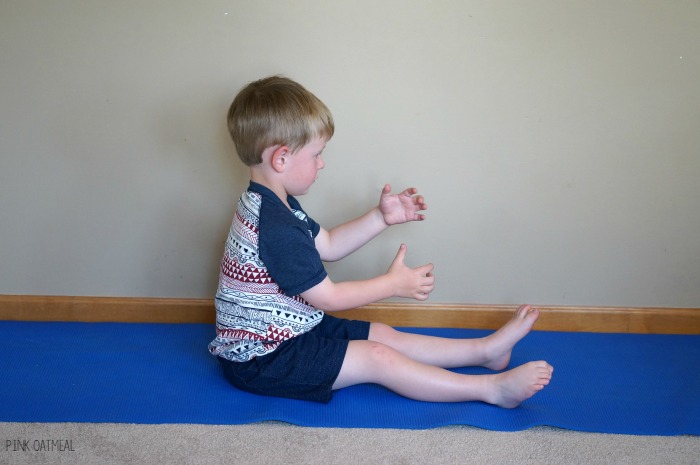 Jeep
Sit tall with your legs straight in front of you. Make sure your spine is nice and straight. Lift your arms so that you can mimic driving the steering wheel of the jeep. Look for jungle animals!
Rhino
Stand tall. Keep legs hip width apart. Place your palms together in front of your body and slowly raise them above your head. Bend forward at the hip.  Hold and breathe!
Compass
Sit on the floor with your legs spread out to the side in front of you. Stretch your arms above your head. Move your arms to different positions on the compass.  Talk about different directions and move your arms into that position!
Elephant
Forward Fold – Clasp your hands together and swing your trunk side to side.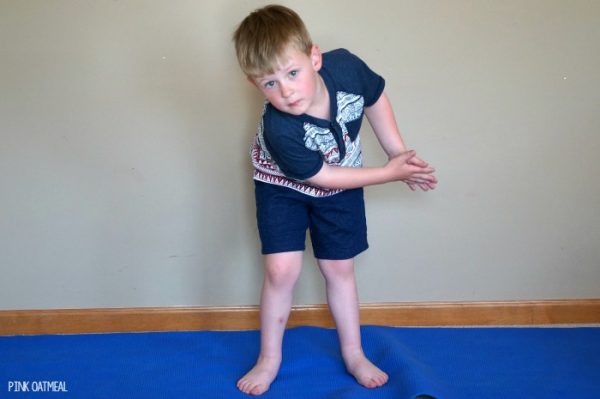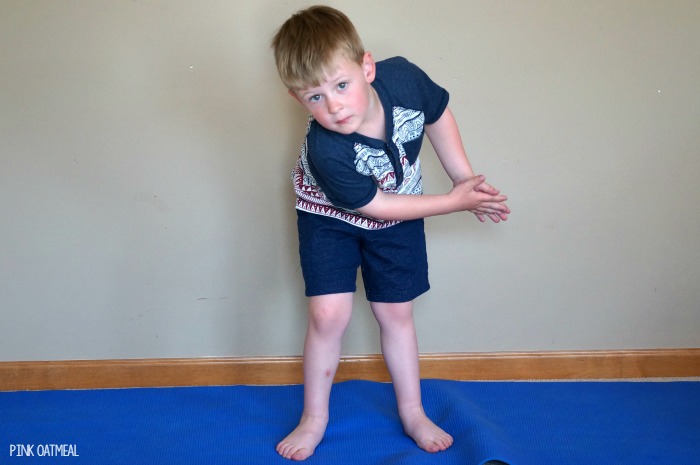 Jungle Yoga Cards and Printables
Do you love the idea of Jungle Yoga, but want it ready made and easy to use at all times? I don't blame you! Pink Oatmeal has two different sets of Jungle Yoga Cards and Printables available for you.  Both sets have the same poses, but a different presentation
Jungle Kids Yoga Cards and Printables
Jungle Kids Yoga Cards and Printables are an awesome resource for movement!  This seat has jungle themed poses with real kids in the poses.  This makes it easy to do a pose just looking at the card and/or printable! Grab them in the Shop or at Teachers Pay Teachers!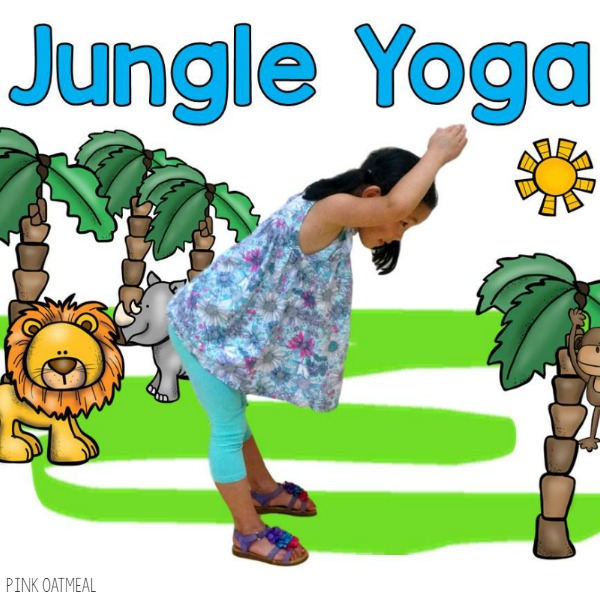 Jungle Yoga Cards
The Jungle Yoga Cards and Printables have fun pictures associated with the different poses.  These are great pictures for the kids to relate too.  They are available at the Teachers Pay Teachers store or  store on the blog.


Interactive Yoga
Some of these jungle poses are also available in the Interactive Animal Yoga game along with Woodland, Arctic, and Farm poses.  These games can be played anywhere that you can use PowerPoint.  Play them on the computer, iPad, interactive whiteboard or smart television!  You will be amazed how engaged the kids are.  Get them at The Shop or Teachers Pay Teachers.


More Jungle Movement
Looking for even more ways to move with a jungle theme?  Check out Pink Oatmeal's Jungle Themed Brain Breaks.  These fun jungle themed cards will be a hit with the kids!  Movement is an essential part of learning!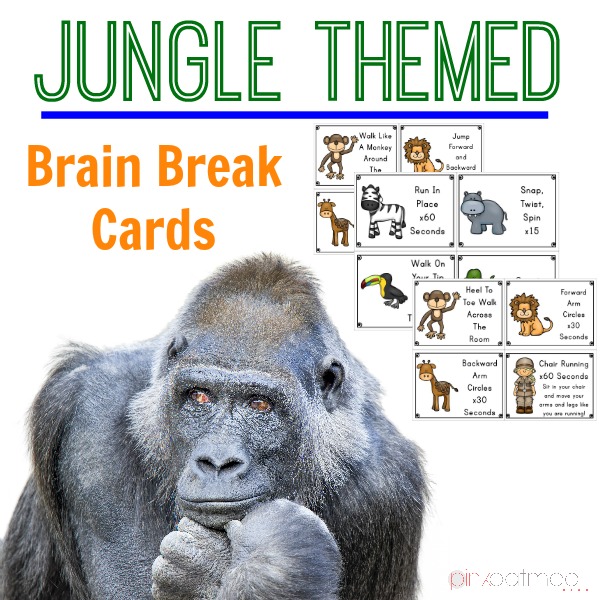 I WANT TO HEAR FROM YOU
Let's connect!  Pink Oatmeal is on Facebook, Pinterest, Twitter, and Instagram!