Do you ever feel like your classroom, therapy room or home is a bit of a jungle?  I know I do!  Sometimes there is just too much built up energy that needs to get out.  How about getting out of that jungle by using fun movements that are all about the  jungle?  Jungle themed brain breaks are the perfect solution for getting out all of that energy and help the kids be ready to learn or listen again!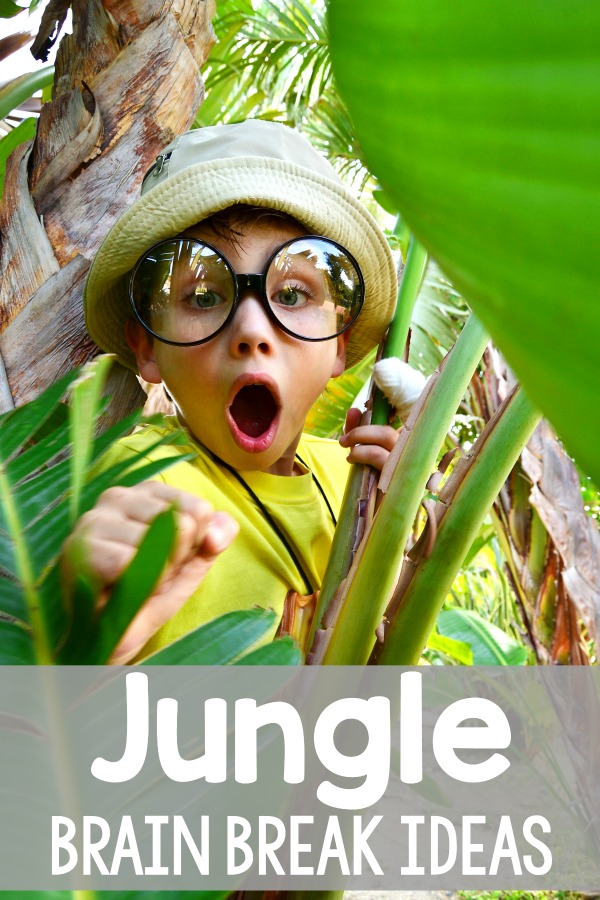 Jungle Themed Brain Breaks
Jungle themed brain breaks can be utilized in small or large spaces. You can decide on times, distances, and duration based on your needs!  If you want a set of Jungle Brain Breaks that are ready made for you be sure to check out the set available in the shop or Pink Oatmeal's Teachers Pay Teachers store!
Jungle Jumping
Jump and Turn, Jump Back and Forth, Jump Side To Side, Jumping Jacks, Right Foot Hop, Left Foot Hop, Fast Jumps, Big Jumps
Vine Swing
Forward Arm Circles, Backward Arm Circles, Shoulder Blade Squeezes, Shoulder Shrugs
Animal Run
Run In Place, March In Place, Heel To Toe Walk, Backward Walk, Chair Run, Huge Steps, Tiny Steps, Bear Walk, Gallop, Monkey Moves, Walk With Arm Flaps
Follow The Map
Sequence Movements – Example:  Jump, Spin, Squat, Repeat – This can be a variety of moves
King Of The Jungle
Squat, Lunge, Wall Push Up, Reach For The Floor and Touch The Sky
Jungle Walk
Left Foot Balance, Right Foot Balance, Tandem Standing (Right Lead), Tandem Standing (Left Lead)
Jungle Jive
Spin, Twist, Free Dance, Body Wiggles
Jungle Juice
Heel Raise, Toe Raises, Knee Hugs, March To Hands (Hold Hands In Front of You and March Each Knee Up)
Jungle/Safari  Themed Brain Break Cards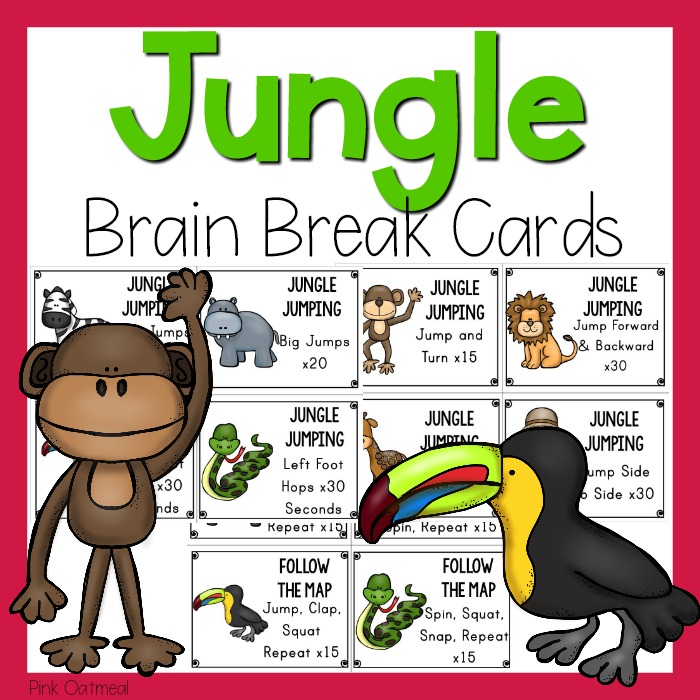 Do you love the idea of Jungle/Safari Themed Brain Break Cards, but want them ready made for you to have at any time? I don't blame you! The good news is these are available for you in my Teachers Pay Teachers store or in the shop on the blog. Stay at the store and shop around and find brain breaks for all seasons and themes!


Jungle and Safari Movement Pack
Get all your favorite ways to move with a Jungle and Safari theme and save money with the Jungle and Safari Movement Pack!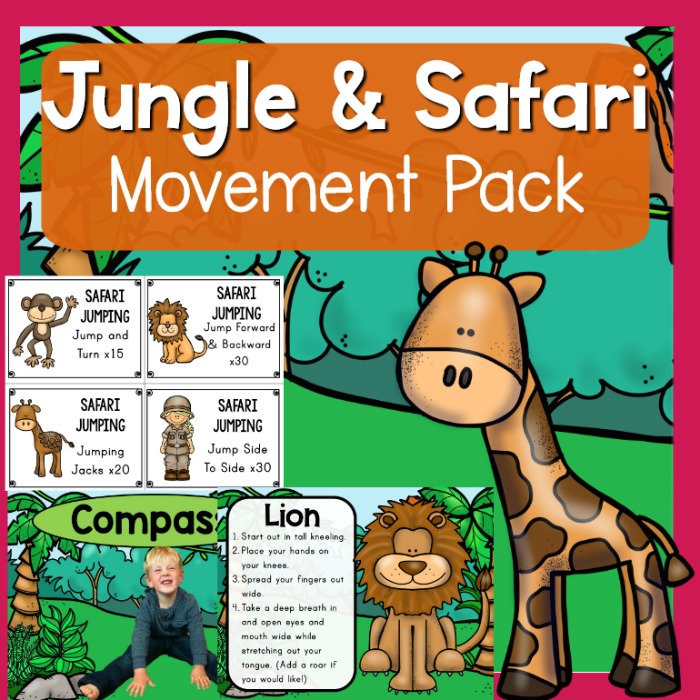 I WANT TO HEAR FROM YOU
Let's connect!  Pink Oatmeal is on Facebook, Pinterest, Twitter, and Instagram!
YOU MAY BE INTERESTED IN
The store at Pink Oatmeal has ideas to get the kids moving at home, in the classroom, and in therapy!  If you prefer Teachers Pay Teachers you can find me there too with even more ideas to get the kids moving!