It's the end of the school year and summer is so close that you can taste it.  All the great activities of the summer lay ahead.  The problem is there  are a few things that need to be done before the school year ends!   The kids are having trouble sitting still, but can you blame them?  A solution to your problem could be letting the kids get up and move!  Using fishing themed motor activities are a great way to make it through those last few days of school.  They are also great to incorporate into those fishing units!

Fishing Themed Motor Activities and Brain Breaks
The great thing about fishing themed motor activities and brain break ideas is that the number of repetitions, distance, and duration of time can easily be adjusted based on your needs!   I like to make sure the kids are working hard and getting re-energized!  These ideas are designed to be fast, effective, and efficient!  If you really love these you can buy a set of ready made fishing cards in the shop or my Teachers Pay Teachers store!
Cast The Line
Forward Arm Circles, Backward Arm Circles, Sideways Arm Circles, Shoulder Blade Squeezes, Arm Pumps (Overhead), Arm Crosses (In front of your body), Wall Push-Ups, Shoulder Rolls Forward and Backward
Stay On The Boat
Right Foot Balance, Left Foot Balance, Tandem Standing (Both Sides), Heel To Toe Walking, Heel To Toe Walking (Backward), Right Foot Hops Across The Room, Left Foot Hops Across The Room
To The Lake
March, Skip, Gallop, Jump, Knee Walk, Crawl, Heel Walk, Toe Walk all around the room!
Reel In The Big One
Squats, Lunges, Toe Raises, Heel Raises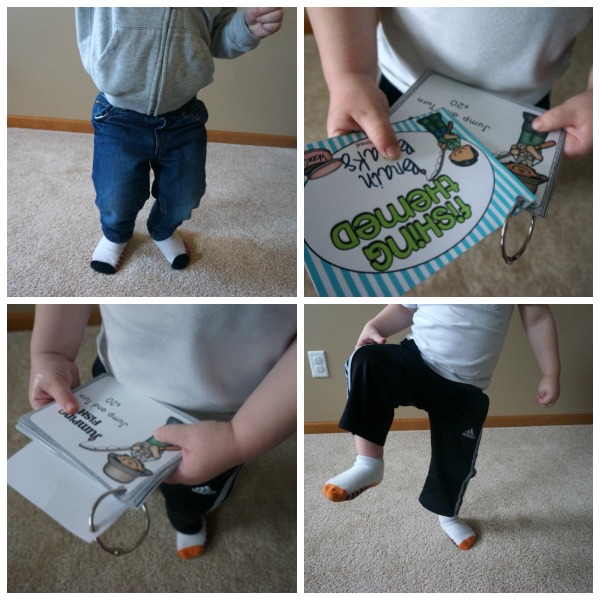 Sea Life
Hold Both Your Partners Hands and Rock Back and Forth Like You Are On A Boat, Make Fish Faces, Swim Across The Room, Captain Says (Simon Says)
Fishing Party
Body Wiggles, Dance Party, Spin (Both Directions), Knee Hugs
School Of Fish

A sequence of motor actions repeated.  Example – Jump, Spin, Twist Repeat x15 – Be creative!
Jumping Fish
Big Jumps, Tiny Jumps, Side To Side Jumps, Back and Forth Jumps, Jump and Turn, Fast Jumps
Fishing Themed Brain Break Cards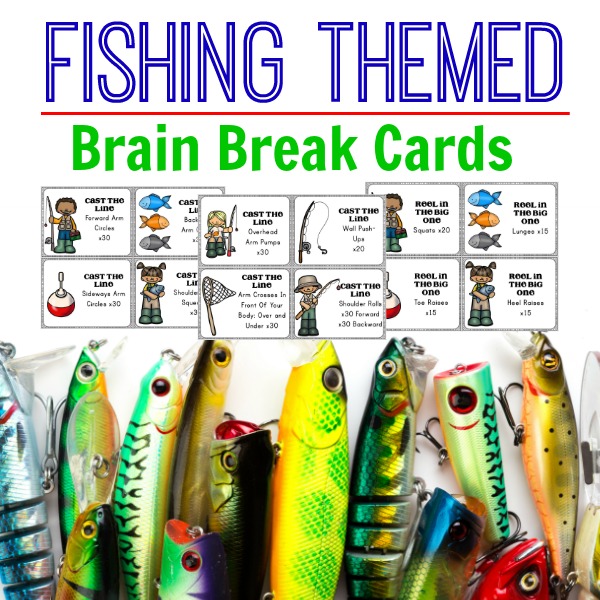 Do you love the idea of fishing themed brain break cards, but want them ready made for you to have at any time? I don't blame you! I have them available for you in my Teachers Pay Teachers store or in the shop on the blog. Stay at the store and shop around and find brain breaks for all seasons and themes! The fishing brain break cards consists of 48 brain breaks with a fishing theme!  Be sure to check out these other products while you are there!
I WANT TO HEAR FROM YOU
Let's connect!  Pink Oatmeal is on Facebook, Pinterest, Twitter, and Instagram!  Come follow me!
YOU MAY BE INTERESTED IN
My store at Pink Oatmeal is full of ideas to get the kids moving at home, in the classroom, and in therapy!  If you prefer Teachers Pay Teachers you can find me there too!