I truly love a western or cowboy theme.  I don't own a pair of cowboy boots or a hat (I really should), but deep down I'm a little bit country at heart.  I'm even a big country music lover.  Not only is it just plain cool, but a cowboy or western theme can easily be incorporated into brain break and yoga ideas.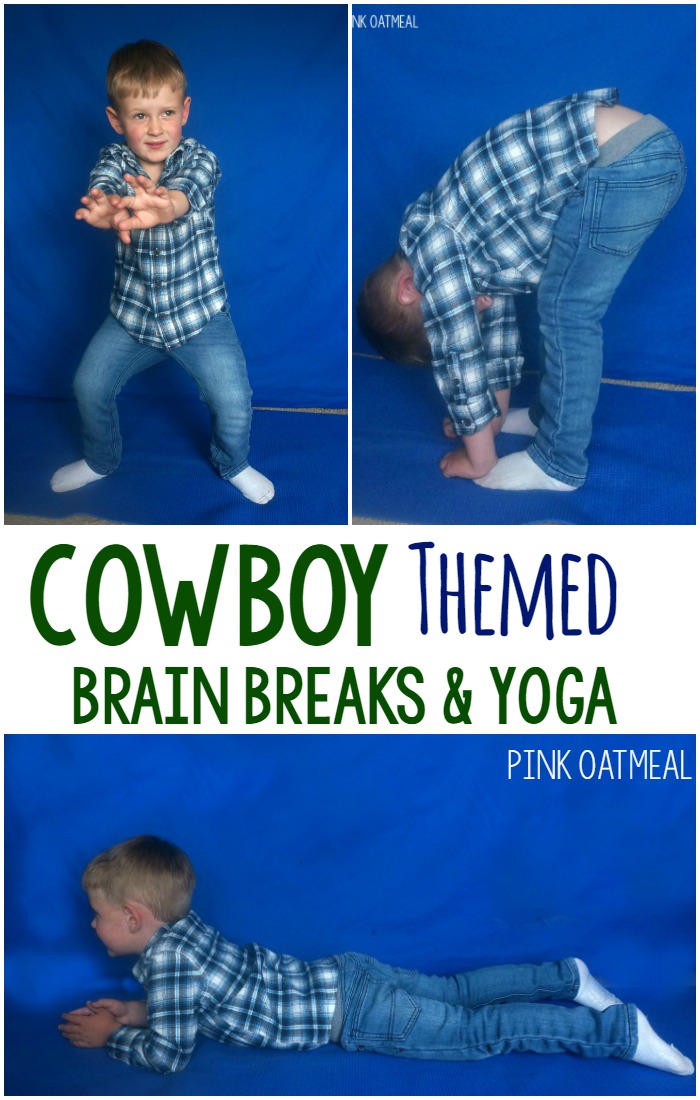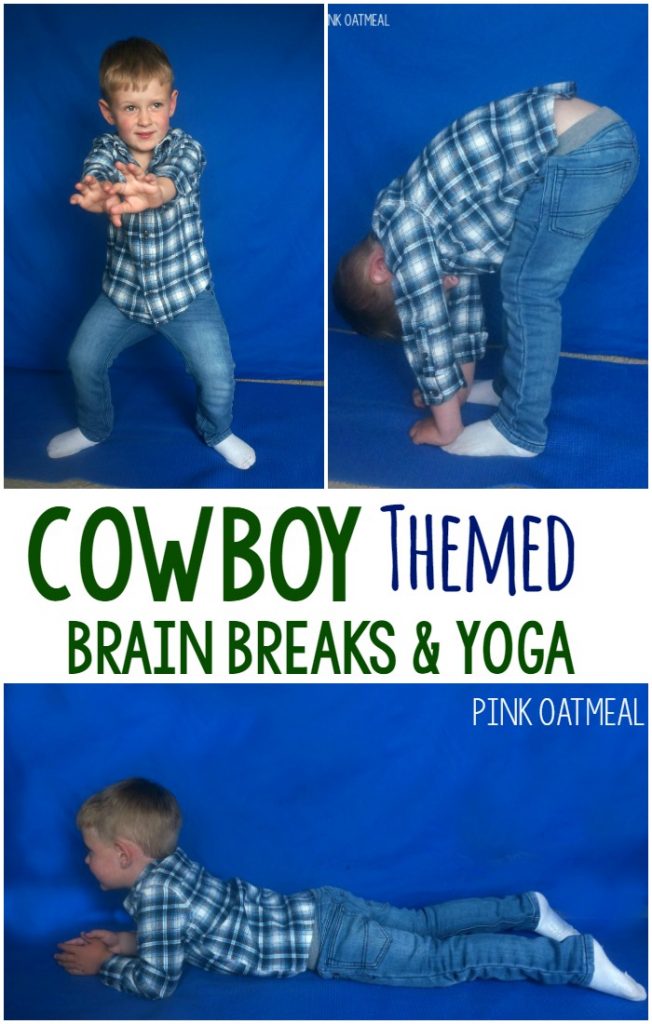 Cowboy Theme Yoga and Movement Ideas
When thinking about different ways to incorporate yoga poses there are plenty of western/cowboy objects that can be used as poses.
Horse
Gallop around taking turns leading with either foot!
Cow
Cow Pose – Add a moo if you would like!
Cactus
Tree Pose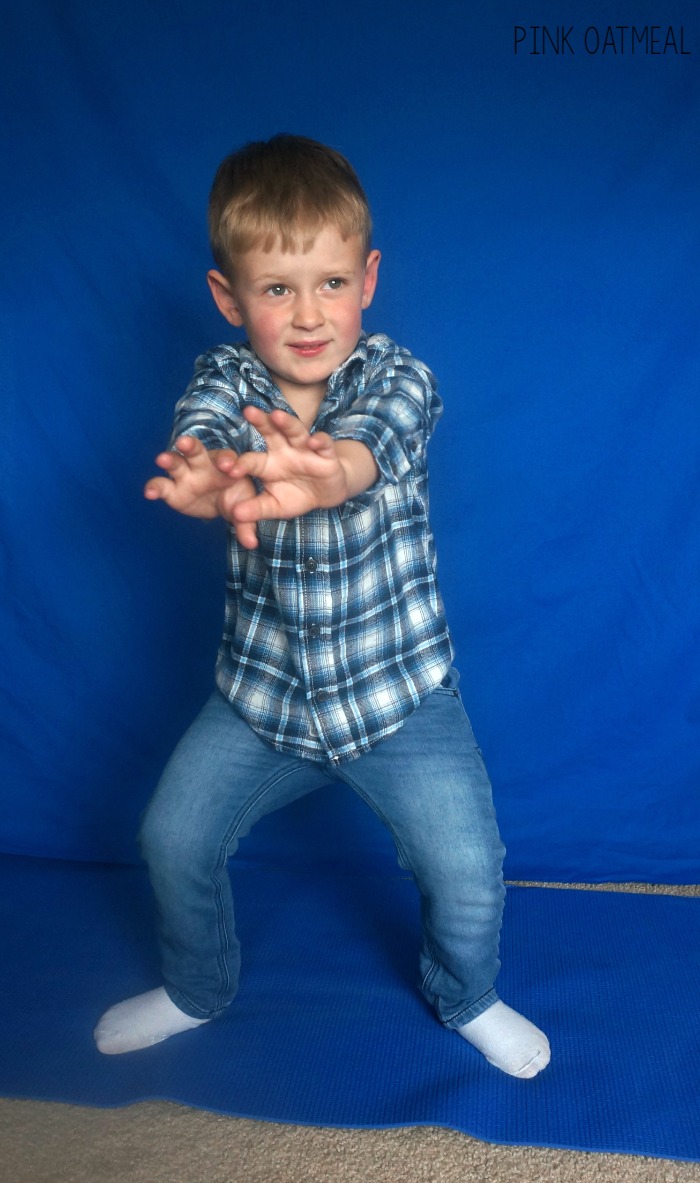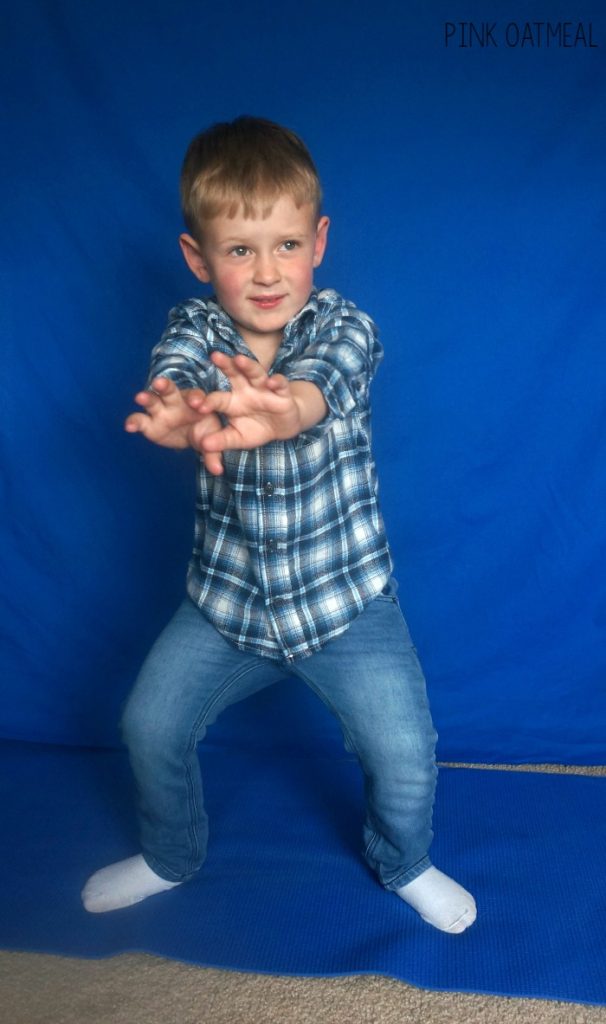 Cowboy
Chair Pose – Think of sitting on your horse!
Horseshoe
Boat Pose – Hold your body in this position like a horseshoe.  Gently rock back and forth if you would like.
Lasso
Mountain Pose – Add the lasso above your head!
Ride Em' Cowboy
Stand with your feet spread apart.  Squat down and gently bounce up and down (not too much!) like you are riding a horse!
Boot Kickin'
Bicycle Pose – Kick those boots in the air!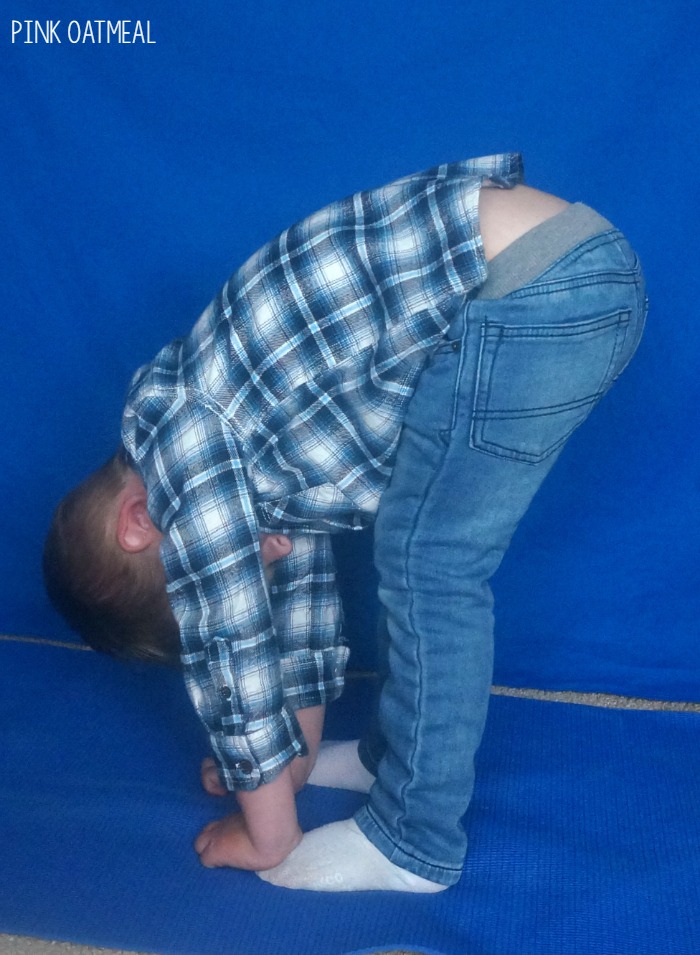 Cowboy Hat
Forward Fold Pose – While performing the pose think of bowing and taking off your cowboy hat!
Snake
Snake Pose – Add a hiss like a snake!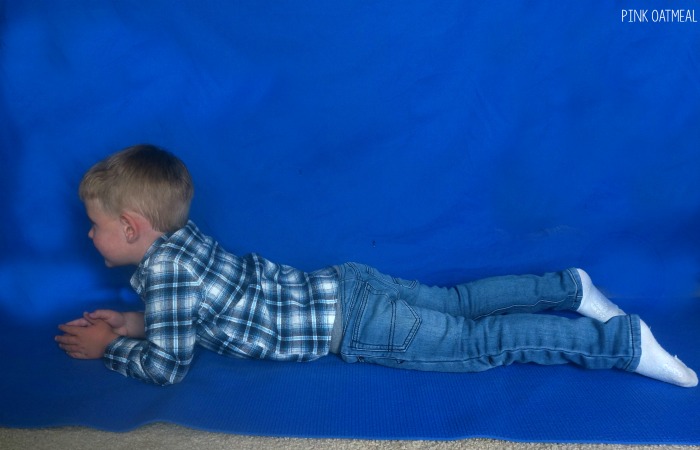 Cowboy Theme Brain Break Ideas
Brain breaks are a way to get kids moving.  The majority of the brain breaks take a minute or less so you can do as many as you like to get the wiggles out!  Think cowboy while performing the brain breaks!
Giddy Up
Gallop Across The Room Take Turns With Legs Leading, Gallop While Lassoing Around The Room, Crawl Around The Room, Skip Across The Room, Side Step Across The Room, Walk On Your Toes, Walk On Your Heels
Bucking Bronco
Jump Across The Room, Jump Backward Across The Room, Jump Side To Side, Jump Sideways Across The Room, Right Foot Hop Across The Room, Left Foot Hop Across The Room, Jump Fast, Jump Slow Across The Room, 2 Foot Jump 1 Foot Jump (alternating) Across The Room
Square Dance
Macarena, YMCA, Electric Slide, Head, Shoulders, Knees, and Toes
Ranch Life
Squats, Toe Raises, Heel Raises, Lunges
On The Trail
Mountain Pose, Snake Pose, Rock Climbing, Horse Stance
Cowboy School
Sequence Activities: Jump, Squat, Jump Repeat.  Spin, Squat, Jump, Repeat etc.
Walk The Fence
Heel To Toe Forward Walking, Heel To Toe Backward Walking, Balance on Your Right Leg, Balance On Your Left Leg
Cowboy Walk
Walk With Heel Clicks, Jump With Heel Clicks, Squat With Heel Clicks, March With Heel Clicks
Cowboy Friends
Mirror Image, Simon Says, Line Up Tallest To Shortest, Line Up Youngest to Oldest
Get Your Ready Made Yoga and Brain Break Cards
Do you love the idea of cowboy yoga and brain breaks but want it accessible and easy to use at all times? I don't blame you!  We have options available for you!  There are brain break cards as well as 2 options for yoga cards!
Brain Break Cards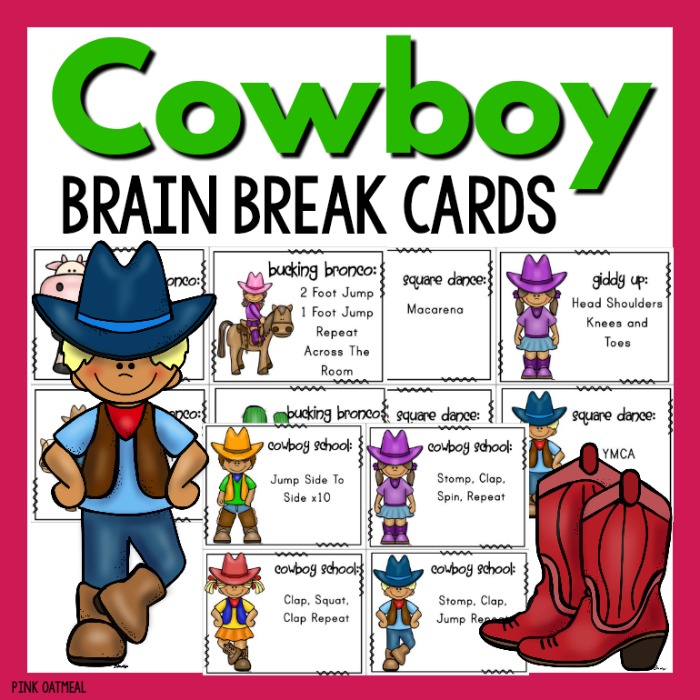 Yoga Cards
There are two different sets of yoga cards with a cowboy theme for you to choose from (or get both!).  Each set of cards and printables has the same poses, but different presentations for you to choose which works best in your setting (you may even want both sets!).   The first set offers cowboy themed pictures along with descriptions of the poses.  This set does not include pictures of kids in the poses.  Check them out below!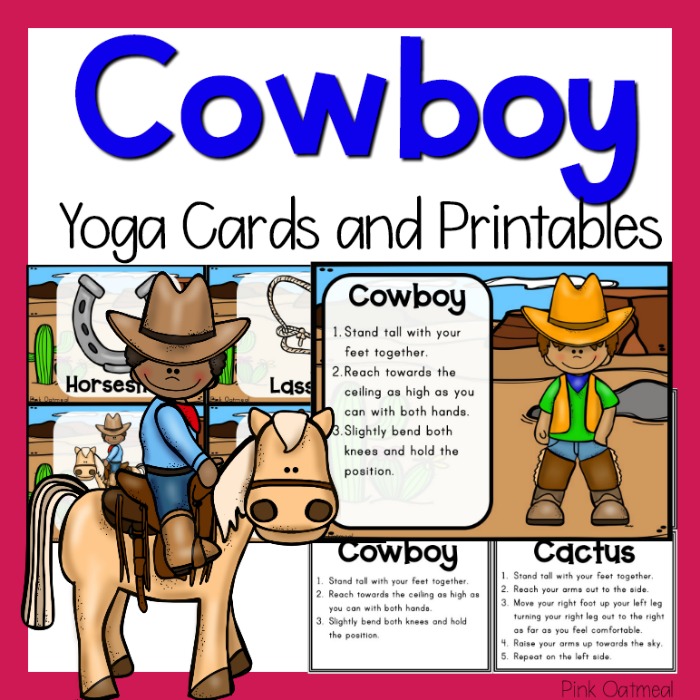 Cowboy Kids Yoga Cards
The second yoga set has the same poses as the first, but in this set you get pictures of real kids in the cowboy themed poses instead of pirate themed pictures.  Be sure to check them out below!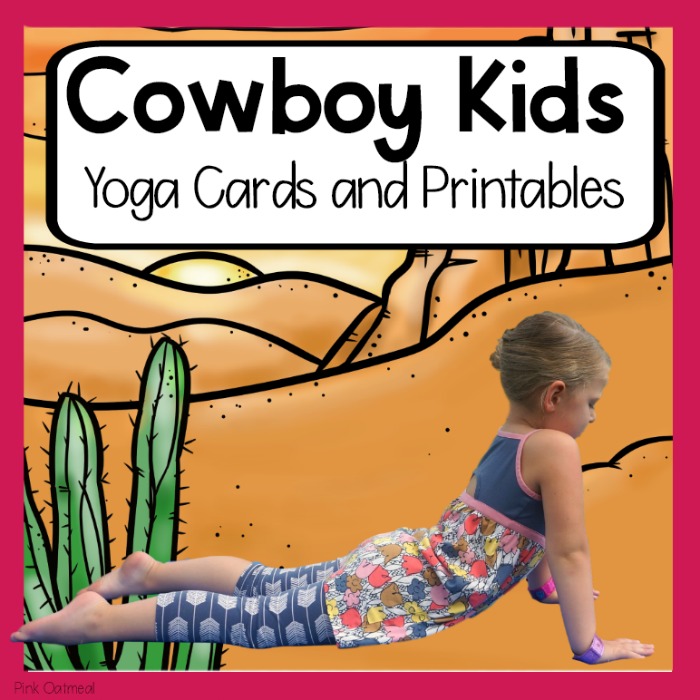 Get Them All
How about saving a bunch of money and getting all of your favorite cowboy moves?  You can do this when you get the Cowboy Theme Movement Pack.  Get all your cowboy yoga and brain breaks in one package and save!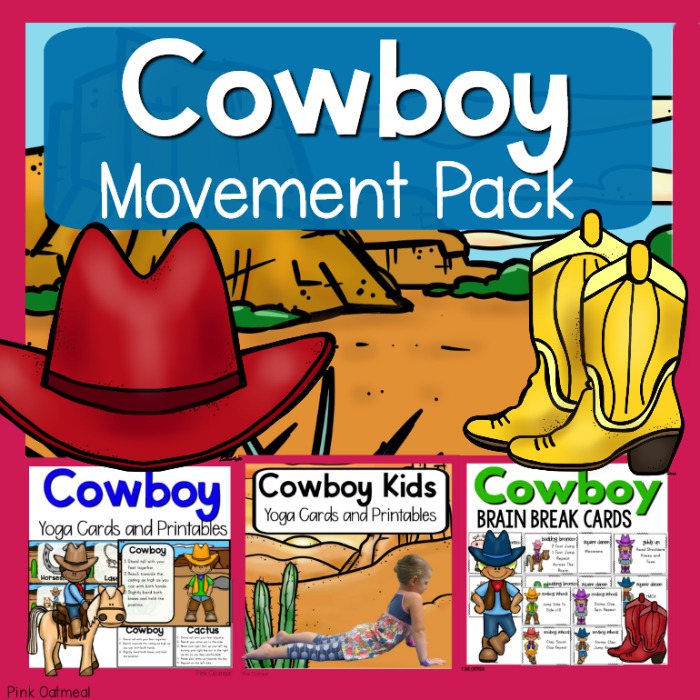 YOU MAY BE INTERESTED IN
My store at Pink Oatmeal has ideas to get the kids moving at home, in the classroom, and in therapy!  If you prefer Teachers Pay Teachers you can find me there too with even more ideas to get the kids moving!
I WANT TO HEAR FROM YOU
Let's connect!  Pink Oatmeal is on Facebook, Pinterest, Twitter, and Instagram!