Today's children are expected to know more, sit longer, and have rigid testing requirements. This has helped contribute to in increased stress levels and decreased opportunity for physical activity. With the new school year beginning and new routines starting, it's the perfect time to start trying yoga for the classroom to try to combat these issues.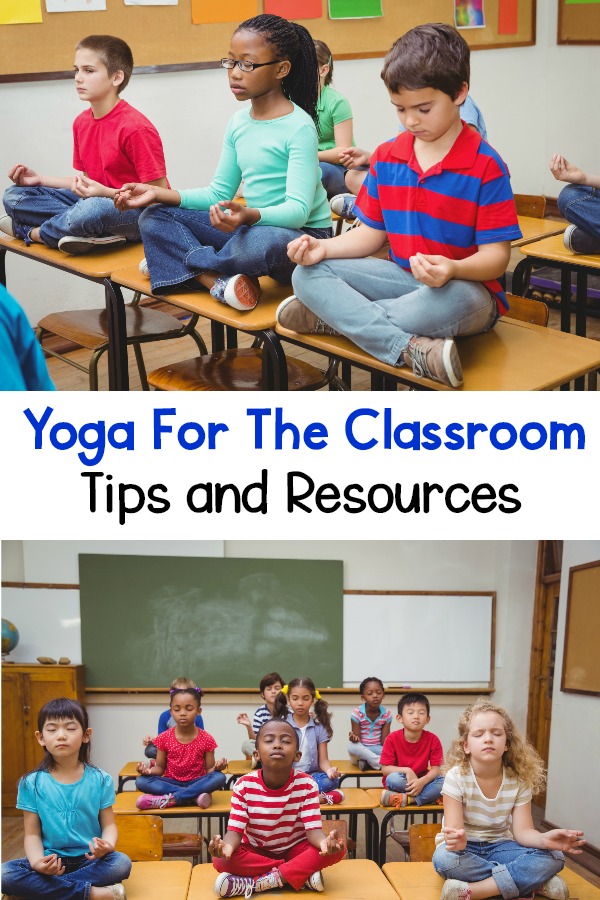 Yoga For The Classroom Tips
As teachers there is the continual struggle of having enough time to get everything in to meet the high demands of today's classroom. Research is telling us how important it is that kids are physically active and how they do better in school when they are. Yoga research is telling us that yoga in the classroom has positive effects on students health, behavior and performance. Try these tips to get you started on implementing yoga into your classroom. No, you don't need to be a yogi to make yoga for the classroom fun your you and your kids!
Take Yoga Breaks
Much like "brain breaks" for the classroom, yoga breaks provide you with the opportunity to take a few minutes in your day and try a few yoga poses.
Integrate Yoga Into Your Lessons
Yoga is fun and easy to theme! Start with farm themed yoga or alphabet yoga! It's fun to add yoga to any theme. Pink Oatmeal has an entire resource of Kids Yoga Poses that are broken down by theme. Pink Oatmeal has a huge variety of kids yoga cards that you can get with any theme you want!
Add Yoga To Your Morning Meetings
Imagine starting each day with yoga. Morning meetings are the perfect time to implement yoga and get everyone in the classroom ready to begin their day. This is the perfect time to implement yoga and learning with different yoga themes.
You Don't Have To Be Perfect
Don't worry about perfection with the poses. Everybody is different, and this includes the kids in your classrooms. Some kids may be great at doing certain yoga poses, while others may have to modify their poses. It's okay! Nobody is perfect.
Don't Over Complicate Things
Simple yoga cards, videos, or yoga games can make adding yoga into the classroom easy!
Yoga Resources For The Classroom
There are several different yoga resources for the classroom to choose from. There is everything from yoga cards, yoga videos, yoga stories, and yoga games. I personally tend to prefer the screen free option when doing yoga. Stepping away from the screen for a yoga break is a good thing! Check out this huge list of yoga resources for the classroom.
Are you looking for more tips ore creative ideas on yoga for preschoolers or yoga poses for toddlers? Be sure to check out these tips and ideas!
Yoga For The Classroom
Get started with yoga for the classroom by taking Practical Yoga Interventions for the Classroom that Promote Physical Activity and Motor Development. This course comes with a 2 hour completion certificate if you choose to use it for continuing education. PLUS, there are tons of bonus resources for you to use to start adding creative yoga to the classroom as soon as you are complete!