This week we are talking farm yoga and movements. Last week I shared about zoo themed yoga.   The farm is another awesome place for kids to visit and explore.  My son is particularly fond of the farm.  He's pretty darn good at all the farm animal sounds!  Yoga can easily be incorporated into a farm theme along with other farm themed sensory and motor play.  Farm yoga is fun to use from toddlers through elementary school.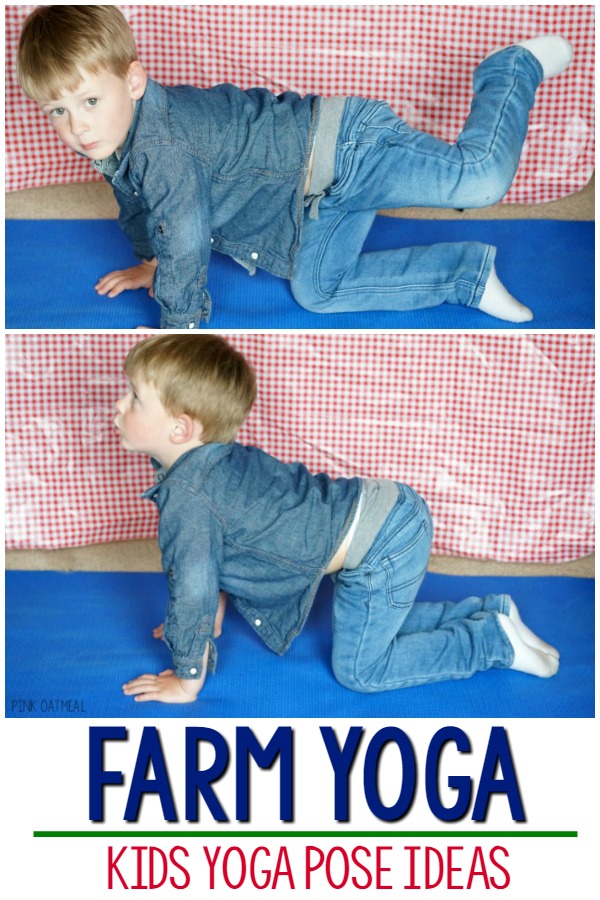 Farm Poses
Each pose represents something associated with the farm.  Whether  you are posing like a pig or a cow be sure to enjoy your yoga!  Modify the poses as needed.  Let the kids enjoy the yoga and be creative with their poses.  If you really love this idea be sure to stop by the shop or my Teachers Pay Teachers store to get your ready made set of cards and printables for your own use!
Cat
Cat pose and works perfect with the cow pose.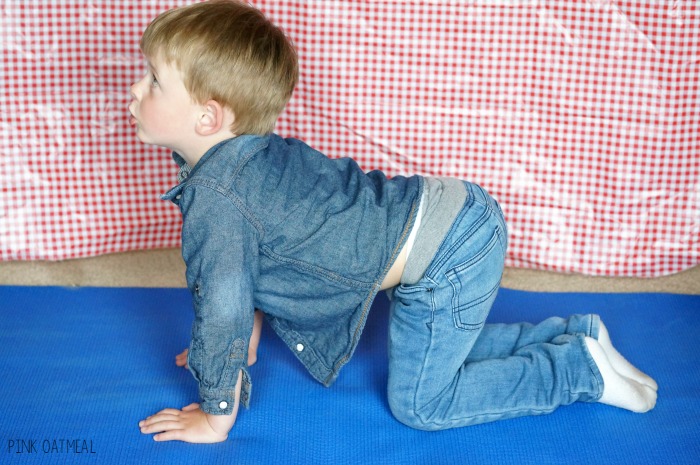 Cow
Cow Pose and works perfect with the cat pose.
Pig
Happy Baby Pose – Rock back and forth like a pig rolling in the mud!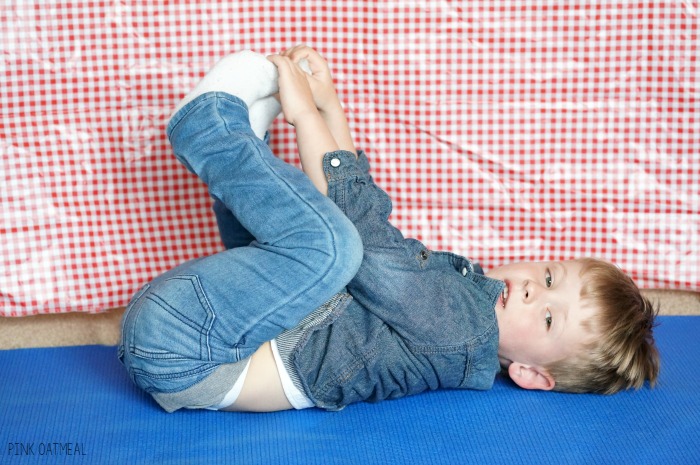 Dog
Downward dog pose along with some barking can make this pose fun.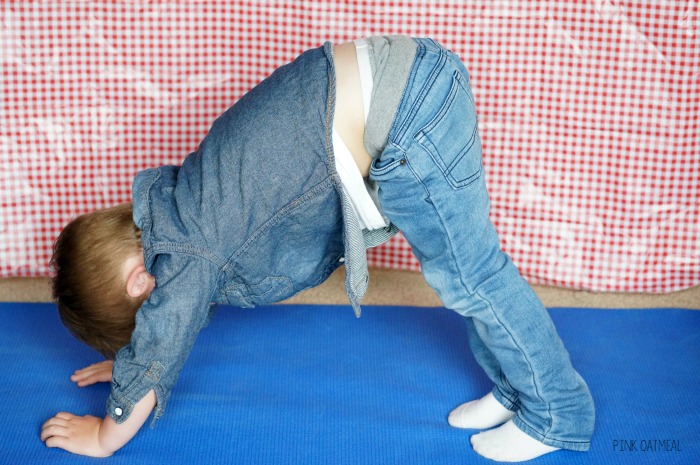 Rabbit
Chair Pose – Move to chair pose hold and back to stand and repeat.  Move up and down like a hopping bunny at a controlled pace.

Horse
Gallop in all directions – forward, in circles, fast, and slow.
Sheep
Jumping Sheep – The perfect way to incorporate all kinds of jumping – single foot, big leaps, and side to side.
Donkey
Donkey Kicks – On your hands and knees do donkey kicks, take turns kicking legs on each side.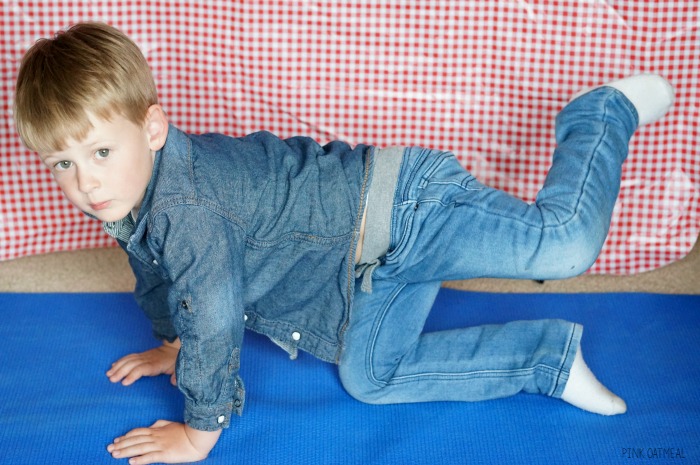 Duck
Duck Walk– Walk with your knees together or hold a ball between your knees and walk.  You will find yourself waddling like a duck!
Chick
Chick Pose (Flapping Wings) – Place your hands up near your arm pits and flap your arms like wings.  Make sure you squeeze your shoulder blades together with each flap.
Goat
Goat Climbing – Work on crossing the mid line as you climb by lifting your right leg at the same time as your left arm and the reverse.  Climb fast and climb slow.
See It In Action
Farm Yoga and Moo-vement Cards
If you want to bring the farm to your home, classroom or therapy you can easily get your own set of cards. The cards give you easy access to farm yoga anytime of the day.  They are perfect to carry with you if you travel, to have as a free play option, or for brain breaks.  They are an excellent resource for therapists and special education teachers as well. I have two versions available.
Farm Yoga
The first version is farm related objects on the cards and printables.  You can find them in my store or at my Teachers Pay Teachers store!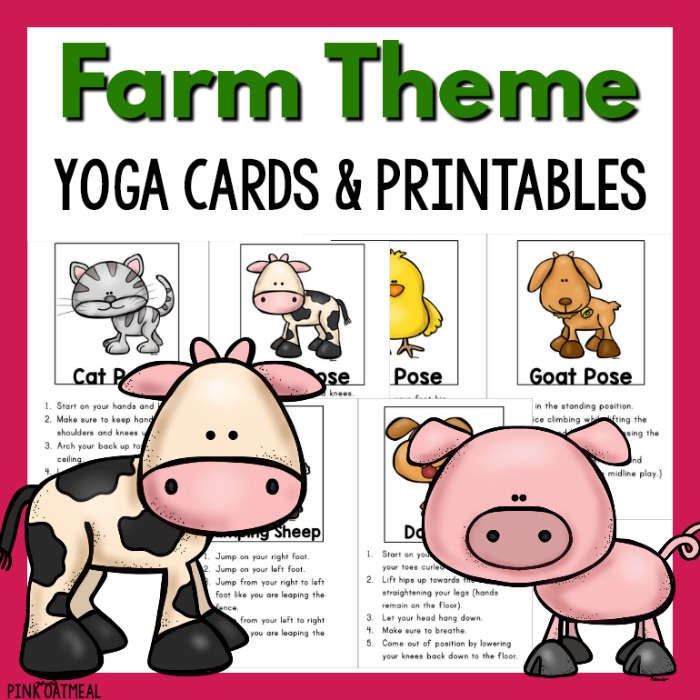 Farm Kids Yoga
The second version is the same farm kids yoga with real kids in the poses.  These can also be found in my shop or Teachers Pay Teachers store!


Animal Yoga Bundle
If you like to save money like I do you may want to check out the bundle option.  You save 20% on three sets of yoga when you buy in a bundle! The bundle comes with Zoo Yoga, Farm Yoga, and Ocean Yoga.  This is a great opportunity to change up your yoga and work with different themes!Buy this bundle in my shop or my Teachers Pay Teachers store! 


Interactive Yoga
Some of these farm poses are also available in the Interactive Animal Yoga game along with Woodland, Arctic, and Jungle poses.  These games can be played anywhere that you can use PowerPoint.  Play them on the computer, iPad, interactive whiteboard or smart television!  You will be amazed how engaged the kids are.  Get them at The Shop or Teachers Pay Teachers.


MORE YOGA
Looking for more yoga ideas?  Check out my Desert Yoga, Sea Yoga,  Zoo Yoga, Circus Yoga, Transportation Yoga, Rainforest Yoga, Woodland Yoga, and Camping Yoga!
MORE MOVEMENT
Follow Pink Oatmeal's board Teachers Pay Teachers Store – Pink Oatmeal on Pinterest.


I WANT TO HEAR FROM YOU
Let's connect!  Pink Oatmeal is on Facebook, Pinterest, Twitter, and Instagram!
YOU MAY BE INTERESTED IN
My store at Pink Oatmeal has ideas to get the kids moving at home, in the classroom, and in therapy!  If you prefer Teachers Pay Teachers you can find me there too with even more ideas to get the kids moving!