What's not to love about a Superhero? Kids love superheroes!
The ability to fly, scale buildings, and disappear in the blink of the eye?
I can see the draw.
With all of the super powers and super skills, it's only natural that superhero activities are a must for any fine motor or gross motor activities.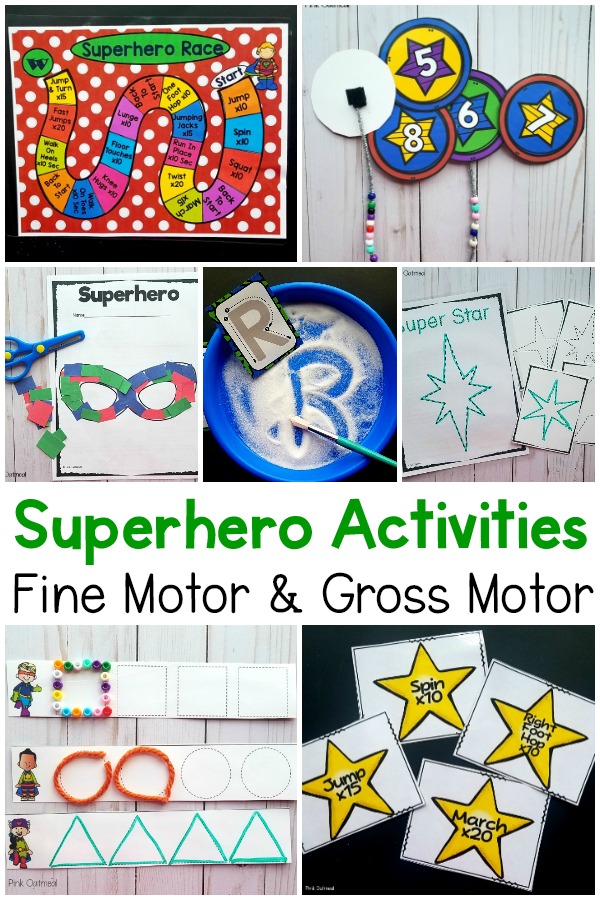 Superhero Activities – Fine Motor and Gross Motor Planning Ideas
It's superhero week and that means lots of superhero activities that incorporate gross motor skills and fine motor skills.
Superhero Brain Breaks
Superhero activities week is started off by getting some energy out with some superhero moves. These are great to use anytime during the week (really any time of the year)! Get your own set of Superhero Brain Break Cards.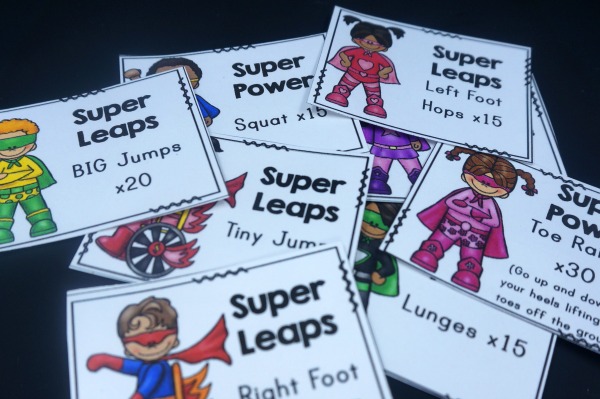 Superhero Beading
Superhero beading activities are perfect for working on fine motor skills. In this superhero activity, the superheros bead according to the number on their super star. Fine motor skills plus counting in one activity. Get the superhero beading in the Superhero Fine Motor Pack.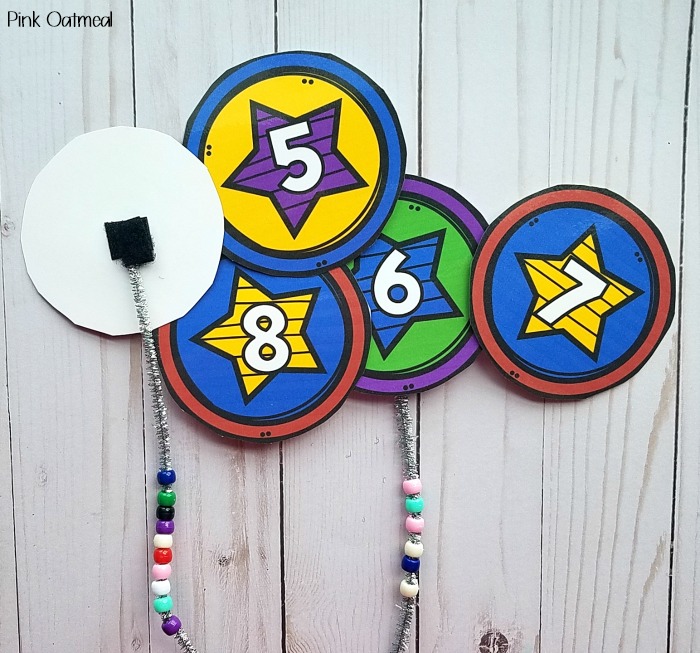 Superhero Masks
Superheroes need masks. Superheroes don't want their true identity to be known. The next superhero activity includes using scissor skills to make those perfect masks. Get the superhero mask printable in the Superhero Fine Motor Pack.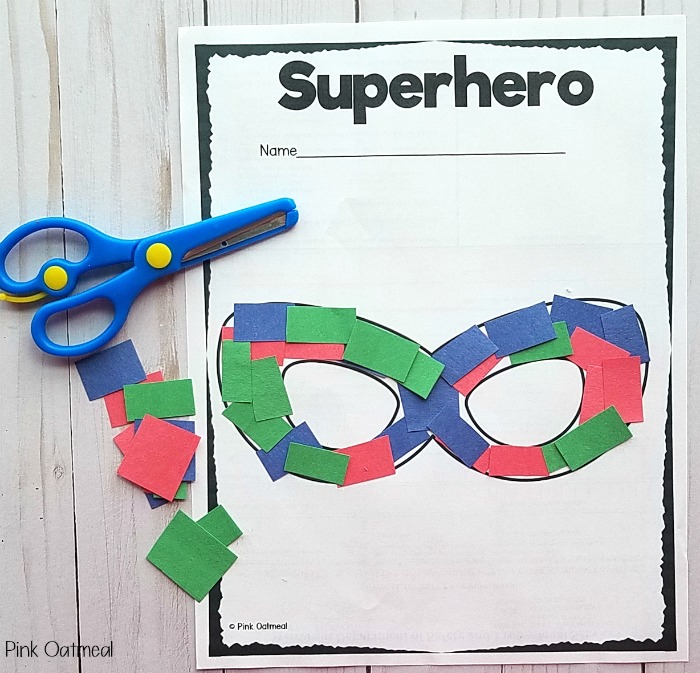 Superhero Balance
Go digital and try the Superhero Balance Challenge Game. Pick a superhero and find out what balance challenge they have for you! Make sure to see all of the different challenges!
GET THE SUPERHERO BALANCE CHALLENGE GAME
This game can also easily be printed and used as printables. Use them on a wall, door, bulletin board, in the hallway and beyond. It's really fun to make them part of an obstacle course too!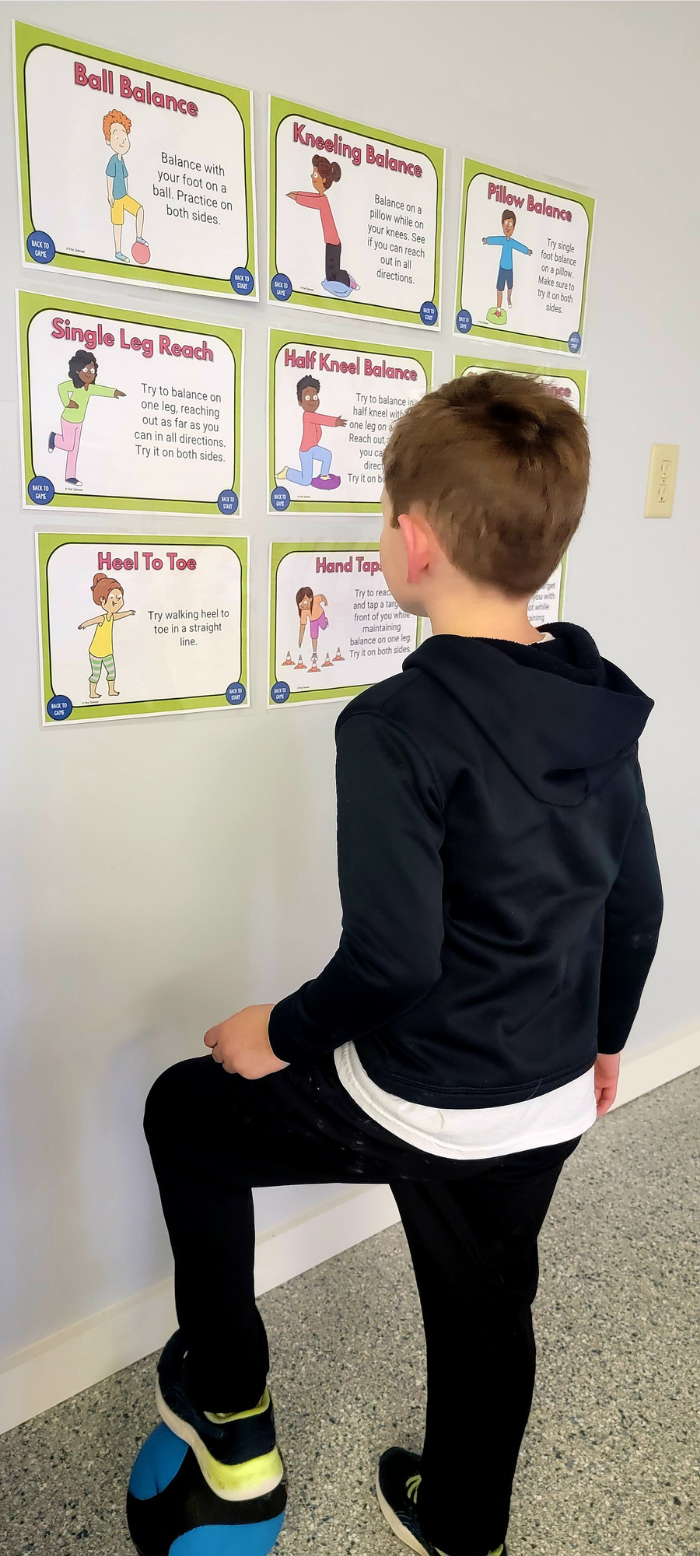 Superman
How about trying different variations of the superman!?!
How about adding some slime to your superhero exercises. Pull and stretch the slime as you work on flying like a superhero!
Superhero Hop
Superheroes need to work on their agility and listening skills. The superhero hop activity helps them to work on these skills. Read all about this fun superhero gross motor activity. Played with music and superhero cards this game is a blast. The superhero hop is explained in full in this post.
GET THIS IN THE SUPERHERO MOVEMENT GAME PACK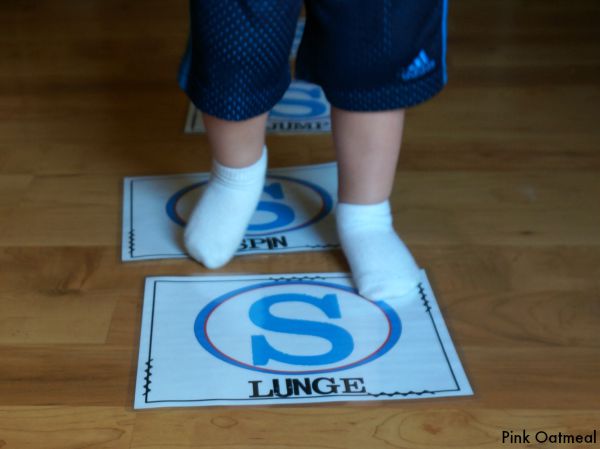 Superhero Pre-Writing Sklls
Superheroes need to be able to write. This superhero activity focuses on pre-writing strokes which need to be developed before kids actually start writing letters. I love pre-writing strips because they can be used over and over again and wiped off with a paper towel. The pre-writing strips can be found in the Superhero Fine Motor Pack.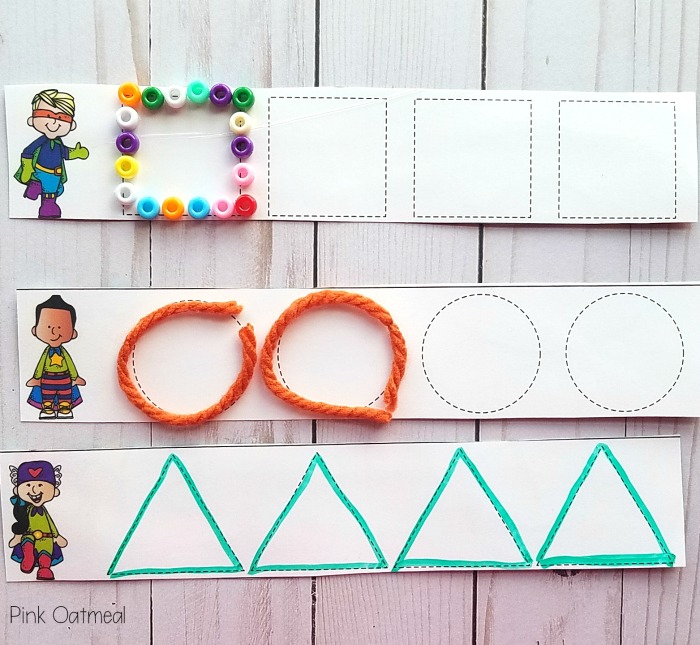 You can take these same strips and take them off the table top. The example below shows working with the strips on a peanut ball (affiliate link).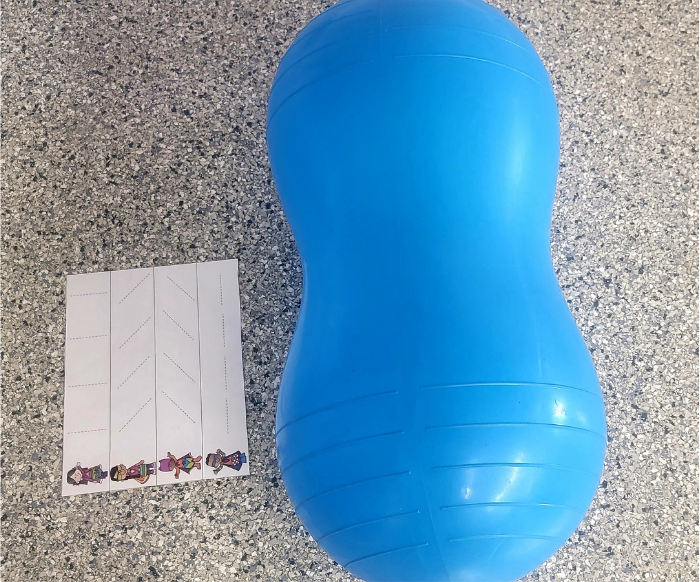 Superhero Writing Stations
Superhero writing skills can be practiced in the superhero writing stations. This station is a simple salt tray using the Superhero letter formation cards. The letter practice can be done with a finger or a paint brush. The letter formation cards can be found in the Superhero Fine Motor Pack.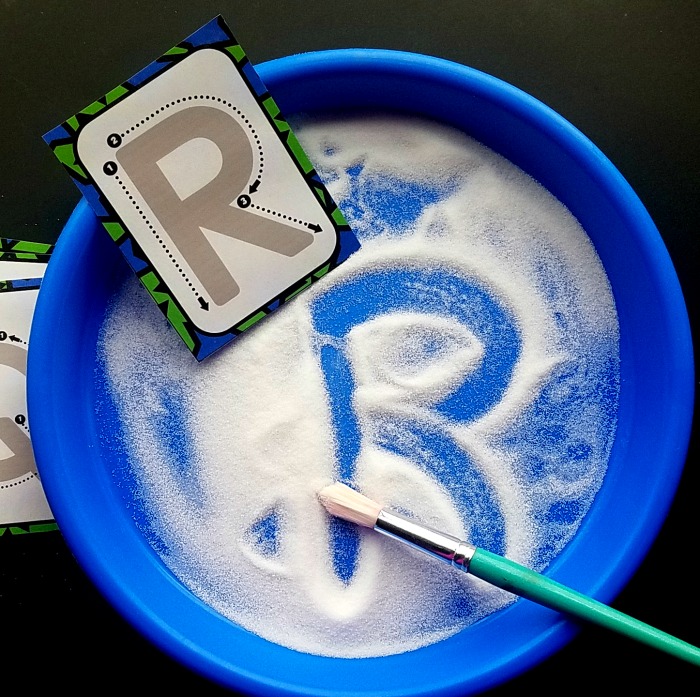 Superhero Yoga
Posing like all things superhero makes superhero yoga the perfect activity for superhero week. Explanations of the poses can be found in the superhero yoga poses blog post.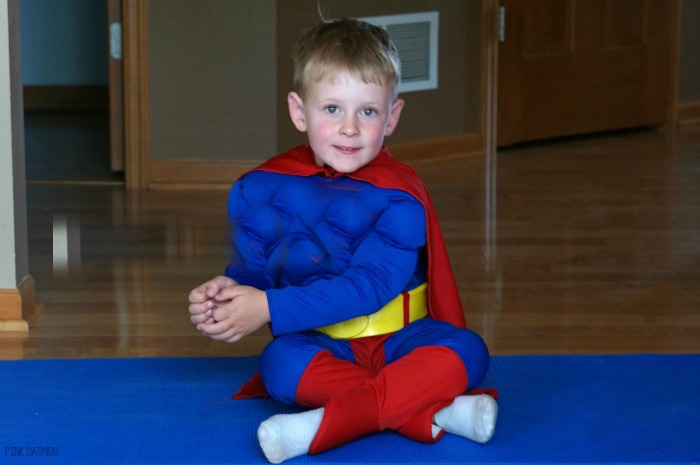 Superhero Yoga Cards and Printables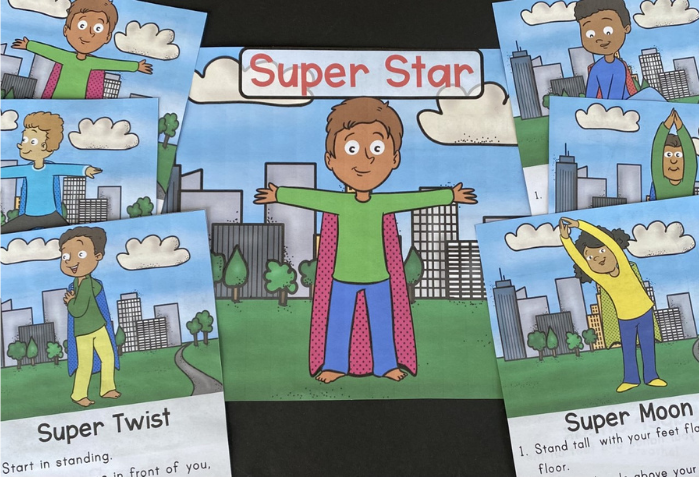 Superhero Clip Cards
Superheroes need strong hand muscles! The superhero clip card activity focuses on letter knowledge while strengthening those hands and fingers. The clip cards can be found in the Superhero Fine Motor Pack.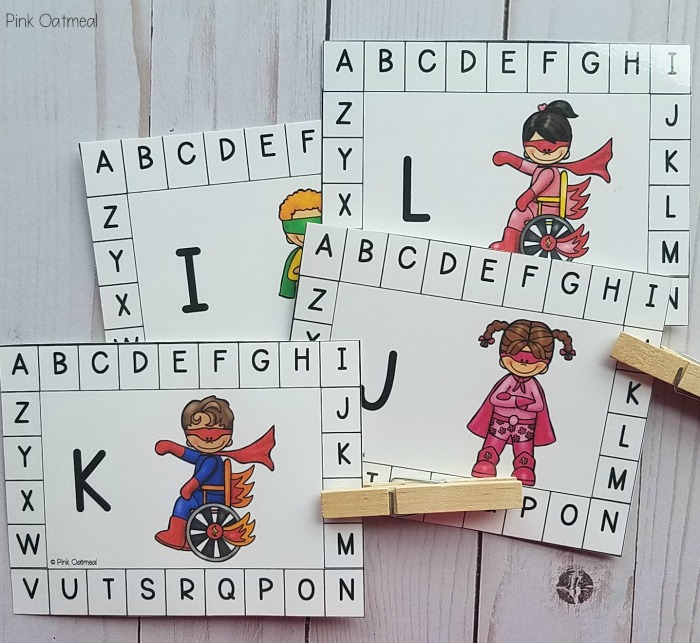 Superhero Dice Games
My boys go crazy over the superhero dice games and superheroes in general. The dice games are probably their favorite of all of the superhero activities. They are competitive and they like to move so it makes sense. The dice games combine number practice with gross motor movements.
GET THIS IN THE SUPERHERO MOVEMENT GAME PACK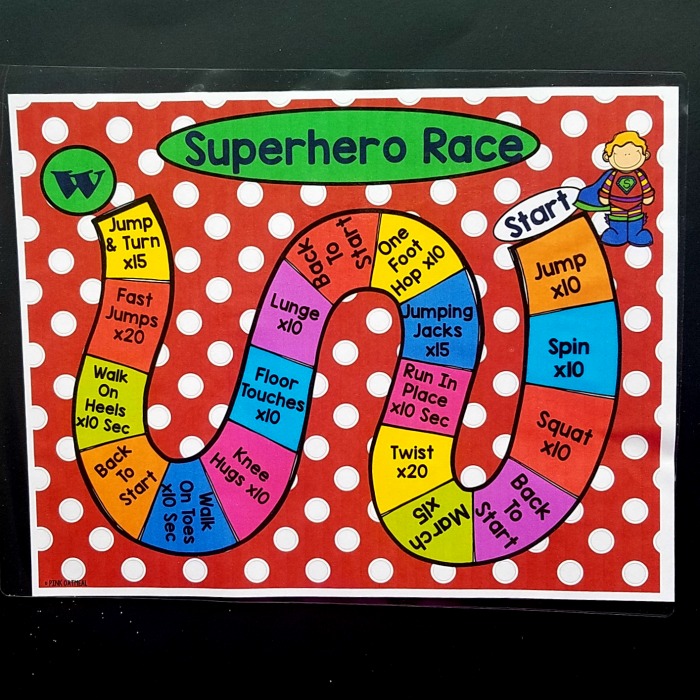 Superhero Pencil Paths
Superhero pencil path activities is a fun way to work on pencil skills without actually writing letters. The superhero pencil paths can be laminated and used over and over again. Using a dry erase marker allows you to wipe them write off! The superhero pencil paths can be found in the Superhero Fine Motor Pack.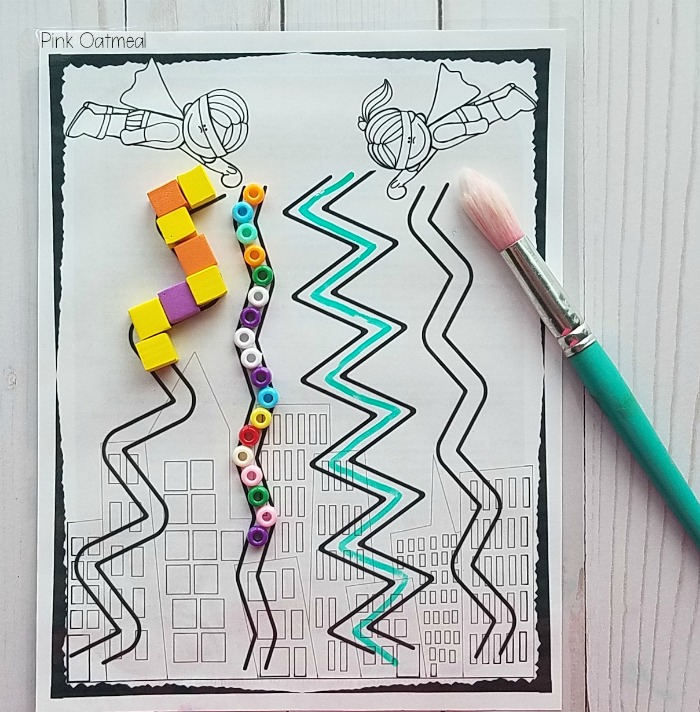 Superhero Stars
The super stars game works on eye hand coordination and large motor skills. Place the stars on the floor or on the wall. Toss a bean bag or small ball at the star. Perform the action on the star. Remove the star and continue to play. Play until all of the stars have been removed. A great gross motor activity for your superheroes!
GET THIS IN THE SUPERHERO MOVEMENT GAME PACK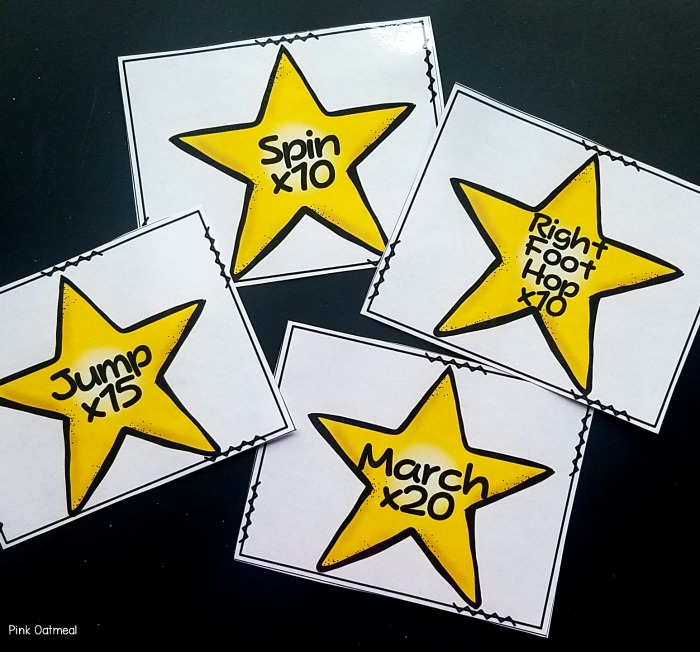 Star Tracing
Make sure your superheroes have good tracing skills with super star tracing patterns. Laminate and use over and over again. The star tracing card and full sheets can be found in the Superhero Fine Motor Pack.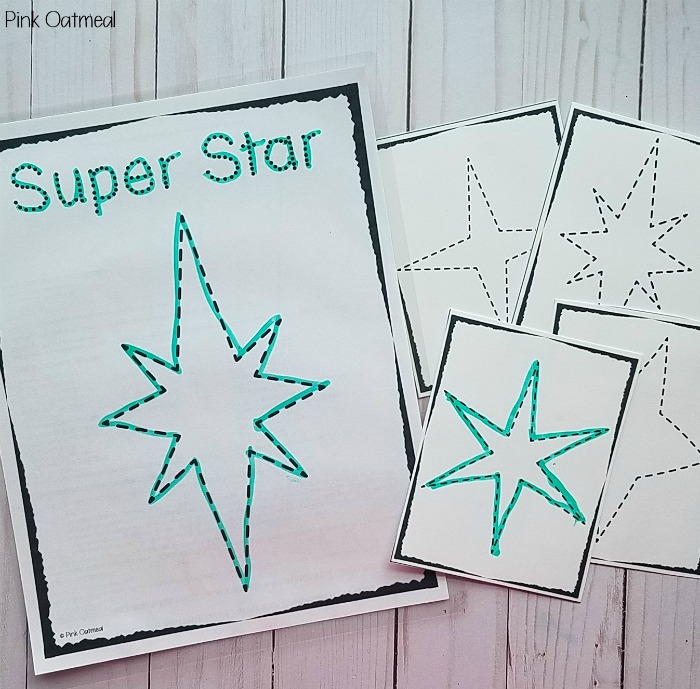 Take these same super star tracing activities and try them in different positions such as the vertical surface. Below is a picture of a set up that includes the stars on the vertical surface while standing on a wedge (affiliate link).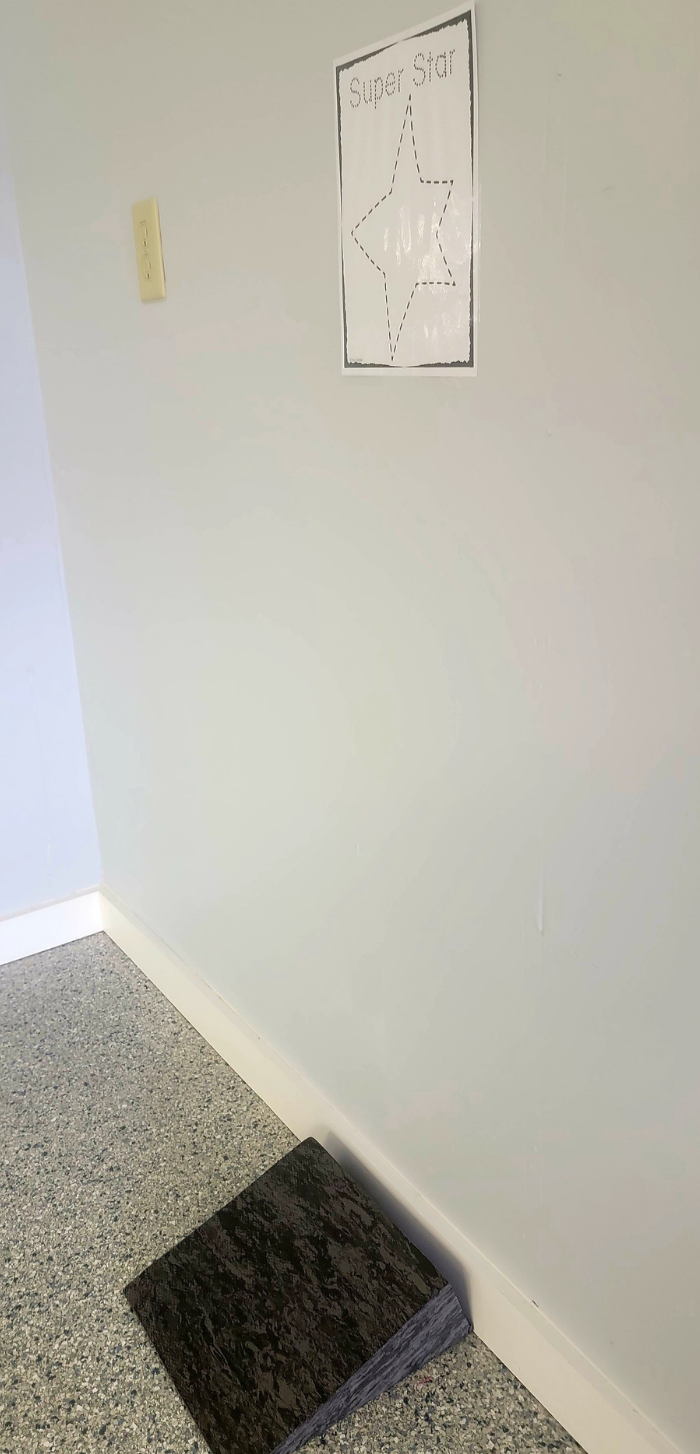 Super Awards
Finally, acknowledge your superheroes for all of their hard work on their superhero activities this week with FREE awards! These can be found in the Pink Oatmeal freebie library.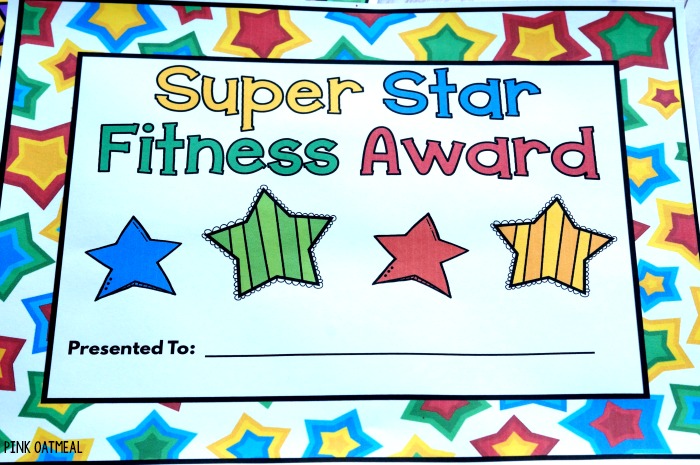 SUPERHERO RESOURCES FOR YOU
Pink Oatmeal has a nice collection of superhero resources for you that work on both gross motor and fine motor skills. Have ready to go resources that you can start using today with your superheroes!
Click on the NAME of the resource to get a full description of what is included!