My toddler has shown some interest in "goga" lately.  He loves to take out my yoga mat and say he is going to do his yoga.  Often times he will do a somersault on the mat.  He's so proud when he does it!  More recently he has taken an interest in imitating the different yoga poses I've shown him.  He especially likes it if other people are watching!  He is quite the entertainer.  The poses we do are pretty simple and we've come up with some great themes that work perfectly as yoga poses for toddlers.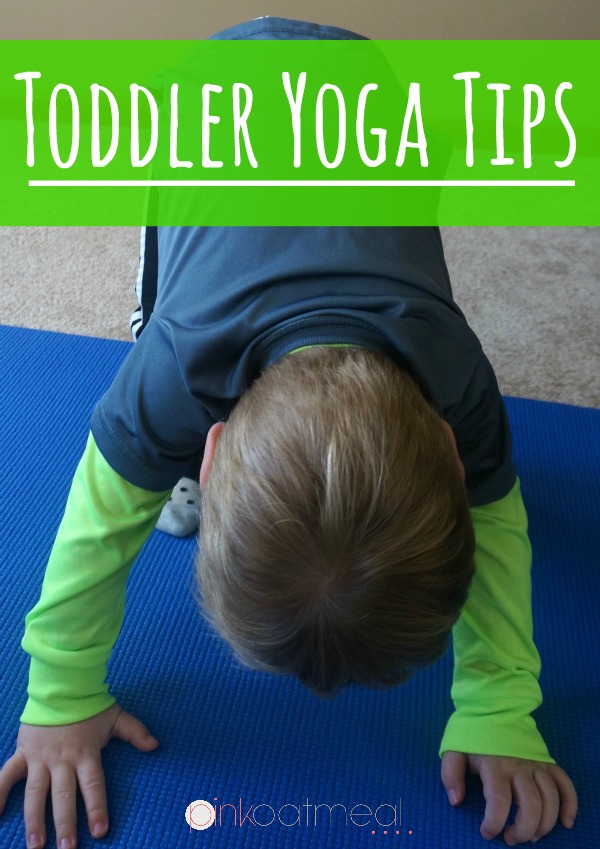 Yoga Poses For Toddlers – Tips
Make It Fun
This is my number one tip.  It has to be fun, you may have to act goofy when doing the yoga.  It should reflect play and not seem like a workout.
Use Props
This is a part of making yoga fun.  I personally like to use my yoga cards as they have pictures of fun everyday objects or even utilizing stuffed animals is a great way to engage a toddler.  If you are doing a forest or woodland themed yoga add a stuffed bear!
Forget Structure
It's best to take  a go with the flow approach.  If you think that you have 10 poses you want to do in a certain order, it's probably not going to happen.  I'm guessing you probably know this though if you have a toddler!
Don't Have A Time Constraint
Those goes hand in hand with forgetting structure.  You may do yoga for a couple of minutes or your toddler may surprise you and stay engaged for much longer.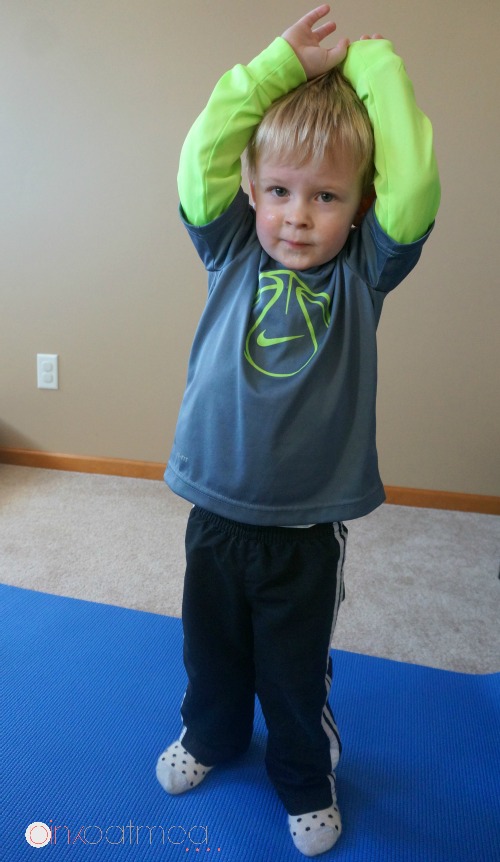 Don't worry About Perfect Poses
I know that there are certain ways that poses are supposed to be done.  I had a yoga instructor when I was in college who was crazy strict about this, and I really didn't enjoy the class.  I just wasn't flexible enough to do what she wanted! This is especially true with toddlers.  Let them have fun!
Do The Poses With Them
This is a great way to sneak in a little strengthening and flexibility.  On top of that modeling the pose for them is important, so they can get into the pose themselves.  I wouldn't say that I've ever had a "great workout" while doing yoga with my busy toddler, but many days it is a way for me to get at least something in!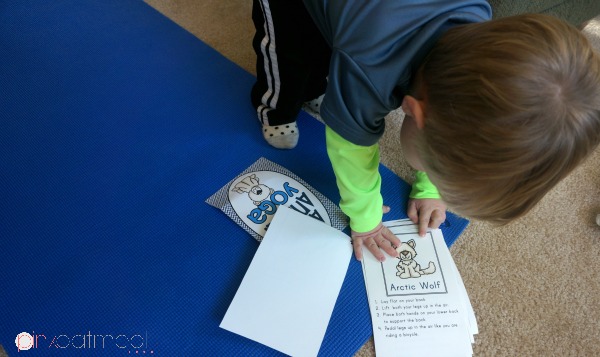 Yoga Poses For Toddlers – Themes
The following ideas are different themes that you can add into the yoga poses for toddlers. These are also great when it comes to yoga for preschoolers! Every theme listed below has a great set of printable yoga cards to go with it! Click on each link to get a full list of the pose ideas or check out ALL of kids yoga themes here.
Zoo Yoga – Pose like animals at the zoo!
Sea Yoga – Poses to represent the sea and ocean!
Farm Yoga – Who doesn't love a day at the farm?
 Circus Yoga – The circus is the perfect inspiration for yoga!
Transportation Yoga – What toddler wouldn't want to pose like their favorite truck or car?
Rainforest Yoga – The rainforest is full of creatures that inspire yoga ideas!
Woodland Yoga – The woods is full of yoga inspiration!
 Desert Yoga – The desert creatures make yoga fun!
 Summer Yoga – Perfect for the summer months!
Pet Themed Yoga – Kids love their pets.  Turn them into yoga poses!
 Alphabet Yoga – Letter recognition with yoga!
Camping Yoga – Camping is so much fun and yoga poses can be incorporated!
Fall Yoga – Perfect for the fall months.
Pirate Yoga – A ship, a pirate or a treasure make yoga even better!
Cowboy Yoga – Perfect for the cowboy lover!