Pirates seem to be quite a popular theme with the kids that I've worked with in the schools. What I like about the pirate theme is that it is quite easy to incorporate into movement. Pirates search for treasure, sail on boats, walk the plank, read maps etc. All of which can be incorporated into movement with a pirate theme!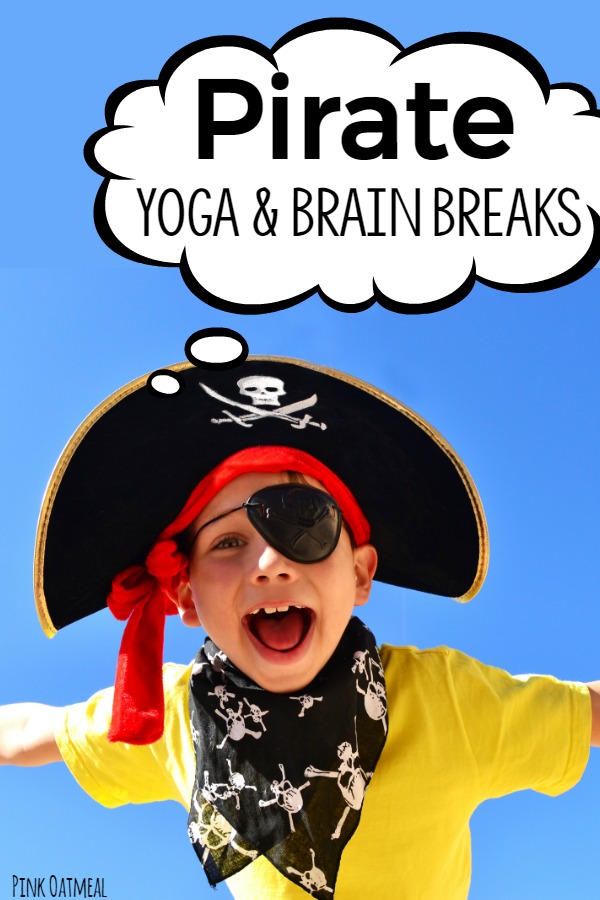 Pirate Theme Yoga
Parrot Pose
Airplane Pose – Now flap your arms like you are a parrot!
Walk The Plank
Tandem Standing – Stand with your right toe touching your left heel. Don't lose your balance and repeat on the opposite side.
Palm Tree Pose
Tree Pose
Pirate Ship Pose
Boat Pose
Cannon Pose
Dancer Pose
Barrel Pose
Happy Baby Pose – Roll like a barrel!
Fish Pose
Fish Pose – Move your mouth like a fish!
Yo-Ho-Ho Breathing
Hands on your stomach – Focus on breathing in and out!
Pirate Pose
Mountain Pose
Treasure Pose
Forward Fold – Dig into your treasure box!
Pirate Theme Brain Breaks
These are a great way to keep kids active. Determine the duration and distance based on your needs and the needs of the kids!
Walk The Plank
March Around, Tip Toe Around, Walk Backward, Walk Heel To Toe, Walk On Your Heels, Side Step Around, Scissor Step Walking (Right Foot Lead), Scissor Step Walking (Left Foot Lead)
Sail The Ship
Boat Pose, Right To Left Foot Hops, Spin the wheel (spin in place), Single Foot Hop Across A Room
Follow The Map
Mountain Climbers, Swim Across A Room, Gallop Around A Room, Crawl Across A Room
Treasure Hunt
Squat, Lunge, Up and Down on Your Toes, Up and Down on Your Heels
Read The Clues
Sequence Patterns: Example Jump, Spin, Clap Repeat – Any Action With Repetition,
Pirate Party
YMCA, Macarena, Limbo, Dance Party, Hokey Pokey, Cha-Cha Slide, Freeze Dance
On The Land
Jump Across The Room, Skip Around The Room, Bicycle, Jumping Jacks, Fly A Kite (Kite Pose), Run In Place, 3 Legged Walk, Knee Walking
On The Boat
Captain (Simon Says) Says, Parrot Pose, Back Trace, Heads Down Sails Up (Heads Down Thumbs Up)
Pirate Digital Games
You know what else is fun when it comes to a Pirate Theme? Playing a pirate themed digital game that incorporates movement! This game can also be printed and used as printables!
GET THE PIRATE THEMED DIGITAL GAME NOW
Know what goes great with pirates? Mermaids! You can get a movement game with a mermaid theme at Pink Oatmeal too! Meet the mermaids, get to know their names, and move like them. This can be played digitally or you can print it and use it that way too!
GET THE MERMAID THEMED MOVEMENT GAME
Get Your Own
Do you love the idea of pirate yoga and brain breaks but want it accessible and easy to use at all times? I don't blame you! I have them available for you in the shop! There are both brain break cards and 2 options for yoga cards available!
Brain Break Cards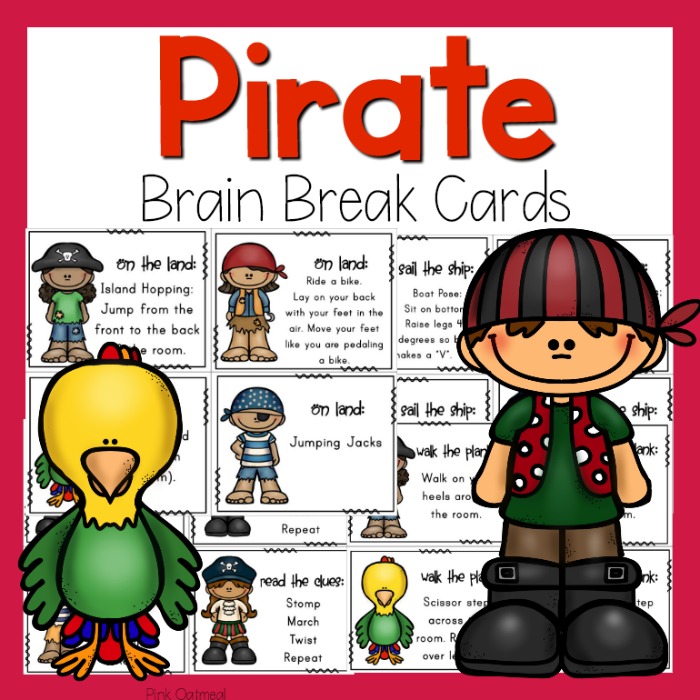 Pirate Yoga Cards and Printables
There are two different sets of yoga cards with a pirate theme for you to choose from (or get both!). Each set of cards and printables has the same poses, but different presentations for you to choose which works best in your setting (you may even want both sets!). The first set offers pirate themed pictures along with descriptions of the poses. This set does not include pictures of kids in the poses. Check them out below!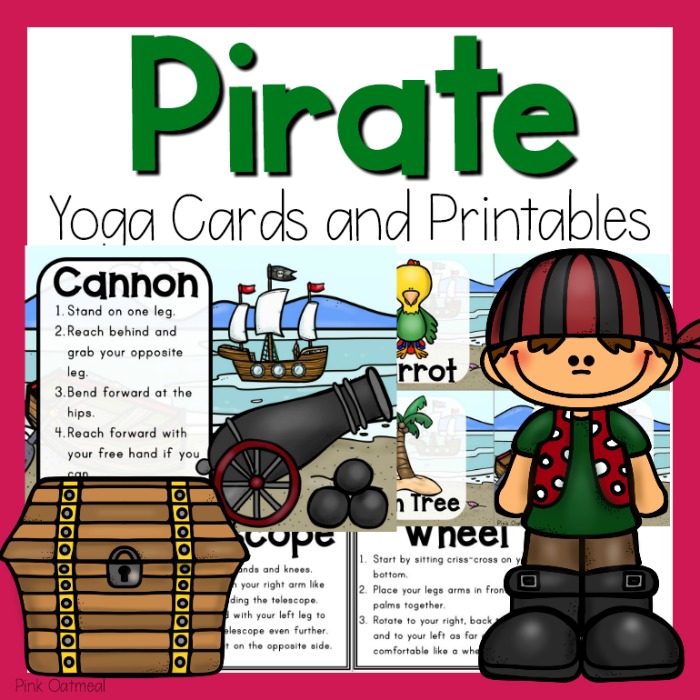 Pirate Movement Pack
Get everything in one pack and SAVE MONEY. This is by far the best deal for your money. Check this out today!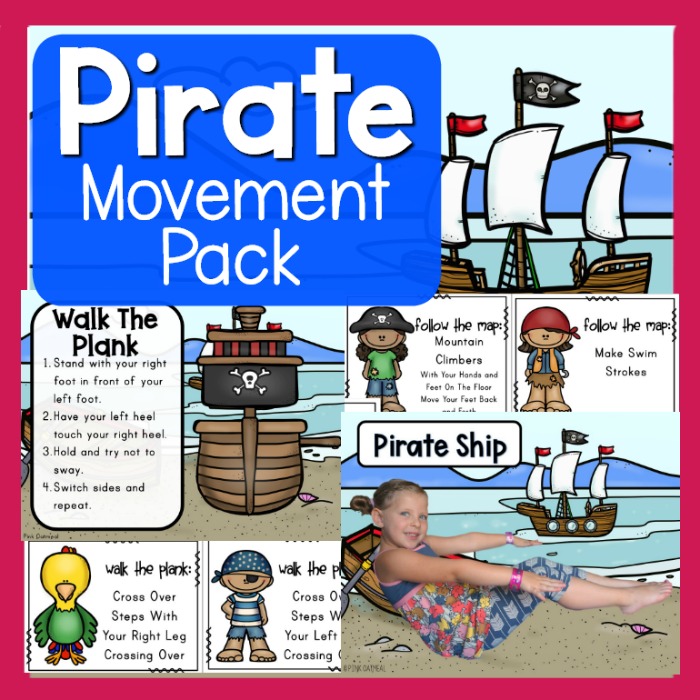 I WANT TO HEAR FROM YOU
Let's connect! Pink Oatmeal is on Facebook, Pinterest, Twitter, and Instagram!