It's cold around here.  It feels just like the arctic!  I just checked the temperature and it was 5 degrees.  Yep, 5 degrees outside!  Yuck!  So, we are staying in this week.  Although we are inside it is still important to get some energy out.  Since it feels like the arctic, gross motor games with an arctic theme is the perfect way to get moving during the winter.  Today I'm giving a nod to all the great arctic themed gross motor play ideas out their from several talented bloggers!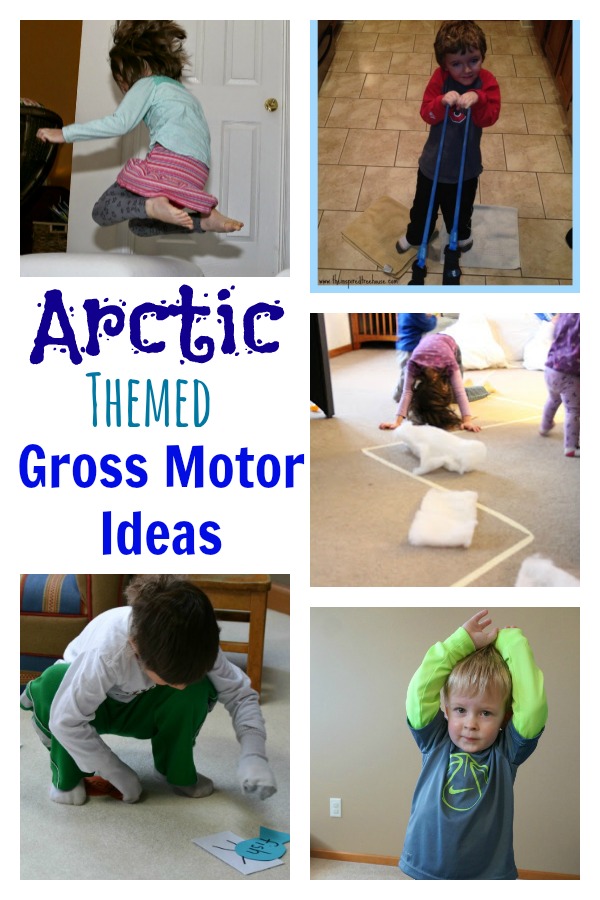 10 Arctic Themed Gross Motor Play Ideas
Arctic animal yoga is a fun way to learn about the arctic while moving from Kids Yoga Stories.
 Polar bear themed games from Sugar Aunts are a perfect way to get out the energy indoors.
Polar animal games from Still Playing School look like a blast!
With the arctic comes snow, The Inspired Treehouse shares with us the snowball roll.
Another version of arctic animal yoga is so much fun from Pink Oatmeal.  You can even get arctic animal yoga cards!

You need to wear warm gear in the arctic.  Cutting Tiny Bites shares a fun gross motor game to get ready for the arctic conditions!
Polar bear paw walk is a great way to incorporate gross motor with learning from Growing Book By Book.
How about playing Don't Break The Ice! (affiliate)   Add gross motor component in by playing in different positions such as standing, squatting, or balancing on one foot!
The polar bear large paw print game is sure to be a hit this winter and perfect for the arctic theme from The Preschool Toolbox.
You just may need some skis to get across the arctic.  This fun activity from The Inspired Treehouse should help you!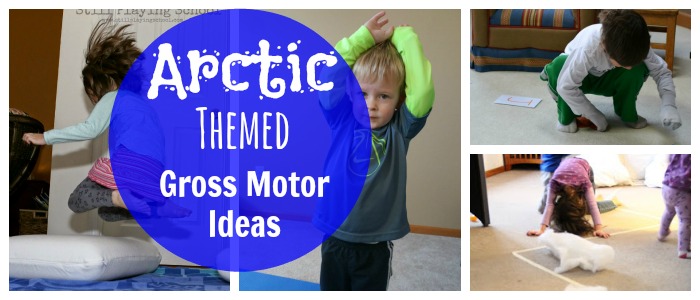 I WANT TO HEAR FROM YOU
Let's connect!  Pink Oatmeal is on Facebook, Pinterest, Twitter, and Instagram!  Come follow me!
YOU MAY BE INTERESTED IN
My store at Pink Oatmeal is full of ideas to get the kids moving at home, in the classroom, and in therapy!  If you prefer Teachers Pay Teachers you can find me there too!