It's finally the time of the year when we can really get out of the house.  People are out and about back on the trails and visiting state parks.  Even though I'm from Minnesota, I'm not much of a winter person.  I don't love the cold, but I love being outside.  As soon as the temperatures are nice we are outside all the time.  We are lucky to live near many local and state parks that allow us to get out and explore the woods.  The woods is the perfect place to find animals and plants that can be performed as  woodland yoga poses.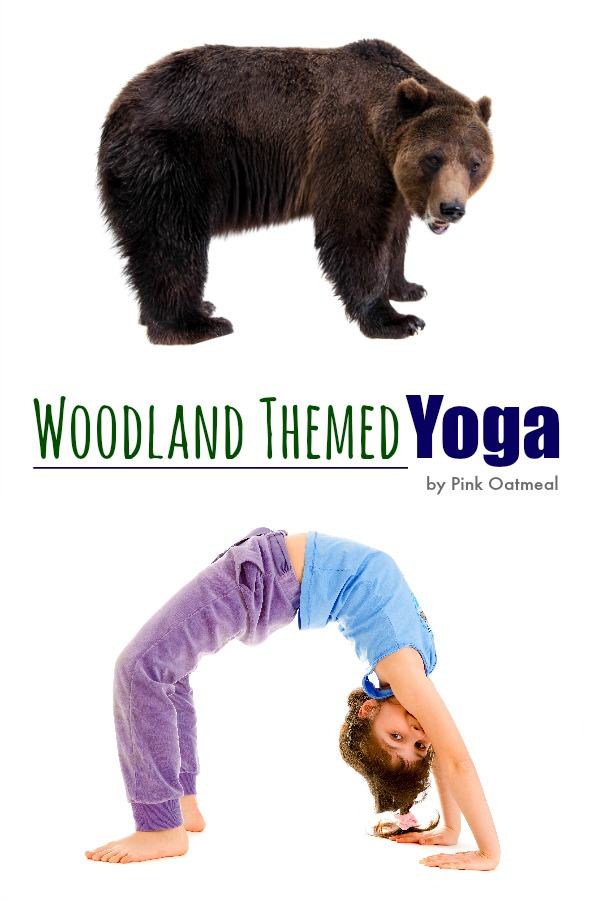 WOODLAND POSES
Woodland yoga poses are the perfect addition to any woodland themed unit, brain break, or therapy session.  These yoga poses can be easily integrated into instructional time as well.   Your kids will love this movement and so will you.  Get woodland yoga cards already created for you and get started using them today!
Bear
Downward Dog Pose or walk on your feet and hands like a bear.
Deer
Start seated on the floor with your back straight and legs in front of you. Pull your right knee towards your body and place it over your left leg keeping your foot flat on the floor. Twist your body towards your right side. Place your left elbow on the outside of your right knee. Repeat on the opposite side.
Log
Mountain Pose in standing or Corpse Pose laying down.
Rabbit
Squat to the floor with your arms between your legs.  Leap up like a rabbit and repeat.
Fox
Start on your hands and knees.  Reach out with your left arm and reach back with your right leg.  Repeat on the opposite side.
Porcupine
Child's Pose.  Round out that back to make your quills stick out!
Skunk
Cat Pose. Arch your back and spray!
Owl
Dancer Pose.  Flap your arms like a bird and add the WHOOO WHOO!
Toadstool
Chair Pose.
Tree (Pine Tree)
Tree Pose.  Don't forget to perform this pose on both sides.
WOODLAND YOGA
Think about how great it would be to have Woodland Yoga already created for you!  Not only that, but you can feel confident knowing your kids are getting in much needed physical activity with a Woodland theme.  These cards are perfect for a brain break, home, therapy sessions, and can easily be integrated right into instructional time.  Your kids will LOVE these and so will you.  Save yourself time and effort and get the Woodland Yoga Pack right now!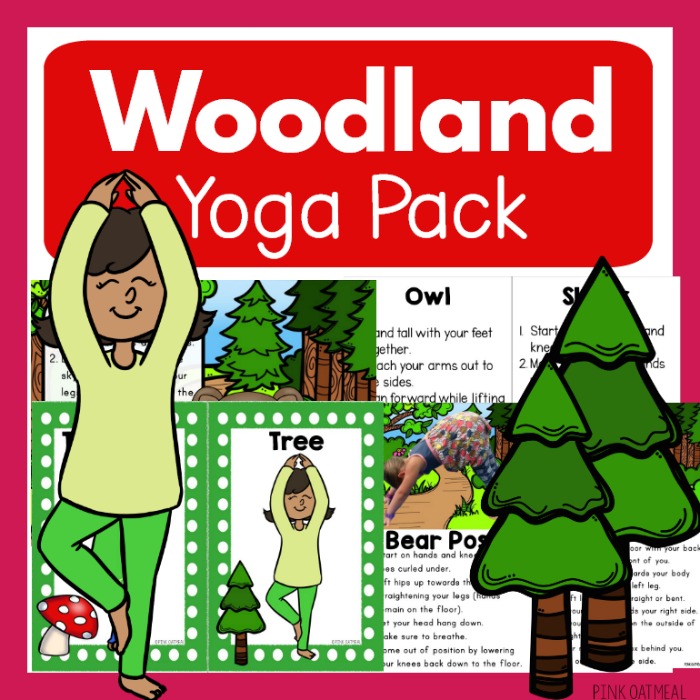 Woodland Movement Pack
Get even more Woodland movement and get in on more savings when you purchase the Woodland Movement Pack.  This pack has all the yoga, plus forest themed movement cards for even more movement fun.  Save yourself the time and effort of searching and creating and buy this pack today and save!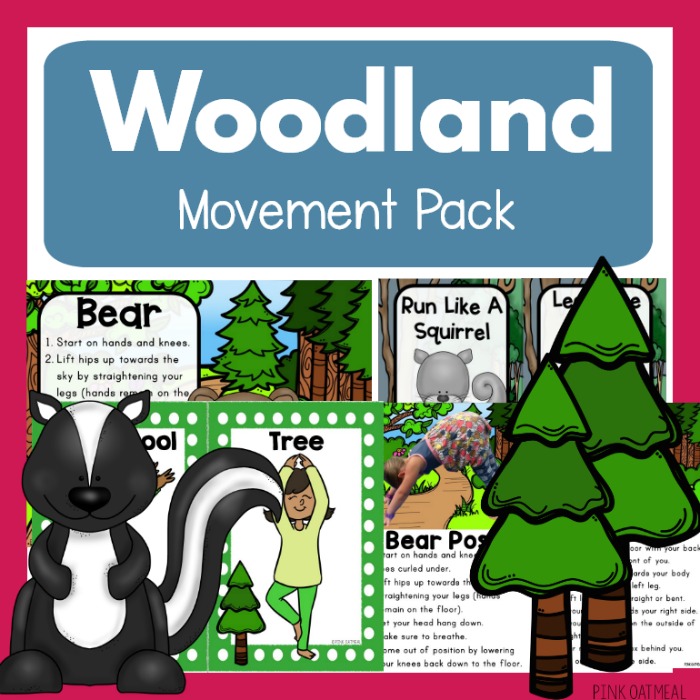 MORE YOGA
Looking for more yoga ideas?  Check out my Desert Yoga, Sea Yoga,  Farm Yoga, Circus Yoga, Transportation Yoga, Rainforest Yoga, Zoo Yoga, and Camping Yoga!
I WANT TO HEAR FROM YOU
Let's connect!  Pink Oatmeal is on Facebook, Pinterest, Twitter, and Instagram!