I love the fall! If only winter didn't follow… The start of fall also means the start of the school year around here. One of my activities to work on strength, range of motion, and body awareness with my kids is different yoga poses. A fall theme can easily be integrated into yoga poses making it even more fun.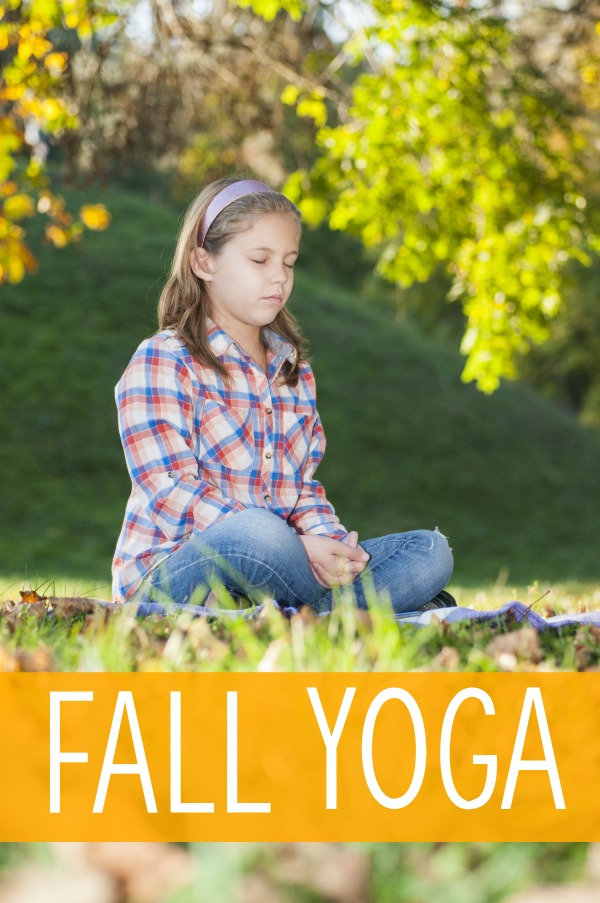 Fall Themed Yoga Poses
Each card represents something associated with fall. Whether you are posing like a bear or tree be sure to enjoy your yoga! Modify the poses as needed. Let the kids enjoy the yoga and be creative with their poses. You can get all of these ideas in fall themed yoga cards so you can save time and effort of trying to put it all together yourself.
Turn these yoga pose ideas into story format. Watch how much your kids will LOVE moving with a fall themed story. Get these exact yoga poses in a fall themed movement and yoga story format for FREE!
Scarecrow Pose
Mountain Pose – Put your arms out to the side like a scarecrow!
Apple Basket Pose
Butterfly Pose – Creating a basket with your legs!
Bear Pose
Bear Walks – On your hands and feet walk around like a bear!
Pumpkin Pose
Happy Baby Pose – Roll like a pumpkin!
Tree Pose
Tree Pose
Leaf Pose
Stand in mountain pose. Twist side to side or spin like a leaf falling through the sky!
Squirrel Pose
Start on your knees resting your bottom on your heels. Raise up into tall kneeling with your hands on your thighs. Hold and breathe!
Acorn Pose
Child's Pose
Rake Pose
Long Sitting Pose –Twist side to side like you are raking (be sure to keep your back straight)!
Crow Pose
Airplane Pose
Fall Yoga
Love the idea of fall themed yoga, but don't have the time to get it organized? I get it. Pink Oatmeal has created fall themed yoga for you! Feel confident you can have fun fall themed movement and yoga pose ideas that your kids will LOVE. With the fall themed yoga cards and printables from Pink Oatmeal you can bring fun fall themed movement to your classroom, home, or therapy session! See all of the options from Pink Oatmeal in the Fall Themed Yoga Pack!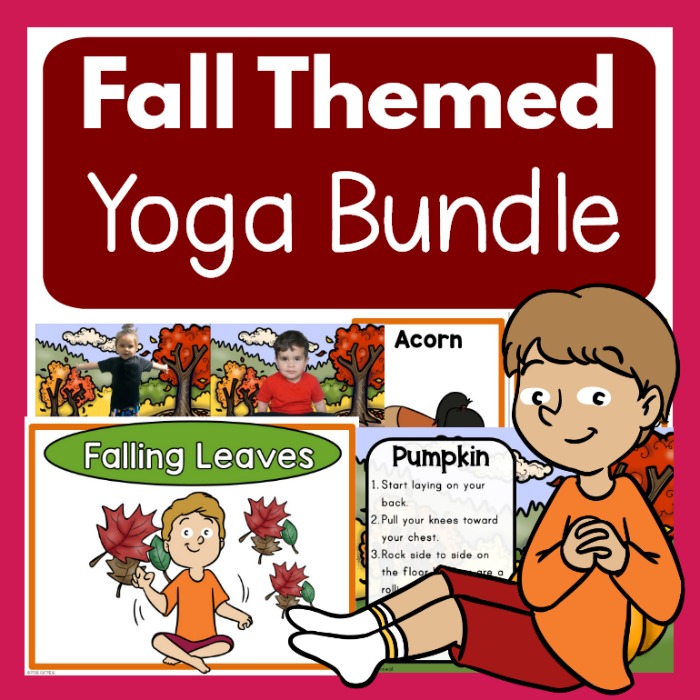 I WANT TO HEAR FROM YOU
Let's connect! Pink Oatmeal is on Facebook, Pinterest, Twitter, and Instagram!