With November nearly here, it's time to start thinking about November gross motor and fine motor activities planning! In true Pink Oatmeal fashion, the November motor planning ideas are all about themes.  The themes for the month include Thanksgiving, Football, Dinosaur and Transportation.  If you want even more theme ideas be sure to check out all of the different themes and monthly ideas under the motor planning themes section of the website!

November Gross Motor and Fine Motor Activities Planning – Football Theme
It is the heart of football season, so starting off the month with a football theme is a must.  I also love to use this theme around Superbowl time.  When it comes to football there are so many different activities that can be done as it is such a physical sport.
READ ALL ABOUT FOOTBALL THEMED MOTOR PLANNING IDEAS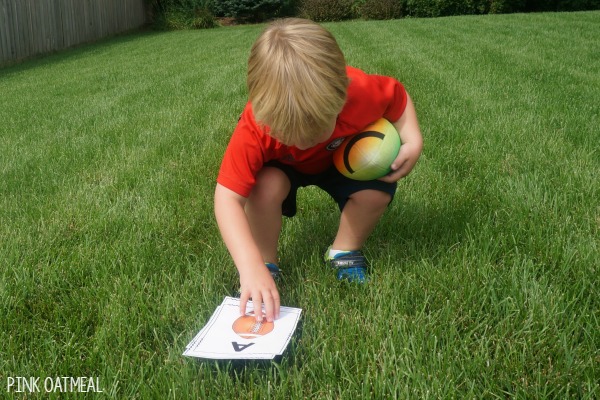 Some of my favorite football activities include agility drills.  You can get FREE agility cards in the freebie library.
Football matching with moves is another awesome freebie from Pink Oatmeal.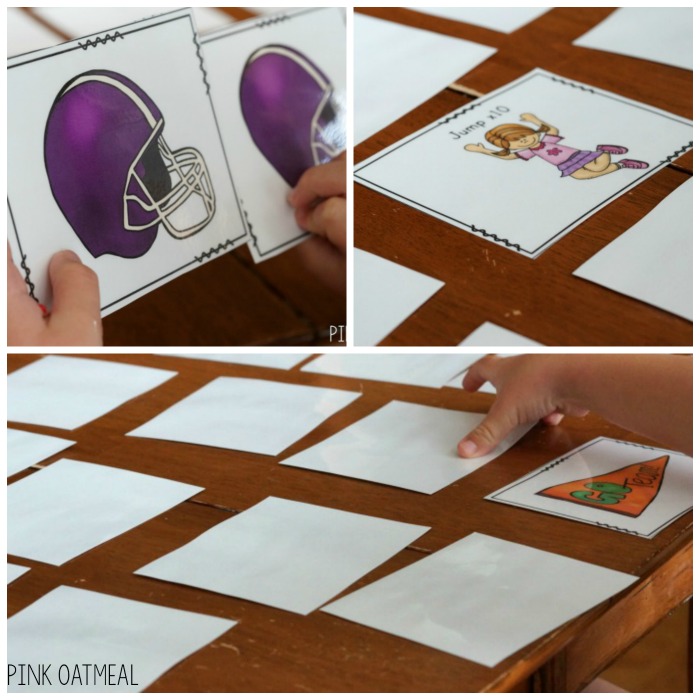 Another football favorite is the football relay!  Kids love this game!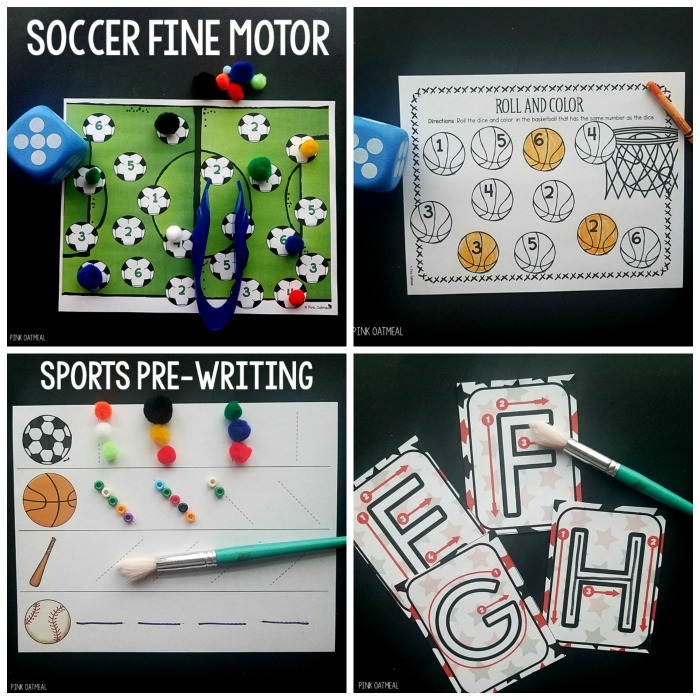 Of course there is nothing better than sports themed fine motor activities when it comes to football week!
SEE THE REST OF THE FOOTBALL THEMED MOTOR PLANNING IDEAS
Transportation Theme
The transportation theme is so easy for incorporating movement, gross motor and fine motor activities!
READ ALL ABOUT THE TRANSPORTATION THEMED GROSS MOTOR AND FINE MOTOR IDEAS
A few favorites from this theme include transportation yoga.  A perfect way to move like your favorite forms of transportation!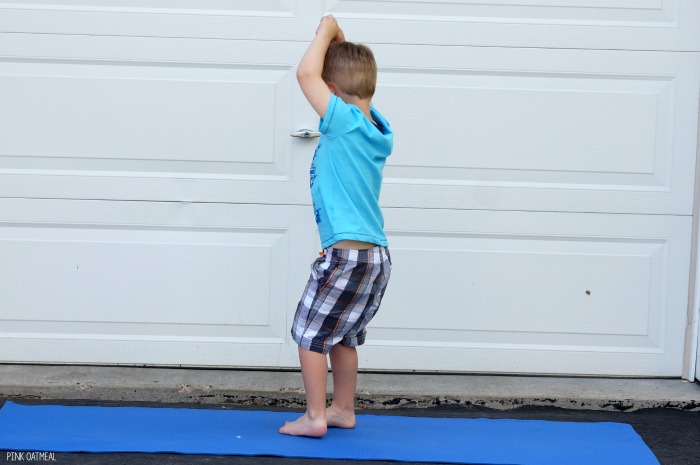 How about free transportation movement cards?  These can be yours and are in the Pink Oatmeal freebie library!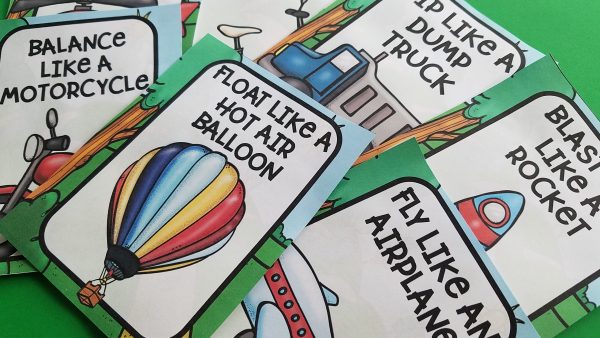 Another favorite is using that vertical surface activities which is great for both fine motor and gross motor!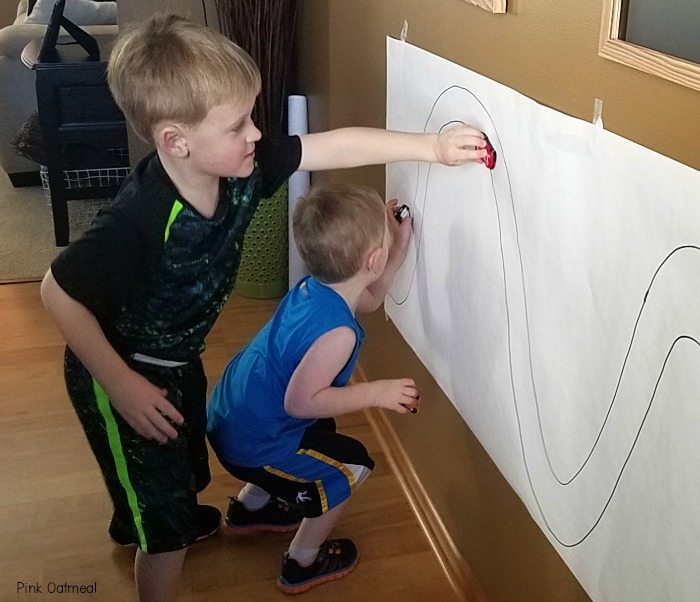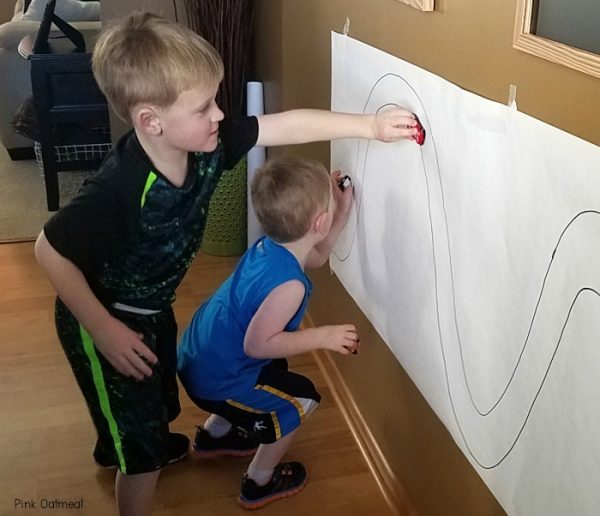 Nothing is better than transportation themed fine motor when it comes to working with a transportation themed unit!  Get these in the transportation fine motor activities pack!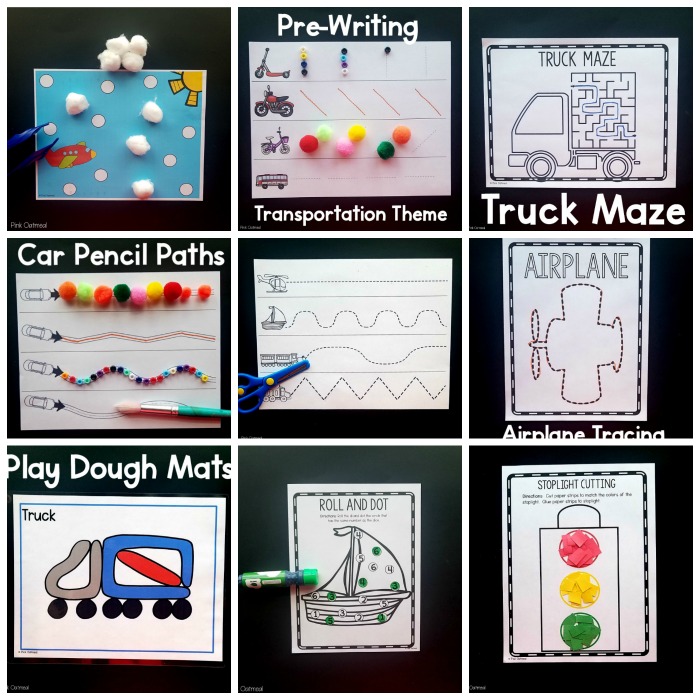 READ EVEN MORE TRANSPORTATION THEMED GROSS MOTOR AND FINE MOTOR IDEAS
Thanksgiving Theme
November is the month of thanks!  The Thanksgiving Theme is another fun way to incorporate motor skills this month.
READ ABOUT ALL OF THE THANKSGIVING THEMED GROSS MOTOR AND FINE MOTOR ACTIVITIES 
Start off the month with the FREE turkey spinners from the Pink Oatmeal freebie library.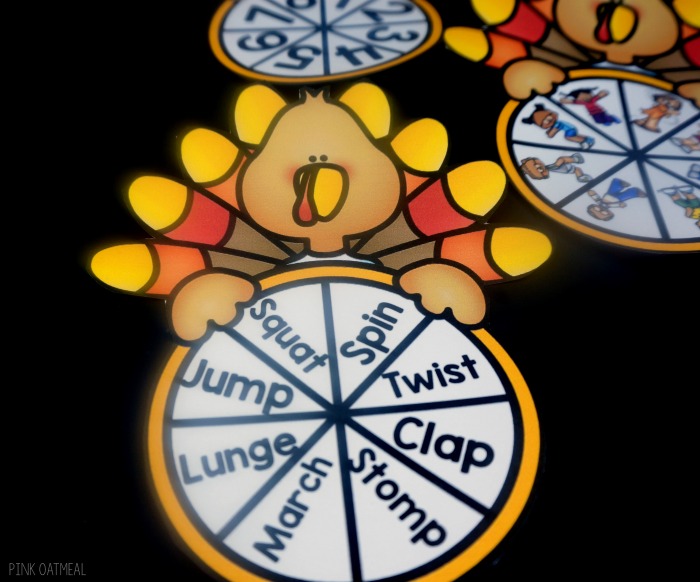 The turkey trot is another game that your kids will love!  This game is a great way to work on teamwork and gross motor skills at the same time.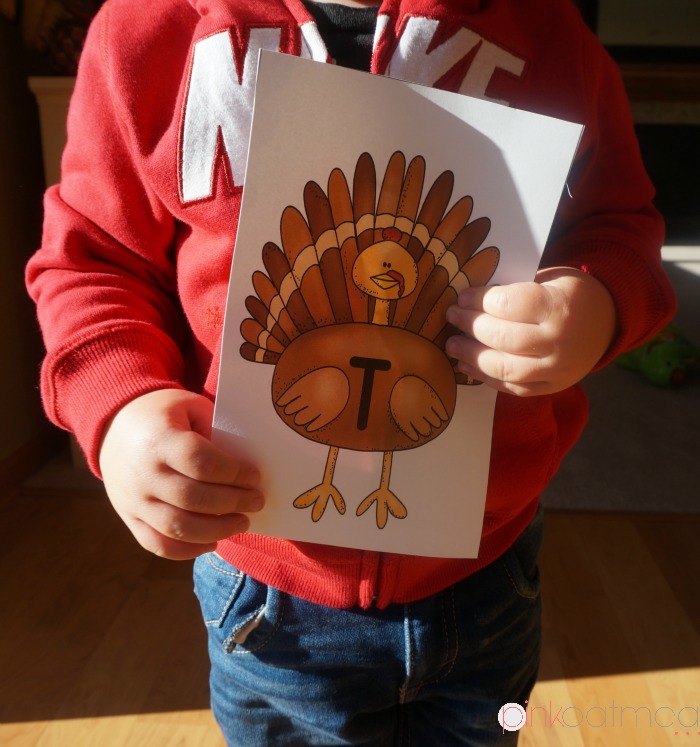 Don't forget about fine motor with a Thanksgiving theme.  These are fun and an easy way to engage the kids in fine motor skills that they will love.  Get them ready made for you in the Thanksgiving Theme Fine Motor Activities Pack.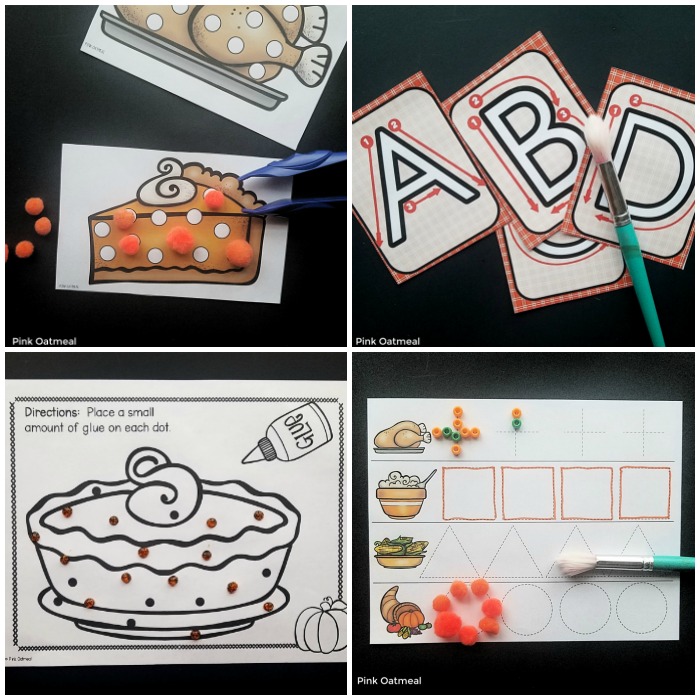 Dinosaur Themed Activities
A favorite by so many kids is the dinosaur theme.  It's an easy theme to add to the month of November, but can really be used all year long! These are some of my favorite dinosaur game.
Dinosaur Feet
This fun game requires a large pair of shoes!  Do this as an individual, relay or in a group.
Follow the dinosaur path.  The
dinosaur foot prints
are available to members only in the members only library.

Dinosaur fine motor activities make dinosaur motor work even more fun.  Check out these 8 different dinosaur themed fine motor activities in the dinosaur fine motor activity pack!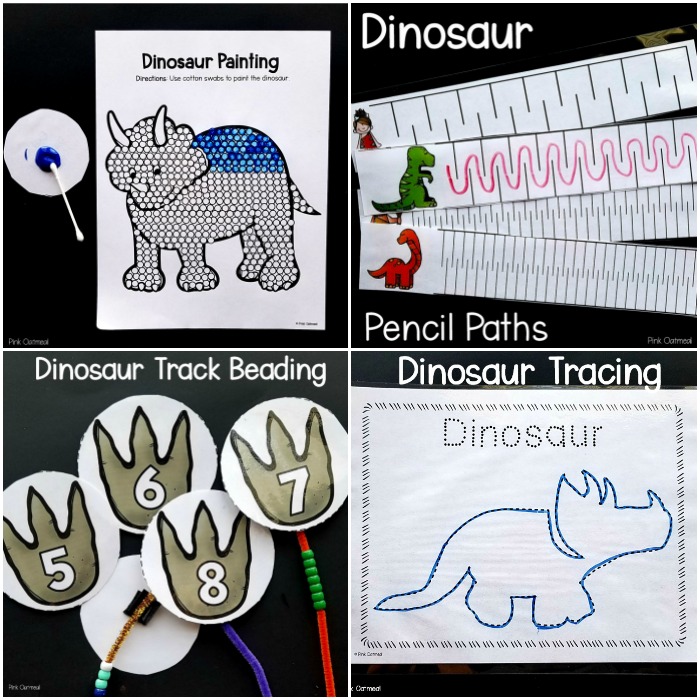 Dinosaur Yoga
Dinosaur yoga is a great way to add movement to a dinosaur theme that your kids will LOVE!  Plus you can get your own set of dinosaur yoga cards to get started today!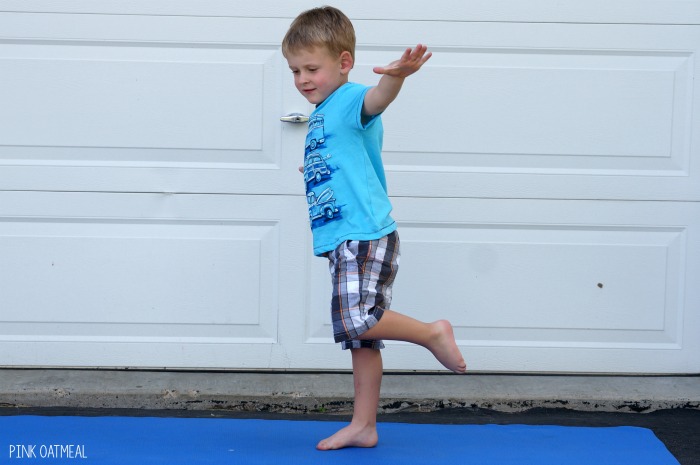 Dinosaur Brain Breaks
If you are looking for fast, fun, and effective dinosaur brain breaks are a must!  Save yourself time and get all of these ideas already made for you when you get dinosaur brain break cards.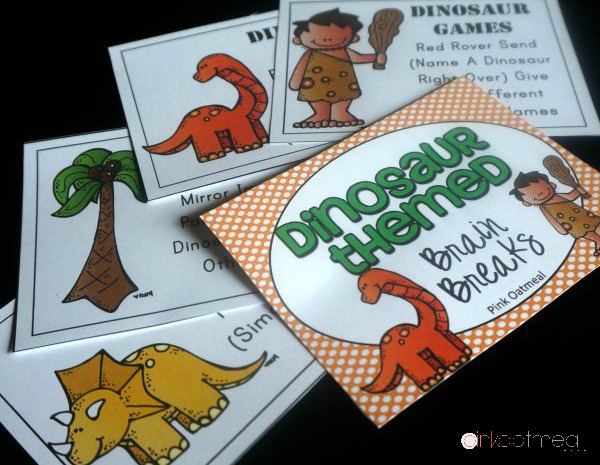 Dinosaur Walks
Another great way to get kids moving.  Call out different names of dinosaurs and let the kids walk like that dino.  Don't be afraid to let them use their imagination or come up with different dinosaur walks as a group!
More Themes and Ideas
Want more themes and ideas?  Check out all of the different gross motor and fine motor activity themes and monthly planning theme ideas from Pink Oatmeal.