It's been a while since I posted! I've been moving. The last time I moved, I could fit everything I owned in a car. It's a lot different moving a family of 5 this time. That being said, I really wanted to get out this ideas on using color dots for fun exercises for kids! These exercises are so simple and can be done anywhere. The activities require very little equipment, none actually outside of colored dots. The best part is that there are so many different ways that you can change up the exercises and kids love the different challenges!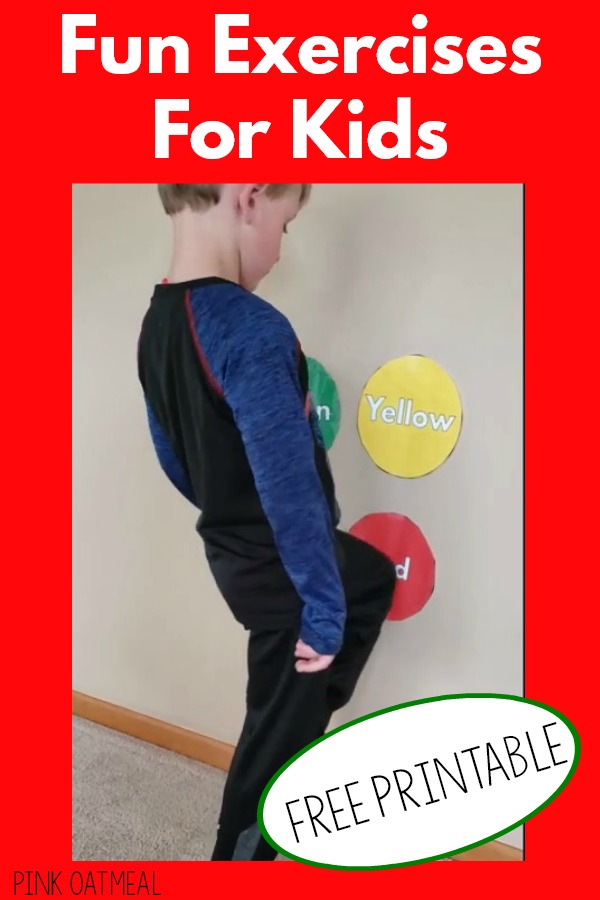 Fun Exercises For Kids
Like I mentioned, very little is needed to do these activities besides colored dots. The large colored dots can be found for FREE in the freebie library.
If you are looking for the smaller dots, I picked mine up at the dollar store. There were multiple colors to choose from. The larger dots that you get in the freebie library can be laminated and cut out. That way you can use these dots over and over again!
Exercises With Large Dots
All of the following exercise activities are done using the large dots that can be downloaded for free from the Pink Oatmeal freebie library. I laminated them and use them on the wall with painters tape.
Hands and Knees Taps
This is great for core stability! Change it up by placing the dots in a single row. Call out the colors that you want the child to tap. Make it as easy or challenging as you wish!
Wall Plank Taps
This is a more challenging exercise for kids then it looks! In push-up position work on lifting one hand to tap the color that is called out.
Balance Toe Taps
In standing, tap the colored spot with a toe! This could also be done by tapping the spot with the knee instead of the toe. Stand on one leg the entire time or just move to one leg for the tap!
Squat and Tap
Another great option for working on lower extremity strengthening and motor planning. Squat down to tap the colored dot that is called!
Exercises With Small Dots
Using the small colored dots that you can get from Amazon (affiliate link) or from the dollar store, is another way to create fun exercises for kids! If you are like me you may find some laying around from an old yard sale or garage sale of the past! These also travel very well!
Knee Walking
Place a different colored sticker on each knee and walk to the matching dot on the floor. Be sure to encourage forward, sideways, and backward knee walking to get all different muscle groups!
Crab Walking
Place a different colored dot on each hand and have your kiddo crab walk to match the colored dot on their hand with the color on the floor!
Hands and Knees
On the wall or on the floor this can be done with small dots too. A great way to work on core strength and midline crossing.
More Fun Exercises For Kids
Check out all of the pediatric core strengthening or balance exercises for kids from Pink Oatmeal. Plus don't miss out on all of the different themed motor planning activity ideas as well! Be sure to stop by the Pink Oatmeal Shop and get all of the resources you need today!