The holiday season is here and it is a busy time of the year.  I want to take motor planning off your plate this month and make this a little bit easier for you.  I'm sharing with you some of my favorite Christmas motor planning ideas.  The Christmas motor planning ideas include both holiday themed fine motor and gross motor activities.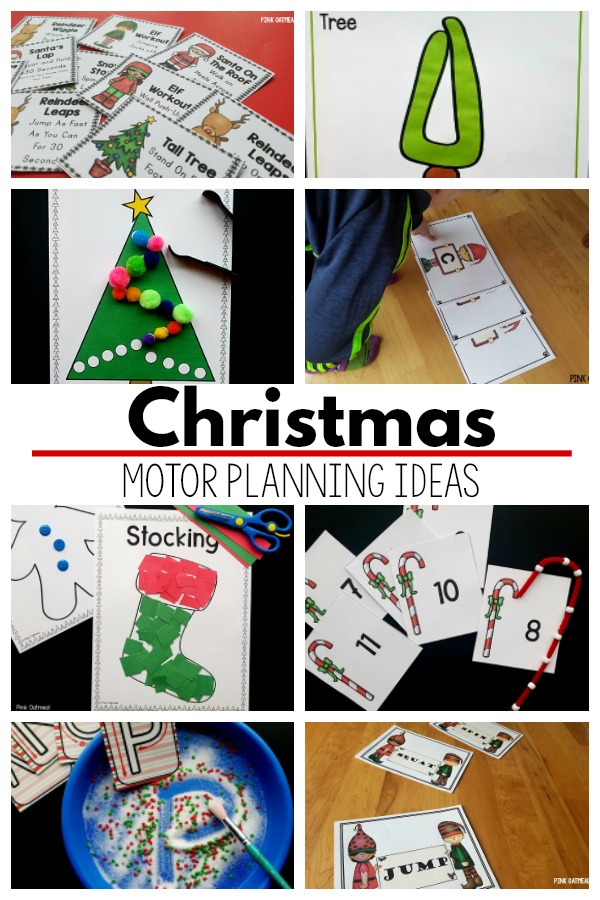 Christmas Gross Motor and Fine Motor
The following activities are perfect for the month of December and especially fun right before the holidays.  All of the activities are designed with physical activity and motor planning in mind!
Pink Oatmeal has also taken some of these ideas even a step further, so they deserved their own blog posts of ideas. Be sure to check out more on Reindeer Games and Gingerbread Activities. 
READ ABOUT GINGERBREAD ACTIVITIES
Christmas Tree Fine Motor
Decorate the Christmas tree with this fun fine motor activity.  Use poms or manipulatives of your choice to decorate the tree.  Use a tongs or fingers to transfer the manipulatives to the tree.  
GET THIS IN THE CHRISTMAS FINE MOTOR PACK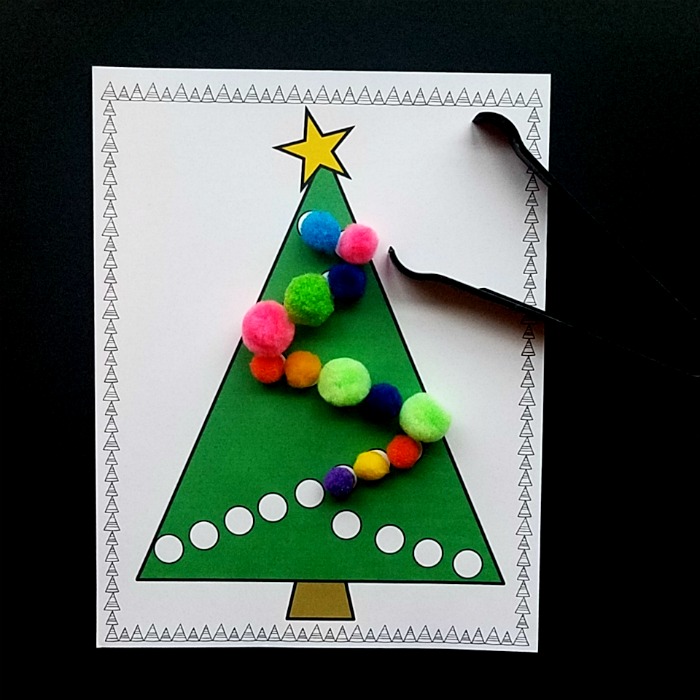 This is also a great option to incorporate into gross motor. In this case working over a peanut ball. This could also be done on a vertical surface using stickers instead of poms!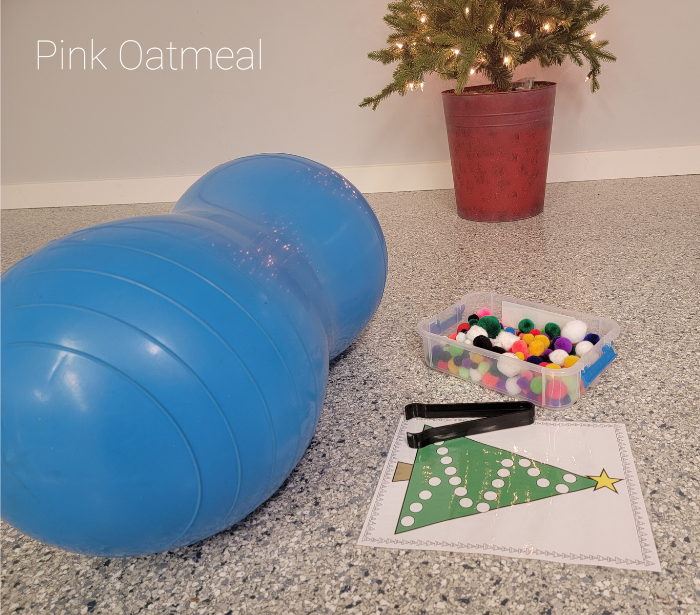 Stacking Gifts
Have fun playing the balance games trying to stack up all of the Christmas Gifts.  The balance board (affiliate) is from Amazon and theses are the cardboard blocks (affiliate).   If you don't have a balance board you could try an air disc (affiliate) or using a pillow.  Tandem standing or single leg standing would work well for this activity too.  Instead of blocks you could wrap up cardboard boxes (a great way to add a fine motor component as well).
Christmas Motor Planning – Reindeer Run
Move like each of Santa's reindeer with the Reindeer Run Brain Break Cards.  This is a fun way to get up and move during the holiday season.  Get your set of Reindeer Run cards in the freebie library.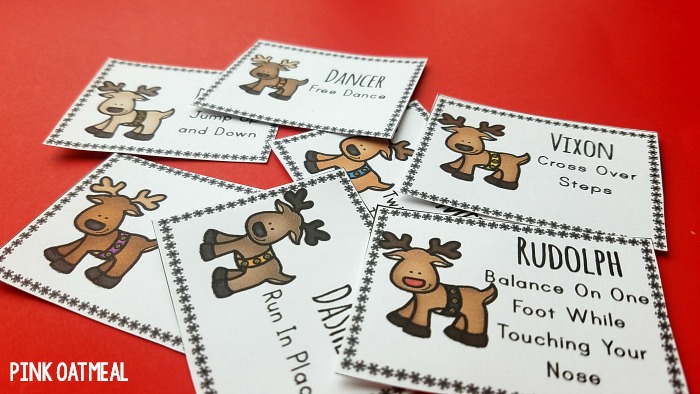 Christmas Motor Planning – Pre-Writing and Pencil Paths
Pre-writing strokes are important and need to be in place before trying to work on actual letters.  I like to laminate these pre-writing strips to use them over and over.  Dry erase markers work great for writing.  I like to use the pencil paths the same way by laminating and using them over and over again.  The Christmas theme is perfect for this time of year.  
GET THESE IN THE CHRISTMAS FINE MOTOR PACK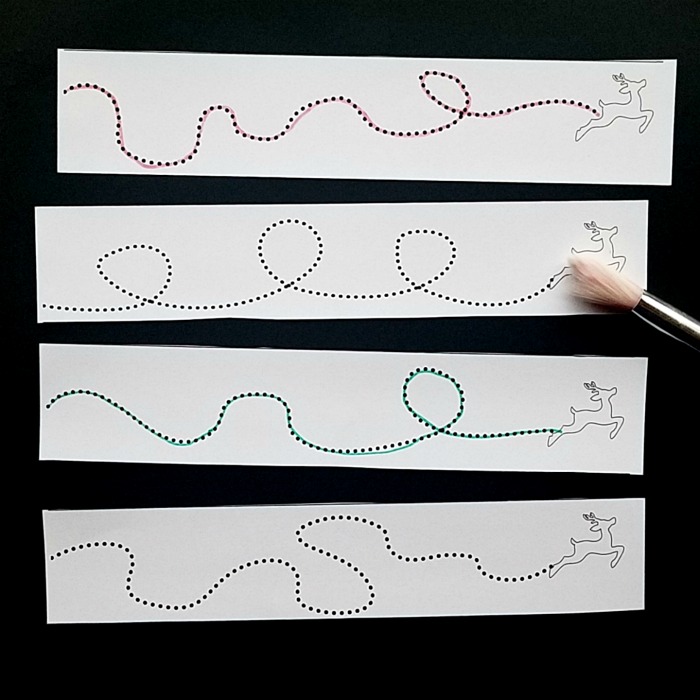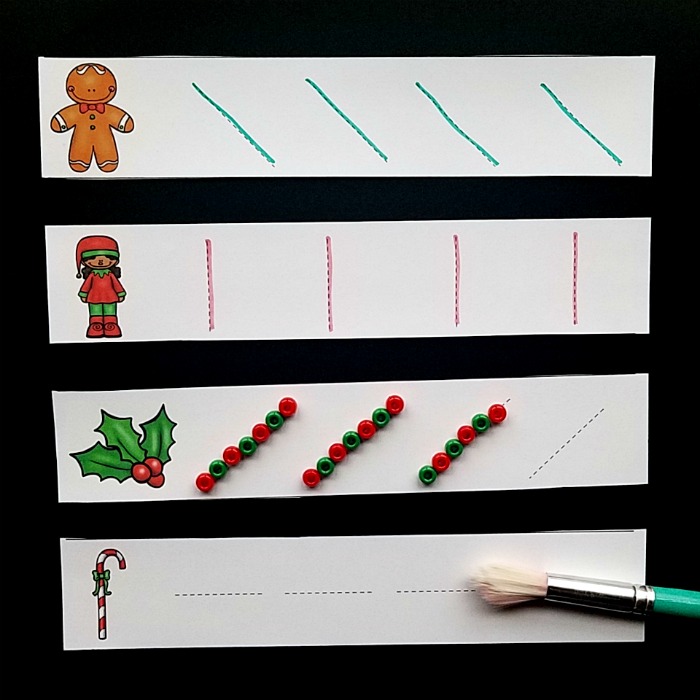 Instead of traditional tabletop work, it is easy to change up the position for different input or to work on different skills. For example, working in prone (tummy down)!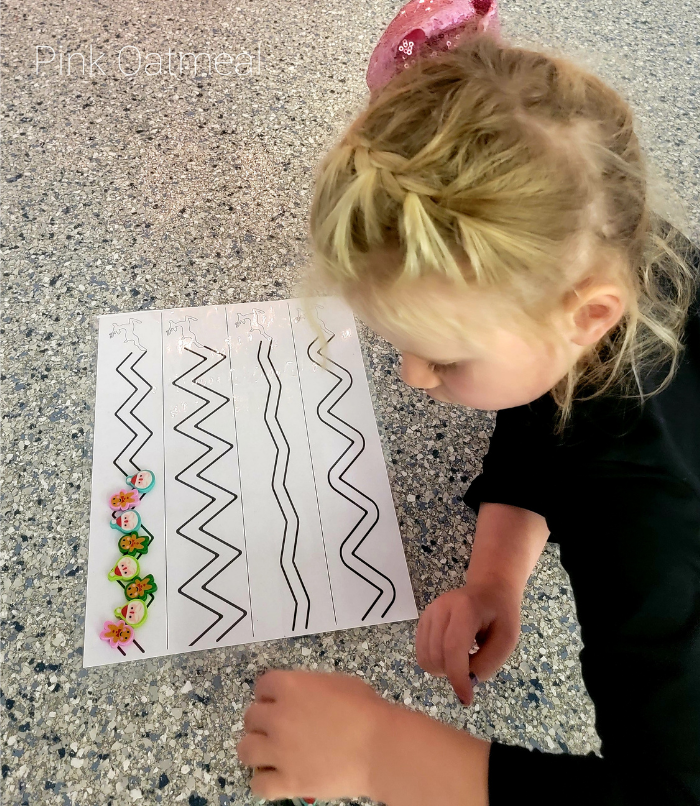 Let's talk about some fun ideas that can be used in a digital OR printable manner. Pink Oatmeal has a huge selection of games for the holiday season to get you started!  These games can be played in PowerPoint, Google Slides, and the PDF file. 
When used digitally their is no prep involved. Take them out and play! Play on a tablet, computer, interactive whiteboard or screencast onto a television. 
Holiday Sweater 
Everyone loves a good holiday sweater. Now you can play a game that features these wonderful holiday sweaters!  Since this game uses countdown timers it can only be played in PowerPoint. 
GET THE HOLIDAY SWEATER MOVEMENT GAME
North Pole Gross Motor Game
Take a visit to the North Pole and move! Pick from your favorites in the North Pole!
GET THE NORTH POLE GROSS MOTOR GAME
Here is one example of how this game looks as printables on a bulletin board! These could also be used on a wall, door, floor or anywhere you desire!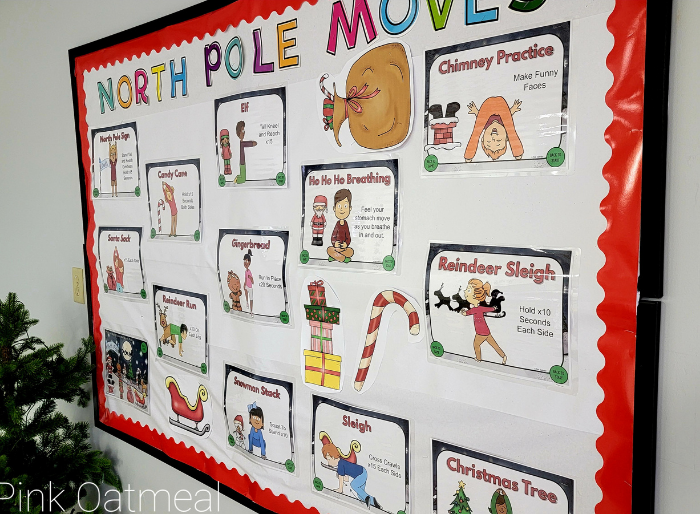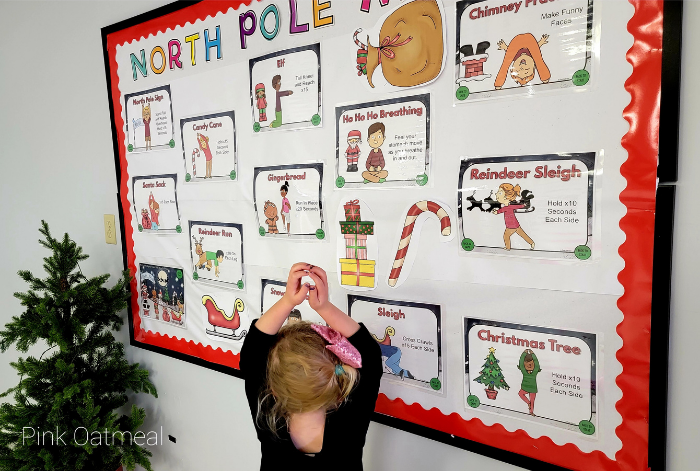 Holiday Cookie Making
Work on making cookies with cookie dough (play dough) as you solve problems. The perfect way to combine problem solving with fine motor work. 
GET THE HOLIDAY COOKIE ESCAPE ROOM

Print the dough sheets for this game so that you have them handy as you play!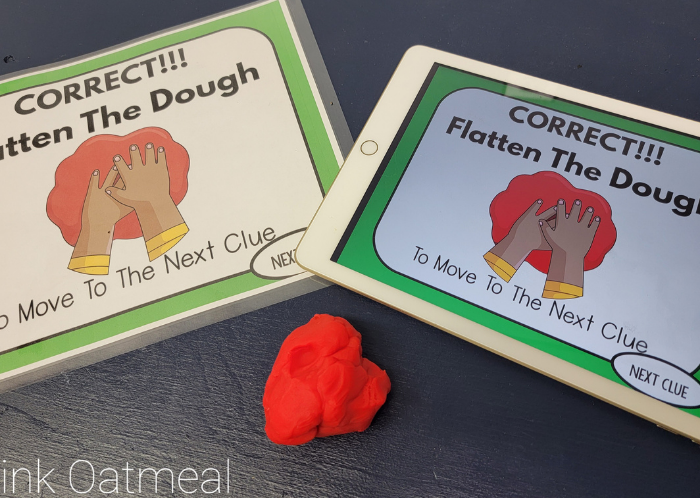 GINGERBREAD ESCAPE ROOM
How about a Gingerbread Escape? Solve the problem and move in the Gingerbread Escape Room!
GET THE GINGERBREAD ESCAPE ROOM
HOLIDAY WHEELCHAIR MOVEMENT
Holiday Themed Wheelchair Yoga is another great option! This game incorporates Christmas, Hanukkah, and Kwanzaa into the movement. Pick a holiday object and move! This game can be played in digital format, but also can be used as printables. Printables are fabulous to put on a bulletin board, wall, or even on a door!
GET THE HOLIDAY WHEELCHAIR MOVEMENT GAME
Below is an example of the game printabed out and used as printables! In this case it is on a door, but they can be used however you would like!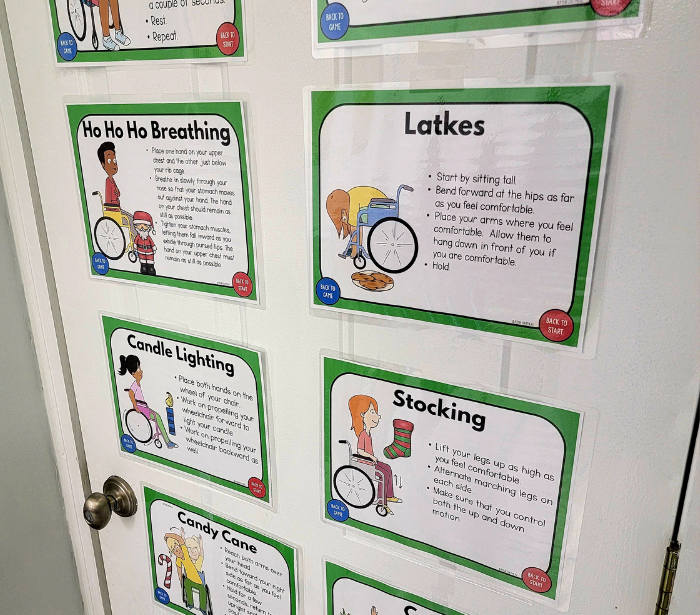 Holiday Themed Movement Story
Movement stories are a great way to engage kiddos! The Holiday Movement Story is perfect for this time of the year! You can use this movement story in a digital manner or you can print the story too! There are images to go along with every movement you make in this holiday themed story!
GET THE HOLIDAY THEMED MOVEMENT STORY
Counting and CORE STRENGTH
How about counting all the different Christmas ornaments on the tree. This game works on one to one correspondence along with CORE STRENGTH! 
GET THE HOLIDAY ORNAMENT COUNTING AND CORE STRENGTH GAME
REINDEER LIFE CYCLE
The reindeer life cycle is another fabulous option that you can use in a digital or printable manner. This is the perfect way to combine learning and movement in one. Play this on your tablet, computer, interactive whiteboard or screen cast it onto the television. This game also works fabulous as printables and can easily be carried with you, used on a door, hallway, wall or bulletin board. 
GET THE REINDEER LIFE CYCLE GAME

Here is an example of the game in use as printables. Print and put up on any wall and you have a fun holiday themed gross motor game!
Wrapping Paper Clean Up
During the holiday season, gifts tend to be exchanged for all of the different holidays. The "wrapping paper" clean up is a fun activity to do during the holiday season.  Us this same activity and ball up wrapping paper or tissue paper and start cleaning! 
Santa's Sleigh
Load up Santa's sleigh (clothes basket) and push or pull.  This can be loaded with gifts, books, or even a friend.  
Holiday Hop
A fun way to get in gross motor fun is with the Holiday Hop game.  Read about how to play this game.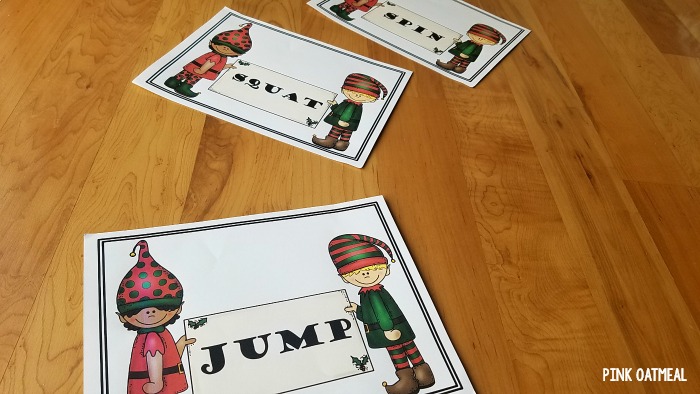 Santa Boots Motor and Sensory Paths
Create a sensory/motor path with Santa's boots and by adding holiday themed printables to the wall.  I like to set this up by following Santa's boots along the path and then stopping to perform the activity on the wall such as a yoga pose or tracing on a vertical surface.  Then continuing down the path until you reach the next activity.  These holiday themed ideas could also be integrated right into a sensory/motor path that you have already created.   Get the entire Christmas Themed Sensory and Motor Path already created for you!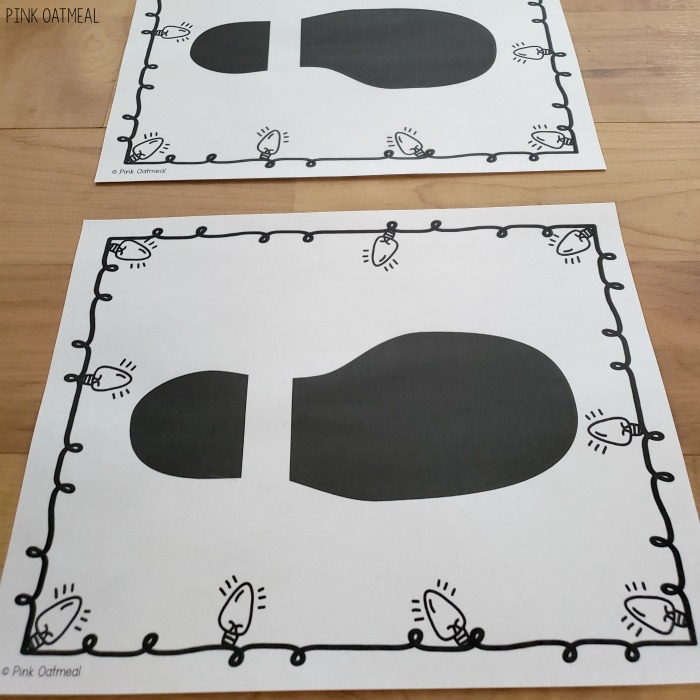 Add an agility ladder to make this path even more challenging! 
Hanukkah Gross Motor Games
Not Christmas, but a great option for this time of the year. The Hanukkah Gross Motor Games come with both a printable and digital option. Play spin the dreidel or race to the menorah! Even try out some Hanukkah yoga poses!
GET THE HANUKKAH GROSS MOTOR GAME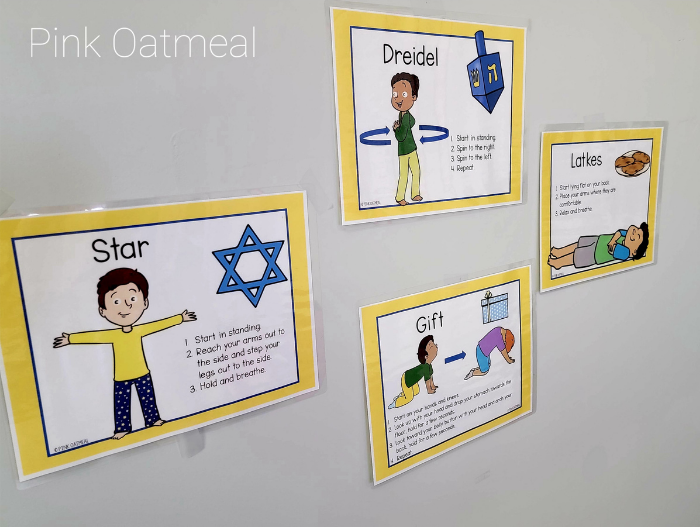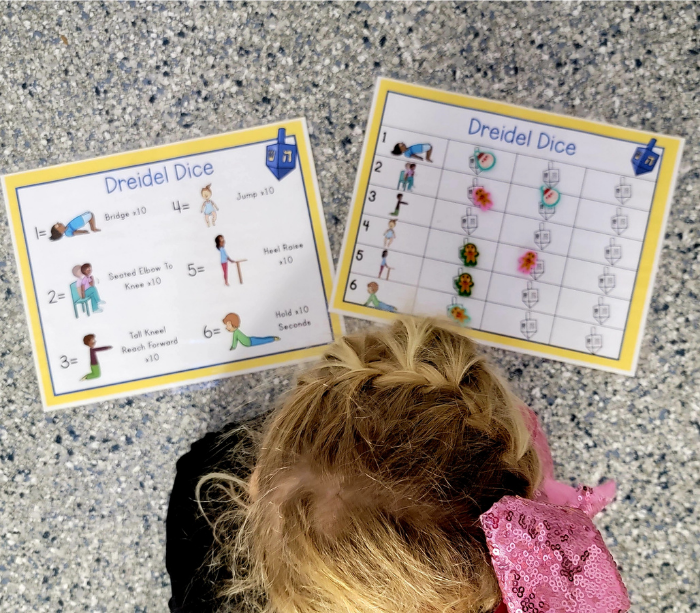 Christmas Motor Planning – Christmas Beading
Create candy canes with this fun Christmas beading activity.  You will need beads and pipe cleaners.  Draw the candy cane cards and see how many beads you need to create your candy cane.  
GET THIS IN THE CHRISTMAS FINE MOTOR PACK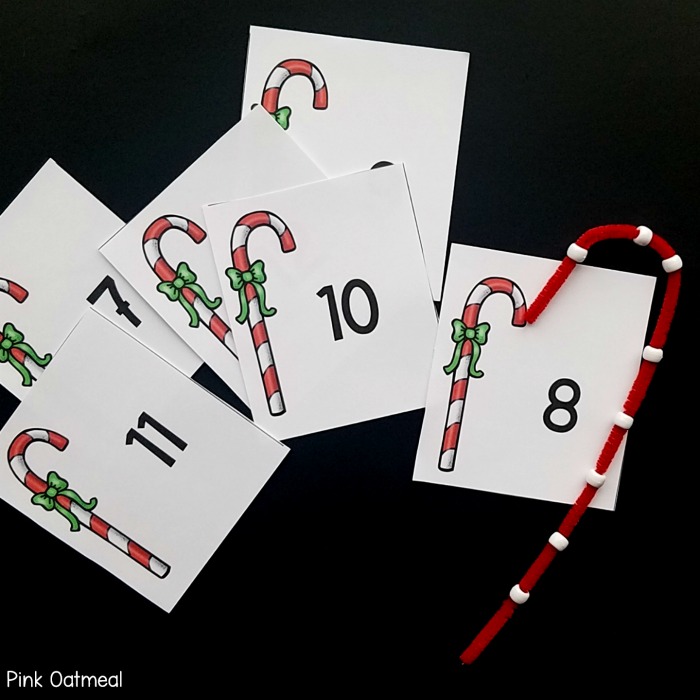 Add a gross motor component to the candy cane beading by standing on a Bosu ball. This is just one example. An air disc, balance board or pillow even work well. You could also try high kneeling or half kneeling!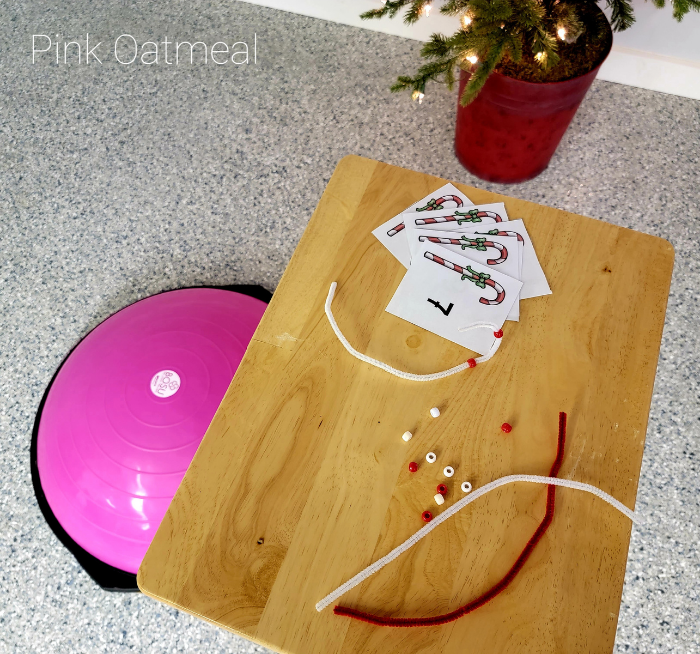 Christmas Brain Breaks
If you want ideas to move that are fast, fun, and efficient and need no set-up and not a lot of space the Christmas brain break ideas are for you.  Read about all of the different brain break ideas in this blog post.  Get a set of brain break cards in the shop.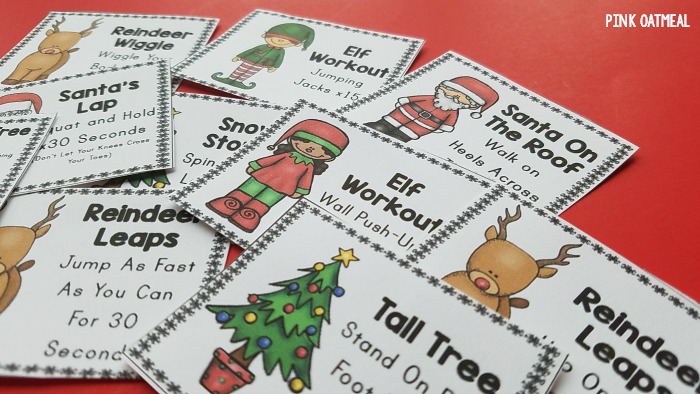 Gingerbread Brain Breaks
Pink Oatmeal has grown out it's gingerbread ideas so much that it deserved it's own post. Be sure to read about all the gingerbread gross motor and fine motor activity ideas. 
These gingerbread brain break cards are another great way to move in a fast, fun, and effective manner with little need for set-up is with the gingerbread brain break ideas.  Read all about the ideas.  
GET THE GINGERBREAD BRAIN BREAKS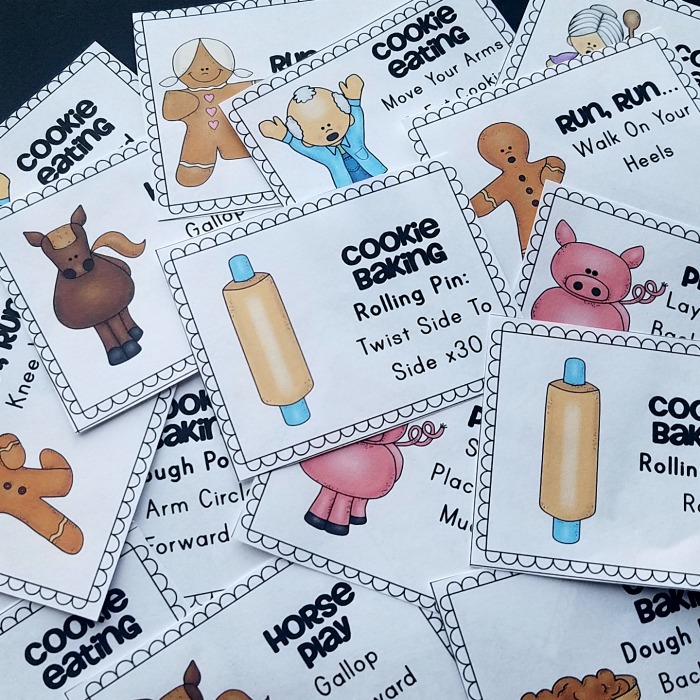 Christmas Motor Planning – Play Dough
Play dough is an awesome way to work on fine motor skills.  Two different ways to utilize play dough during Christmas is with the play dough mats or play dough counting.  Laminate the counting cards and mats and use them over and over again.  Want them ready made?  Get them in the Christmas Fine Motor Activities Pack.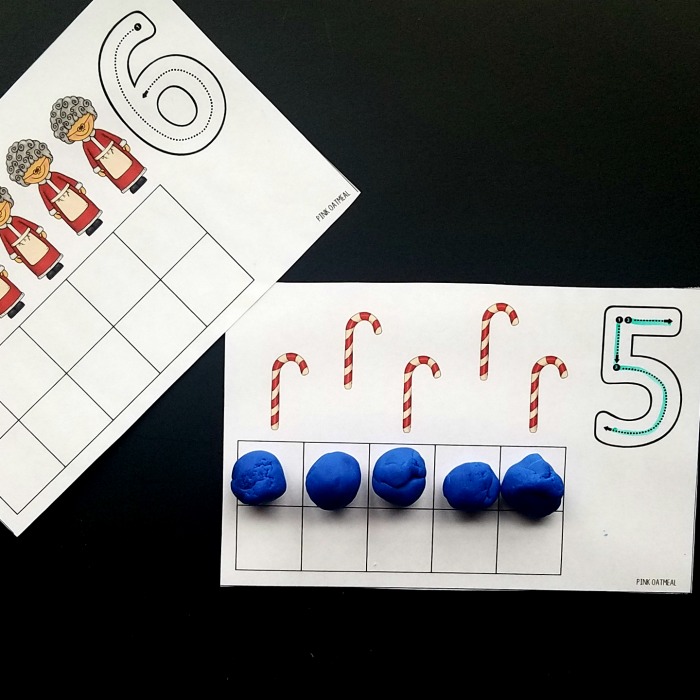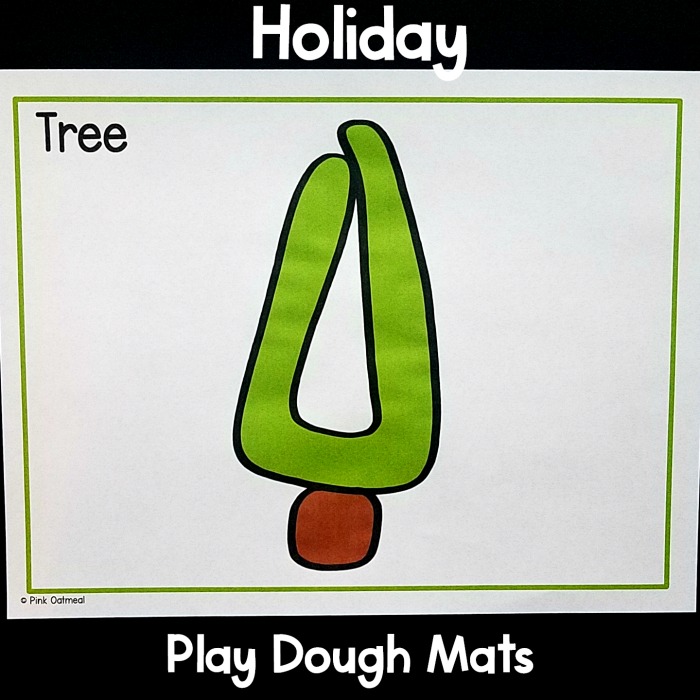 Christmas Yoga
Another fun and creative way to move is with Christmas themed yoga.  Pose like a Christmas tree, reindeer, candle and more!  This is a fun way to get little bodies moving with a Christmas theme.  Read about all of the different pose ideas.  
GET THE CHRISTMAS YOGA CARDS AND PRINTABLES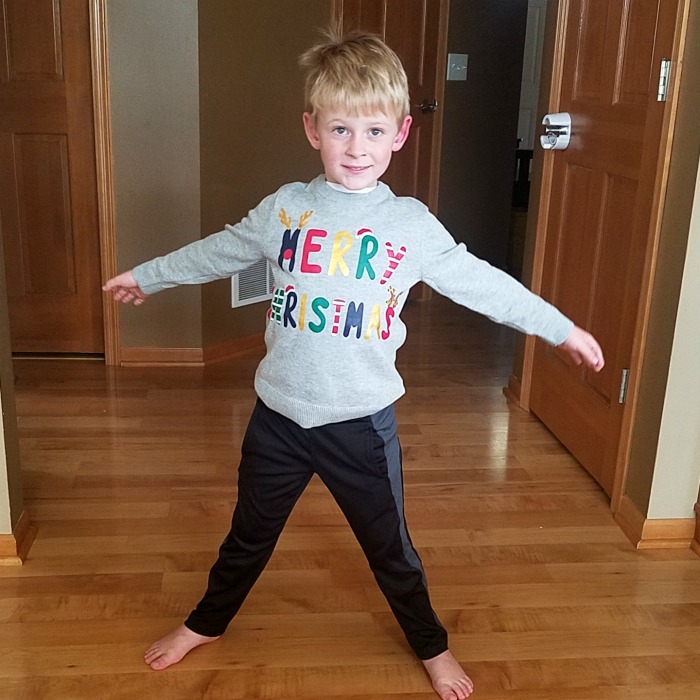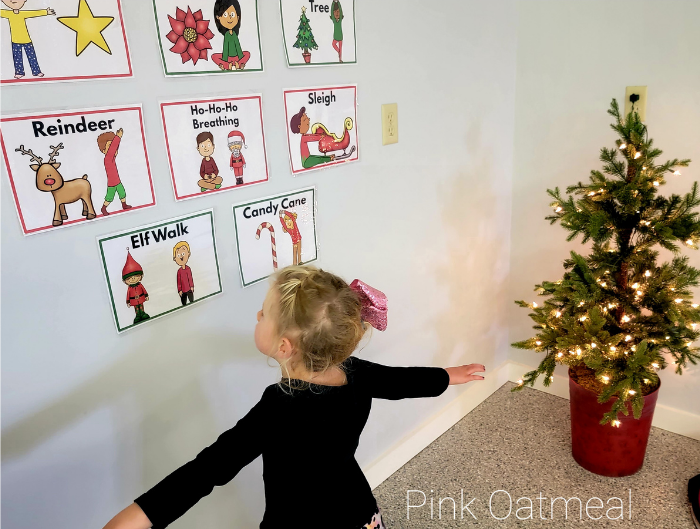 Christmas Scissor Skills
This scissor skills activity is fun and simple.  Cut strips of paper to fill in your favorite Christmas objects.  The Christmas object printables are available in the Christmas Fine Motor Pack.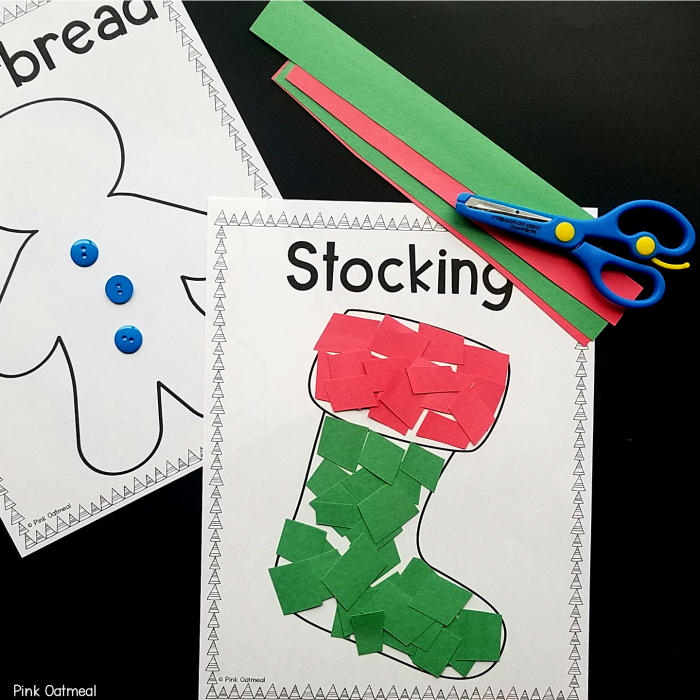 The Christmas Relay
The Christmas relay gross motor game is another fun way to move during the holiday season.  Race down to pick up the cards that spell out Christmas.  This can be done in teams or as an individual. Vary up the movements such as jumping, side stepping or walking on your heels to add variety to this relay race. Read all about how to play in this blog post.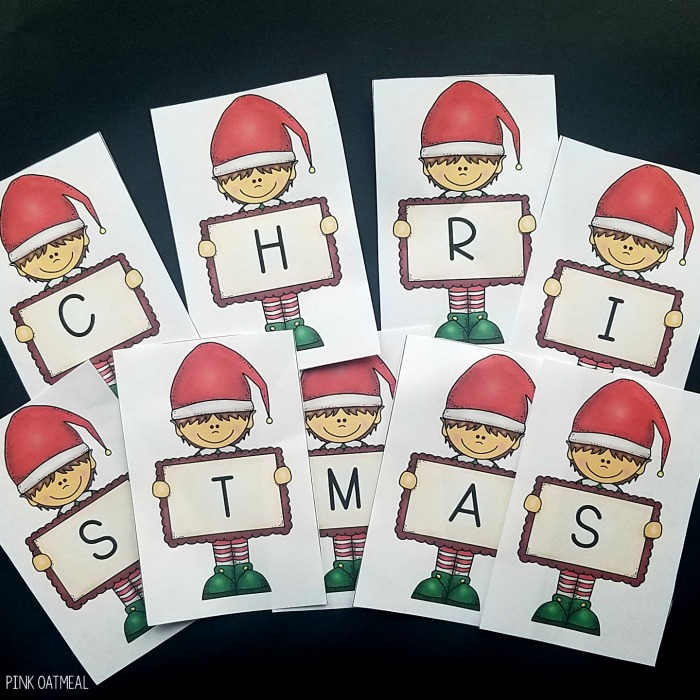 Christmas Coloring
An easy way to add variety to coloring activities at Christmas is with the Christmas roll and color activity sheet.  Roll a dice and see what number comes up.  Color in that ball on the Christmas tree.  
GET THIS IN THE CHRISTMAS FINE MOTOR ACTIVITIES PACK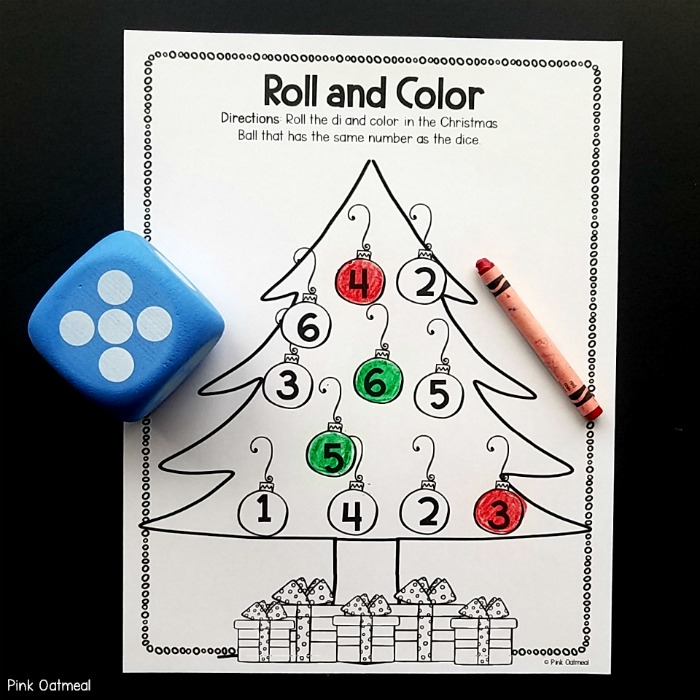 This is another fun fine motor activity that can be used with gross motor too. Take it to the vertical surface and use stickers or color! In the picture below a wedge is used to challenge balance and proprioceptive input. You could replace the wedge with a variety of tools including a balance baord, balance, disc, Bosu and more!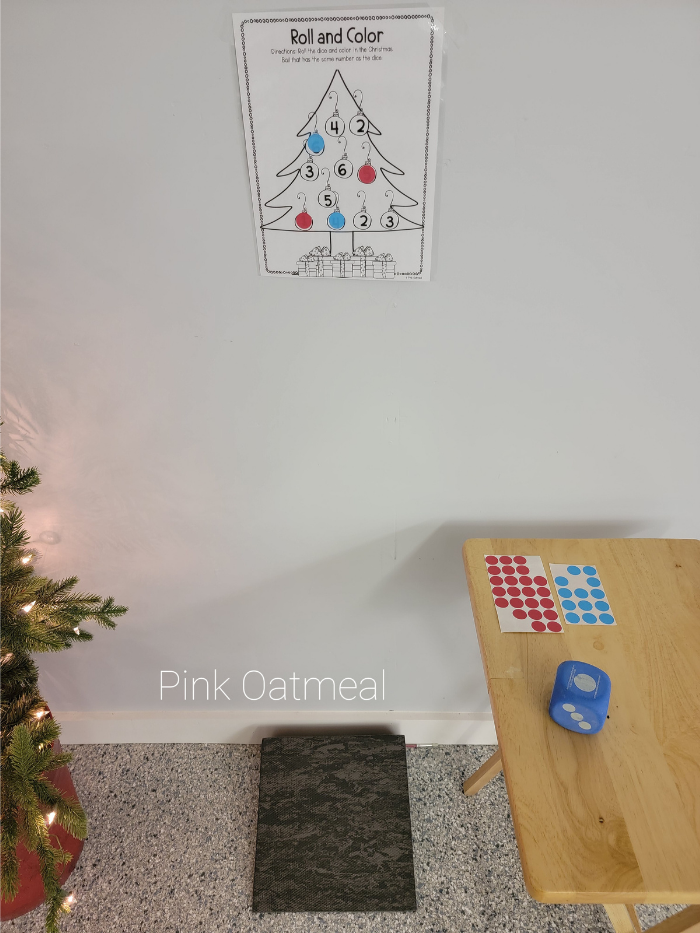 Jingle Jive
How about doing a little holiday themed dance?  The jingle jive is the perfect way for you to have your kids create their own holiday dance.  The Jingle Jive printables are available for FREE in the freebie library.  Read more about the Jingle Jive Christmas Gross Motor Game here.  Members even get more holiday dance theme printables in the members only library.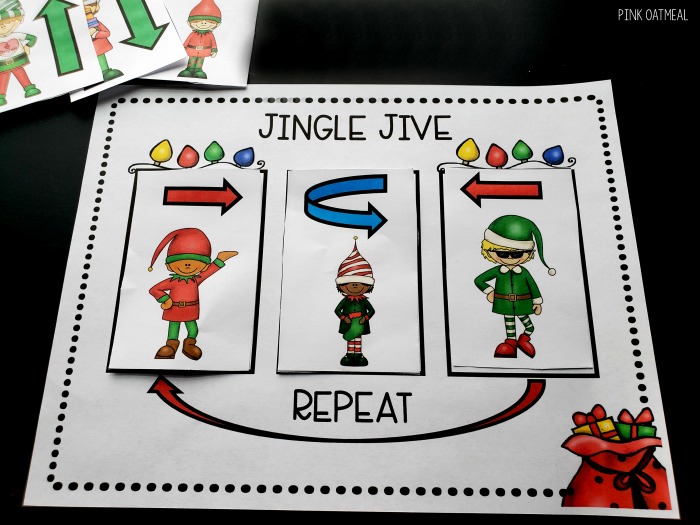 Reindeer Boot Camp
This fun set of activities is all about getting the reindeer ready to pull Santa's sleigh.  Read all about how to set up your own reindeer boot camp in this blog post. 
Don't forget to grab the great Reindeer Freebies while you are there in the Pink Oatmeal freebie library!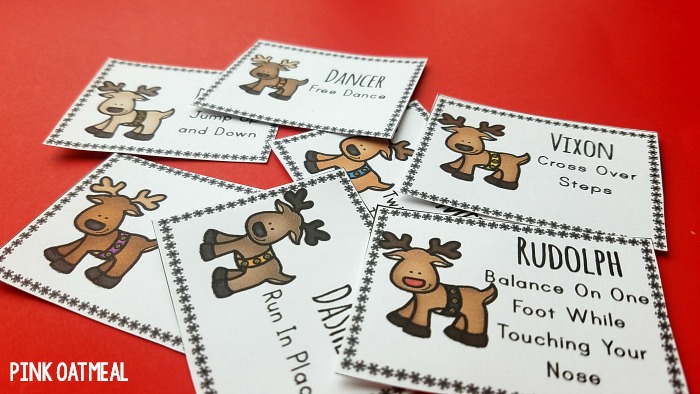 Christmas Mazes and Connect The Dots
Some of the very favorite Christmas motor planning activities at this house include Christmas mazes and connect the dots activities! Laminate the printables so you can use them over and over again.  
GET THIS IN THE CHRISTMAS FINE MOTOR PACK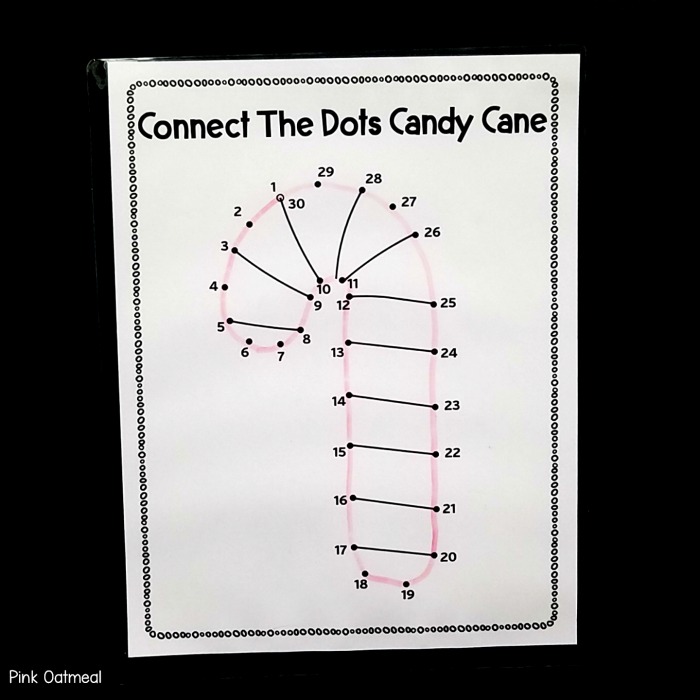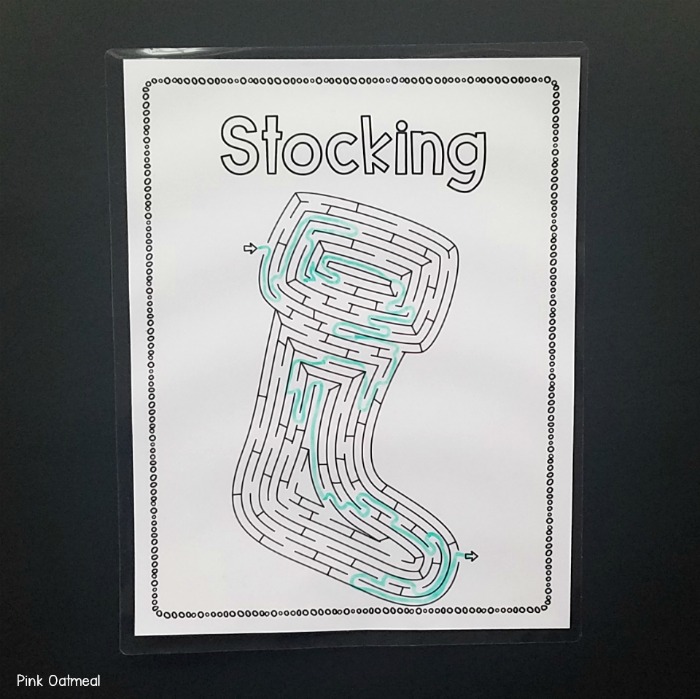 Use the mazes on a wall or go prone on the floor. When working on a vertical surface (such as a wall) add in a challenged like tall kneeling or standing on a Bosu ball or uneven surface!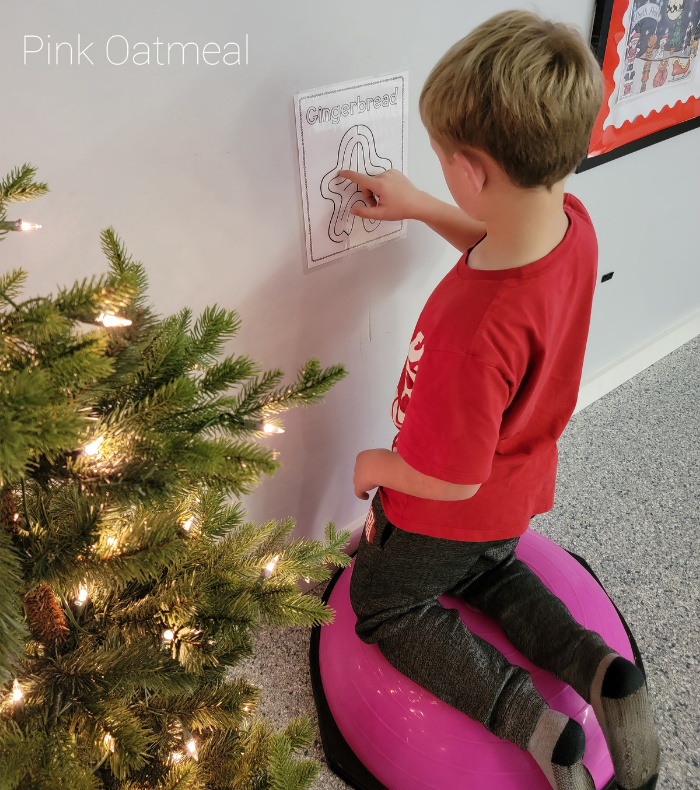 Christmas Tree Gross Motor Decoration
This fun way to decorate a Christmas tree requires chalk or tape and Christmas tree decorations.
Christmas Writing Station
Do you have kids ready to write?  A writing station is a fun way to work on letter formation.  Use the Christmas themed letter formation cards to set up your Christmas themed writing station.  This can be done with salt, sugar, sprinkles etc.   Get the letter formation cards in the Christmas Fine Motor Activities Pack.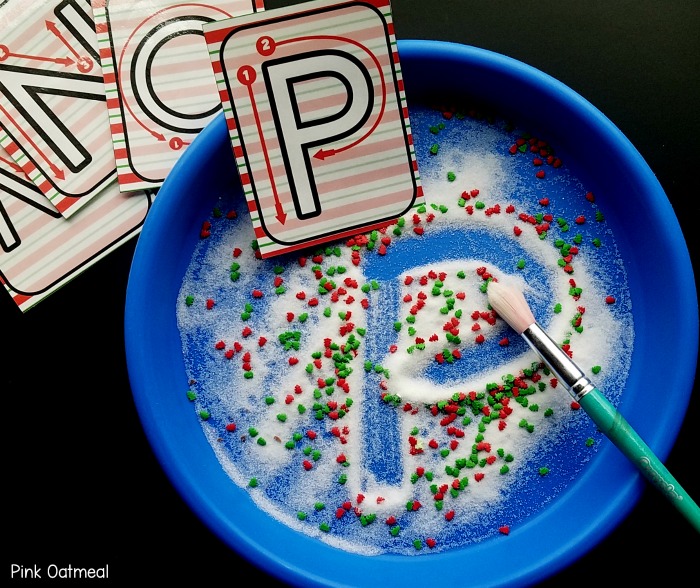 Christmas Resources
Pink Oatmeal has a huge selection of Christmas and holiday themed resources ready for you now! Save yourself time and energy while having fun and engaging resources that your kids will love. 
CLICK HERE TO SEE ALL THE CHRISTMAS AND HOLIDAY RESOURCES FROM PINK OATMEAL
You can also click on the name of the resource below to get a full detailed description of the individual resource.