The holiday season is here! One fabulous theme for the holidays is all things gingerbread!
Today we are talking about different gross motor and fine motor skills activities that you can incorporate into your gingerbread person theme. Also, be sure to check out all of the different Christmas themed gross motor and fine motor activities from Pink Oatmeal as well as the Reindeer Games to give you even more holiday inspired ideas.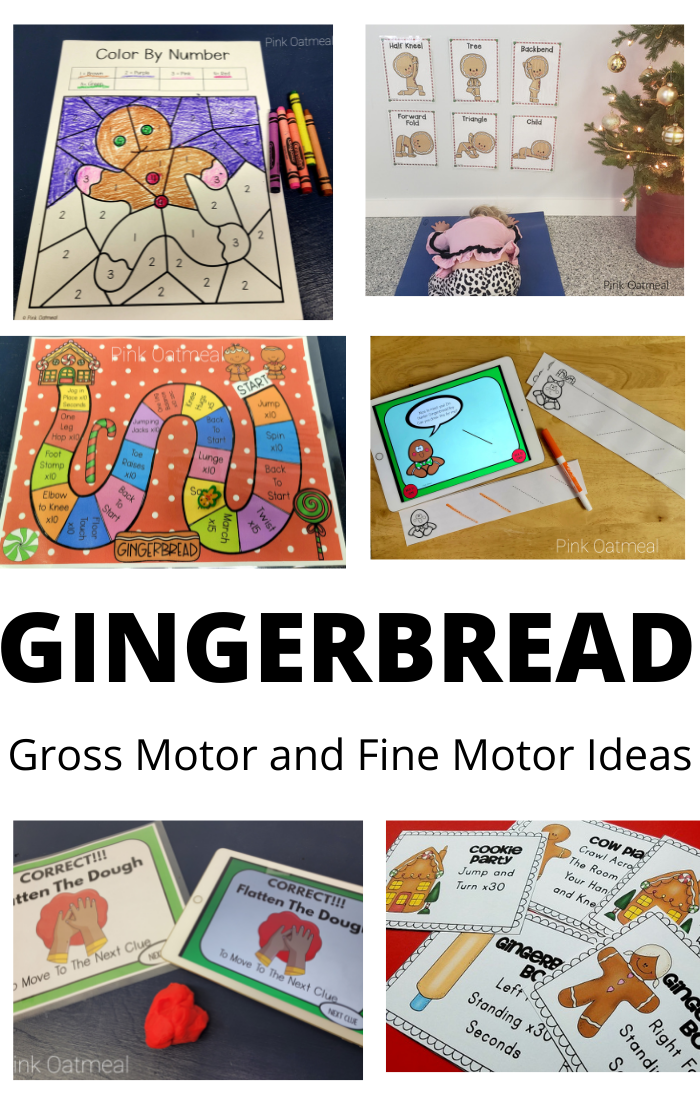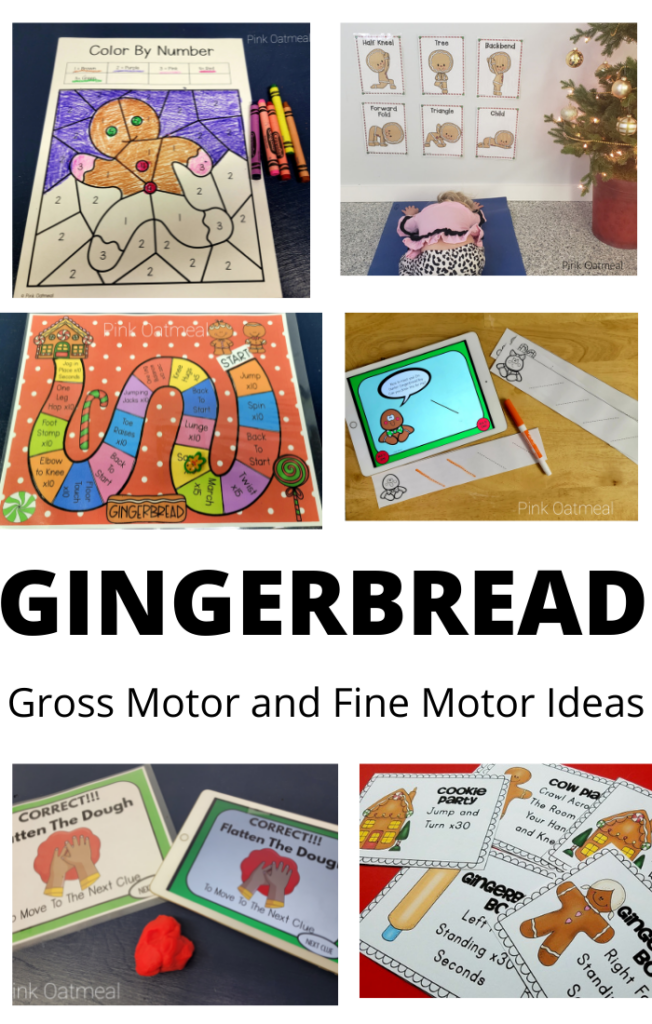 Gingerbread Gross Motor Ideas
Let's start off talking about different gingerbread themed gross motor ideas.
Fast, fun, and efficient describe these cute gingerbread themed brain breaks. These are easy to do with an entire class, a group, or one child. You can do as many as you would like at a time. There are several too choose from.
GET THE GINGERBREAD BRAIN BREAK CARDS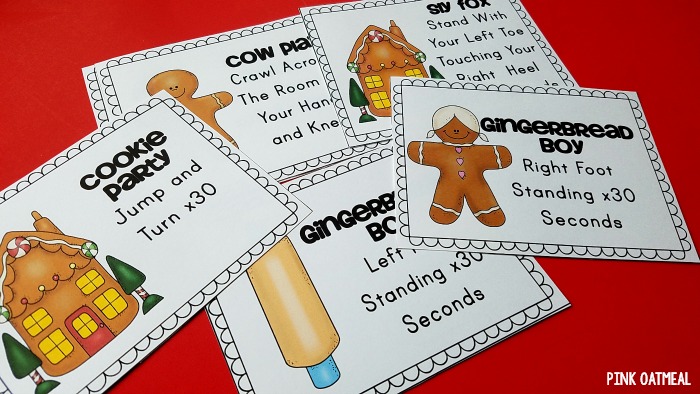 Gingerbread Yoga
How about some gingerbread themed yoga? You need to try these adorable gingerbread themed yoga cards and printables! Pose like your favorite gingerbread people. The best part, these are available in the Pink Oatmeal freebie library!
GET THE GINGERBREAD YOGA IN THE FREEBIE LIBRARY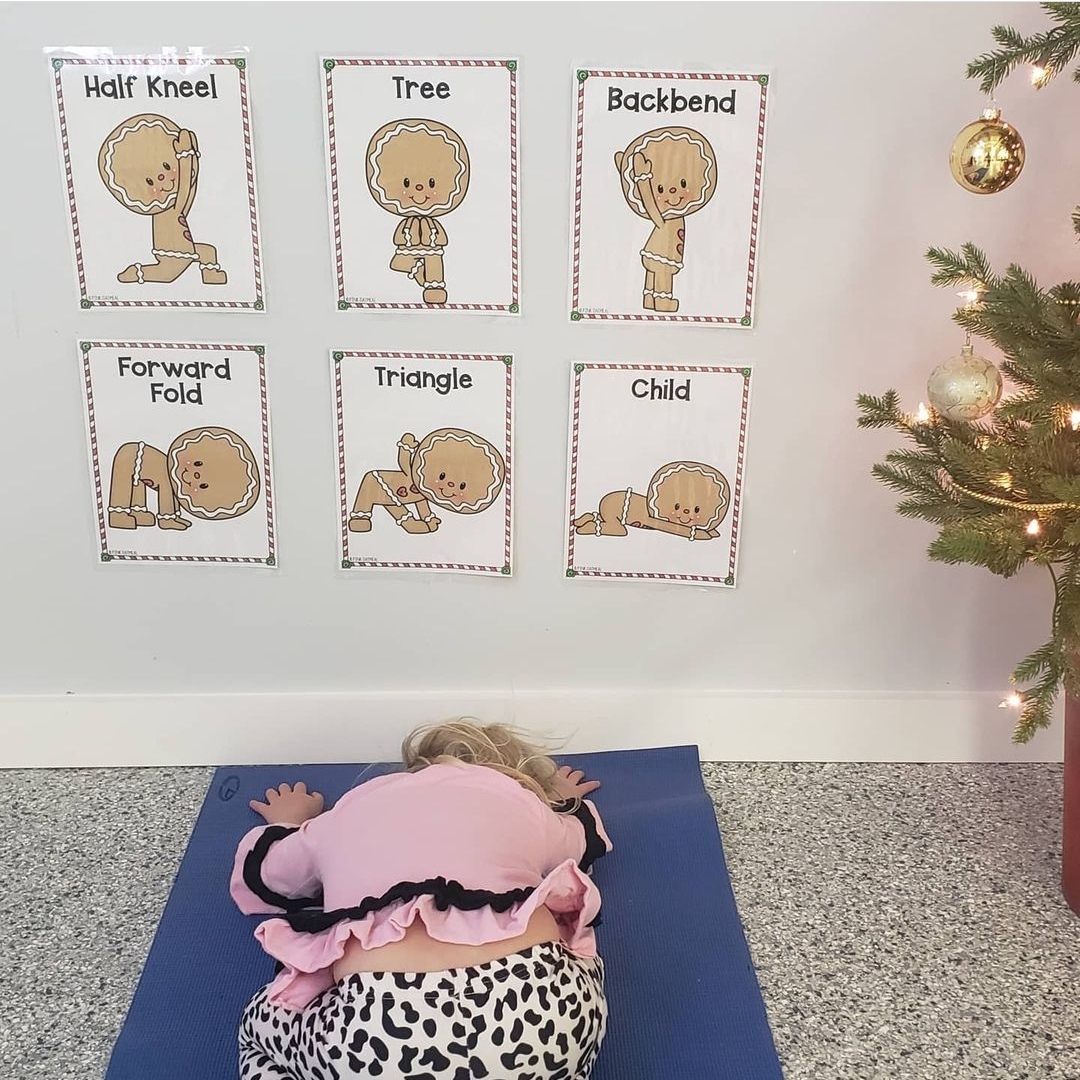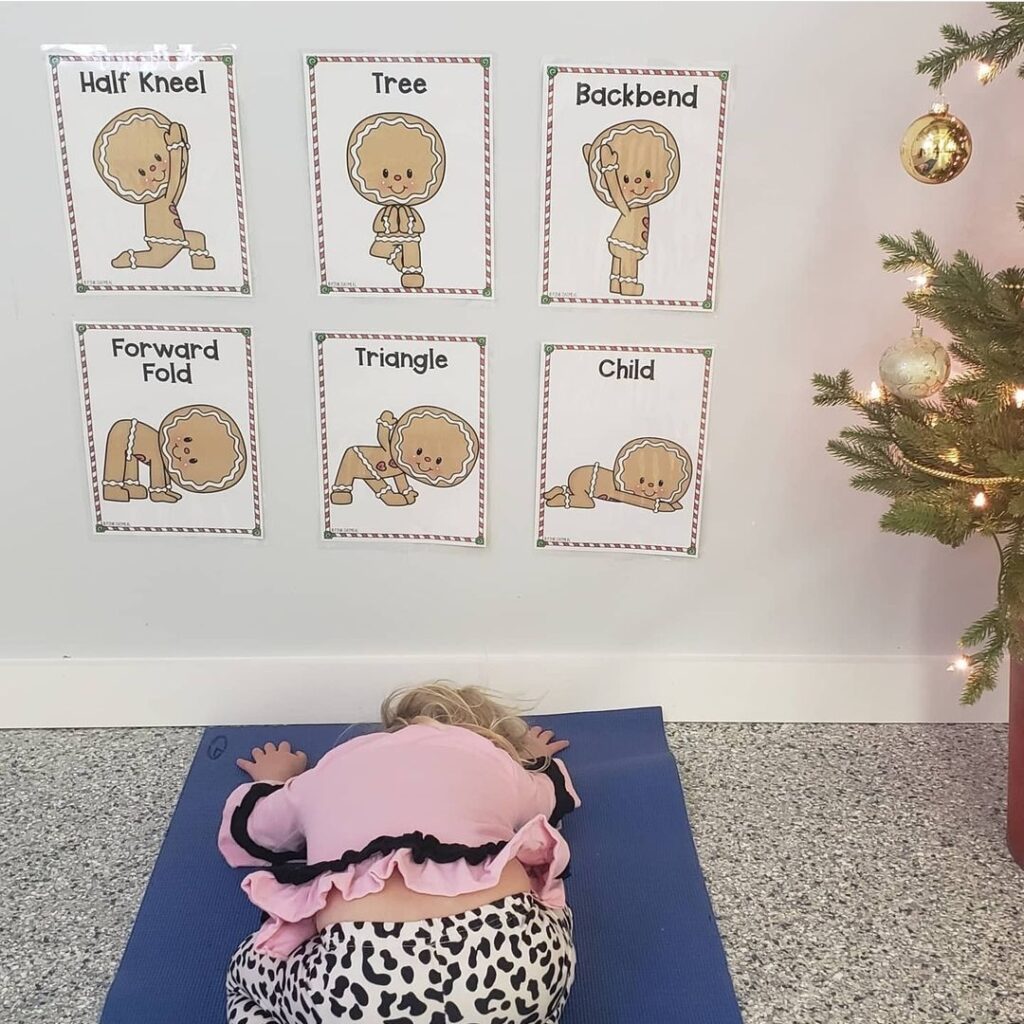 Gingerbread Escape
We know that the gingerbread man can run fast, so how about a Gingerbread Themed Escape Room? The escape room games from Pink Oatmeal are crazy popular and this one is no exception. Solve the different problems to unlock the escape room! Once you get it right, you perform the gross motor activity so you can move on to the next room. Try to make it through all of the rooms and escape.
This game can be played in a digital manner in PowerPoint, Google Slides or right in the PDF file. You could even print the game if you wish!
GET THE GINGERBREAD ESCAPE ROOM
Gingerbread Dice Game
The Race to the Gingerbread House game is a dice game that works on gross motor skills. Roll the dice and perform the activity that you land on. Hope you don't land on the "Go Back To Start" spot! The first person to the gingerbread house is the winner!
*This game is available to Pink Oatmeal All-Access Pass Holders only.*
GET THE RACE TO THE GINGERBREAD HOUSE GAME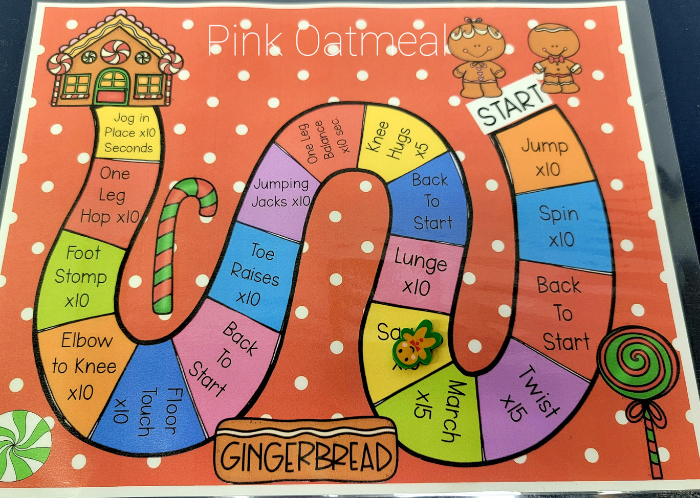 Gingerbread Fine Motor Activities
Let's talk about different gingerbread themed fine motor activities!
Gingerbread Pre-Writing
Let's start with a fun gingerbread themed pre-writing game. This game can be played on a tablet, computer, screencast onto the television or interactive whiteboard. You also have printable pre-writing strips included with the game.
In this game, you meet your gingerbread friend, get to know their name, and find out what pre-writing stroke they want you to do. It's very little prep and and engaging way to work on pre-writing skills!
GET THE GINGERBREAD THEMED PRE-WRITING GAME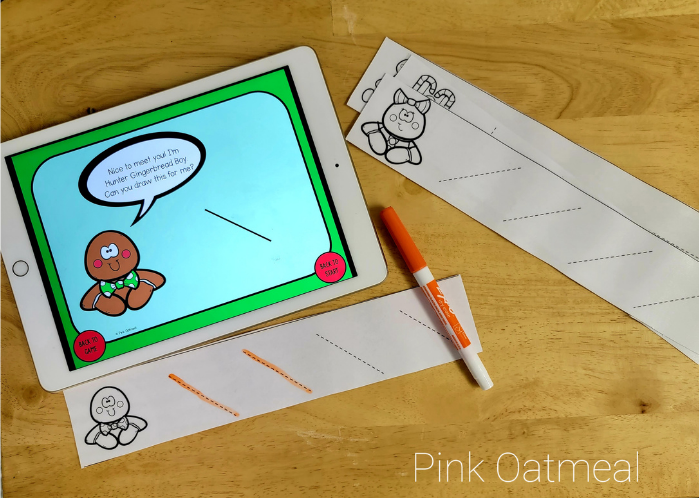 Cookie Dough
You need dough to create your gingerbread person. This is the perfect time to work on dough activities to strengthen those hands!
One of my favorite ways to work on dough in game format is the Holiday Cookie Dough Escape Room! Work on problem solving skills and dough work at the same time.
This game can be played in a digital manner in PowerPoint, Google Slides, or the PDF file. I recommend printing out the dough sheets so that you have them available.
GET THE HOLIDAY COOKIE DOUGH ESCAPE ROOM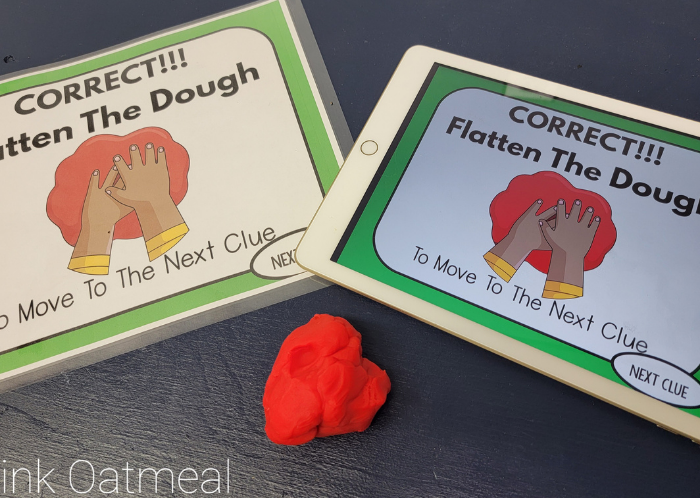 Decorate A Gingerbread
Now that you have made your gingerbread dough, it's time to decorate your gingerbread person. You can grab this free Gingerbread printable from the Pink Oatmeal Freebie Library and decorate your gingerbread person however you would like! Use a variety of motor skills including cutting, coloring, gluing, tracing etc. to make your gingerbread person look amazing!
GET THE GINGERBREAD PERSON IN THE FREEBIE LIBRARY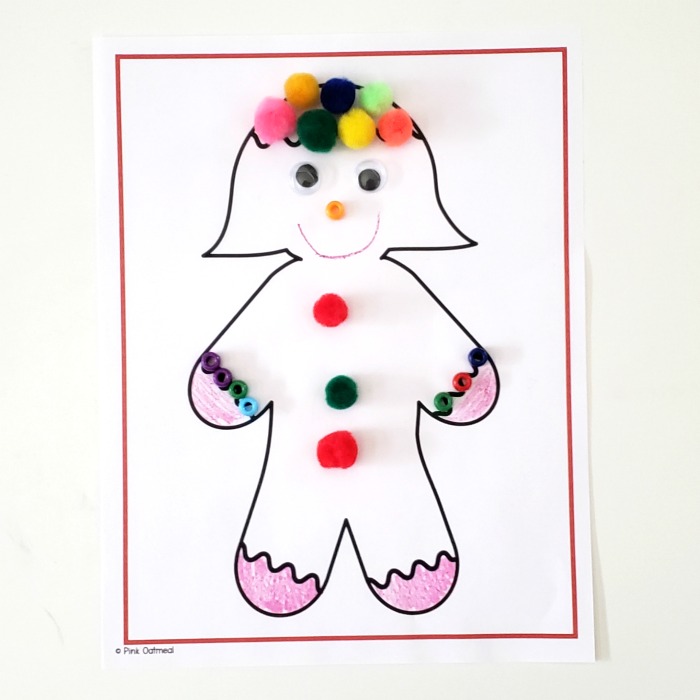 Gingerbread Coloring
How about working on those coloring skills? The gingerbread color by number is a great way to do this! Choose from three different gingerbread coloring sheets and color by number!
*This game is available to Pink Oatmeal All-Access Pass Holders only.*
GET THE GINGERBREAD COLOR BY CODE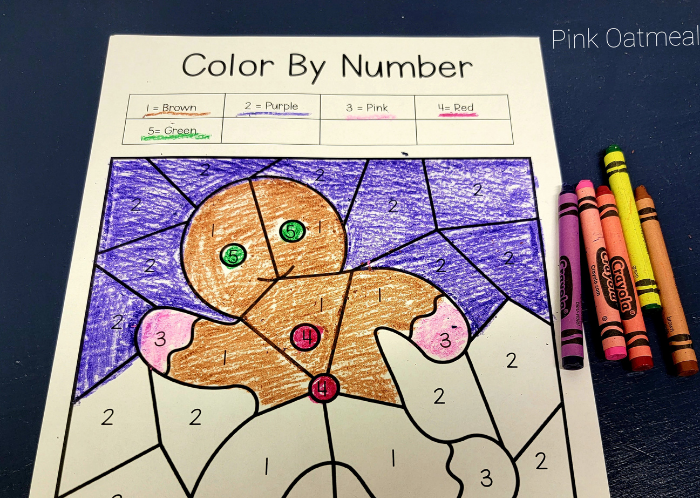 GINGERBREAD RESOURCES FROM PINK OATMEAL
Get your hands on these ready to go gingerbread resources from Pink Oatmeal. Save yourself time and effort and have it all done for you! Click on the name of the resource below to get a full detailed view of the gingerbread themed resource.