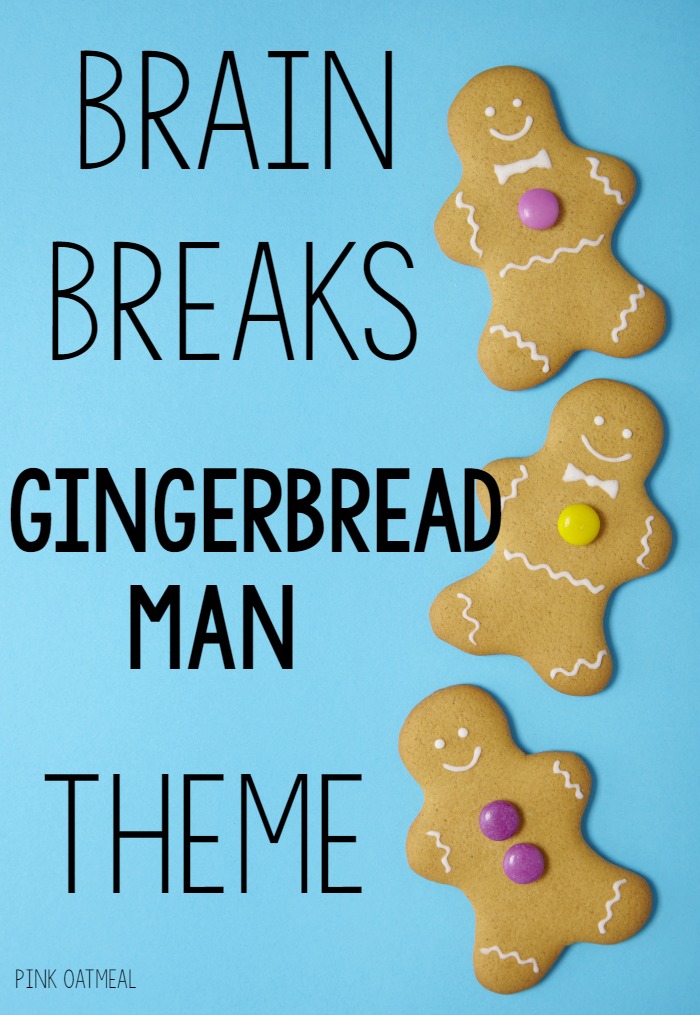 Gingerbread Man Brain Break Ideas  – Gingerbread Man Activities
Gingerbread man brain breaks are simple to use.  Adjust repetitions and duration to best meet your needs.  If you love these ideas you can pick up a set of ready made
Gingerbread Man Brain Break Cards
in the shop or on
TpT
.  Use the themes to have the kiddos relate their actions to each theme! These brain breaks are meant to be fast, fun, and effective.
Run, Run
Toe Walk, Knee Walk, Heel Walk, Jump (for distance – across a room), Walk Backward, Skip, March, Follow the Leader, High Knees (As Fast As You Can), Side Step, Chair Run, Run In Place
Cookie Baking
Dough Pound: Forward Arm Circles, Backward Arm Circles, Rolling Pin: Roll, Twist Side to Side
Cookie Eating
Cupboard Reach: Reach For The Ground, Reach For The Sky, Move Your Arms To Eat Cookies As Fast As You Can, Squat (to the cookie jar)
Pig Play
Mud Jumping:  Side To Side Hops, Front and Back Hops, Roll On Your Back in a Ball Side To Side, Stomp In Place (In The Mud)
Horse Play
Single Foot Hops, Jumping Jacks, Gallop Forward, Gallop Backward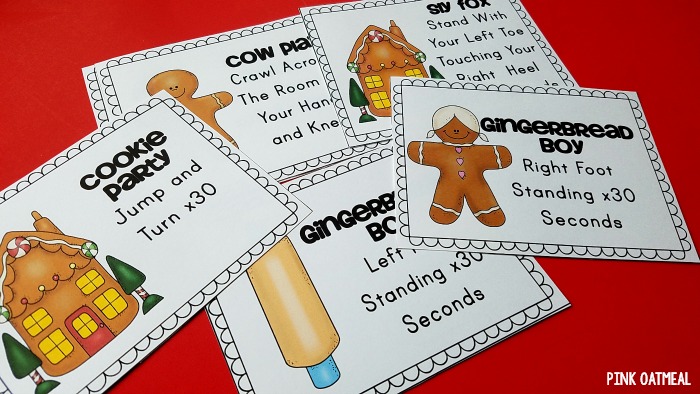 Cow Play
Crawl, Lunges, Sway Hips Side to Side, On Your Hands and Knees Drop Your Stomach Toward The Ground and Hold
Sly Fox
Tandem Standing (Take Turns Letting Each Side Be The Lead Foot), Walk Heel To Toe Forward, Walk Heel To Toe Backward
Gingerbread Boy
Right Foot Balance, Left Foot Balance, Partner Balance: Stand On Left Foot Hold Partners Hand and Jump,  Partner Balance: Stand On Right Foot Hold Partners Hand and Jump
Cookie Party
Jump As Fast As You Can, Jump and Turn, Free Dance, Line Up Tallest To Shortest
GINGERBREAD RESOURCES FROM PINK OATMEAL
Pink Oatmeal has even more for you! Get your hands on these ready to go gingerbread resources from Pink Oatmeal. Save yourself time and effort and have it all done for you! Click on the name of the resource below to get a full detailed view of the gingerbread themed resource.
The Gingerbread Man is a classic story around the holiday season.  It's often taught in homes and in schools.  It's also the perfect story to incorporate movement.  Think of how much running that Gingerbread Man talked about?  It's always a bonus to incorporate movement for kids in any setting that can be fast, fun and effective.  The Gingerbread Man brain break ideas are just that!  Try add this as part of your gingerbread man activities!