Christmas Brain Breaks and Gross Motor Ideas
to get you started.  Don't forget that movement is perfect to incorporate into holiday parties as well!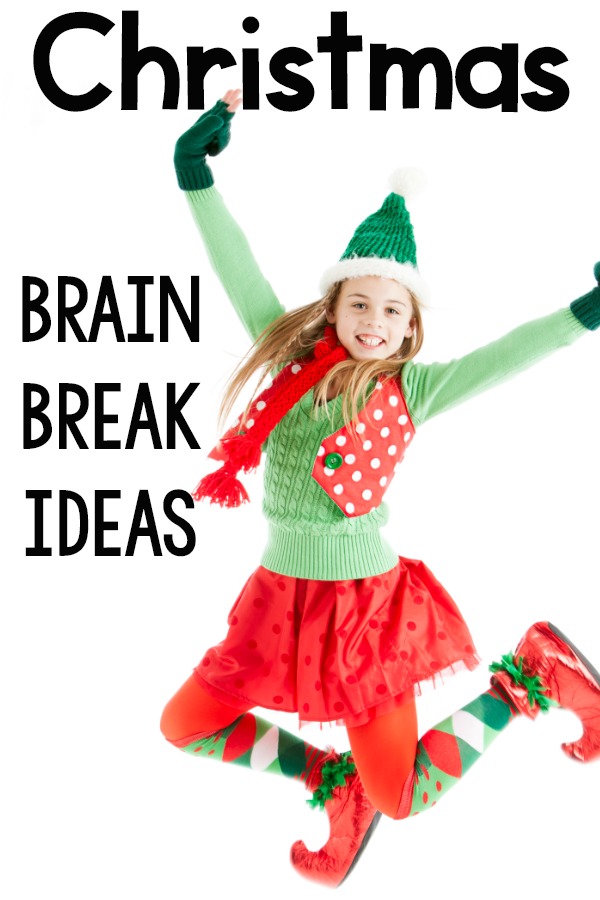 Christmas Brain Breaks and Gross Motor Ideas
Christmas brain breaks and gross motor ideas can be used to best fit your needs.  Set the distance and frequency that works for you and your kids.  Encourage the kids to move!
Reindeer Wiggle
Wiggle Your Body
Santa On The Roof
Toe Walk Around The Room, Heel Walk Around The Room
Reindeer Leaps
Jump as High As You Can, Jump As Fast As You Can, Jump On Your Left Foot, Jump On Your Right Foot
Tall Tree
Stand On Right Foot, Stand On Left Foot, Christmas Tree Pose
Snowstorm
Jump In Circles, Twist Side To Side, Spin
Santa's Lap
Squat and Hold, Squat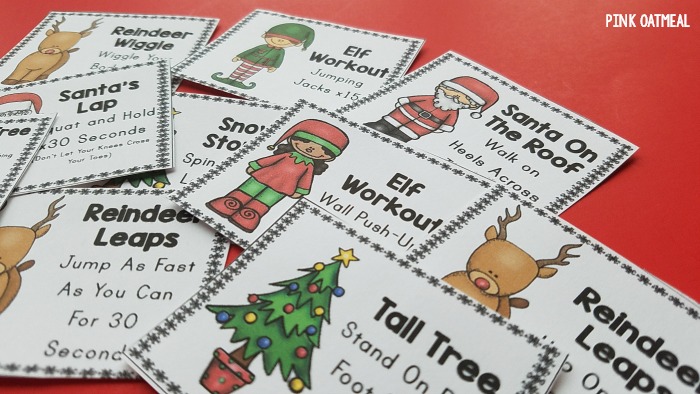 Elf Workout
Knee Walk, Side Step Around The Room, Skip Around The Room, Jumping Jacks, Wall Push-Ups
Elf Hops
Hop Side To Side, Hop Forward/Backward, Tiny Jumps In Place, Tiny Jumps Around The Room
Flying Sleigh
Stand On Your Right Foot With Arms Out and Fly, Stand on Your Left Foot With Arms Out and Fly
Gift Stacking
Touch The Floor and Reach For The Sky
Walk Through The Snow
Stomp Across The Room, High March Around The Room, Knee Hugs
Santa Games
Santa Says (Simon Says), Free Dance (Dancing Around The Christmas Tree), Follow The Leader (Santa)
Santa School
Sequencing Games (Think Spin, Hop, Twist Repeat)
Ice Skating
Cross Over Steps (Right Lead), Cross Over Steps (Left Lead), Step Right and Step Back Left Repeat
Christmas Brain Break Cards
Get your hands on the Christmas Brain Break Cards when you have them ready to go for you from Pink Oatmeal. Save yourself energy and time and get them now!
GET THE CHRISTMAS BRAIN BREAK CARDS
Christmas Resources
Pink Oatmeal has a huge selection of Christmas and holiday themed resources ready for you now! Save yourself time and energy while having fun and engaging resources that your kids will love. Have these in your hands today!
CLICK HERE TO SEE ALL THE CHRISTMAS AND HOLIDAY RESOURCES FROM PINK OATMEAL
You can also click on the name of the resource below to get a full detailed description of the individual resource.
Well, there is no denying it if you walk into any store, the Holiday season is upon us.  Christmas usually reminds me of shopping, cooking, and parties.  The good news is that movement can easily be incorporated into a holiday or Christmas theme.   During the very busy holiday season it is important to keep the kids moving.  Here are some