During these unprecedented times, we've all had to learn to adapt to something different. One thing that hasn't changed is that we still want the best for our kids. Whether you are a therapist working on motor skills or a teacher that knows how important movement is for his/her kids, these ideas are for you! Pink Oatmeal has several resources to make the coordination of your pediatric teletherapy sessions and home programming easier.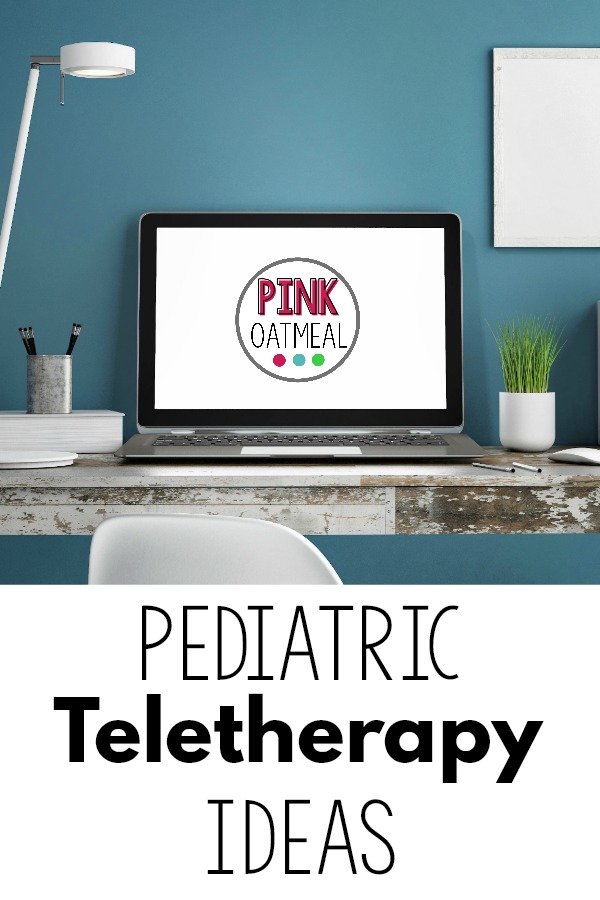 Pediatric Teletherapy Ideas
Many people have suddenly had to learn how to take their normal therapy sessions and move them into the world of Teletherapy. This is a huge learning curve for all of us!
Luckily there are great resources available out there to make this easier for you! I want to share with you several different ideas and tutorials to help make the transition to teletherapy less stressful for you!
Resources for Teletherapy
Suddenly you are having to change the way you work with a child. Instead of using hurdles, exercise balls, or balance beams you now need resources that can be used online. Along with that, you need to know the best and most efficient ways to use these resources.
Pink Oatmeal has 100's of resources to make this transition so much easier for you! There are PDF resources, digital games, and videos. All of these resources can effectively be used in teletherapy.
Below is a video example of Pink Oatmeal's Spring Themed Yoga Cards. An example of a session would be utilizing these cards and printables by sharing your screen or holding them up to the screen and working on different spring themed yoga poses. At the end of session you can send home the yoga poses you worked on (you can even send home just a few select poses – see tutorials below). The kids you work with would never even need to print them to effectively utilize them!
Spring Themed Digital Games
Another option for working in teletherapy is to use digital games. Pink Oatmeal has an entire collection of Digital Games including the Spring Themed Gross Motor Game. All of Pink Oatmeal's digital games come in PowerPoint which can be converted to Google Slides (see tutorial below) as well as in PDF format that can be played interactively!
The great thing about the digital games is how you can have the kids play them right in the session. Below is an example of how I played this game over Zoom where I was able to let the kiddo take over the screen!
For those of you using Google Meet, I found a tutorial on how this can be done on that platform. I am not a Google Meet user, so I haven't personally tried sharing and giving control of my screen on this platform. This video comes from Eric Curts YouTube channel.
As I mentioned above the digital games come in PowerPoint format and PDF format. The PowerPoint format can easily be converted to Google Slides for Google users. Almost all of the games can also be played interactively right from the PDF. Yes, even the PDF file can be played interactively. Here is how you would covert the digital resources!
Other options using Google Meet is to look into the Kami Extension as well as the Annotate tool.
Video Exercise Options for Pediatric Teletherapy
Pink Oatmeal has TONS of videos for you to use to help with your distance learning needs. Please visit the Pink Oatmeal YouTube channel. There are also some great blog posts that help break down these ideas even more.
Members also have access to a video library that organizes all of the different videos by tabs.
Using PDF's For Teletherapy
You may be thinking, I have this great resource, but I only want to share a few pages of it at a time. On top of that, it is a PDF file. How can I make this work in teletherapy? The good news is there is an awesome solution to this. You can make your PDF files work for you digitally as well as select only certain pages to share. If you are using a Google Classroom, I found an awesome video to help you select different pages of PDF resources to share with your students! There is a way to transform this via PowerPoint as well. See below!
Maybe you aren't a Google user? The good news is that the same process can be done and the screen shots can be placed in PowerPoint instead. The video below gives you a tutorial on how to do this.
One More Trick
There is also one more trick to sending/utilizing only certain pages of a PDF file.
Let's say you want to use pages 10-15 of a packet to send home with a child you are working with. You can easily create a PDF file of just those pages!
Go to print your file, don't worry your not going to actually print.
Once you get to the printing set-up you are going to want to select the pages that you are wanting to include, so pages 10-15 in this example. Then instead of printing to a printer, you are going to want to select print to PDF. Yours may look different than mine depending on your computer. You The main thing is that you are printing to a PDF file.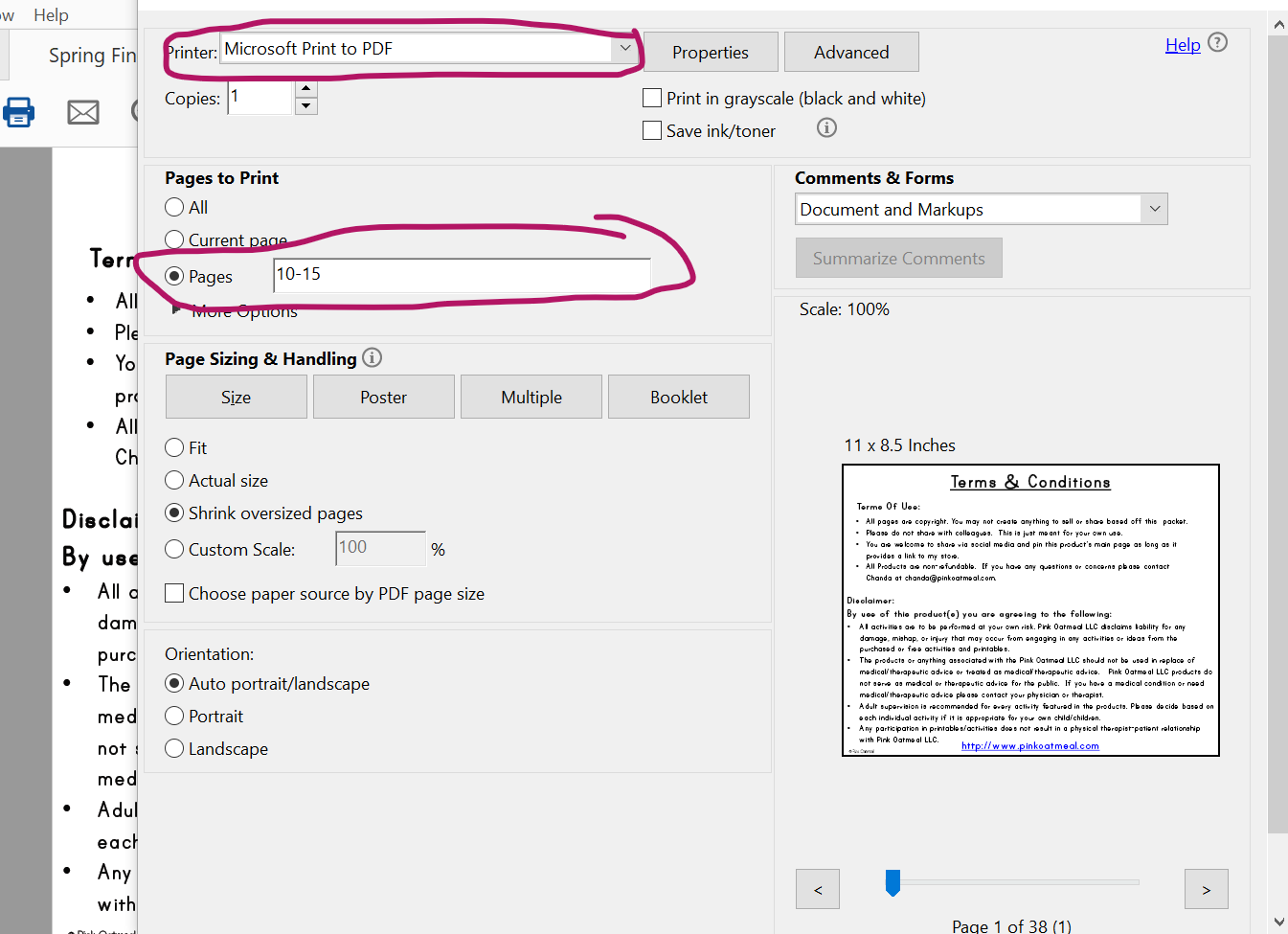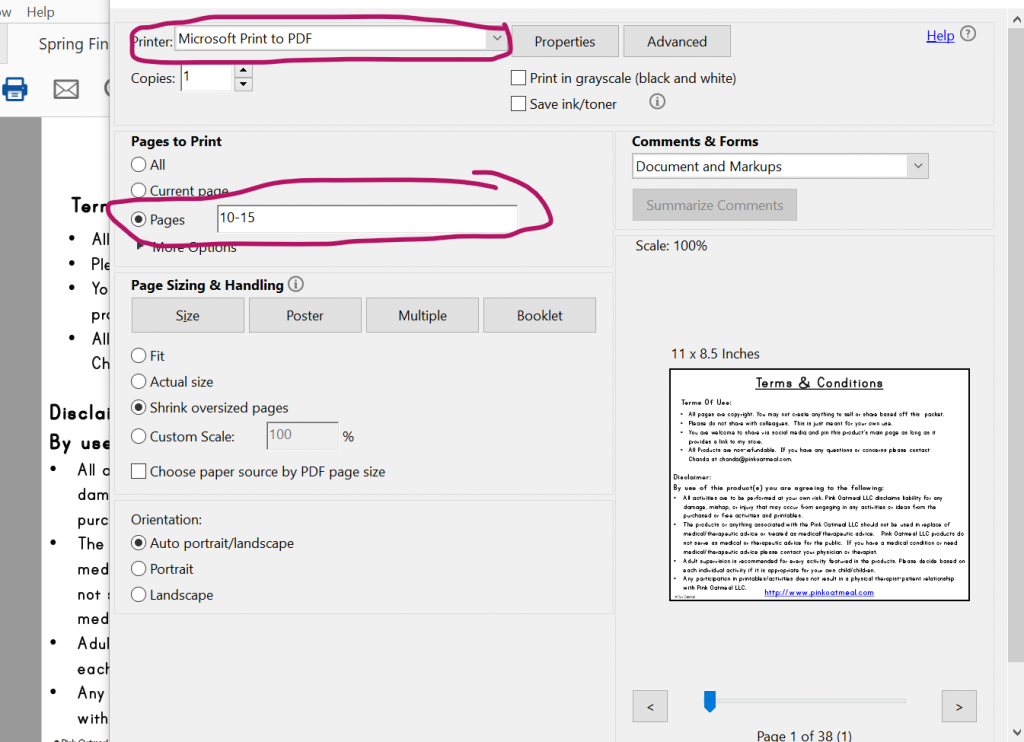 Once you hit print, it will prompt you to save instead of print. You will now have a PDF file that includes only pages 10-15!
Important Considerations When It Comes To Pediatric Teletherapy
While you are working super hard to get teletherapy working for your kids/students, make sure that you are taking into considerations the copyrights of different resources you are using. Also, be sure to give credit where credit is due. Resource creators spend tons of time and money to create these resources for you. So, be mindful that you are reading what is okay and what isn't. Don't be sharing link publicly. If a resource creator doesn't want you sharing the resource digitally don't. Pink Oatmeal allows digital sharing, just make sure you are doing so securely and only with your students. Read the Terms of Use of Pink Oatmeal's resources.
Other Ideas To Help With Pediatric Teletherapy
Type up a quick note to talk about the different resources that you worked on in the packets. This note can go to the parents so they know which pieces, exercises etc to focus on. Plus, this helps you keep track and document the different activities that you worked on for that particular session.
Maybe you play Win It In a Minute Games for gross motor skills during your session. Your kids love the game, now you can send home the Win It In a Minute Cards!
For teachers, sending home a set of yoga cards that you practiced as a class gives you the option to provide your kids with movement activities to go along with your theme and that you just worked on as a class!
More Resources From Pink Oatmeal
Pink Oatmeal has several more resources including videos, blog posts, and social media all to make your experience during this time easier. Please see this list of home program ideas and resources for pediatric physical therapists and occupational therapists to get all of the different resources.