Building upper body strength in kids can be made fun with several different exercises! Today I'm sharing with you some of my favorite exercises that work on upper body strength and weight bearing for kids!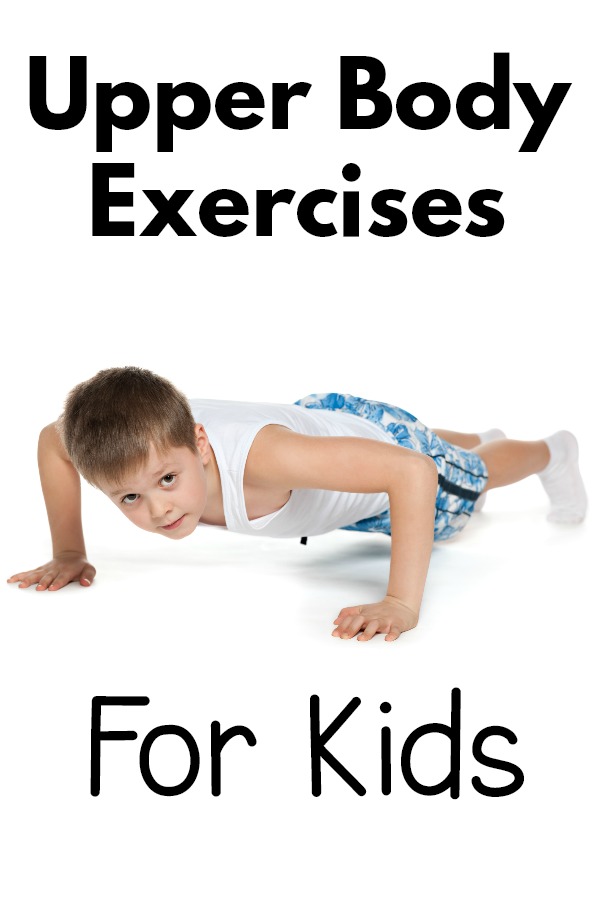 Upper Body Exercises For Kids
The following activities all focus on fun upper body exercises that your kids will love.
There are a few pieces of equipment used in the following videos. I've left my affiliate links below to the different pieces of equipment.
Dot Stickers – you may also be able to find these at a dollar store.
Exercise Ideas – Sticker Dots
I love how easy the dot sticker exercises are as they can be done in such a small space. Dot stickers don't take up much storage space and can easily be transported making these exercises even better.
Color Dot Exercises
The next set of exercises are all performed with color spots. You can get these for FREE in the freebie library.
Peanut Ball Upper Body Exercise
These exercises can all be done using a peanut ball!
Ball Exercises
The next set of exercise are done using a ball. Most can be done with a ball of all sizes whether it be a soccer ball, playground ball, basketball etc.
Upper Extremity Strength Games For Kids
Pink Oatmeal has listened to readers, members, therapists, teachers, and parents on what they needed when it came to upper extremity strengthening activities and developed a custom set of upper extremity strengthening cards and printables designed especially for kids!
GET THE UPPER EXTREMITY STRENGTH CARDS AND PRINTABLES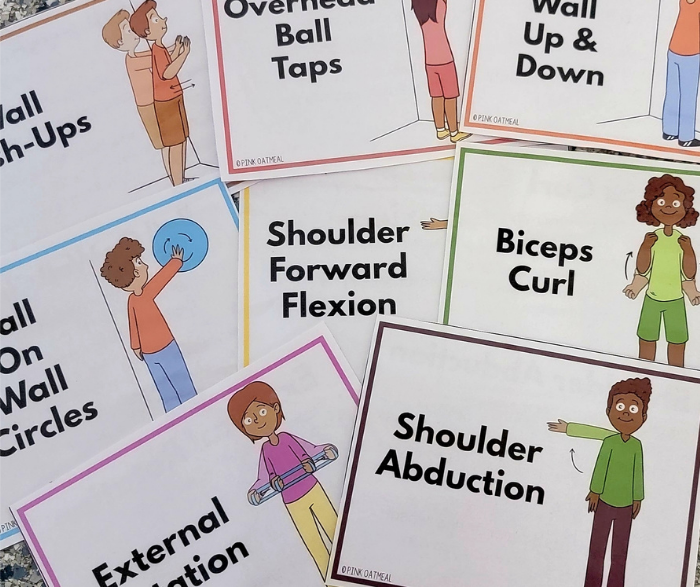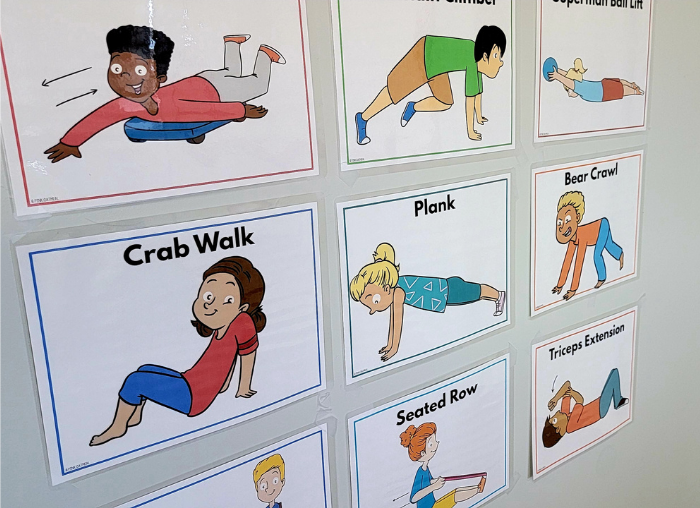 Choose from cards or full sheet printables!
Play the Gnome Themed Upper Extremity Digital Game. Your kids will LOVE this game. Pick a gnome, meet your gnome and get to know their name, and try the upper extremity exercise they ask of you. This game is perfect for BOTH in person and distance or teletherapy. Add this to an obstacle course for motivation to move through the obstacle course. Try using on an interactive whiteboard or screen cast it onto a television.
The best part is not only can you play this game in a digital manner, but you can print and use the game as printables too!
GET THE GNOME THEMED UPPER EXTREMITY GAME
The printable version can be used however you would like! In the photo below it is being used as a scavenger hunt! The goal is to find all the different gnomes and do the exercises they ask of you!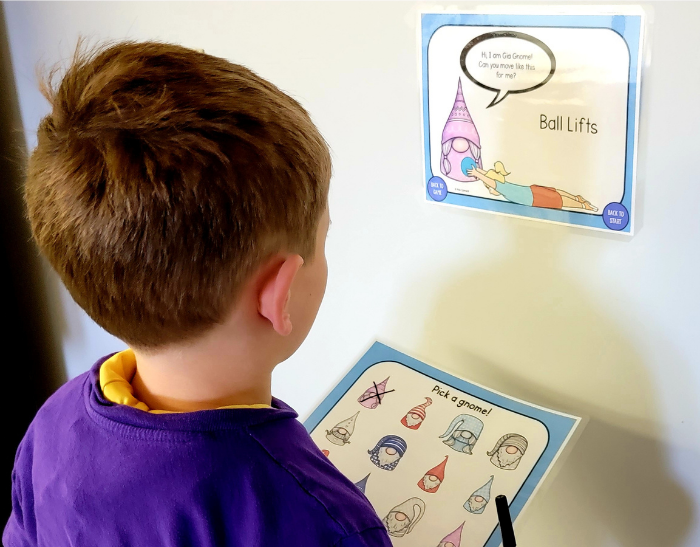 They can also be used as decor, on a wall, door, or hallway. Make a visual scanning activity out of them too!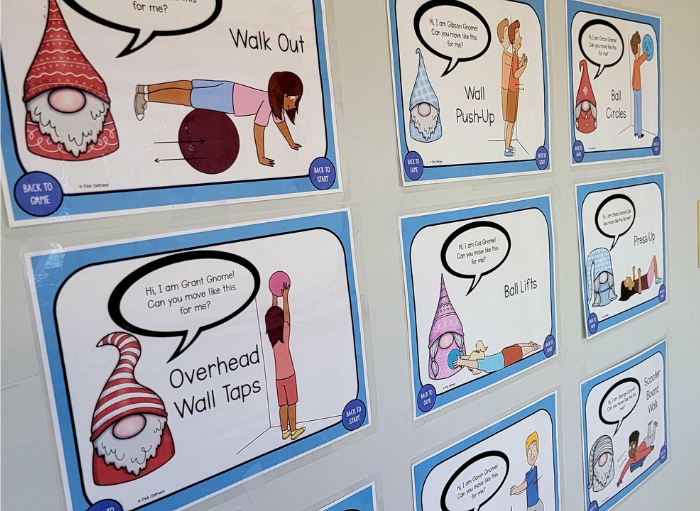 Strength Spinners
Next up is the strength spinner game! There is an upper extremity option as part of this game. This game is played in PowerPoint and can be played on your tablet, computer, or interactive whiteboard. It's really fun to screencast onto a larger screen.
Spin the wheel and work on the upper extremity activity that you land on!
Find It, Try It Strengthening Game
Another fabulous game for upper body strength is the Find It, Try It Strengthening Game. This game allows you to work on all areas of the body including the upper extremity. It is in I Spy format which the kids will love!
This game comes in digital or printable format! You can play this game on your computer, tablet, interactive whiteboard or screencast the game onto the big screen. You can print and play as well!
GET THE FIND IT, TRY IT STRENGTHENING GAME
The game is easy to print and play as well! Or use it in a digital manner and printable manner at the same time! In the picture below he is working on his stomach for even more upper body strengthening through the shoulder area!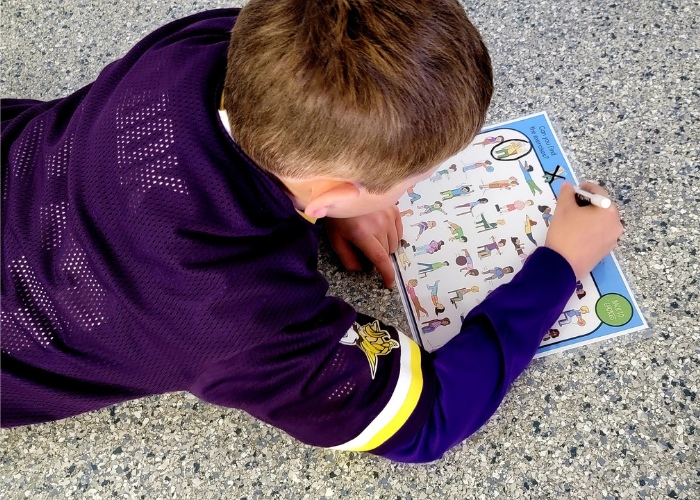 More Exercises
The scooter board roll out is not only great for the upper body, but is also great for core strengthening.
The monster walk exercise is made especially fun when shoes are added to the hands as well as the feet!
Tell me all about your favorite upper body strengthening exercises!
Upper Extremity Resources
Pink Oatmeal has a great collection of upper extremity strengthening resources for kids! Click on the name of the resource below to get a full detailed view of the individual resource.
Pink Oatmeal also has several exercise task cards that you can choose from including upper extremity strengthening cards and printables.
SEE ALL THE EXERCISE TASK CARDS