In my past work as a school based physical therapist, the programming I did was for the school day. My daily plans often times followed different themes and seasons based on the time of the school year.
We are now at at time where many teachers (of all types), school based physical therapists and occupational therapists are having to think about motor programming activities for their kids that they can utilize and participate in while at home.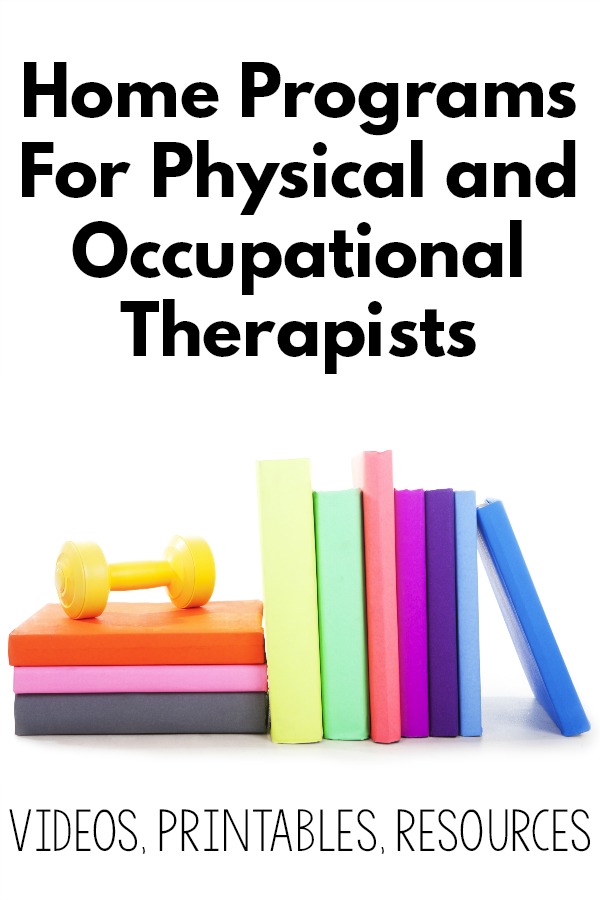 Home Programs For Physical Therapy and Occupational Therapy
In a time like this, I'm trying to organize all of the different resources that Pink Oatmeal has available to help other teachers and therapists that are trying to get these programs created for their kiddos to go home. It's my hope that Pink Oatmeal can make your job a little easier when we are banning together as a nation and world right now. Here we go!
Pink Oatmeal Resources In The Digital World
Many of Pink Oatmeal resources can be used digitally! The beauty is that most resources don't require any kind of printing to still be fully effective. I've used many of the resources digitally on a tablet or computer for years! Take a look at the video explaining how they can be used digitally.
Teletherapy With Resources
Another great option is to use different Pink Oatmeal resources as part of your teletherapy sessions. For example, you could do spring yoga as your session. For the home program you can send home the set of spring yoga cards and printables for the child to work as part of their home program on as long as you are following the terms of use. This makes teletherapy sessions fun and easy!
Check out the ideas below to make sending home these resources in the digital world so much easier!
PDF Resources In The Digital World For Home Programs
So, you have this packet of core exercises that you LOVE, but the problem is you don't want to send them all home to overwhelm or confuse parents. You only want to send a couple of pages. There is great news, this can be done! Here is a great video tutorial from Naomi Meredith showing you how this can be done! Game changer right!?!
Maybe PowerPoint is more your thing. The good news is that you can take this same screen shot technique and work in PowerPoint. The video below shows you how to insert your pictures using PowerPoint.
Let's say you worked on 5 core exercises during a teletherapy session. You want them to practice only 3 of those exercises. With the tutorials above you could deliver those three exercises to the kids on your caseload without overwhelming them! Check out these core exercise cards to help you with this task!
Changing PowerPoint Presentations Into Google Slides
Do you have PowerPoint games? Pink Oatmeal has many PowerPoint games in digital format that are a great option to send home. The good news is these games can easily be converted into Google Slides as well! This gives you even more ways to utilize the resources!
Another option for Google users is to check out the Kami Extension. 
Important Home Programming Information
While you are working hard creating home programs for your students, remember those that create resources have worked really hard too. Make sure you are following terms and conditions of each resource you are using. If the resource doesn't allow digital sharing, don't do it! There may be conditions around digital sharing, like the obvious, don't post on public sites. It's best to look at terms and conditions of each different resource you are using. Pink Oatmeal resources can be shared digitally as long as you follow the terms and conditions around it!
Motor Planning Ideas Done For You
Pink Oatmeal offers an entire section on motor planning broken down by months, seasons, and holidays. This section allows you to browse through all of the different ideas for each month or if you are going for a theme.
CLICK HERE TO SEE ALL OF THE DIFFERENT MOTOR PLANNING IDEAS
Printable Resources
Make sure you read below on how to take these printable resources and use them digitally. You can even use specific pages!
Pink Oatmeal provides a freebie library of over 60 resources that is growing. The resources focus on gross motor and fine motor skills. Everything in this library is FREE.
There is also the shop that offers several great ways to save including membership options, bundle options, and the ability to build your own bundle.
Membership
This is an all-access pass membership to all the resources available on Pink Oatmeal. Pay once and never pay again. This includes LIFETIME access. This is a screaming good deal and will make your planning so much easier!
Exercise/Activity Videos
Pink Oatmeal has several different free video based resources.
There are a few posts that break down these resources nicely.
Pediatric Core Strengthening Exercises
Midline Crossing Exercises for Kids
YouTube Channel
Pink Oatmeal also has a YouTube channel if it is easier for you to add links to exercise/activity ideas to send home!
Another great free resource is to follow Pink Oatmeal on Instagram. There are TONS of videos to choose from right in the feed.