I wanted to share with you one of my favorite mom hacks of all time.  You know all those expensive diapers you buy by the box?  Well the good news is that there is I'm going to share another use for that box!  I use my diaper box to let my baby sit in it when he is ready.  I used it with my first baby with great success and now I'm using it with my second baby.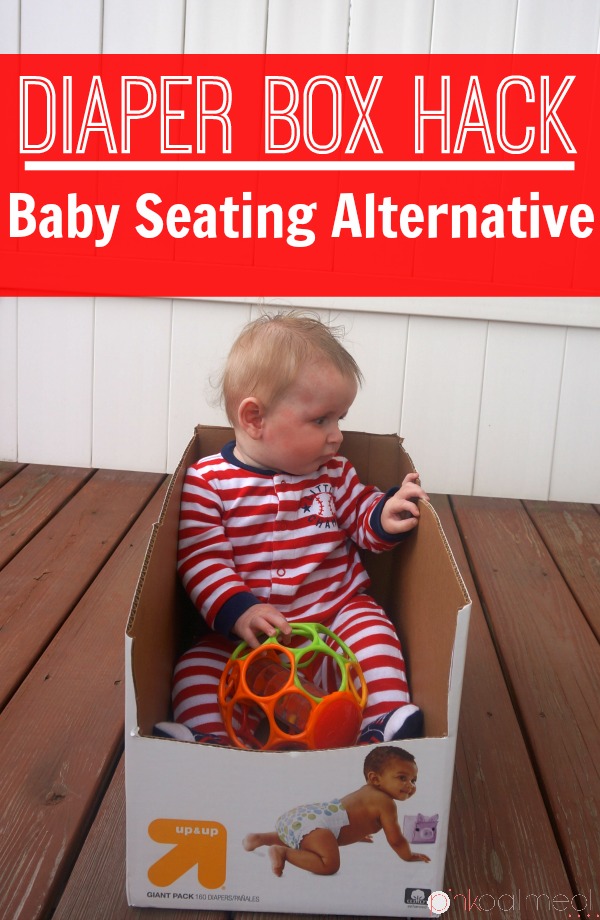 Diaper Box For Baby
I still prefer floor play over contained play to continue to work on independent movement. My first choice for play is generally the floor.  The less equipment the better. Yet, I'm a mom and I know that there are those times that you need to set your baby somewhere.  Personally, I "shoot hoops" in the basement with my toddler.  My basement is unfinished and I can't have my baby rolling all over the place on the cement floor.  Being someone who doesn't have much of your traditional "baby equipment," this has been my solution for those times.
When To Use It
I like to start incorporating the diaper box when my babies were/are wobbly sitters.  This means that my baby can sit but doesn't stay up on their own all that well but they can sit without rounding their back and they will attempt to catch themselves with their hands if they start to fall in sitting.  As big of a proponent of floor time as I am, I also think that it is okay for baby to get used to feeling what their body is like in sitting for short periods of time.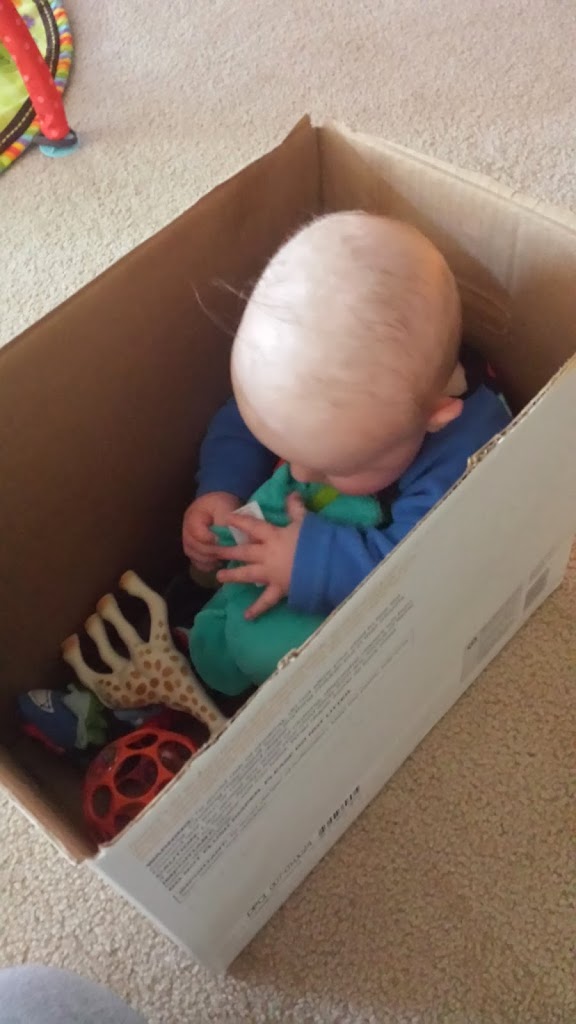 So why a diaper box?
Well the diaper box provides support at all sides so baby is getting input as to where they are in space at their back, sides bottom and even along the backs of his legs.  The diaper box provides a firm level surface. The diaper box allows for opportunities for my baby to move his legs turn his trunk and he can access his toys. Looking for more sitting alternatives check them out here!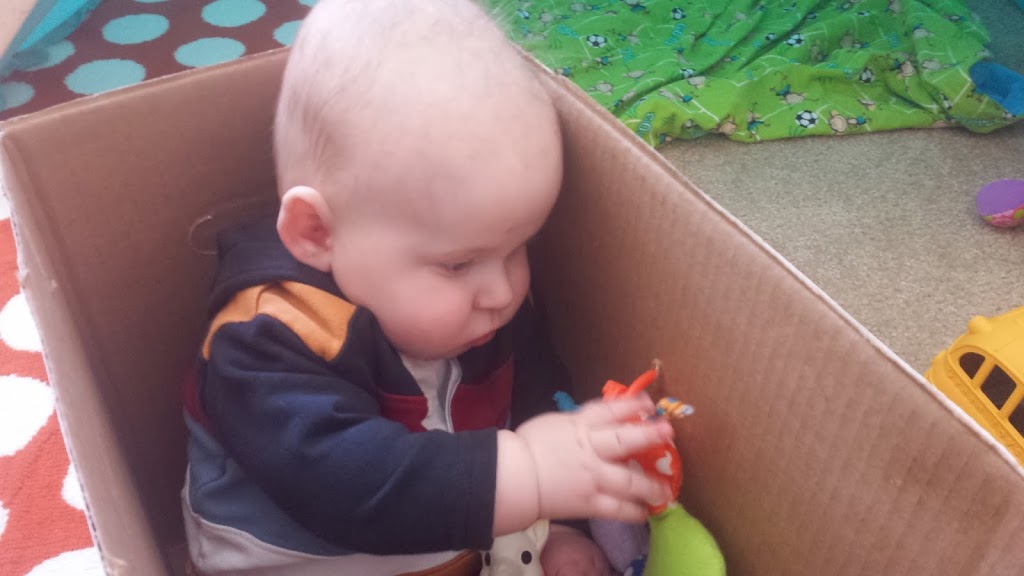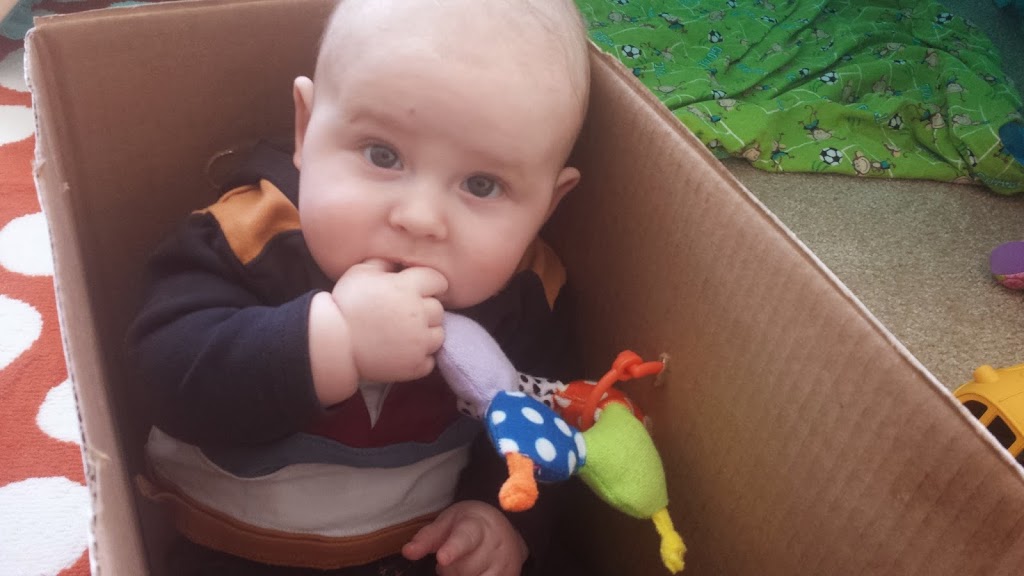 We made the diaper box even a little more fun by adding a few toys to the side. Then we went really big and added string to the front of the box so we could pull him along in the box and oh my gosh did he think that was the best!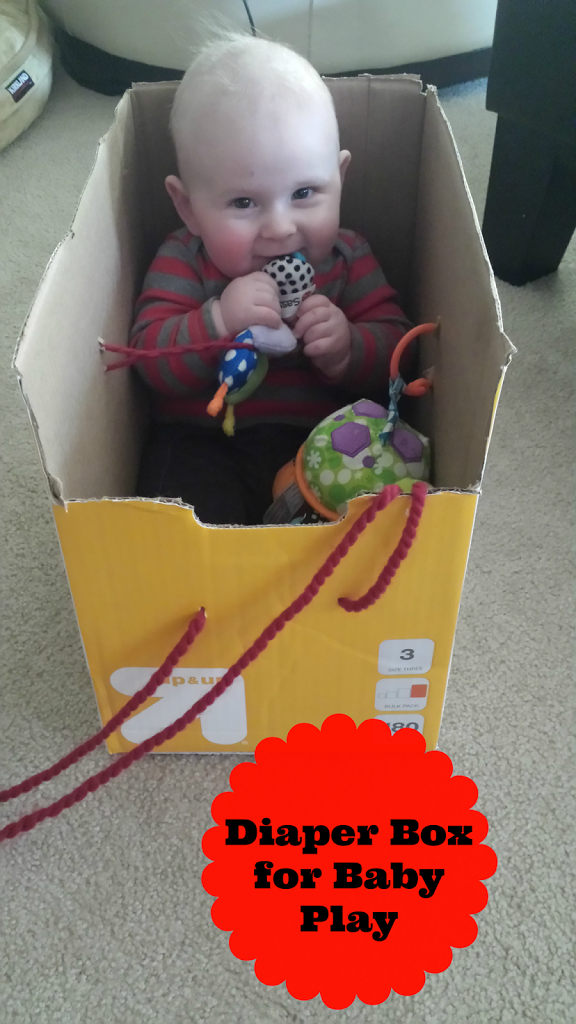 As always, the diaper box isn't meant for prolonged periods.  It's great for when you have a wobbly sitter or independent sitter and need a little more time.  It also gives your baby that little bit of time in sitting upright to get used to being in that position and become aware of their body while seated in upright!

MORE BABY PLAY IDEAS
Ball pits can be a ton of fun.  Here are
some ideas
to make your own.
I'd Love To Connect!
You can find me at Facebook, Twitter, Instagram or Pinterest!