A water bottle is an excellent material to make a variety of different toys for your baby on up.  I started making water bottle toys before C was 6 months old.  Most of the toys take only a few minutes and can usually be made with stuff you already have in your home.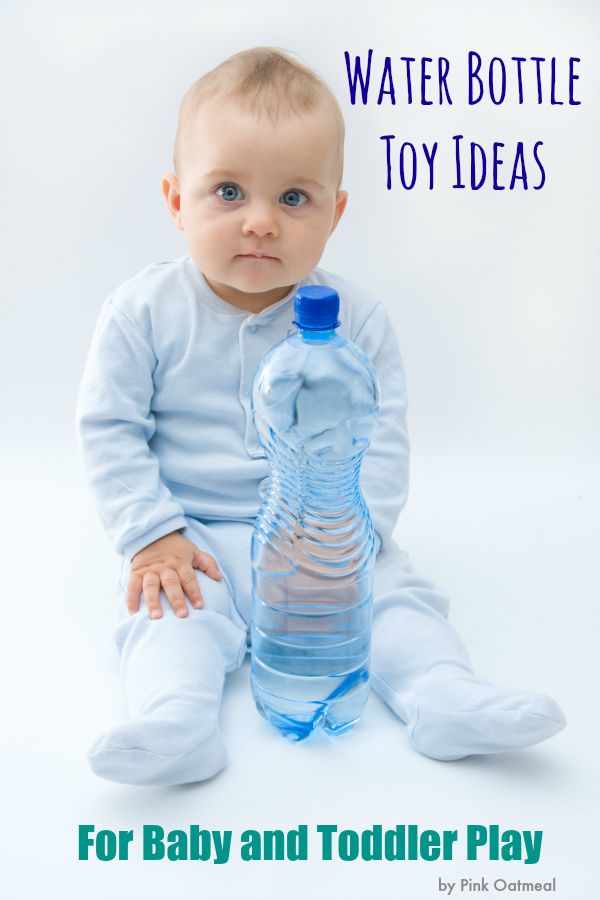 ©Renata Osinska/Dollar Photo Club
Water Bottle Play
1.  Sensory Bottles.  There are so many different varieties of sensory bottles.  I made my sensory bottle using Voss water bottles (affiliate). I used the plastic bottles not the glass bottles. I liked the shape and how durable the plastic was.  They turned out great!
2. Shaker.  We made a simple shaker during C's baby class last year and still have it.  We simply filled a water bottle with popcorn kernels about 1/4 of the way up and sealed the top with tape.  I've also heard of people using hot glue.  Just make sure it's on tight so nothing can get out.  Let your baby or toddler shake away.
3. Take the top off an squeeze.  This works particularly well with a water bottle that can easily be squished and squeezed.  The sound it makes can provide entertainment for your little one.  I discovered how entertaining this could be when I had an upset baby while driving down the road.  I handed him my empty water bottle with no cap on and the noise it made while he manipulated it made the crying stop!

4. Search bottle.  I placed popcorn seeds and different objects into a Voss water bottle (affiliate). Again, I used the plastic bottles.  I used dollar store jewels, plastic alphabet letters, and poms.  I layered popcorn seeds, objects, and popcorn seeds. I repeated this until the bottle was filled close to the top, and sealed off the top of the bottle.
5.  Putting In And Taking Out.  Once your little one is old enough and safe to manipulate smaller objects, a water bottle is a perfect tool for working on this skill.  We use poms at our house.
Anytime small parts are involved supervision is a must!
How do you use a water bottle as a toy?  Leave your answer in the comments for others to see!
MORE BABY AND TODDLER PLAY
Follow Pink Oatmeal's board Baby Play on Pinterest.

Follow Pink Oatmeal's board Toddler Play on Pinterest.
I WANT TO HEAR FROM YOU
Let's connect!  Pink Oatmeal is on Facebook, Pinterest, Twitter, and Instagram!
YOU MAY BE INTERESTED IN
My store at Pink Oatmeal has ideas to get the kids moving at home, in the classroom, and in therapy!  If you prefer Teachers Pay Teachers you can find me there too with even more ideas to get the kids moving!