I've been very under the weather this week so very little excitement has been happening besides a lot of Olympic watching. However for C water play seems to be the coolest thing around here in the past week. I tried out a new water idea that a friend that I had seen in the past. He has always been a guy who loves the water, but he thinks this is the best.  He could play and play with his "water table" for a long time!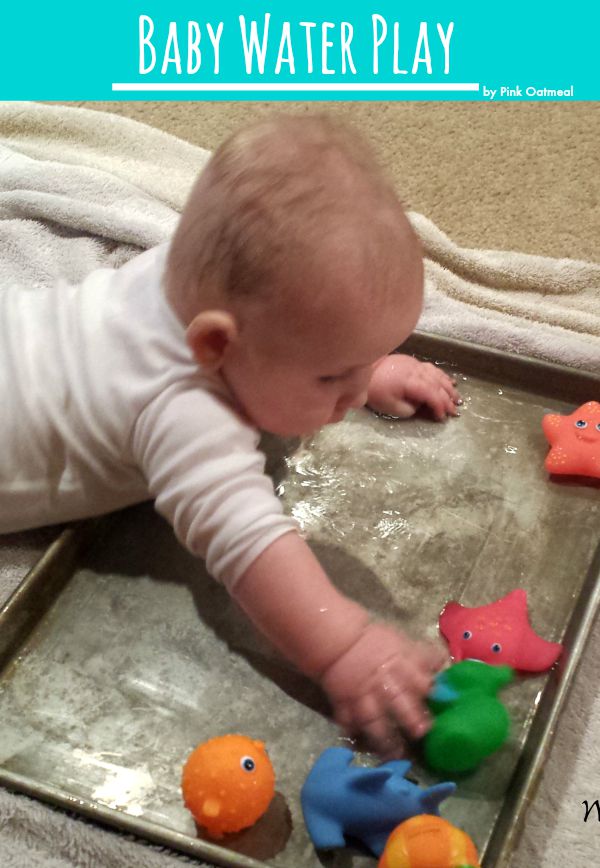 Baby Water Play
I love this activity because it is so SIMPLE and I didn't need to get any supplies.  I can use whatever I have around the house and it keeps him busy for a very long time!
Large Baking Sheet With A Little Sides
Water
Towel
BEFORE I TRIED THIS I WAS CERTAIN MY BABY HAD GOOD HEAD CONTROL and UPPER BODY CONTROL AND I WAS SUPERVISING AT ALL TIMES.  
1.  I laid out a few towels on your floor – whatever surface you prefer.  I did it in the living room, although it's probably easier on a floor where water can be mopped it. He never splashed enough water on the floor that the towels haven't been able to contain.  If it is nice out being outside would be perfect for this activity.
2.  I filled up the baking sheet with appropriate temperature water and set it on the floor.
  I put very little water on the baking sheet.  Just enough to get the idea.
3.  I added fun objects from around the house for play
 I like to add things that I do not have to worry about  choking on as he puts everything in his mouth.  Favorites include: Measuring Spoons, Measuring Cups, Plastic toys that are appropriate for water, and bath toys.
4. I let my baby play!
I am always around keeping my eye on C as water is involved. You never want to leave a baby unattended with water play.  He usually ends up pretty wet when he is done playing so we usually let him play sans shirt.  He mainly just wears his diaper actually when he plays! We are definitely having a wild time around here!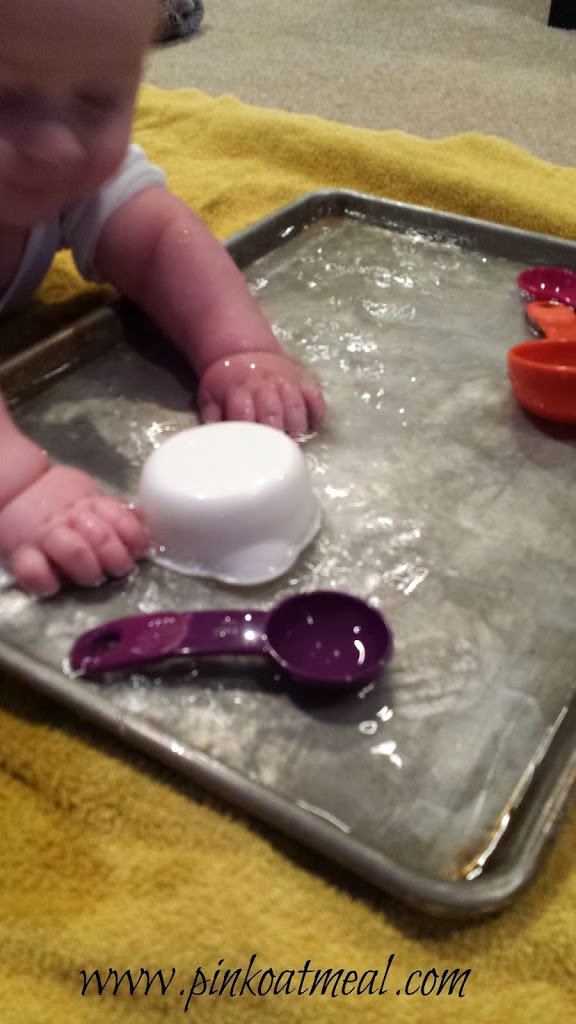 I love this activity because it is a great way to play belly down. Tummy time is so important for our babies!
Favorite Baby Equipment
Click on each photo to see product details.  Affiliate links. 

Your Tummy Time Resource
Baby water play is just one way to play on your tummy! Get all your tummy time needs in one handy guide.  This is a great reference to help take the struggle out of tummy time and the constant late night Google searches!  I get it I'm a mom of three too and life with a new baby is not easy!  I'm hoping to take one less thing off your plate for you in this guide!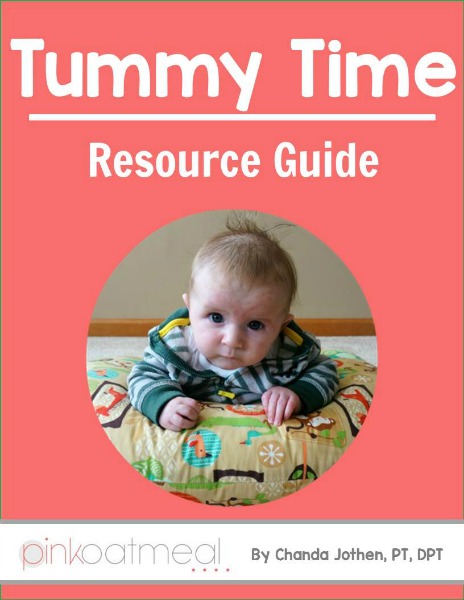 More Baby Play Ideas
Get out the exercise ball and play!
Ball pits can be a ton of fun.  Here are
some ideas
to make your own.
Need an option for contained play for a
short period of time
.  A
diaper box
may do the trick instead of any baby equipment!
I WANT TO HEAR FROM YOU
Let's connect!  Pink Oatmeal is on Facebook, Pinterest, Twitter, and Instagram!
YOU MAY BE INTERESTED IN
My store at Pink Oatmeal is full of ideas to get the kids moving at home, in the classroom, and in therapy!  If you prefer Teachers Pay Teachers you can find me there too!