Little man was one month old on Monday!  That month went by so fast, and at the same time seemed so long.  Those first few weeks with a newborn is always an adjustment. I plan on still trying to do the monthly pictures and update.  With Big guy, I used a chalkboard and wrote updates on it for each month.  The lighting wasn't the best and it was a bit hard to read the words.  Having become such a big fan of using Pic Monkey (affiliate) since my first baby I decided to simplify the monthly pictures with Little man, while at the same time making them visually more appealing.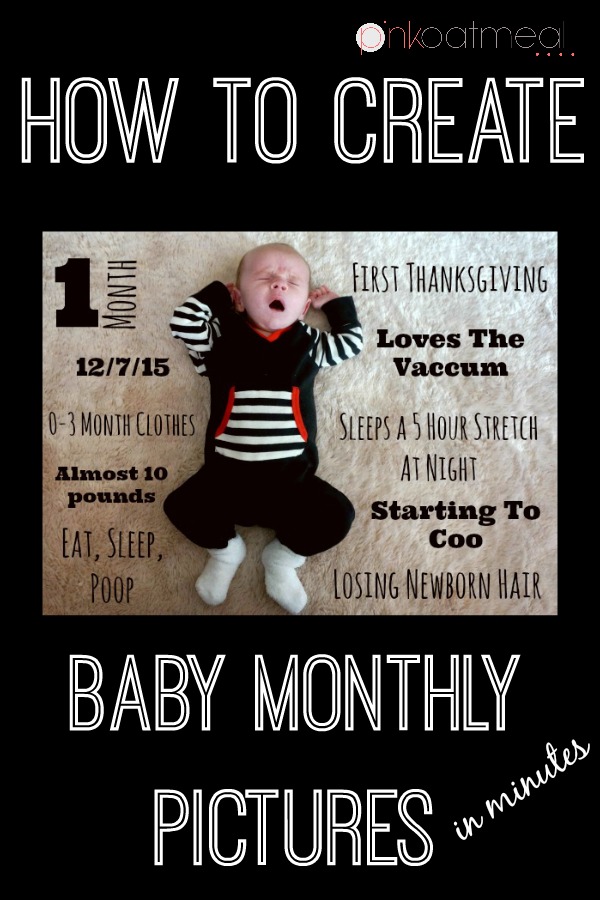 Baby Monthly Pictures
I needed a background for the picture.  I wanted a fairly neutral background so when I went to edit the picture the text would be visible.  I opted to use a faux fur blanket that we have for the first month.  I found the best lighting I could in our house.  Our house isn't ideal for lighting at all and the amount of light we get these days is so little, but it was the best I could do at this point.  The set up for the shoot was really simple.  Just the faux fur blanket on the ground where I could get some daylight in.  The blanket and my carpet didn't look all that different in color!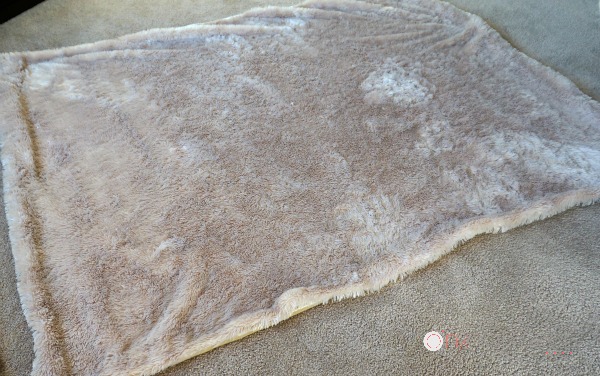 The most difficult part of the picture was getting a fussy 1 month old to cooperate on this particular day.  Generally, he is pretty good for a baby, but it just wasn't his day! I decided to go for a full body shot so it would be easy to see the change and growth over the year.  The lighting still wasn't great but it will have to do for now.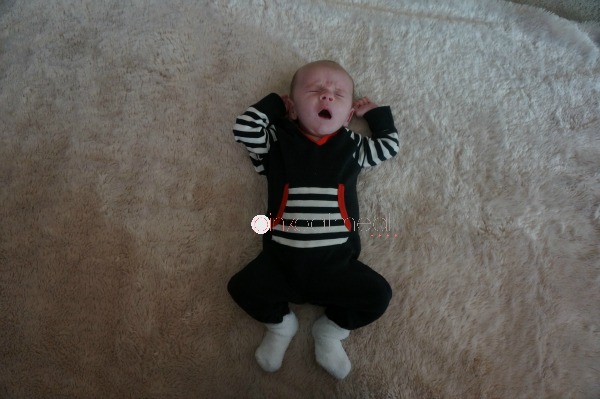 Now the magic is when I go into Pic Monkey (affiliate) and start the editing.  Pic Monkey is a free tool on the internet for editing and designing.  I've actually opted to pay for the Royal version of it.  It's cheap and I use it so often it was totally worth the investment – less than 3 dollars per month!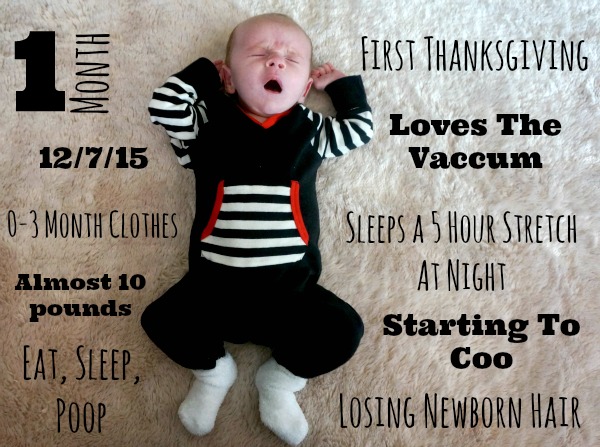 My goal is to find a little better lighting for the pictures.  As he gets older I plan to move them to a sitting position so I'll need to incorporate a backdrop.  All in all these pictures are really easy and don't take much time with a little editing.  It's definitely a simple way to add updates (that are readable) without having to get to fancy with any photography skills.
UPDATE 9/17
Pic Monkey is no longer a free service, but they have a free trial so you can see if it's for you.  Personally, I love Pic Monkey so much I was already using the paid service (it's very reasonable) and would tell you if you like it go for it!  Totally worth it in my opinion!  See all the ways below that I use Pic Monkey just for my babies!
Favorite Baby Equipment
Click on each photo to see product details.  Affiliate links. 

MORE BABY DIY PROJECTS
Keepsake Shadow Box – This is so cute for those early keepsakes and so simple to make!
DIY Familiar Faces – Get baby looking at those familiar faces from the start!
DIY Sensory/Water Table – Perfect for sensory play!
DIY Baby Announcement – Why pay the big bucks when you can do it yourself!
DIY Party Invitation – Perfect for the first birthday party!
DIY Contrast Cards For Tummy Time – Tummy time is so important!
I WANT TO HEAR FROM YOU
Let's connect!  Pink Oatmeal is on Facebook, Pinterest, Twitter, and Instagram!  Come follow me!
YOU MAY BE INTERESTED IN
My store at Pink Oatmeal is full of ideas to get the kids moving at home, in the classroom, and in therapy!  If you prefer Teachers Pay Teachers you can find me there too!