There is no better time than the winter for Arctic Animals.  There is no better unit than the Arctic to add to your gross motor planning.  The animals of the Arctic make it fun and easy to incorporate arctic animal themed gross motor into your therapy, classroom, preschool, or home.  Check out some of these fun ideas to add to your arctic animal gross motor planning!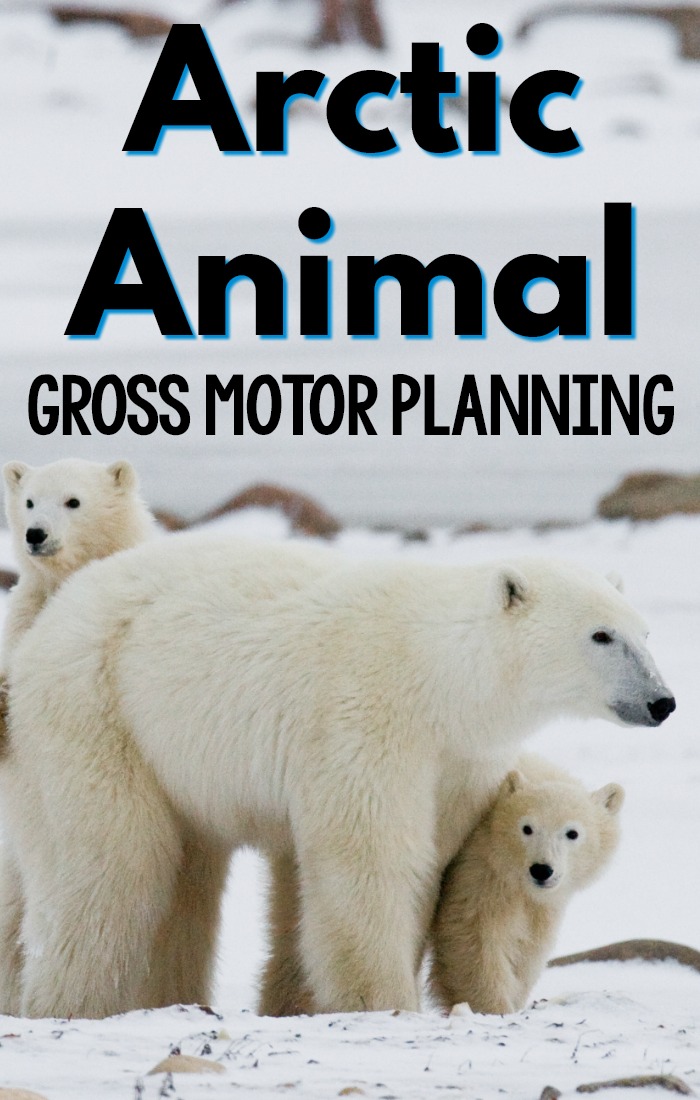 Arctic Animal Gross Motor Planning Week
I love the arctic theme!  I love to combine it with my winter themed ideas !
Start off with Arctic Animal Themed Yoga ideas.  Your kids will love these pose ideas and so will you.  Grab ready made cards and printables to make it even more fun!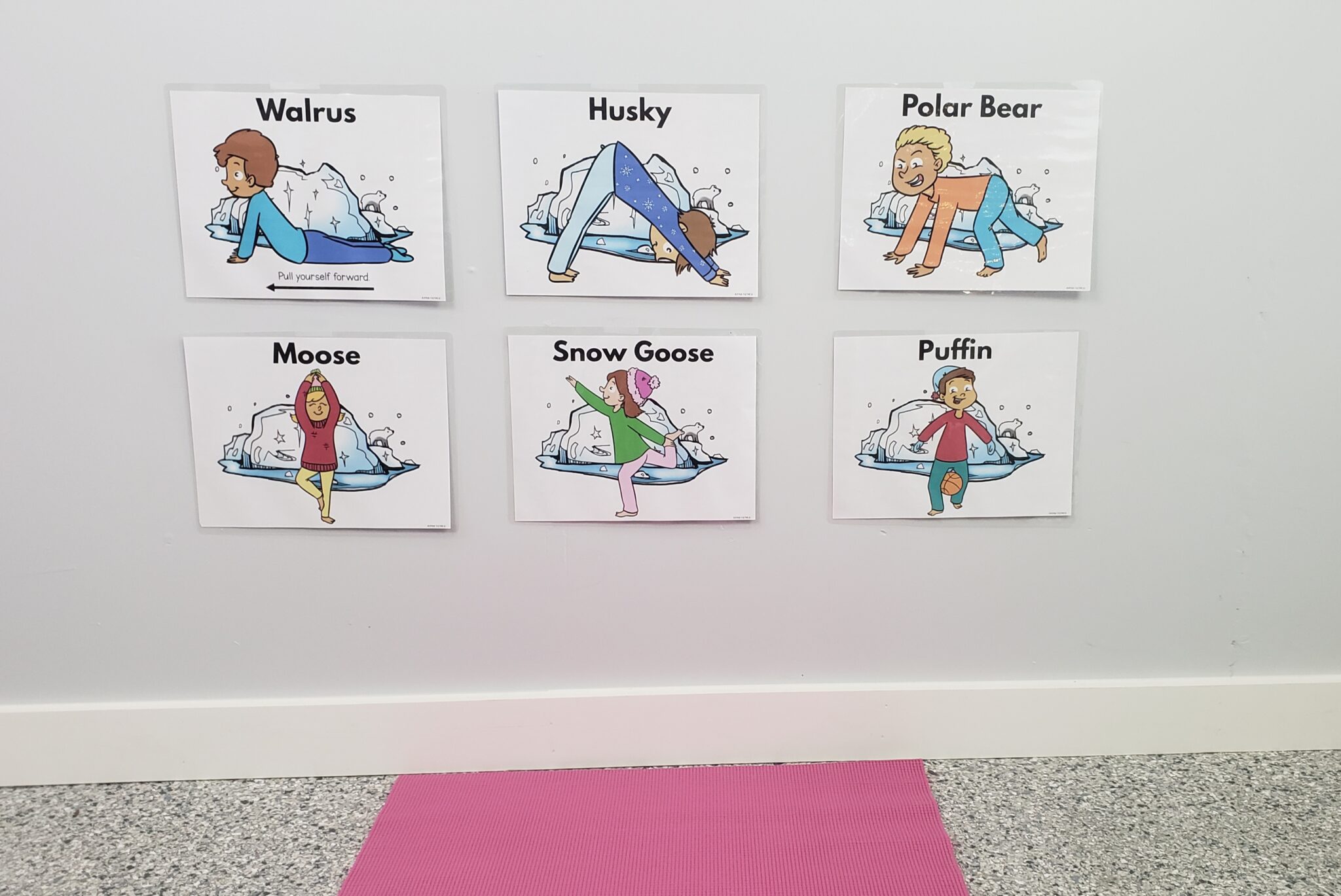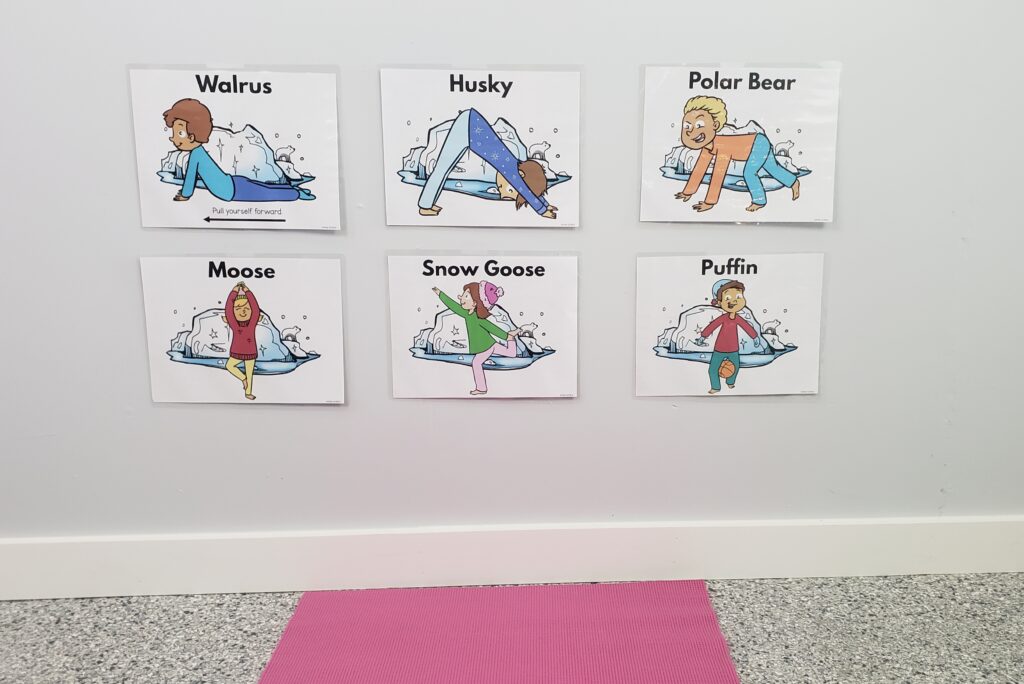 GET YOUR ARCTIC ANIMAL YOGA CARDS AND PRINTABLES
Check out these cute arctic animal brain breaks.  A fun way to pick your favorite animal and see what movement is behind it!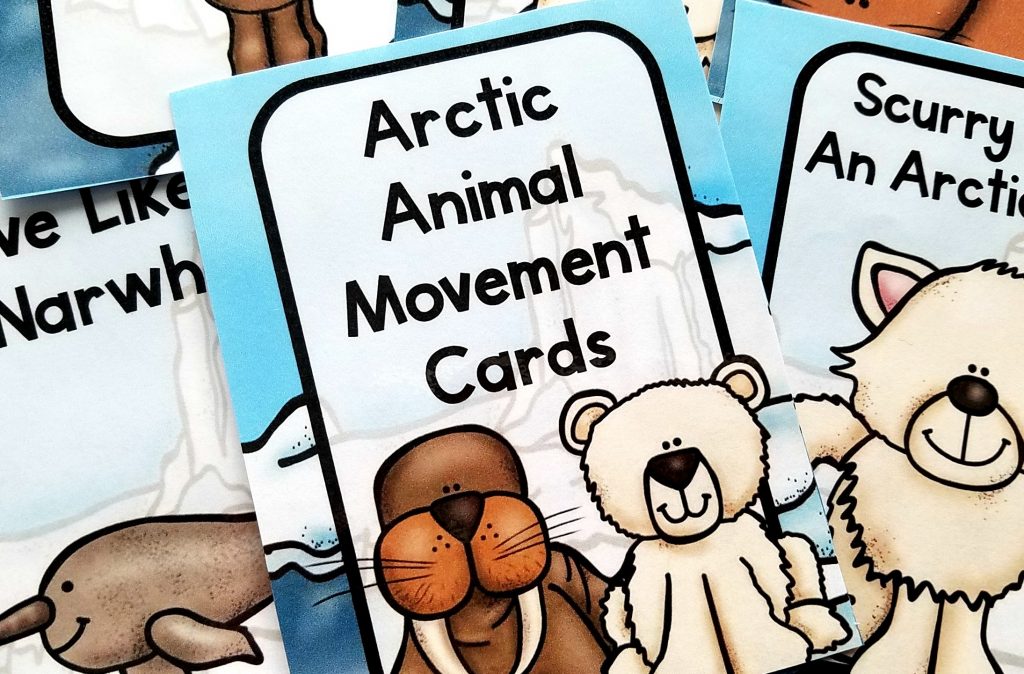 Grab your very own set of Polar Bear Paw Prints in the Pink Oatmeal freebie library. The paw prints can be used for a variety of different activities. Check out the ideas below!
The arctic animal movement story is a fun way to move while listening to a story about your arctic adventure!
Read the arctic animal yoga and movement story here. 
GET YOUR ARCTIC ANIMAL DIGITAL AND PRINTABLE STORY
You need lots of warm weather apparel for the arctic.  This is a fun gross motor relay game gets you ready to brave the arctic conditions!
The arctic is cold so it's fun to add cold weather gross motor activities this week.  Check out all of the winter themed gross motor activities that can easily be incorporated into Arctic Animal Gross motor planning.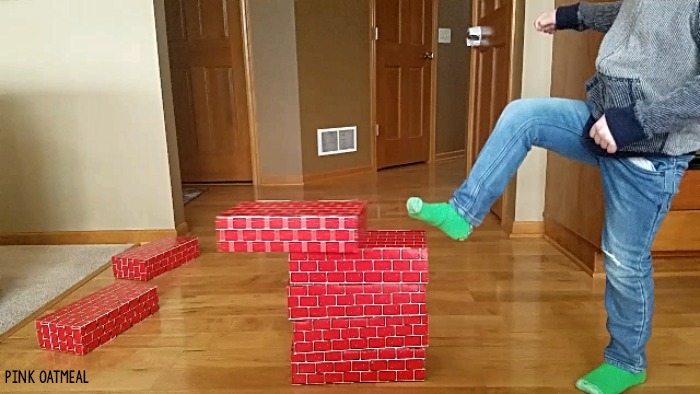 You could also try building and igloo and taking it down brick by brick while working on balance with this fun activity!
Arctic Digital and Printable Games
Pink Oatmeal has an arctic themed game that you can play in a digital or printable manner. If playing digital you can play in PowerPoint or Google Slides. You have the option to play this game on a computer, tablet, interactive whiteboard, or screencast it onto a larger television screen. 
The printable option allow you to print and use the printables however you desire. Put them on a door, wall, bulletin board, hallway etc. There is no limit to how you can use them. 
GET THE ARCTIC ANIMAL GROSS MOTOR GAME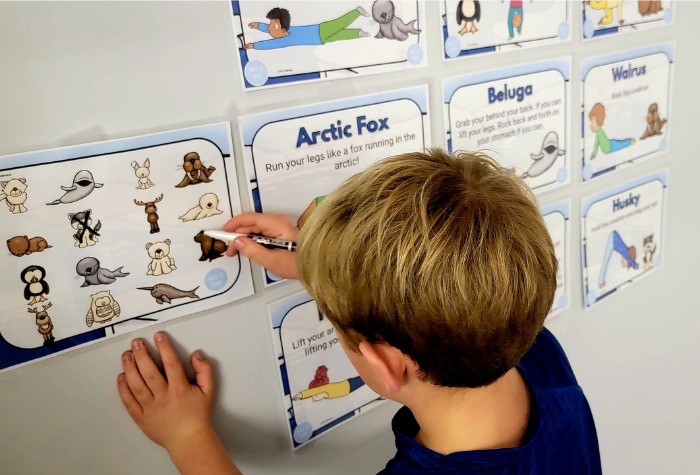 Winter Fine Motor Activities
Don't miss out on all of the winter themed fine motor activity ideas that go perfectly with the arctic theme!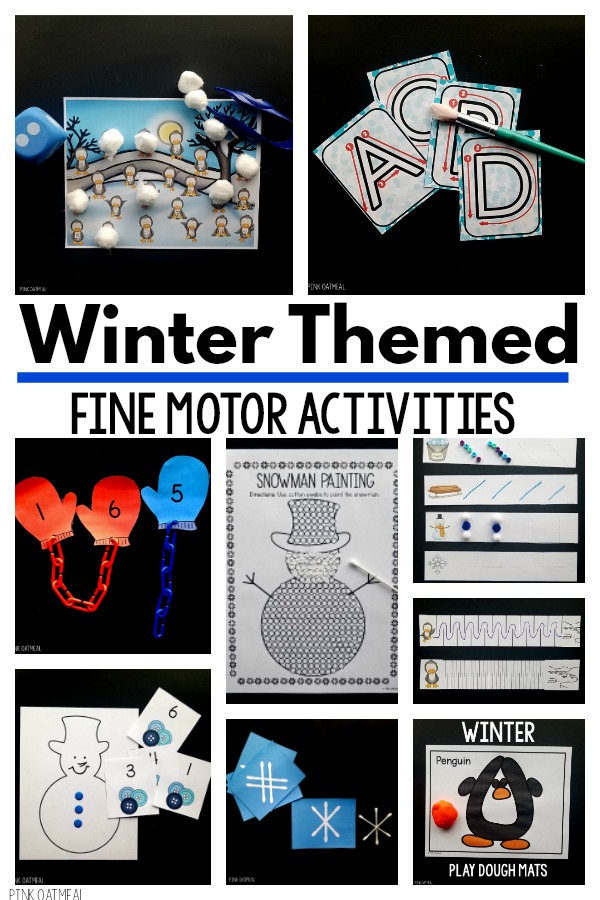 ARCTIC THEMED RIDDLE, ROLL, AND WRITE
Now try the Arctic Themed Riddle, Roll, and Write Game. This fun and engaging game has you rolling, figuring out riddles, and writing. This is a great opportunity to work on handwriting in game mode. This game can be played on a computer, tablet, or interactive whiteboard. There are printable writing cards that come with it too. The entire game can be printed as well. 
GET THE ARCTIC THEMED RIDDLE, ROLL, AND WRITE GAME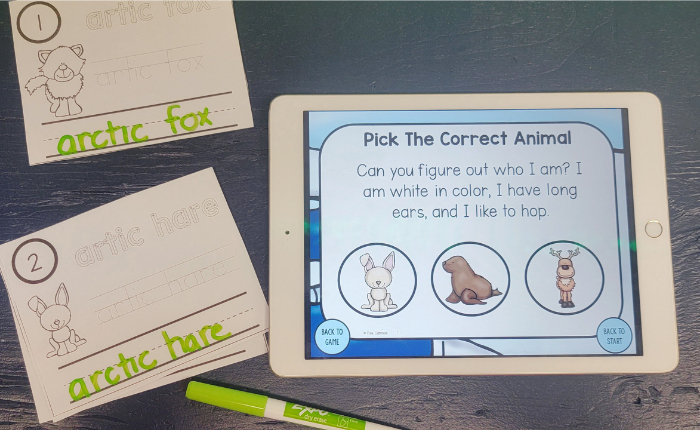 Get Started with Arctic Animal Gross Motor Planning
Want to get started fast with arctic animal gross motor planning?  At Pink Oatmeal we have the Arctic Themed Movement Pack PERFECT for your arctic theme whether you are in a classroom, therapy, or home.  It's easy to print and get started with now.  Save yourself the time, effort, and resources by trying to come up with all of it on your own.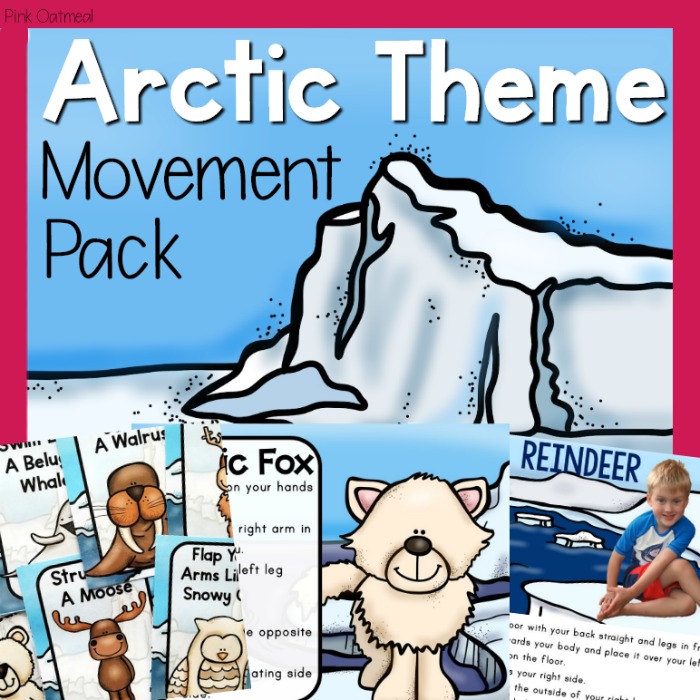 Arctic and Polar Themed Resources
Pink Oatmeal has a wide variety of arctic and polar resources for you to choose from. Click on the name of the resource below to get a detailed view of the resource.