The winter season is officially here!  This is a time for snow, winter sports, and the arctic!  I always loved trying to incorporate fun themes to make movement fun!  In the winter there is no better theme than the arctic.  Arctic animals are especially fun when it comes to movement.  That means here at Pink Oatmeal we've come up with some arctic animal brain breaks for you to use today!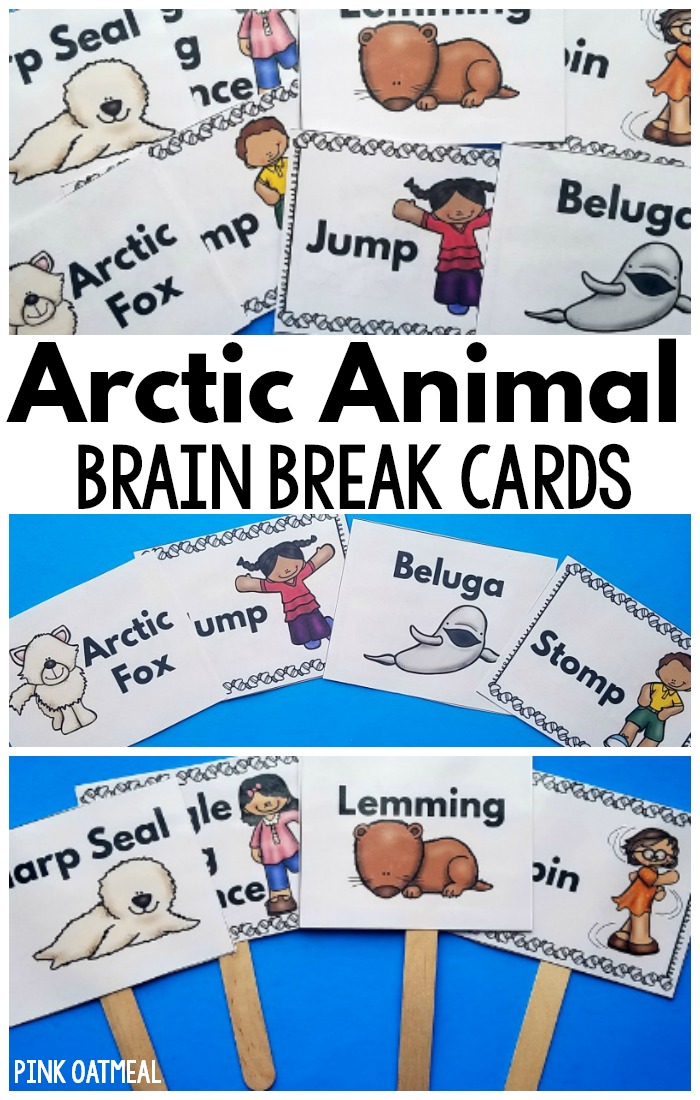 Arctic Animal Brain Breaks – Arctic Animal Activity
The brain breaks are designed so that one side of the brain break card includes a picture of an arctic animal.  When you flip over the card there is a picture of the movement that you are to be performing.  You determine the time or duration based on what works best in your setting.  You can do several of these at one time or just one or two!
The cards are designed so that they can be printed front to back easily.  It's also a fun option to put them on craft sticks.
Arctic animal brain breaks give you a nice option to step away from the screen and get some much needed movement in your kiddos day.  Plus, they easily can be incorporated with your arctic lesson.  The best part, when you are done teaching your arctic lesson your kids will likely still want to keep doing the arctic animal brain breaks.  Use them all winter long!
At Pink Oatmeal, the idea of moving like arctic animals is loved so much that we also do Arctic Animal Yoga.  This is seriously a blast!  You will love all of the poses designed to move like animals of the arctic.  Checkout all of the ideas!
Get Your Arctic Animal Brain Breaks
Love the idea of arctic animal brain breaks as an arctic animal activity but don't have the time or resources to make them yourself?  No worries, we totally understand and have you covered.  You can buy Arctic Animal Brain Breaks in the shop or at Pink Oatmeal's TpT store.