With Halloween approaching it's the perfect time to start thinking about Halloween motor planning activities. It's my five year old's favorite holiday and he gets really into Halloween. We have several different fine motor and gross motor activities to do this year that all include a Halloween theme. If Halloween isn't something you celebrate be sure to check out Pink Oatmeal's Monster Activities or Pumpkin Themed Motor Planning Ideas. These are also perfect for this time of year.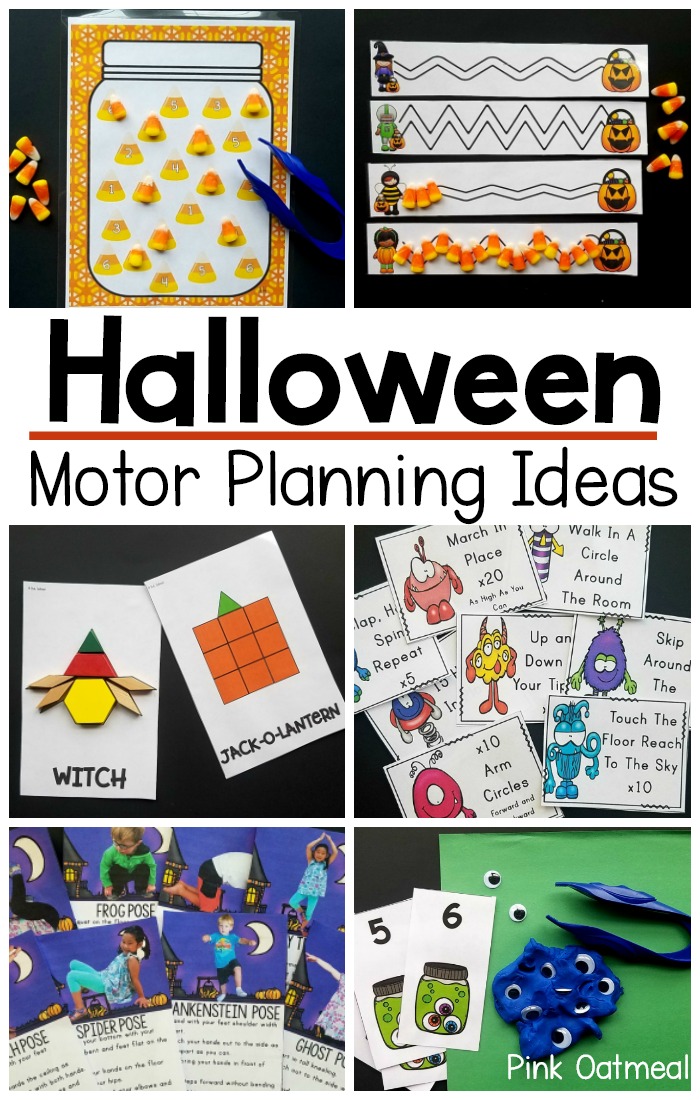 Halloween Motor Planning Activities
The following activities are perfect for the month of October and especially fun during Halloween week. All of the activities are designed with physical activity and motor planning in mind! Check out all of the other motor planning themes and ideas from Pink Oatmeal.
Monster Eyes Fine Motor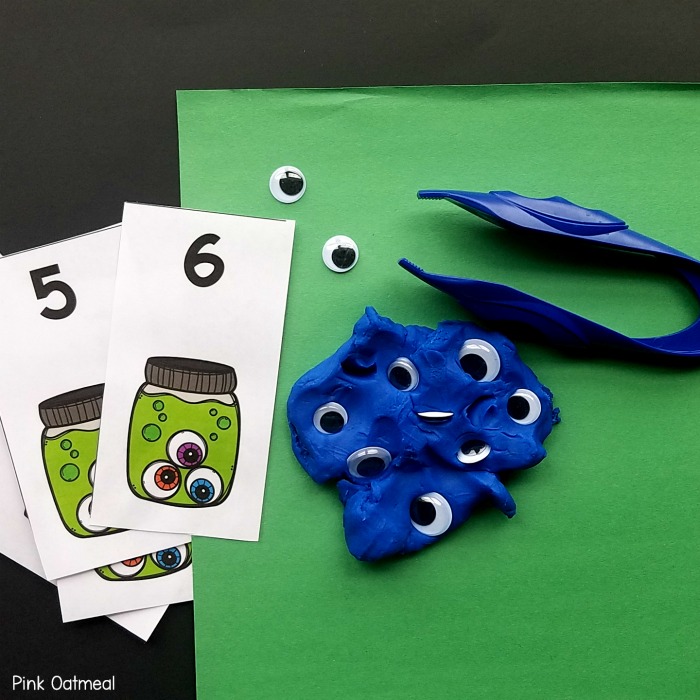 This activity has gone down as one of the favorite fine motor activities to date! Who doesn't love picking eyeballs out of play dough or slime? It's great counting activity as well.
GET THIS AS PART OF THE HALLOWEEN FINE MOTOR ACTIVITIES
Halloween Themed Digital Gross Motor Game
Move like your favorite Halloween objects while playing this digital gross motor game. The digital game is perfect for in person OR distance learning options.
GET THE HALLOWEEN THEMED DIGITAL GROSS MOTOR GAME
The best part of this game is that it can be used in a digital manner, but you can also print it and use it however you would like in a printable format.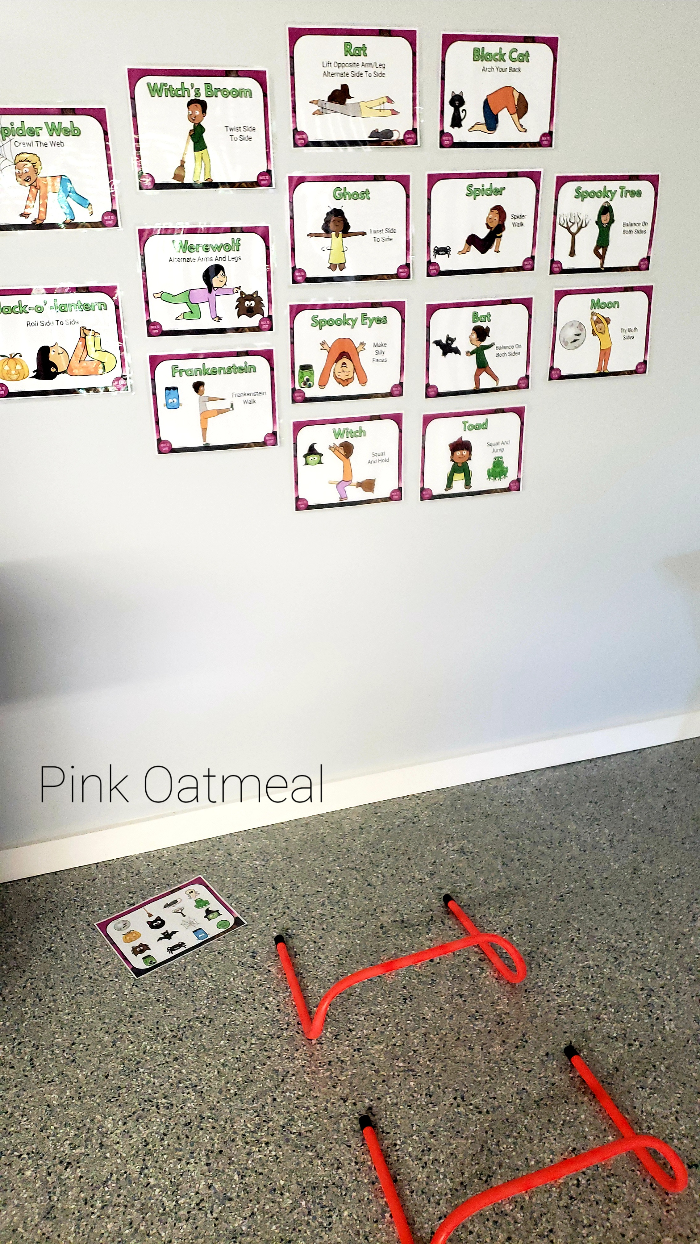 Halloween Yoga
How about moving your body like a black cat, bat, or moon? Adding a theme or story makes yoga so much more fun. Check out all of the different ideas for Halloween Yoga Poses in this post.
GET THE HALLOWEEN YOGA CARDS FROM PINK OATMEAL
Spider Life Cycle
The spider life cycle is the perfect way to combine moving and learning at Halloween time! This is a great option to play in a digital manner or you can print it and use it as printables.
This spider life cycle bulletin board is just one example of how to use the printables!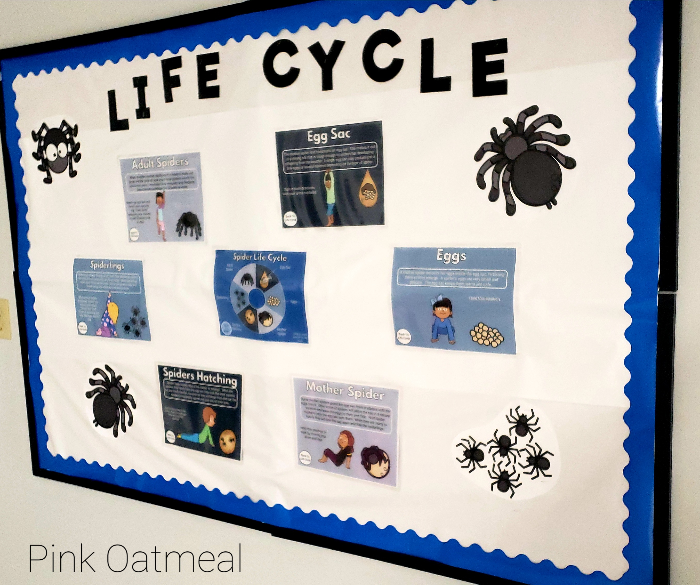 Halloween Pattern Blocks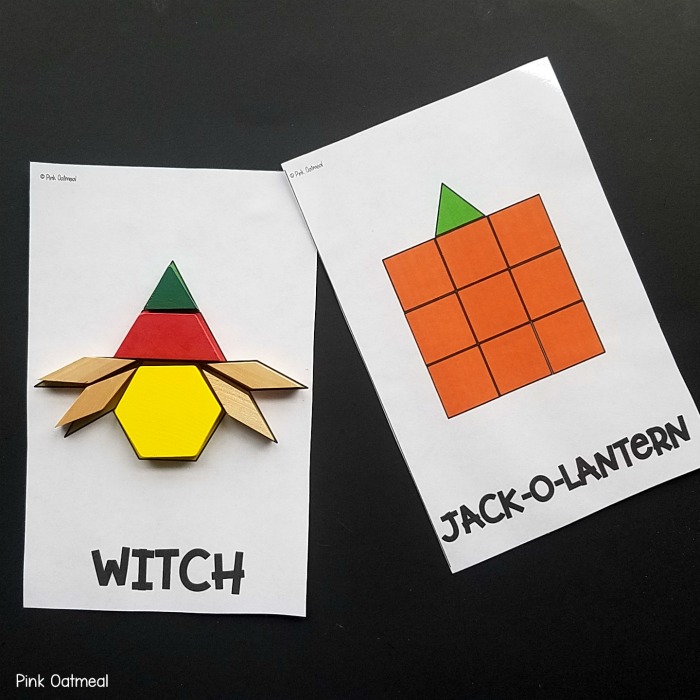 Another favorite around here is Halloween themed pattern blocks to work on fine motor activities. The Halloween themed patterns were successful for both of my boys!
GET THIS IN THE Halloween Fine Motor Activities Pack.
This game can also be used outside of the traditional table top activity. One example of this is setting it up with either tall kneeling or standing on the BOSU ball!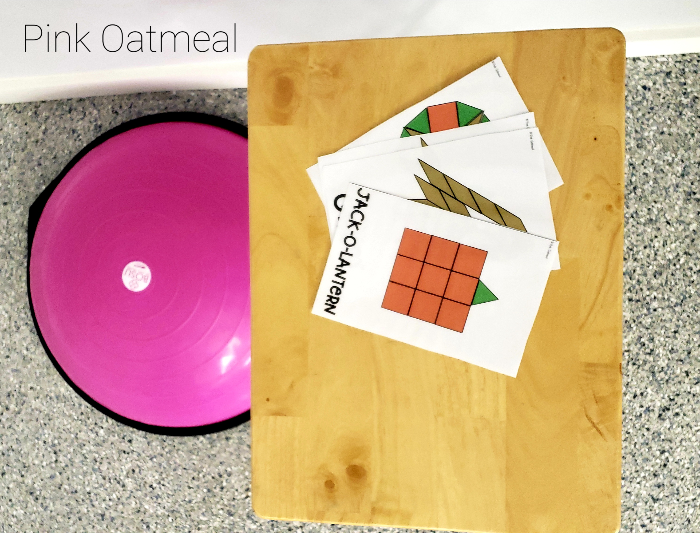 Halloween Movement Story
Another fun Halloween idea for motor skills is a Halloween Movement Story! You can write one yourself or you can save a whole bunch of time and use one that has already been written for you!
GET THE HALLOWEEN MOVEMENT STORY
The Halloween Movement Story can be used digitally on your tablet or computer or you can print the story and use it that way too!
Candy Corn Digital Gross Motor Game
The digital gross motor games are an awesome addition to in person work or work fabulous for distance learning/teletherapy. Play these on your tablet, computer or interactive whiteboard. With the Candy Corn Digital Gross Motor Game you can work on one to one correspondence along with moving at the same time!
GET THE CANDY CORN COUNTING GROSS MOTOR GAME
Monster Moves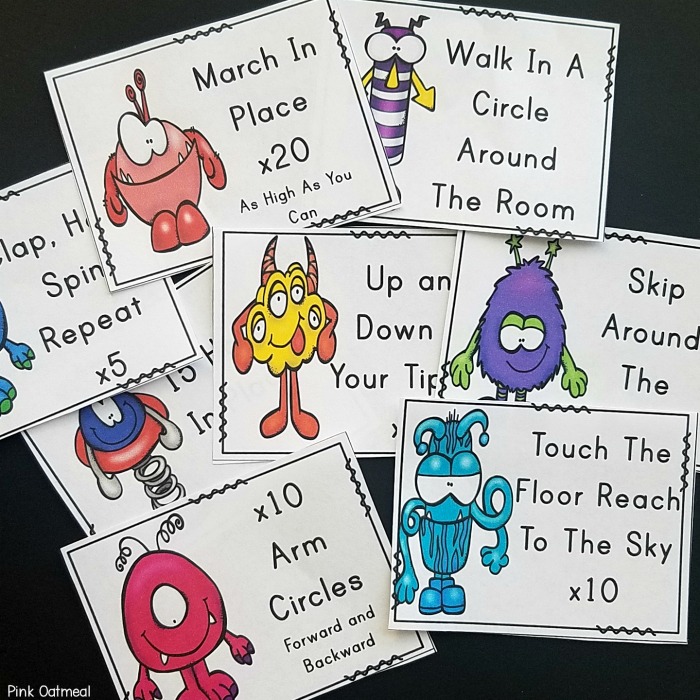 This is a fun way to move little bodies with a monster theme. Whether you like to celebrate traditional Halloween or if you prefer to go all monster theme, this is a great option. Be sure to read all of the monster themed gross motor ideas from Pink Oatmeal.
GET THE MONSTER BRAIN BREAK CARDS
Sticking to the topic of monsters, check out this pre-writing game! There are pre-writing strips that you can print to go along with this game! Meet your favorite monsters and work on the pre-writing strokes they ask of you!
GET THE MONSTER THEMED PRE-WRITING STROKES GAME
Halloween Dice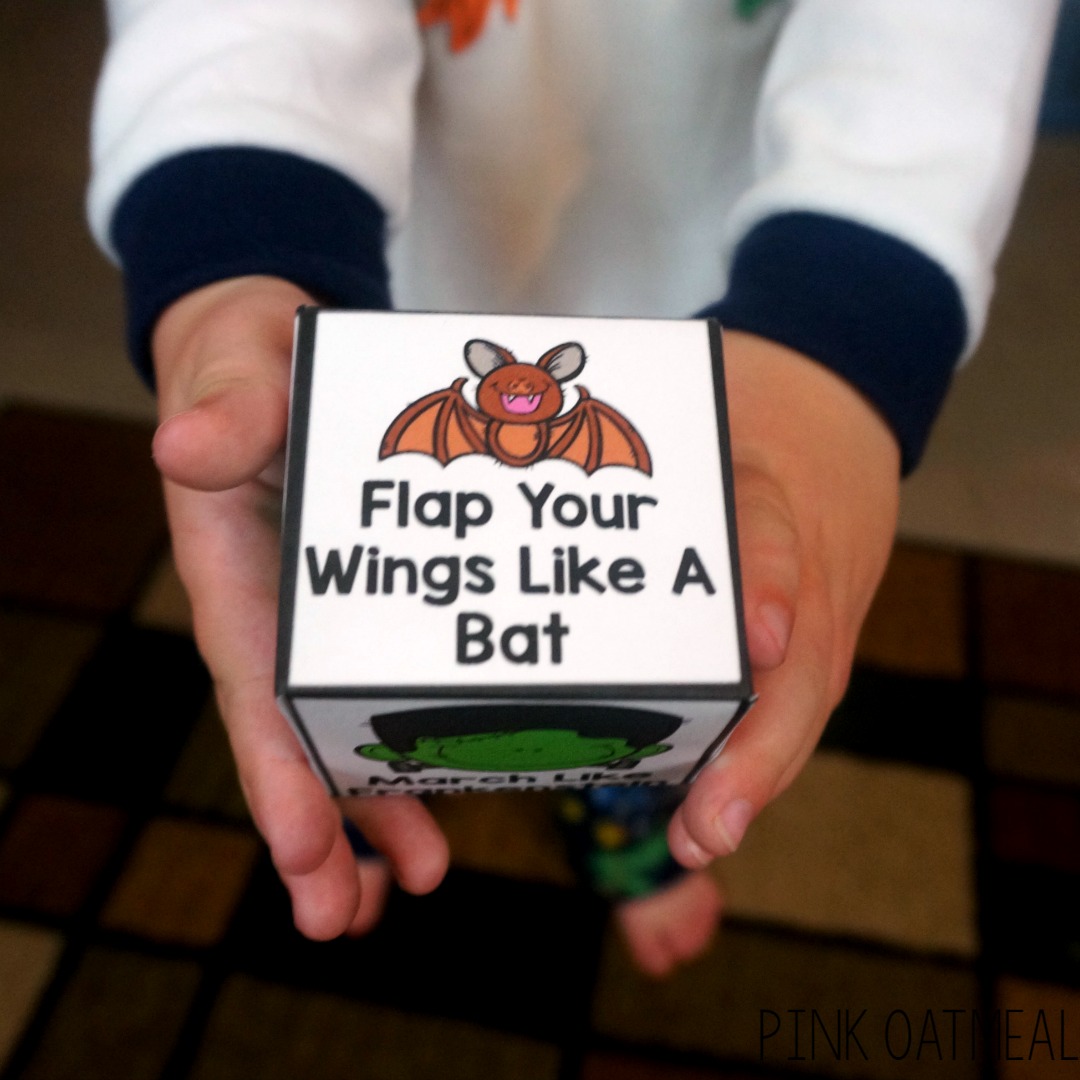 How about more fun ways to move your body? The Halloween dice are perfect for this. They can be found in the freebie library. You can gain access to the freebie library when you join the email list.
Halloween Themed Candy Corn Fine Motor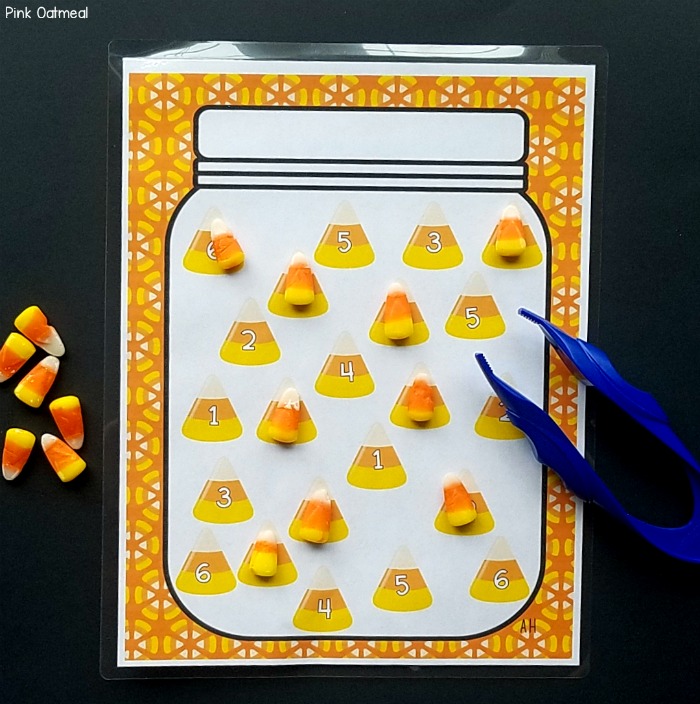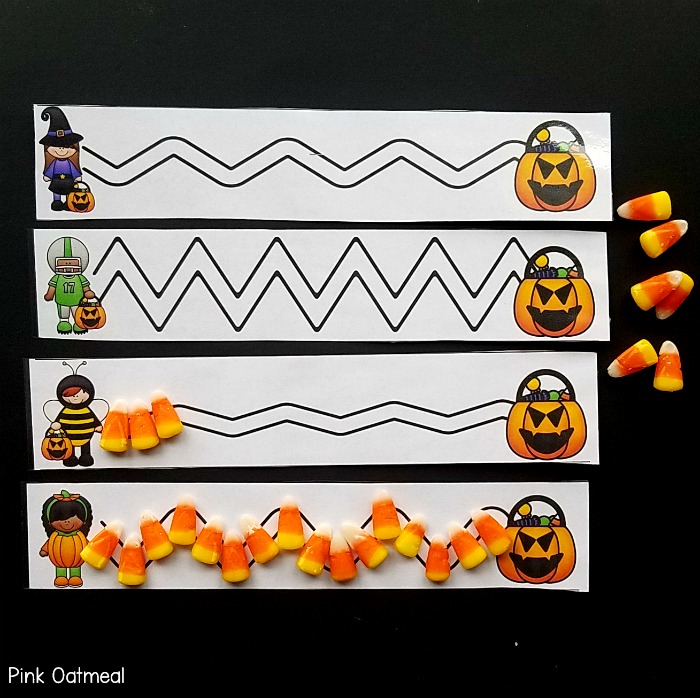 Candy corn makes Halloween themed fine motor activities even better. The candy corn trails and candy corn dice game are the perfect way to work on fine motor skills at Halloween.
GET THESE IN THE HALLOWEEN FINE MOTOR ACTIVITIES PACK
These can easily be done in different positions to incorporate gross motor. Some examples include prone for scapular and core strengthening or use them on a vertical surface to challenge balance and core strength.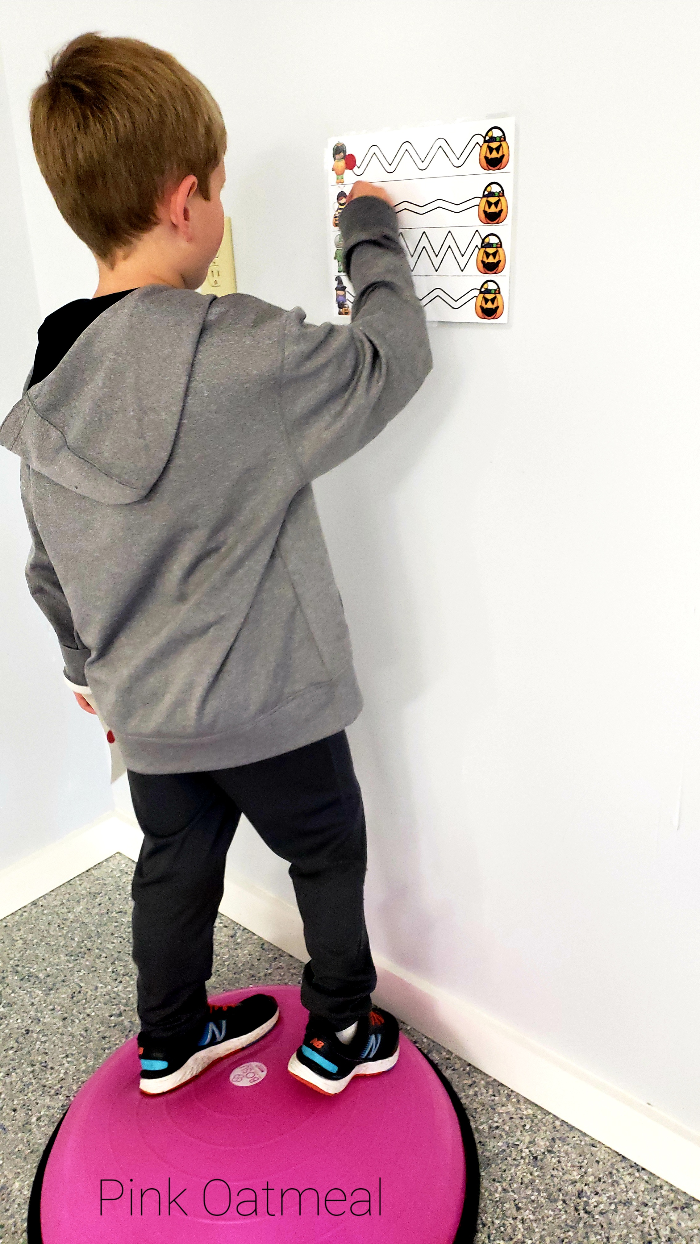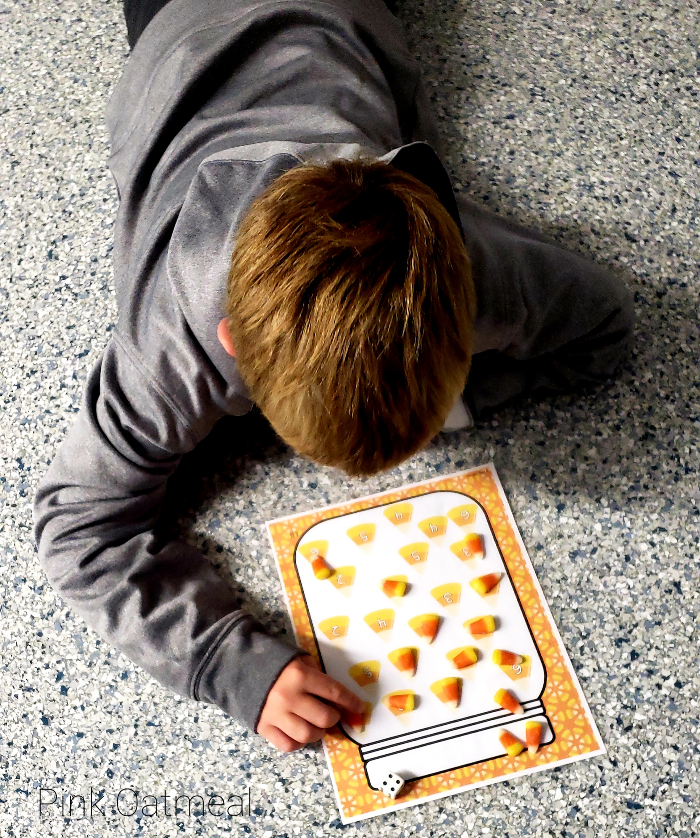 Witches Relay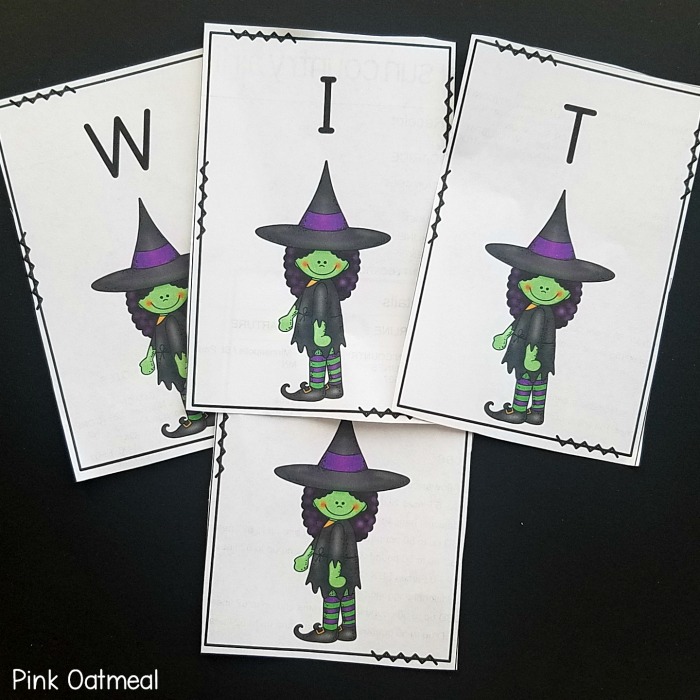 My boys like a little competition. We played the witches relay by flying on "broomsticks" aka pool noodles to collect the witches relay cards.
This set of cards can be found in the Halloween Movement Pack Games.
Halloween Wheelchair Activities
Pink Oatmeal has Halloween activities available to kiddos who use a wheelchair! This can be used as a digital game or you can print it and use the printables however you desire!
GET THE HALLOWEEN WHEELCHAIR MOVEMENT GAME
This is an example of the exercises printed out and used on a door, but they could easily go on a bulletin board, wall, or carry them with you!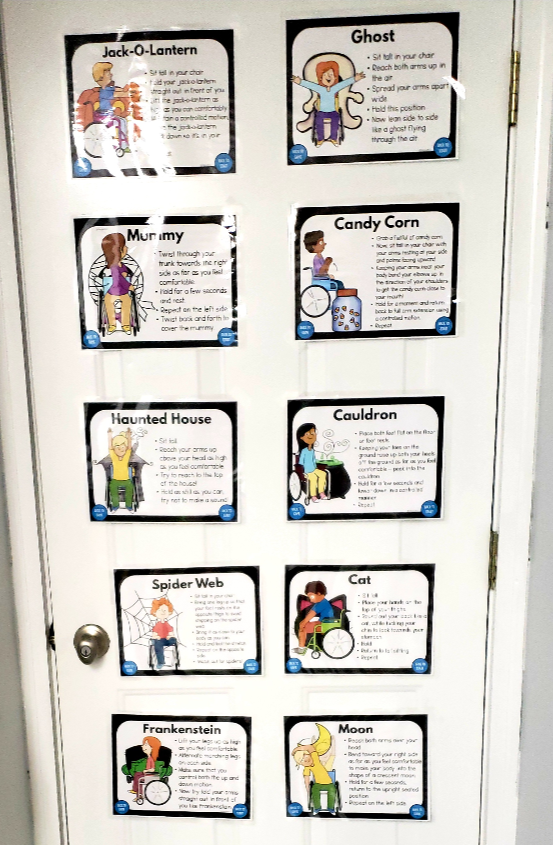 Halloween Hair Cuts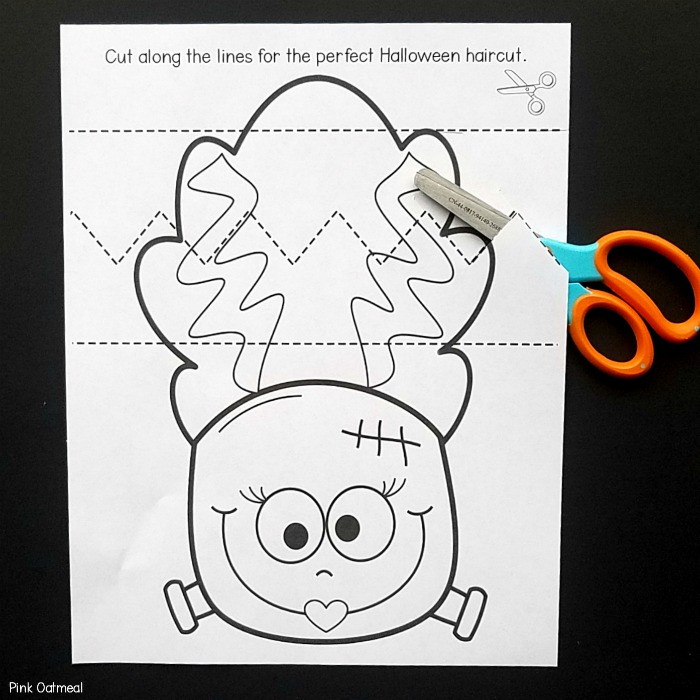 Halloween hair cuts were given for a fun cutting activity with a Halloween theme. These simple print and go sheets can be found in the Halloween Fine Motor Activities Pack.
Halloween Motor Paths
Do you have a motor or sensory path that you already created? How about adding a Halloween theme to your motor or sensory path with fun themed Halloween printables perfect for adding to any wall! Get this in the Halloween Theme Motor and Sensory Path Printable pack.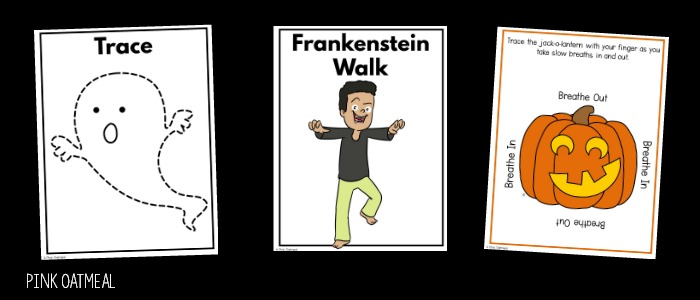 Halloween Dice Games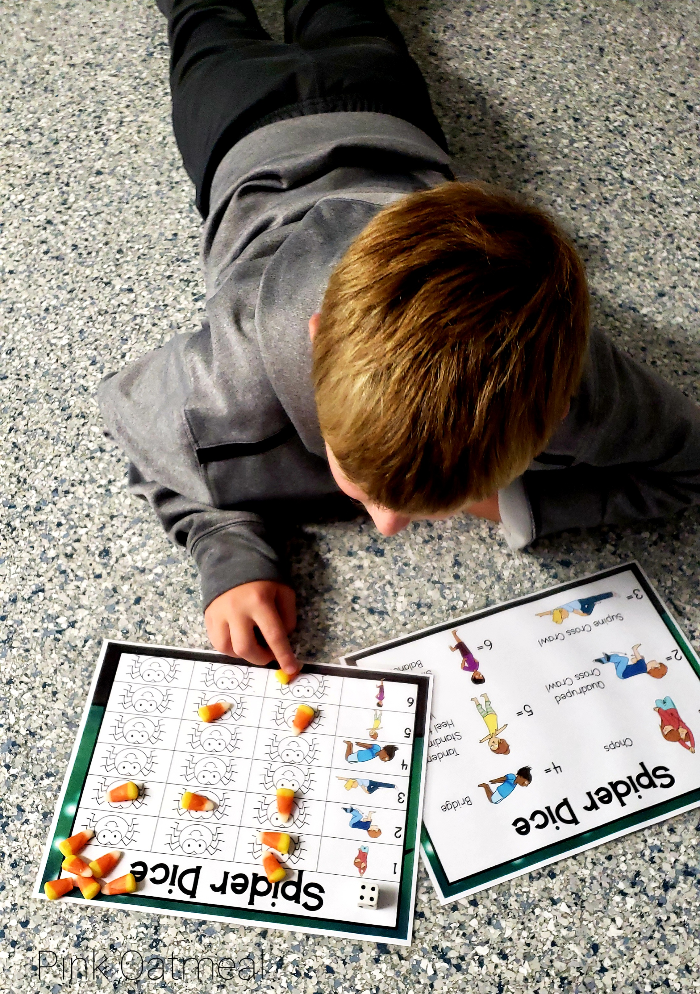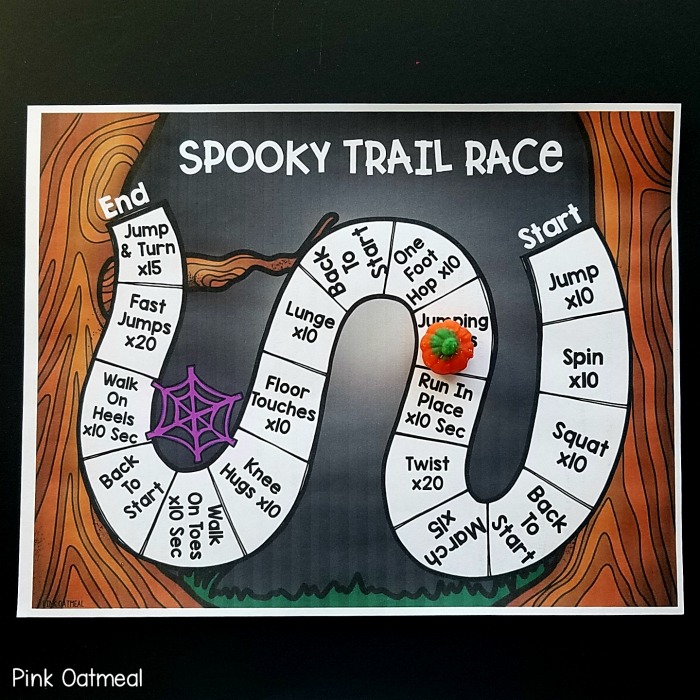 The Halloween dice games are perfect for the Halloween season. These games all incorporate movement and gross motor skills!
GET THESE GAMES IN THE HALLOWEEN MOVEMENT GAMES PACK
Halloween Pre-Writing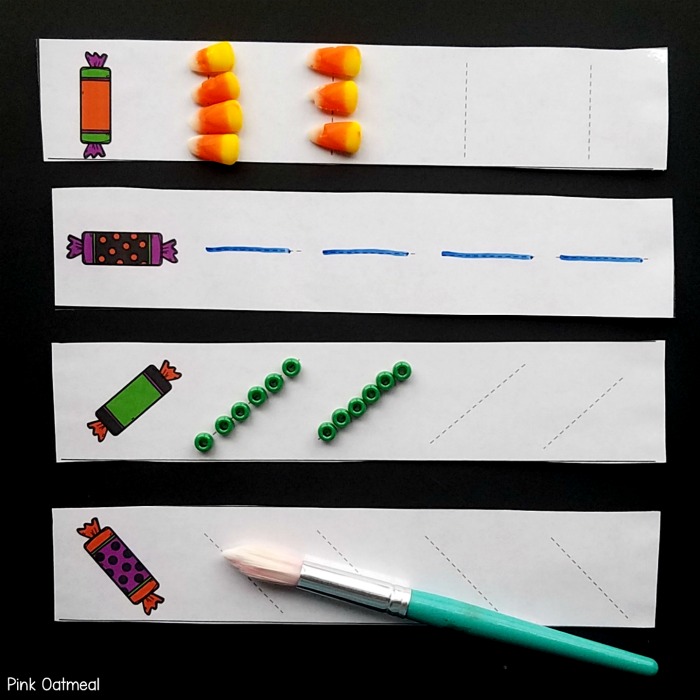 Pre-writing strokes are important and need to be in place before trying to work on actual letters. I like to laminate these pre-writing strips to use them over and over. Dry erase markers work great for writing. I like to use manipulatives (like candy corn!) with my three year old. Get these in the Halloween Fine Motor Activities Pack!
Halloween Brain Breaks
These are the perfect way to get in physical activity and gross motor skills with a Halloween Theme. You can read about all of the different Halloween Ideas in this post. I modify and adjust them as needed for my three year old. Both of my boys LOVE these cards! They can be found in the shop.
Roll and Trace – Halloween Motor Planning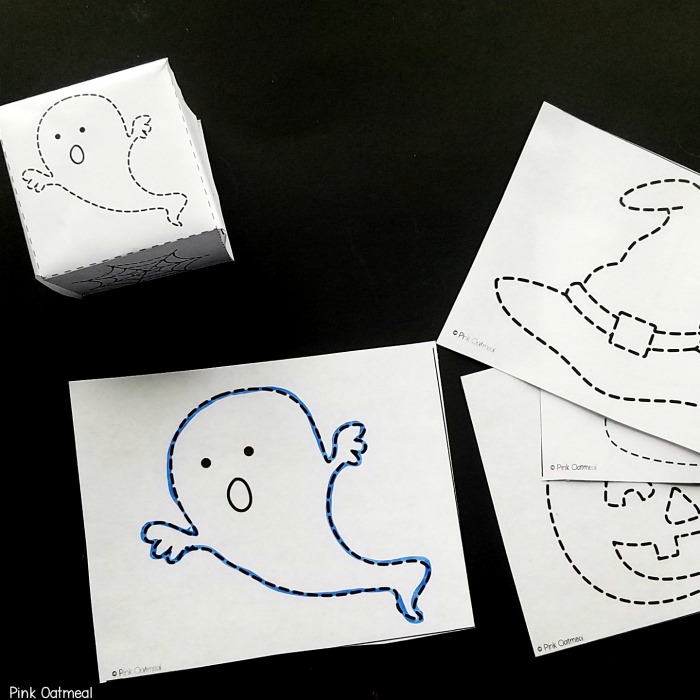 More dice activities. This fun roll and trace game consists of rolling the tracing dice and tracing the Halloween object that comes up. You wouldn't have to use the dice, but it makes it a little more fun. This activity can be found in the Halloween Themed Fine Motor Pack.
Halloween Glue Dots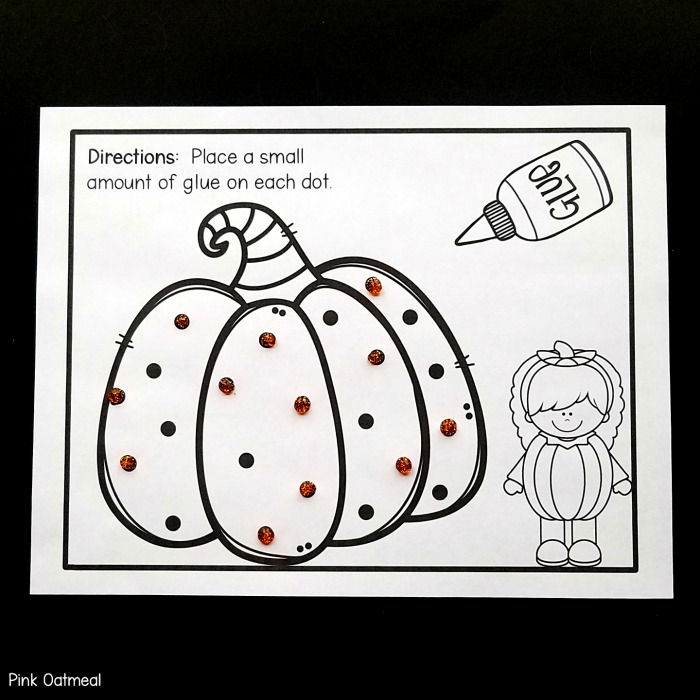 This was a fun activity to work on fine motor skills and control. This activity consists of adding glue dots to the printable. I used glitter glue to make it a little more fun, but traditional white glue would do the trick too.
GET THIS IN THE HALLOWEEN THEMED FINE MOTOR PACK
This is another great example of an activity that you can modify and use in a different way. This example of working on the vertical surface with dot stickers instead of glue dots is just one fun way to do this!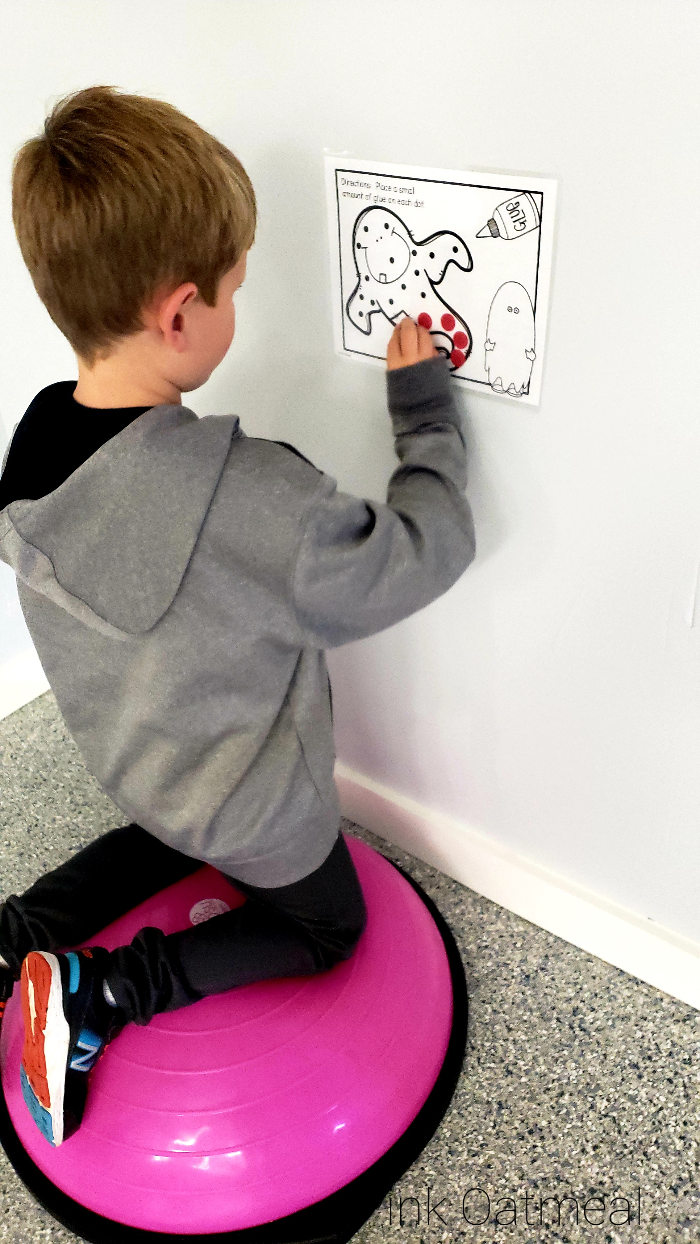 Halloween Resources From Pink Oatmeal