Now that the end of September is here, can we start talking Halloween?  I think we can.  Heck, the stores have had Halloween costumes out for well over a month.  Some stores even have Christmas out.  I'm not quite ready for that.  Now that we are talking Halloween, let's talk about some fun ideas for Halloween yoga poses.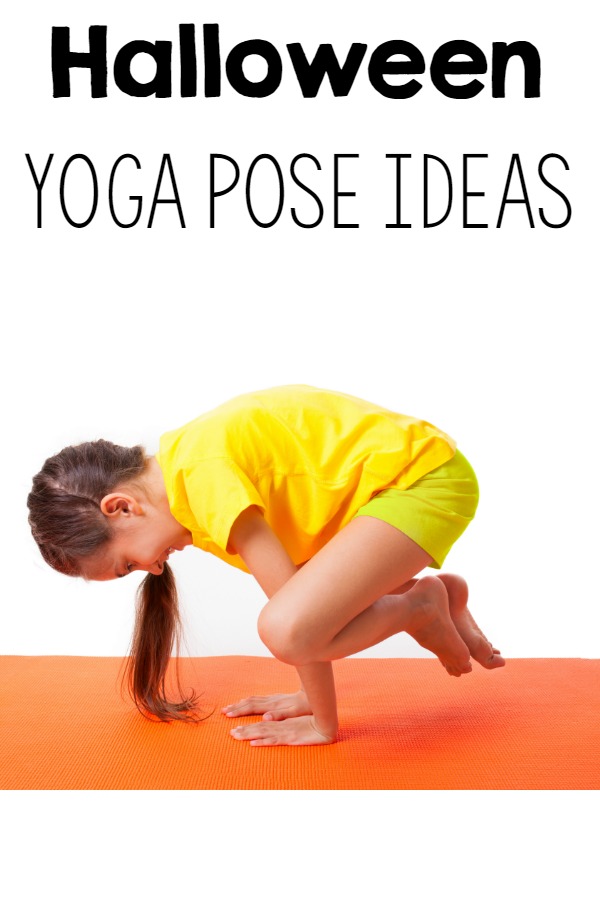 Halloween Yoga Pose Ideas
When it comes to yoga and kids  I let the kids be creative with the poses.  I don't focus on perfection, and I always make sure it's safe and fun!
Black Cat
Cat pose – Add a meow!
Frog
Frog Pose – Add a jump if you'd like!
Spider
Sit on your bottom with your knees bent and feet flat on the floor.  Place your hands on the floor behind your hips.Straighten out your elbows and lift your hips towards the ceiling.  Try walk like a spider!
Witch
Stand tall with your feet together.  Reach towards the ceiling as high as you can with both hands.  Slightly bend  both knees and hold  the position.  Think of yourself as a witch flying on a broom.
Jack-o-Lantern
Happy Baby Pose
Spooky Tree
Tree Pose – Sway side to side if you can, like a tree blowing in the wind.
Frankenstein
Stand with your feet shoulder width apart.  Reach your hands out to the side as far apart as you can. Now bring your hands in front of you. Take steps forward without bending your knees. Don't forget to breathe!
Ghost
Start in tall kneeling.  Reach out to the side with both arms. Lean side to side like you are a ghost flying on Halloween night.
Googly Eye
Stand tall with your feet spread apart. Bend forward at the hips.  Look between your legs and make googly eye faces! Line the kids up or have them do it in a circle so they can see each other!
Moon
Moon Pose
Bat
Airplane Pose – Flap your arms like a bat flying through the Halloween night sky!
Get Your Own Halloween Yoga Cards
Do you love the idea of Halloween Yoga, but want it ready made and easy to use at all times? I don't blame you!  The news gets even better as there are two different sets to choose from! Both sets have the same poses, but the presentation is different!  This way you can choose what works best in yours setting!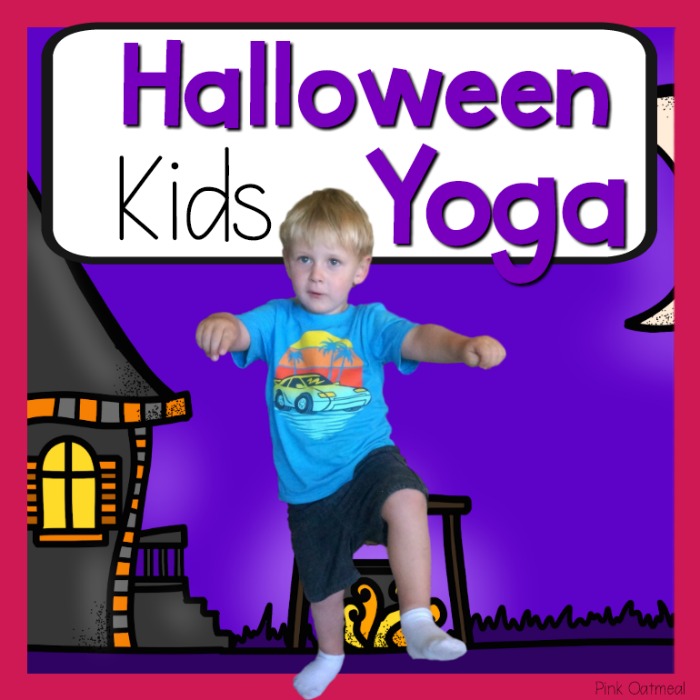 REAL KIDS SET – This set consists of REAL KIDS in the space themed yoga poses!  These are perfect for those who like to see the actual pictures of real kids working on the poses!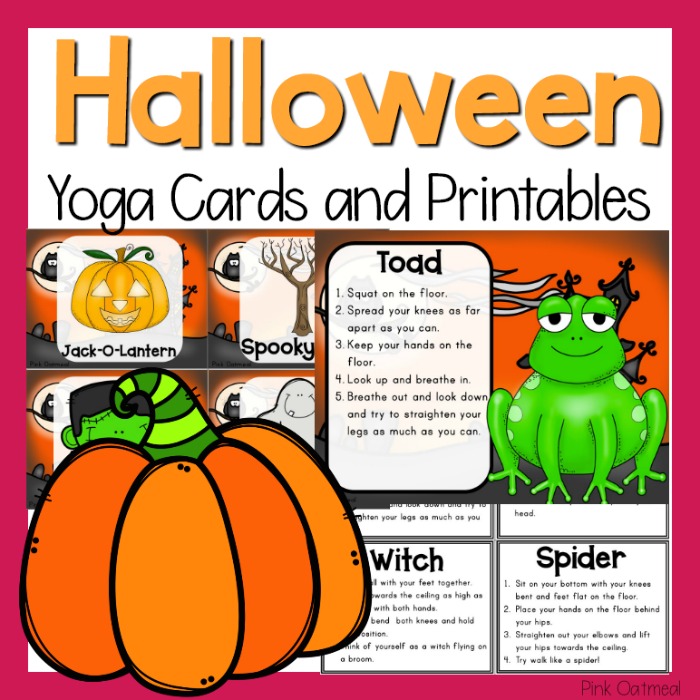 Clip Art Set –    All of the above poses are included with a fun everyday graphic (not kids in the pose) in the set of cards.  There is also a cover card included for an easy way to keep your yoga cards organized! You can see full previews of the resource in the shops.
Halloween Brain Breaks
Maybe yoga isn't your style but you are still looking for movement ideas?  Maybe you want yoga and more.  The more movement the better!  Be sure to check out Halloween Brain Breaks!  Perfect for incorporating movement at Halloween!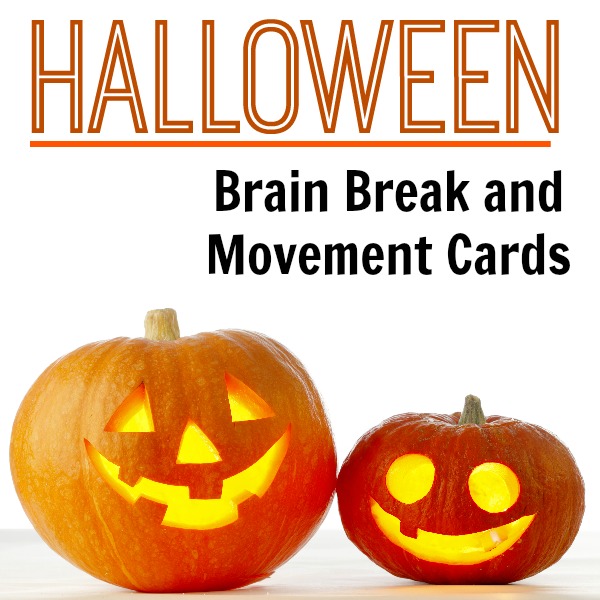 MORE YOGA
Get more yoga ideas with more themes on Pink Oatmeal!
I WANT TO HEAR FROM YOU
Let's connect!  Pink Oatmeal is on Facebook, Pinterest, Twitter, and Instagram!  Come follow me!
YOU MAY BE INTERESTED IN
My store at Pink Oatmeal is full of ideas to get the kids moving at home, in the classroom, and in therapy!  If you prefer Teachers Pay Teachers you can find me there too!