I always think of October as pumpkin season. So far we've been to a pumpkin patch as well as picked up pumpkins at a farm store. My kids are pumpkin crazy. That being said, I've put together some fun pumpkin themed motor planning ideas. These pumpkin themed motor planning ideas touch on both fine motor skills and gross motor skills.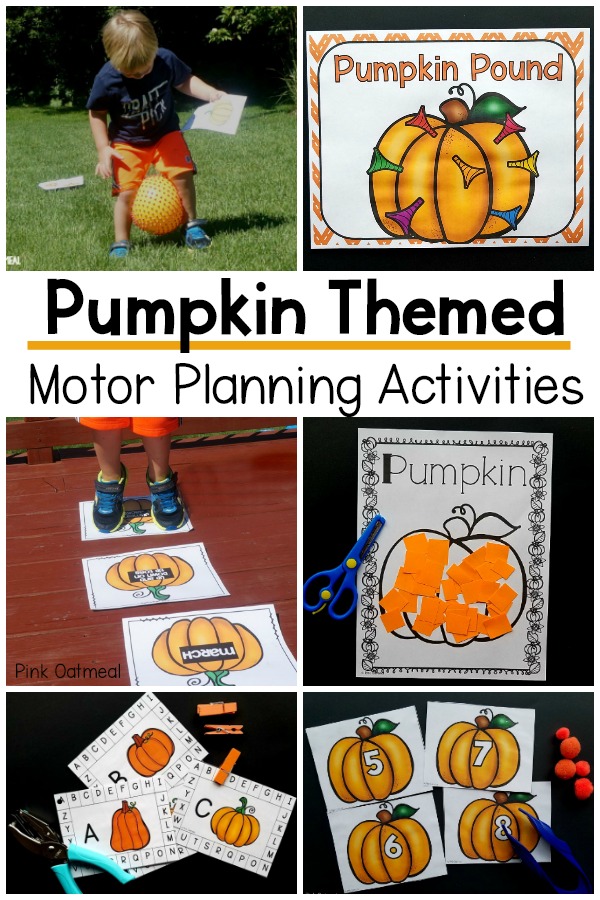 Pumpkin Themed Motor Planning Ideas
The following pumpkin themed motor planning ideas are great for use during the fall, Halloween, or as an alternative to Halloween!
Pumpkin Pound
The pumpkin pound is great for eye-hand coordination and fine motor skills. Using a wooden hammer (like a lobster hammer), golf tees, and a pumpkin works great for this activity. Get to work by pounding the tees into the pumpkin.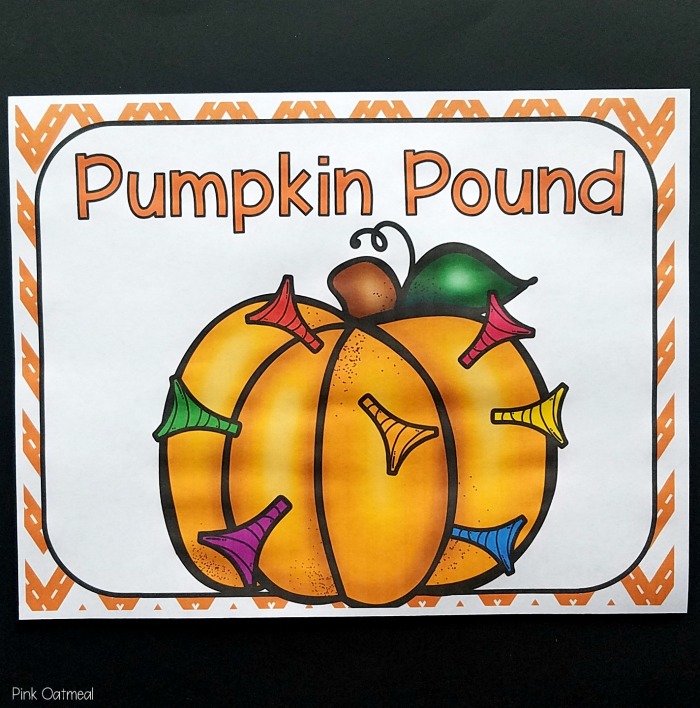 Pumpkin Roll Race
Use a big exercise ball and race around the cones. Get access to media library full of videos when you become a Pink Oatmeal member.
Pumpkin Patch Digital Game
Go digital and play the Pumpkin Patch Gross Motor game. This game is a great option for distance learning and/or teletherapy. It is also a fun in person option. This game can be played on a computer, tablet or interactive whiteboard.
GET THE PUMPKIN PATCH DIGITAL GAME
Although the games are digital, it doesn't mean that you can't print them as well! There are several great ways to use these printables. One example is playing the game while incorporating the balance beam. Touch the symbol, walk across the beam, visually scan the pictures to match your symbol and perform the activity!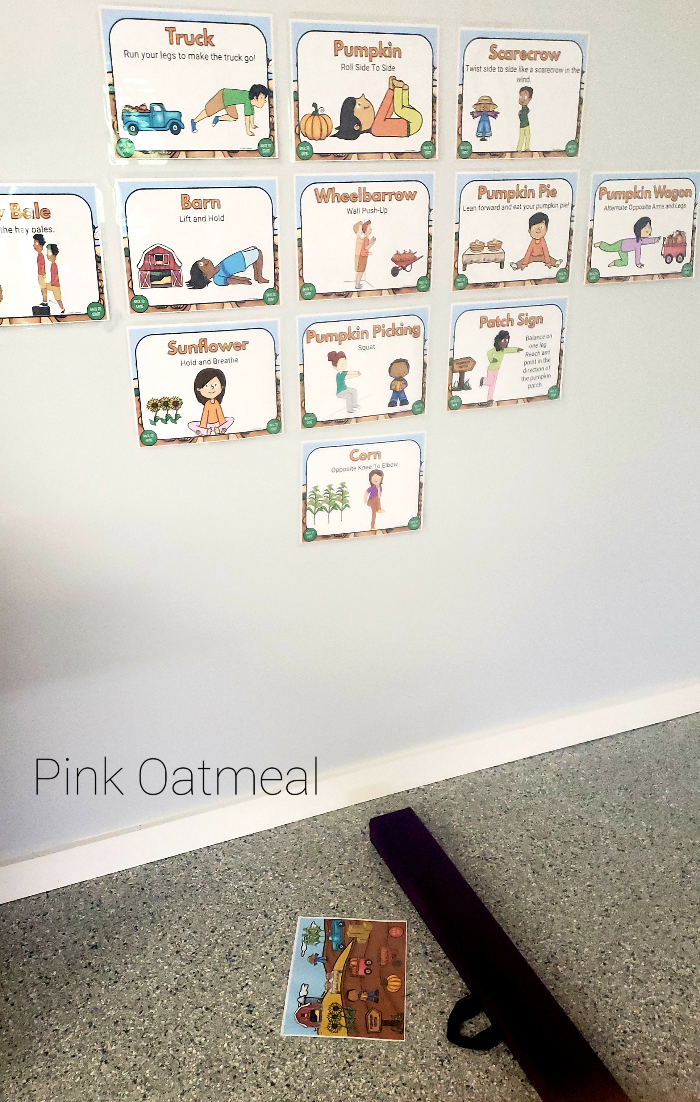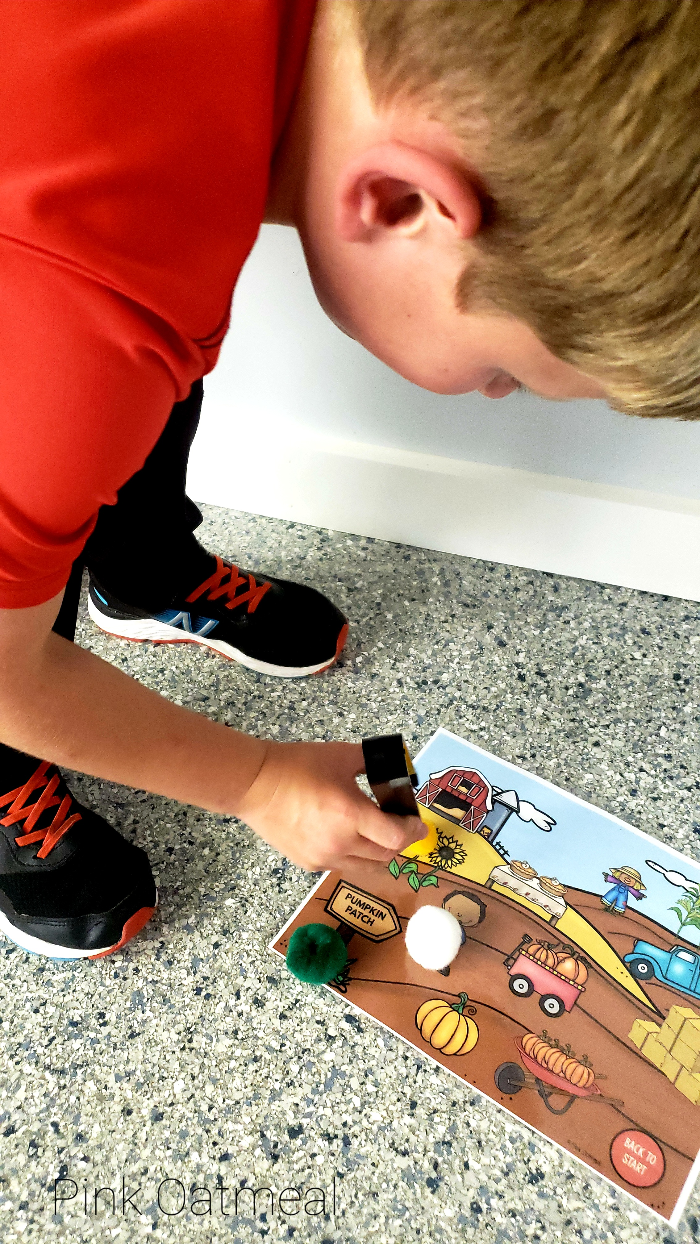 Pumpkin Relay
This fun relay game can be played by carrying a "pumpkin" between your legs, holding it, or just plain racing to get the pumpkin cards. Spell out the word pumpkin and your team wins. Read about how to play the Pumpkin Relay Game in full.
GET THIS IN THE Halloween Movement Games Pack.

Pumpkin Life Cycle
How about combining a little science and movement? The Pumpkin Life Cycle game gives you just that. This game is available to be played in digital format on your computer, tablet or interactive whiteboard. You also have the option to print and play. This is a fun and engaging way to combine learning and movement.
GET THE PUMPKIN LIFE CYCLE GAME
Here is a fabulous and fun example of how you can use these in a printable manner. You wouldn't even need a bulletin board, you could tape theme right to a wall.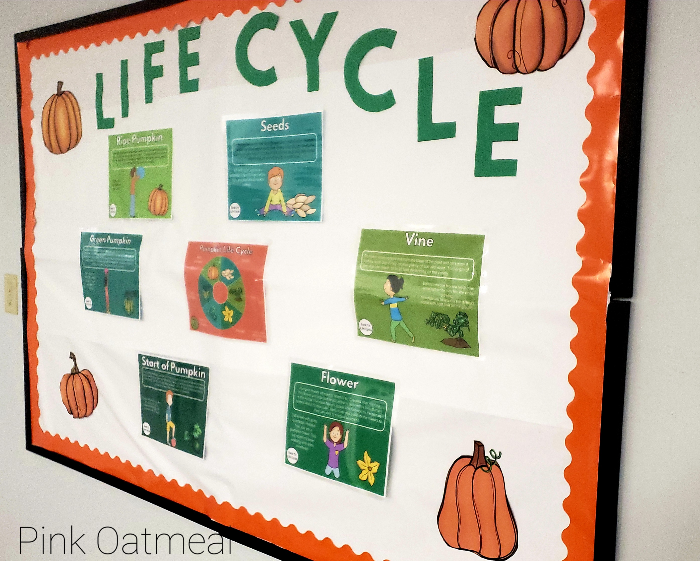 Pumpkin Themed Play Dough
I'm giving pumpkin play dough a trial this year and using these task cards for ideas on how to use the pumpkin play dough. This activity can be found in the Pumpkin Fine Motor Pack.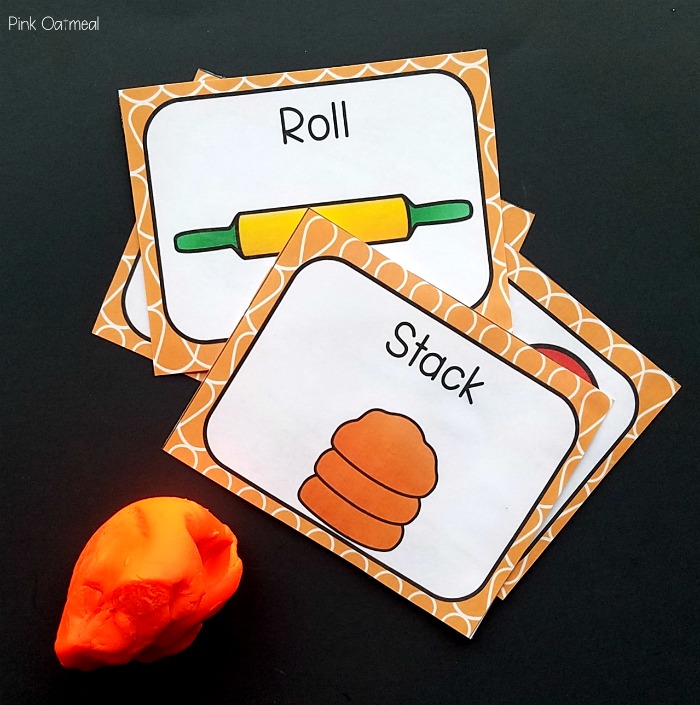 Pumpkin Bilateral Coordination
How about working on some bilateral coordination with a pumpkin theme? This can easily be done with the Pumpkin Counting Bilateral Coordination Game. Not only do you get to work on bilateral coordination, but you will be able to work on one to one correspondence with this game as well. This can be played on a tablet, computer, interactive whiteboard or screencast the game onto a television!
GET THE PUMPKIN COUNTING BILATERAL COORDINATION GAME
Pumpkin Themed Cutting
My boys are really into cutting and gluing activities right now. The pumpkin themed cutting allows for the best of both worlds. This activtiy can be found in the Pumpkin Fine Motor Pack.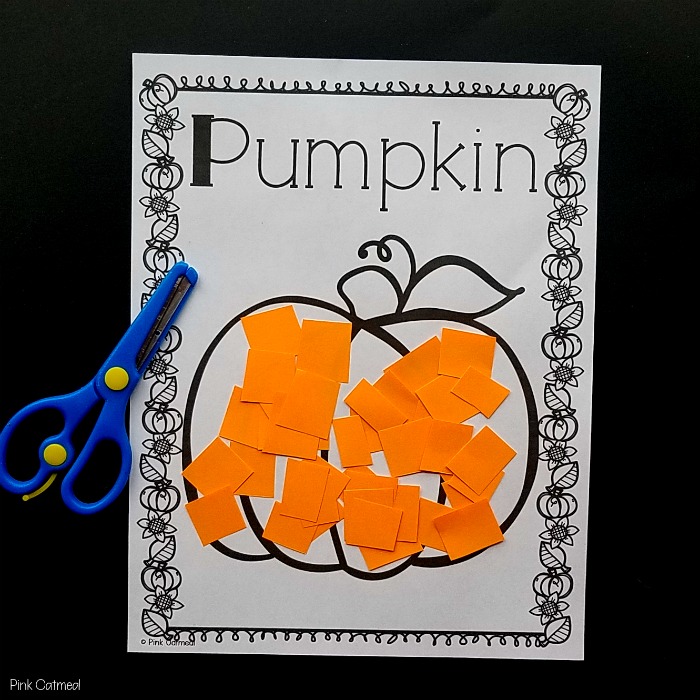 Pumpkin Pencil Control
My five year old has been into pencil control activities. For the pumpkin theme we went with pencil control strips and pumpkin mazes.
GET THESE IN THE Pumpkin Fine Motor Pack.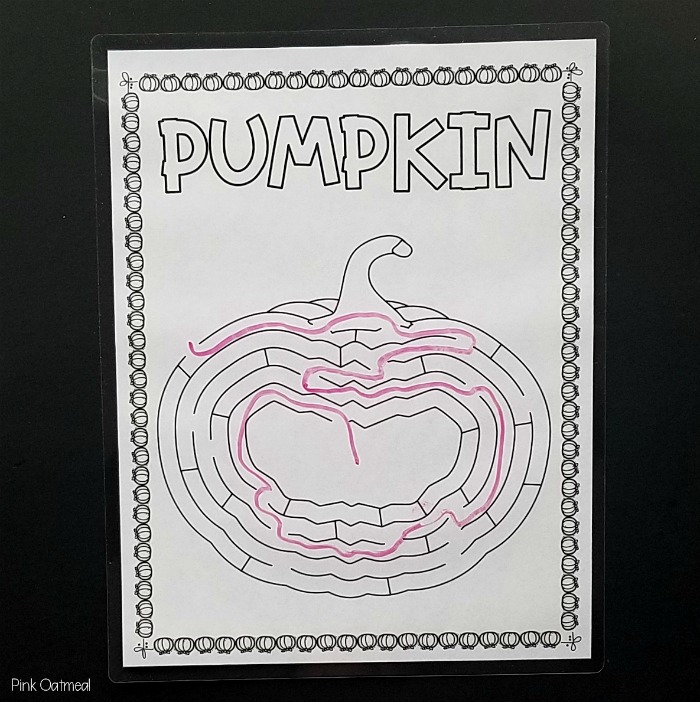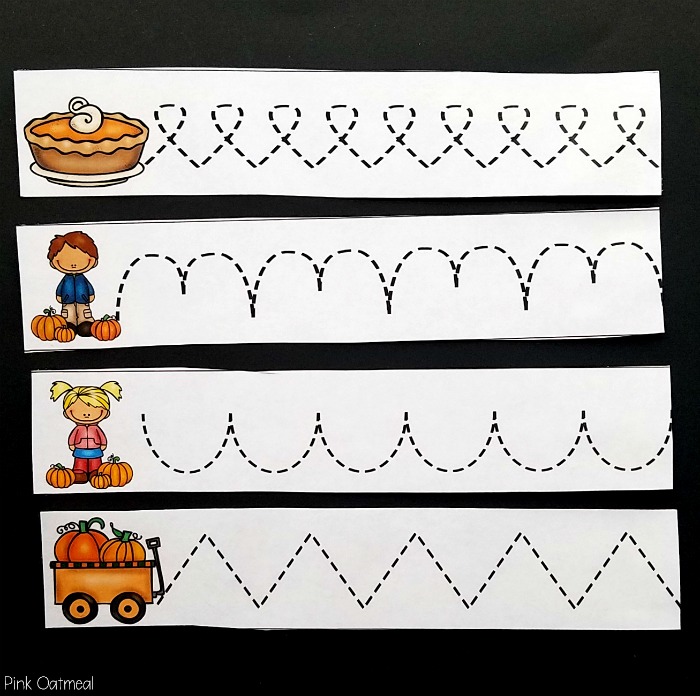 Activities such as these don't always have to be done on the tabletop either. You can use the vertical surface or work in prone!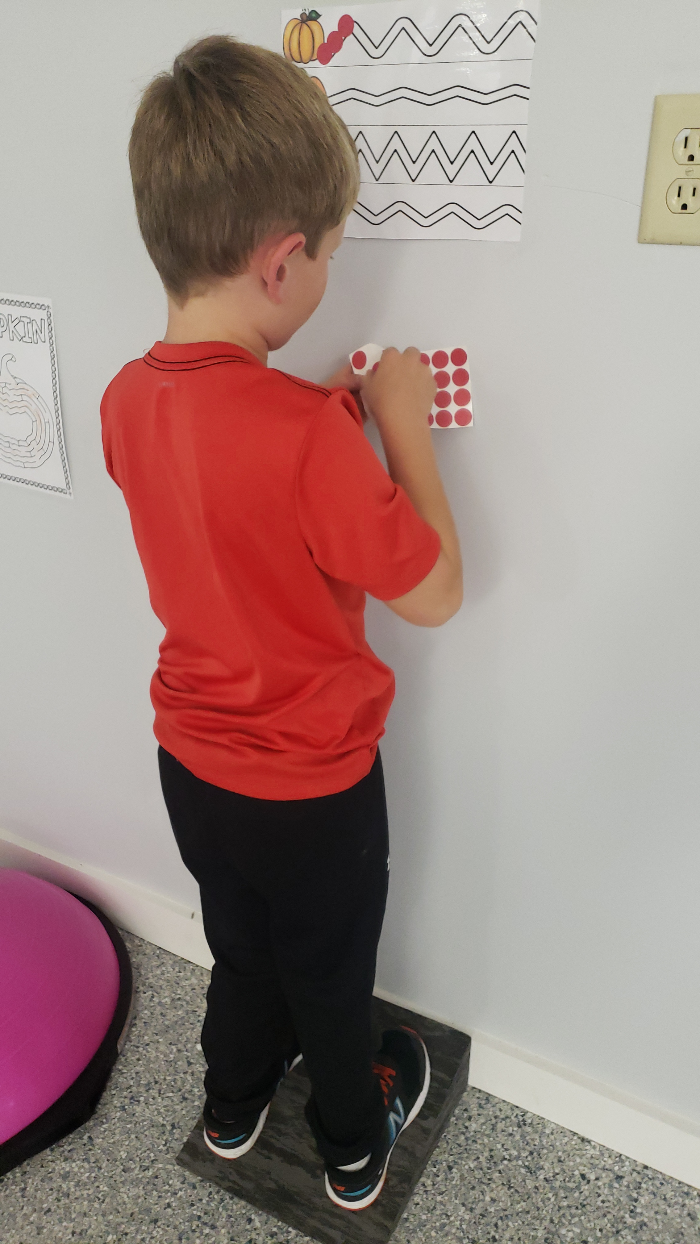 You can also add challenges to the vertical surface such as BOSU ball or wedge as pictured above. You could even try half kneel or tall kneel or use stickers instead of pencils/dry erase markers.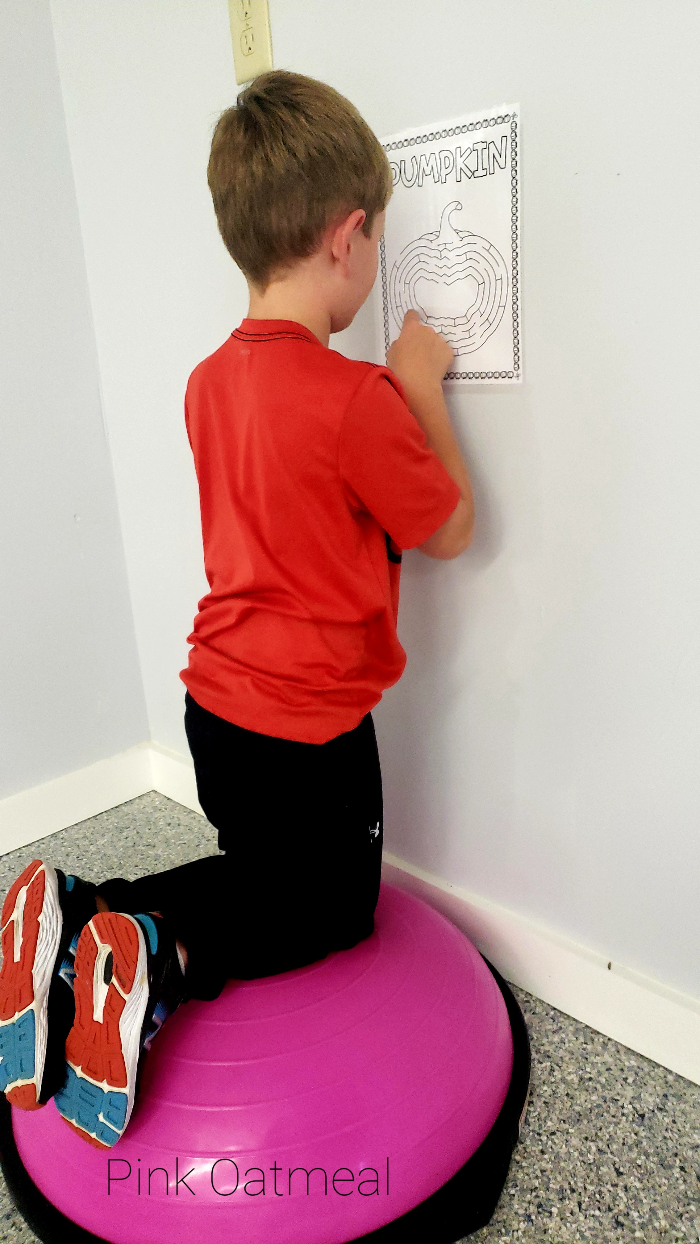 Pumpkin Hop
Music and moving go hand in hand with the pumpkin hop. Read about the full pumpkin hop game.
GET THIS IN THE Fall Themed Movement Games.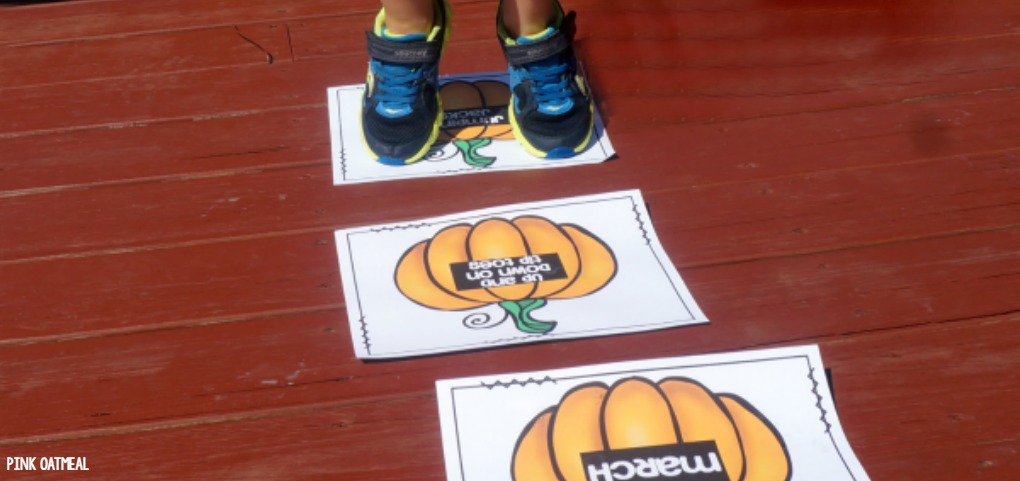 This game can really go beyond the pumpkin hop when it comes to utilizing the printables. Here are a few more of my favorite ways to utilize the pumpkin hop printables.
Place the pumpkins up on the wall.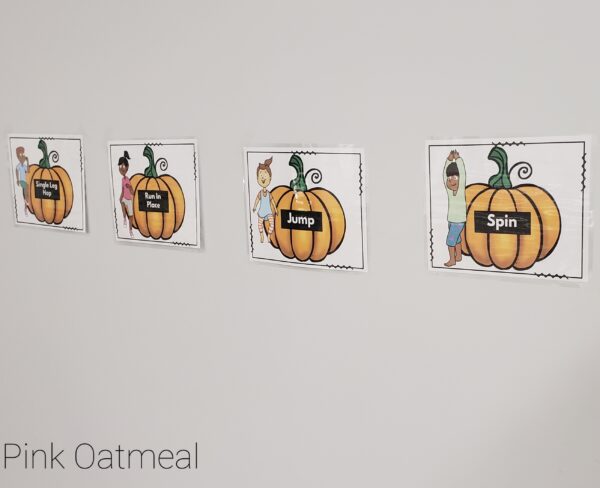 From here you can work on tasks such as tossing a bean bag/beanie baby or even a ball at the pumpkins. Perform the exercise of the pumpkin you hit.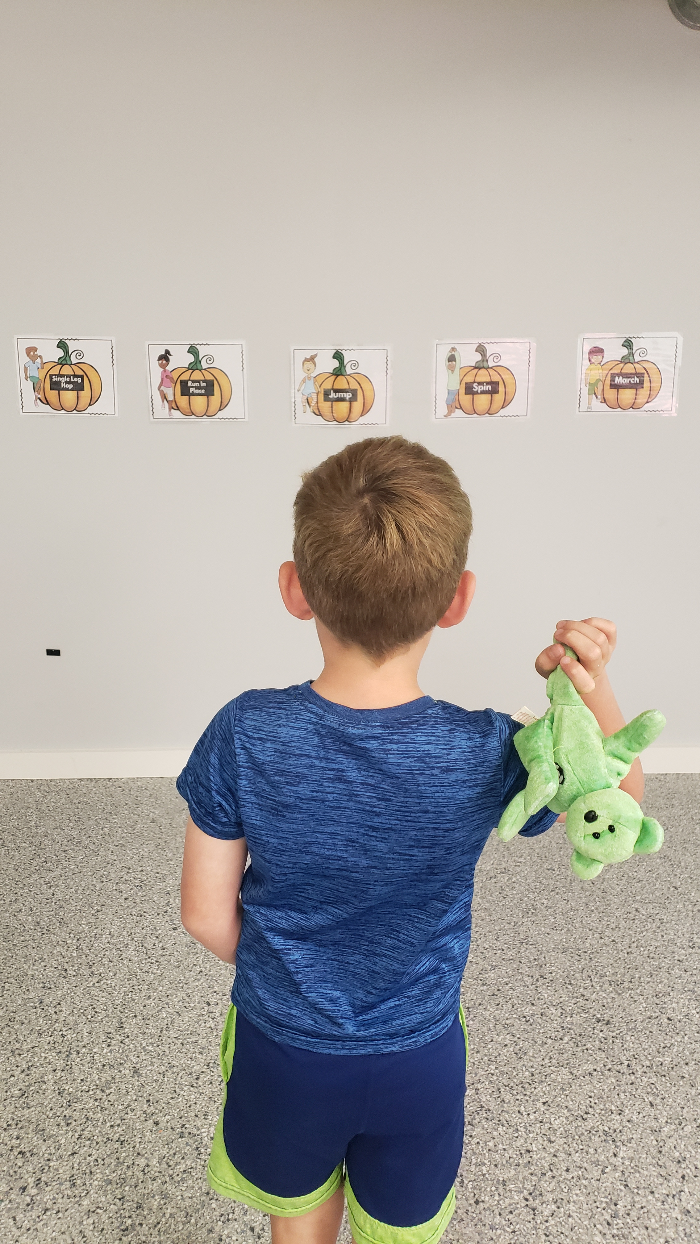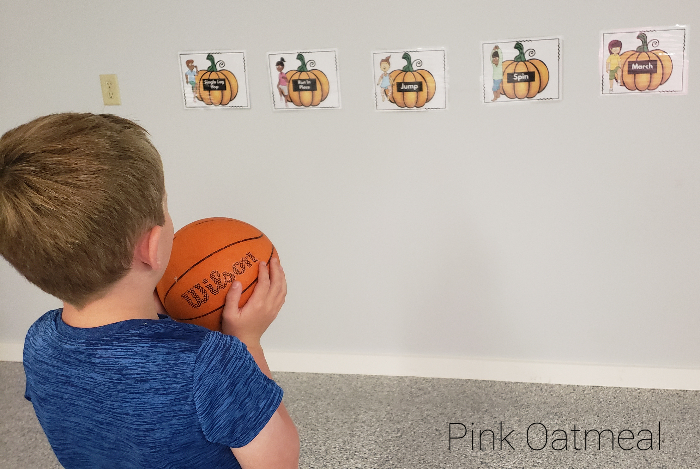 Or place the printables on the floor and use the same toss idea!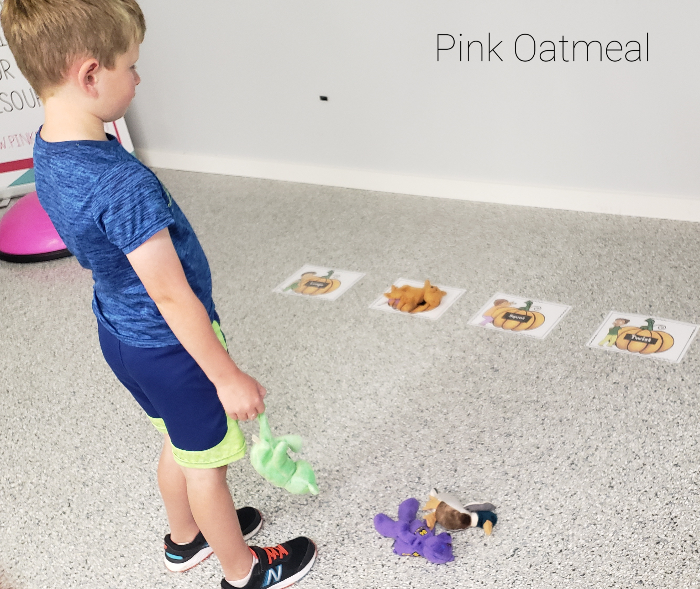 Pumpkin Punching or Clipping
Pumpkin themed fine motor skills and letter recognition can be combined in this pumpkin themed fine motor activity. Use clips or punch holes ot match the letters. This activity can be found in the Pumpkin Fine Motor Pack.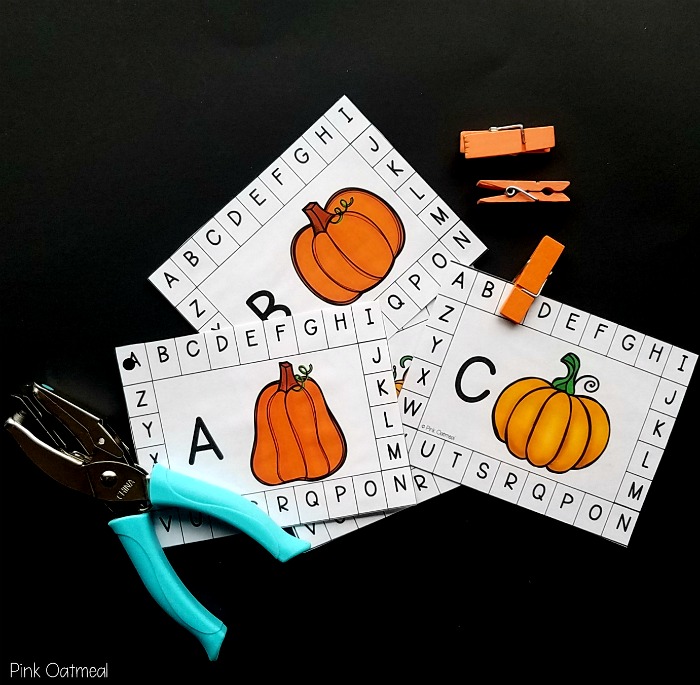 Pumpkin Ball on Wall Exercises
Use a ball "aka pumpkin" and roll it on the wall in all directions. This great work for the upper extremity!
Pumpkin Poms
Another fun fine motor practice activity involves transferring poms while working on one to one counting! This activtiy can be found in the Pumpkin Fine Motor Pack.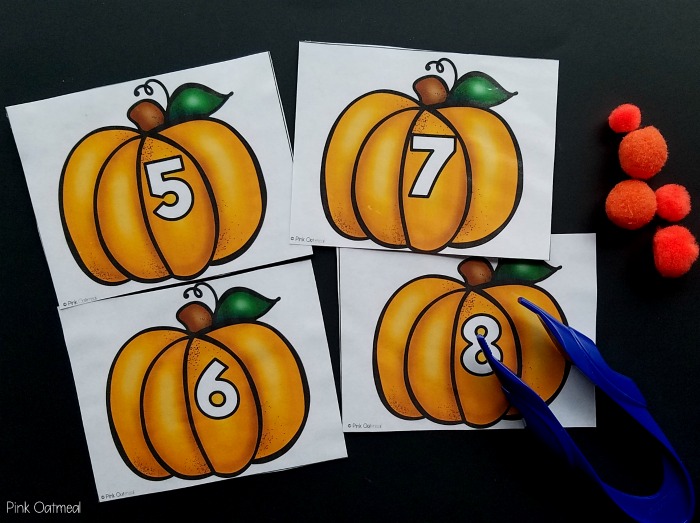 Pumpkin Pre-Writing
My five year old has been working on pre-writing strokes. This pumpkin themed activity focuses on pre-writing strokes which need to be developed before kids actually start writing letters. I love pre-writing strips because they can be used over and over again and wiped off with a paper towel.
GET THESE IN THE Pumpkin Fine Motor Pack.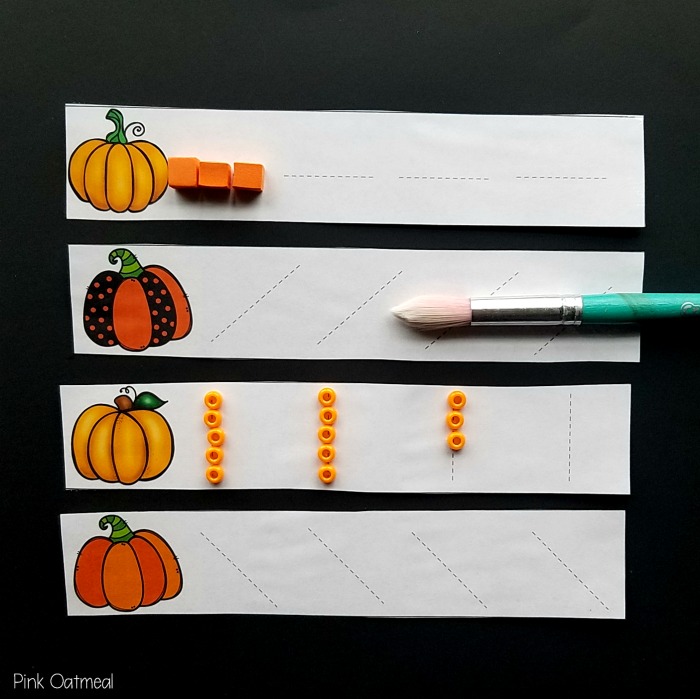 Pumpkin Themed Resources From Pink Oatmeal