As a mom with a background in pediatric physical therapy I've found a simple ball is one of the most flexible pieces I can have on hand in both therapy and play. There are so many different ball activities for kids that you can come up with for a variety of skill levels and goals. Today I'm sharing with you some of my favorite ways to use a ball when working with kids to work on different motor skills!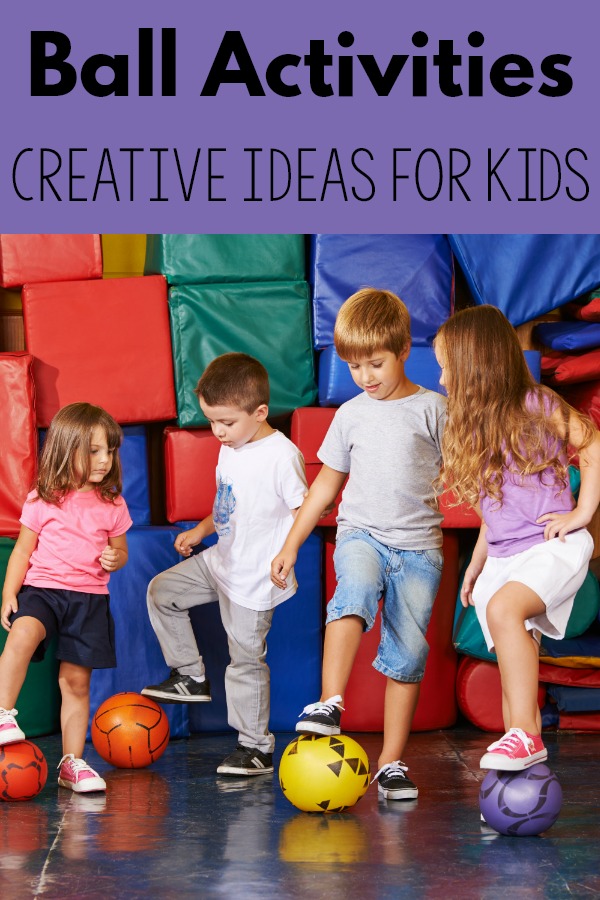 Ball Activities For Kids
In order to work on these different activities you simply need a ball or maybe two. I also like to add a stability ball or balance board in to change up the activities a bit. Many of the activities can be done with one child, but I will also share some pretty fun partner activities! Be sure to check out how to incorporate ball games for balance exercises for kids or pediatric core strengthening.
Ball Activities For Kids
All of these ball activities involve a single ball and one child. Most can be done in very small spaces as well!
Ball Foot Pass
Ball on Wall
Great for shoulder stability, proprioception, and upper extremity strength.
Ball Roll Kneeling to Standing
This is a great workout! Great for endurance, core, upper and lower extremity strength!
Ball Balance
Work on balance skills by adding a ball under one foot! Vary the size of the ball to vary the challenge. Check out the balance with a ball post!
Balance Board and Ball
A simple game of catch using a ball with a balance board (affiliate link – it is the board in the videos) can increase the challenge. Throw the ball outside the base of support to increase the challenge even more!
Tandem standing on the balance board can make it even more challenging!
Really up the challenge by going single foot on the balance board.
With A Stability Ball
The ball activities in this section are all done with a stability peanut ball (affiliate link – this is the one in the videos). I've been using this peanut ball with preschool and early elementary aged kiddos!
Ball With Trunk Rotation
Ball On Wall Rolls
Ball Chops
Ball Activities With Cones
Have any extra cones (affiliate link) around a gym, classroom, or home? Sometimes you can even find these at a dollar store. Here are a few fun ways to incorporate ball activities for kids using cones.
Ball To Cone Touch
Change the distance the child is away from the cones, the spacing between the cones, or the height of the cones to vary the challenge.
Push the Ball Around Cones
This activity can be done with balls of all sizes. If using a soccer sized ball use your feet instead of pushing with your arms!
Partner Ball Activities
So many activities are made more fun when done with a friend. Check out these partner ball activities to try today!
Ball Twist
Pass the ball to your partner by twisting side to side. Vary the size of the ball being used.
Over/Under Ball Pass
Add some vestibular by passing a ball between the legs and overhead in this fun partner activity!
Foot Pass
Work on core strength by passing a ball back and forth with your partner using only your feet!
More Ball Activities
Want even more ways to exercise with a ball!?!? Pink Oatmeal has 35 different Ball Exercise Gross Motor Task Cards for you to get started using today. Easy to use and easy to transport. Use these task cards anywhere!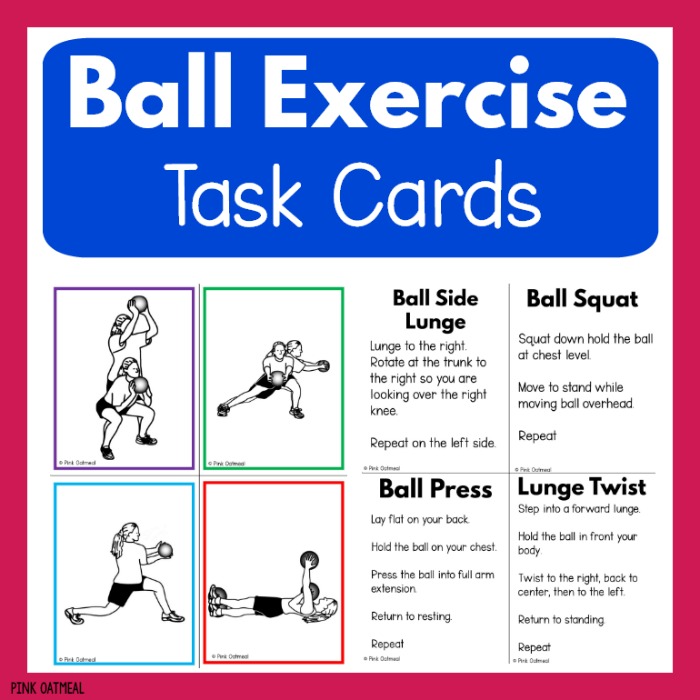 Ball Skills Resources
Are you looking for a ball skills resource? Pink Oatmeal has that available for you too!
Get in on these amazing, visually appealing ball skills breakdowns that are available in printable and digital format!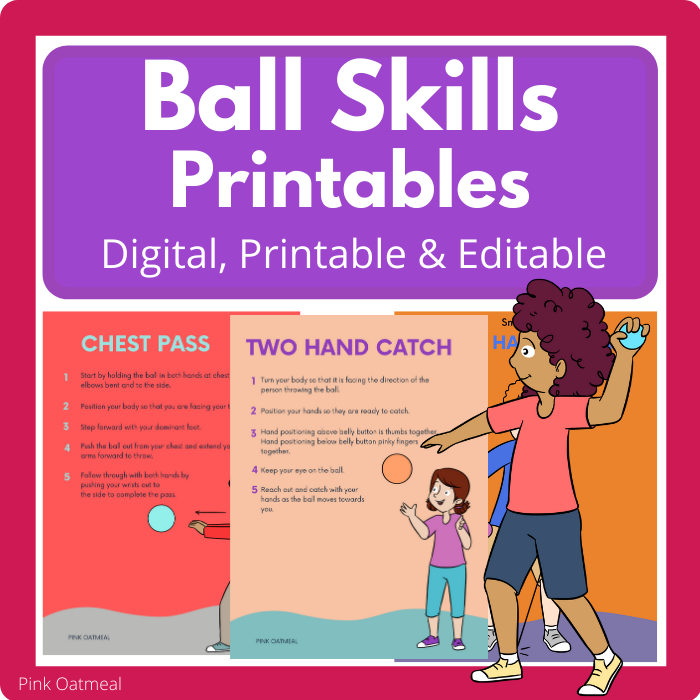 Digital Ball Skills Activity
Go digital and work on ball skills with this graphing ball skills game. It can be played in a digital manner, but can also be printed and played that way. It is a fun way to work on the repetition required to master ball skills in a game format!