So I have been rather lazy.  I enjoy sitting on the couch and eating chocolate but who doesn't???  Now that spring is coming around (hopefully) I need to get myself back into shape.  That means dropping my last couple lingering pounds and doing a little toning. I'm not aiming to have a "killer" body by any means. My warmer weather clothes aren't quite as forgiving as my winter clothes have been and I just want to feel comfortable in them.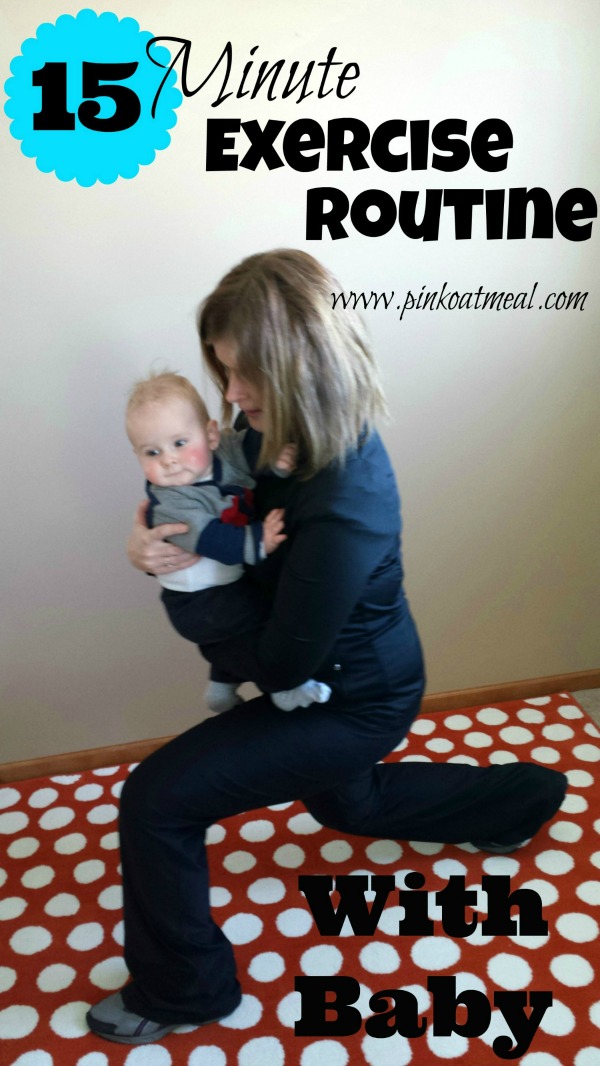 Since I know that I won't drag myself and baby out to the gym I needed to come up with a little routine that I could do at home.  I decided on incorporating my baby into this routine.  He is basically utilized in place of any weights!  I also knew that I needed to make it quick in order for me to stay compliant and in order for him to stay happy.  I brought back out my former orthopedic physical therapist self and devised a home exercise program that I could complete in 15 minutes with baby.
All exercises should be done in a pain free manner.  It's never good to have pain when you exercise.  Feeling like your muscles are working is awesome but not any true pain.  This post is not intended as any medical advice and all exercises should be performed at your own risk and under management of your own physician. 
Squats – x20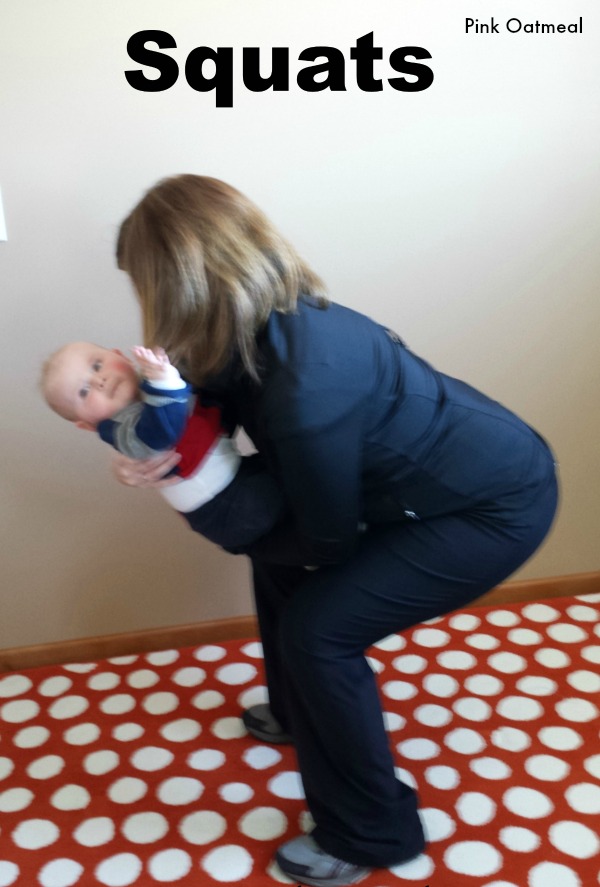 Be sure not to let your knees cross over your toes.  Keep your weight on your heels. Keep your bottom going backwards.  Think of sitting in a chair that is behind you.  Holding baby close is how I do this exercise.  It is too hard for me to hold him out in front.  He thinks this exercise is a blast with the up and down motion.  I tend to get giggles.
Bridges – x20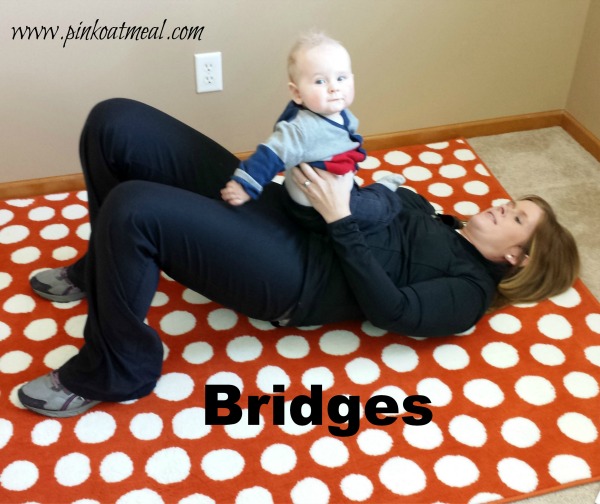 Here I set C on my hips when I go up and down.  Be sure to hold your lower abdominals tight and squeeze your glutes (butt muscles) as you push up into the bridging motion.  This exercise should be felt through your core and glutes.  You should not feel this in your back.
Heel Raises- x30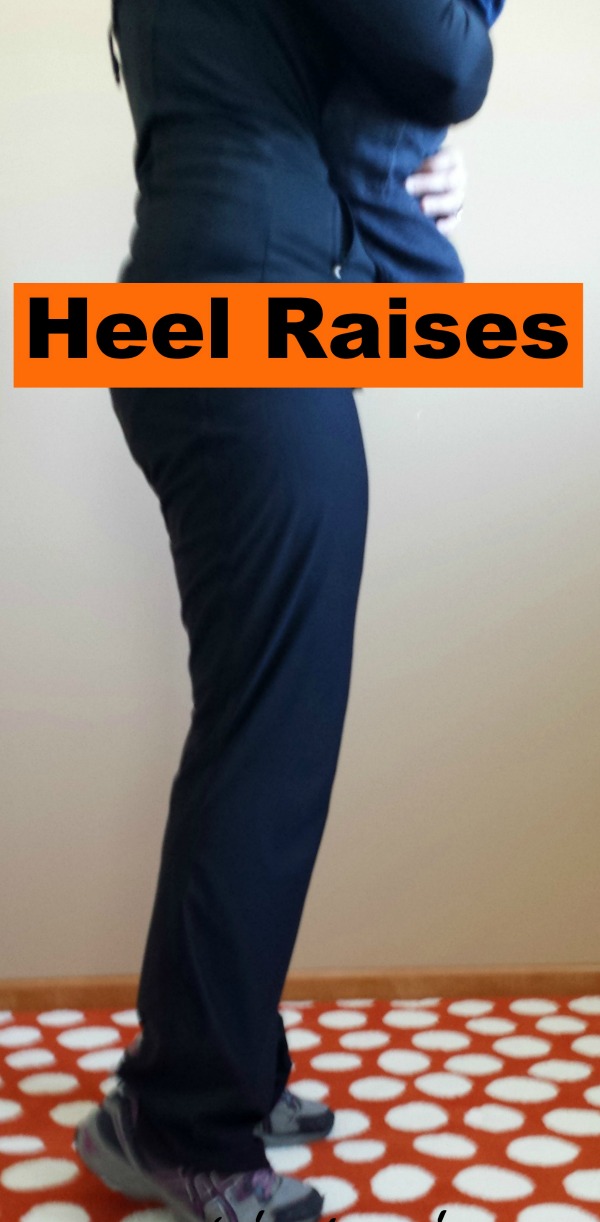 Here I also hold baby nice and close.  All I simply do here is go up on my tip toes and back down.  Both motions are controlled and performed at a controlled pace.  You should feel this exercise in your calfs.
Press-Ups – x20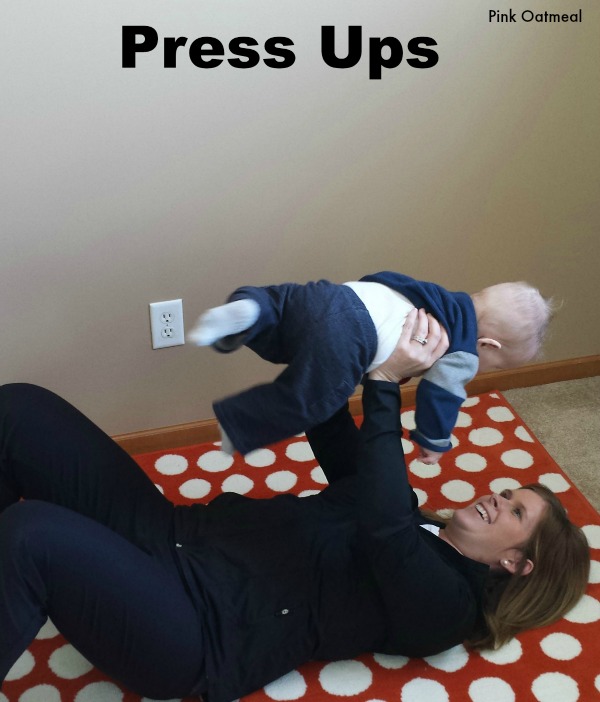 Here I lay flat on my back and utilize C as my weight.  I move him up and down getting a little work out in for my arms.  He thinks this one is great too and laughs as he moves towards me and away from me. If you do this please make sure that your baby is old enough and has enough head and trunk control to be used as your "weight."
Lunges – x20 (Each Leg)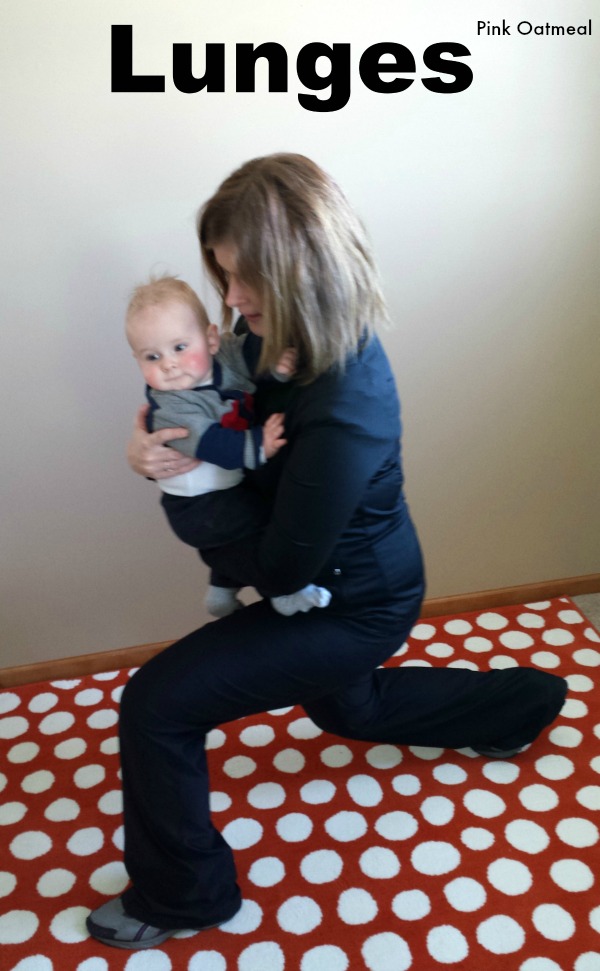 With the lunges I do 20 on each leg.  Like the squats you want to make sure that your knee doesn't move to far forward and cross your toe.  You want to bring your back knee down toward the floor but not quite touching.  Remember to hold your abdominals tight!
Planks- x3 To Fatigue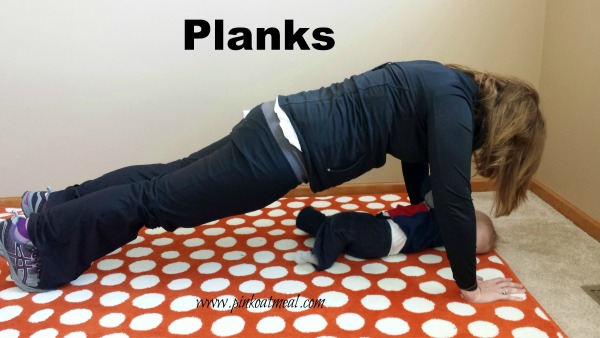 I have to alternate between the  modified version (with knees on the floor) and the regular typical push-up with C under me.  I usually can hold the plank 30 seconds to a minute before fatigue.  I make faces at him to take my mind off of holding the plank!  If you feel like you can't perform these safely with baby under you please do not do them! I like this exercise because it hits core, arms and the shoulder area.  C likes this exercise because it is great interaction with me.  This should not be felt in your low back.  If you feel it in the low back you need to stop and start again!
More About Baby
I'm guessing that since you are reading this there is a strong chance that you have a baby!  Congratulations!  Did you know that it's important that baby gets his/her "exercise" too?  When I say exercise I am referring to tummy time!  Be sure to check out my posts for ideas on tummy time.  It's so important for our little ones!
MORE BABY TIPS
Follow Pink Oatmeal's board Baby Tips on Pinterest.


I WANT TO HEAR FROM YOU
Let's connect!  Pink Oatmeal is on Facebook, Pinterest, Twitter, and Instagram!
YOU MAY BE INTERESTED IN
My store at Pink Oatmeal is full of ideas to get the kids moving at home, in the classroom, and in therapy!  If you prefer Teachers Pay Teachers you can find me there too!