Having a new baby at home has put me back in tummy time mode.  I've been doing some tummy time using our exercise ball as of late.  I'm not using it, so I guess it's a good thing that it's getting some kind of use!  I personally start with tummy time with baby on the chest and have now progressed to the exercise ball.  I'm not one to just plop baby on the floor.  I've found that it just seems to upset my babies.  The exercise ball is an awesome tool for tummy time and you may find that it works for your baby that never liked tummy time before!  I like to call it my tummy time secret weapon!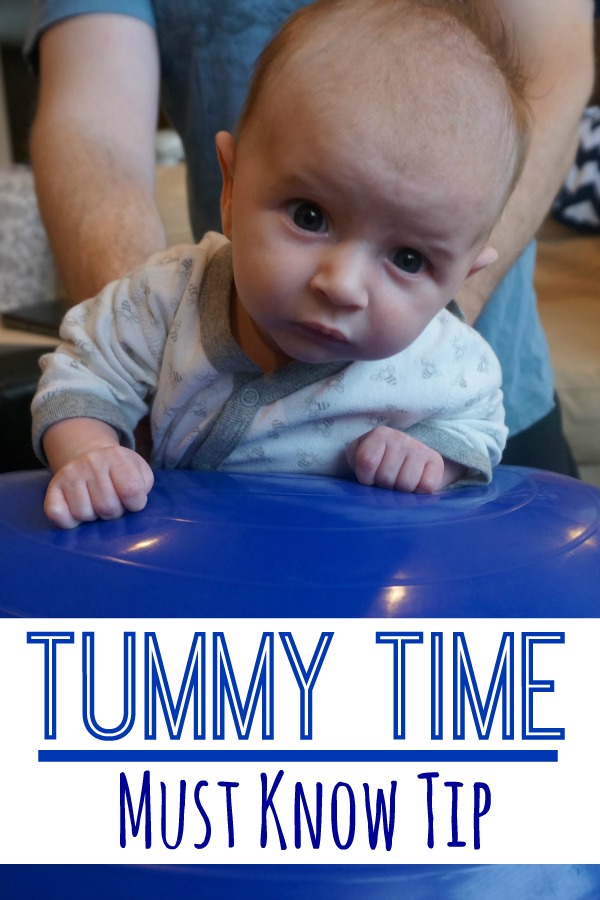 Tummy Time On A Ball
Remember tummy time should be an activity that is always supervised and always performed when baby is awake.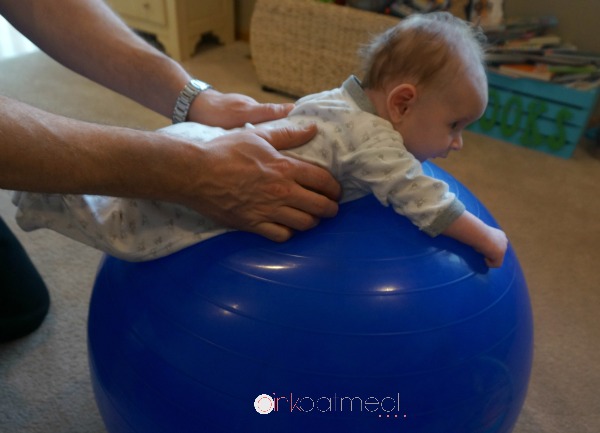 I start by putting baby chest down on the ball holding them securely through the trunk and hip area.  I love that the exercise ball allows for the ability to adjust the angle.  Meaning that I can place a baby so that their shoulders are higher than their hips by rocking them back a bit on the ball.  This makes lifting the head just a bit easier.  My ultimate goal is to get him parallel to the ground.
It's okay if baby can't lift their head well yet either.  I make sure when doing tummy time that baby has their head resting on both sides not just one side to prevent any asymmetries (just like you would during any tummy time).  I started my baby before he could lift his head off the ball!
Once I find a good angle that baby is tolerating well I can gently rock the baby back and forth.  I don't go crazy rocking.  I want it to be a gentle calming experience.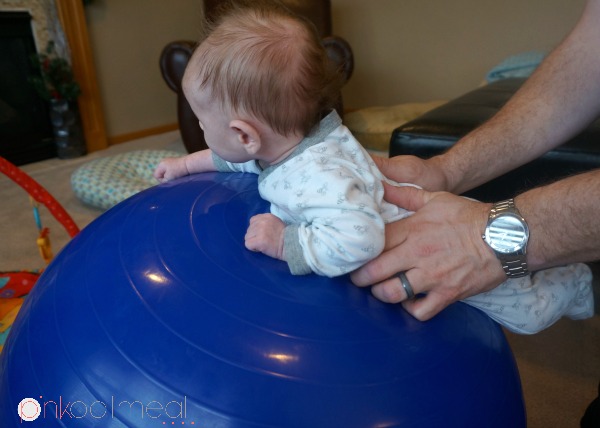 I also will position myself in front of baby and talk to baby.  The elevation of the exercise ball makes this much easier.
The exercise ball gets baby in a good position to see themselves in the mirror as well.
I don't have a time constraint.  I do as much tummy time as baby tolerates.  You may find that as baby does more and more tummy time they will tolerate longer times.
More Tummy Time Ideas
Your Tummy Time Resource
Get all things tummy time in one handy guide!