It's that time of the year when your mind shifts towards the school year.  Some of you may already be back to school.  In Minnesota we don't "start" the school year until the end of August and most kids don't get started until September!  By mid-August (if not before) prepping is always on most peoples minds.  Here are some favorite resources (free and paid) from Pink Oatmeal to start of the school year from a therapist stand point!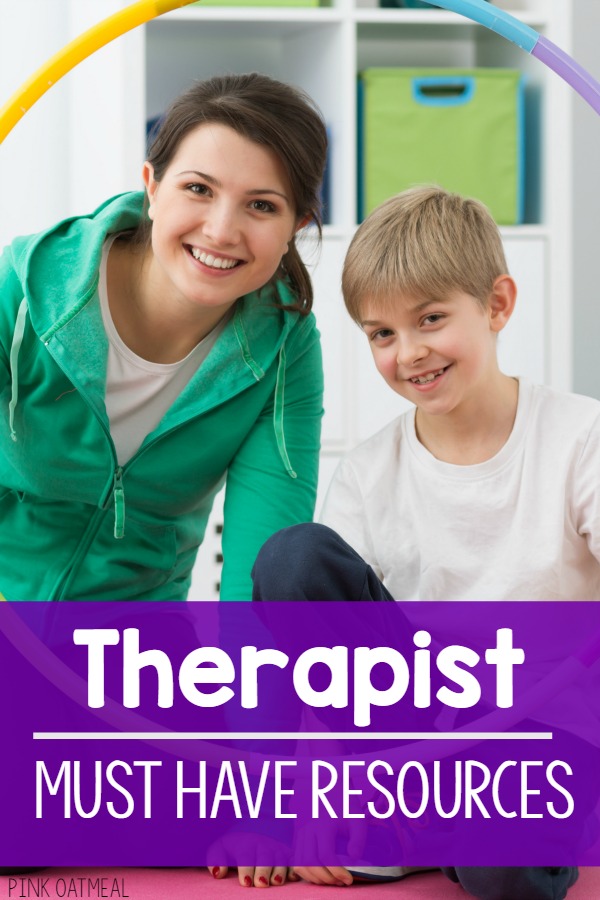 New For 2017 – Superhero Therapist Room Resources
Do you always admire the cute themes that teachers have going on in their rooms?  While now you can too!  Pink Oatmeal is releasing Superhero Themed Therapy Room Resources.  These resources are available for Speech, Occupational and Physical Therapists.   Get them in the shop or at TpT.  Search Therapy Room Resources!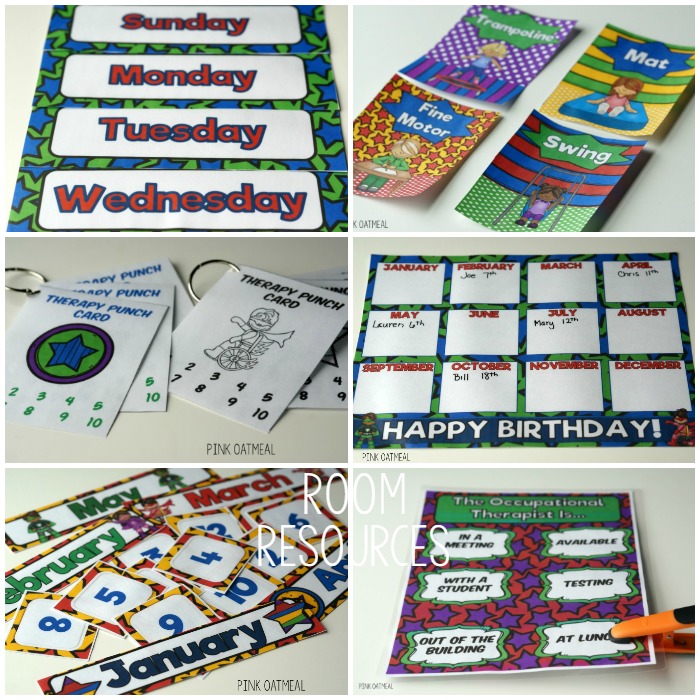 Therapist Back To School Resources
Therapy Punch Cards – A great motivation tool for the kiddos.  Who doesn't love getting a punch or crossing off a number after a successful session?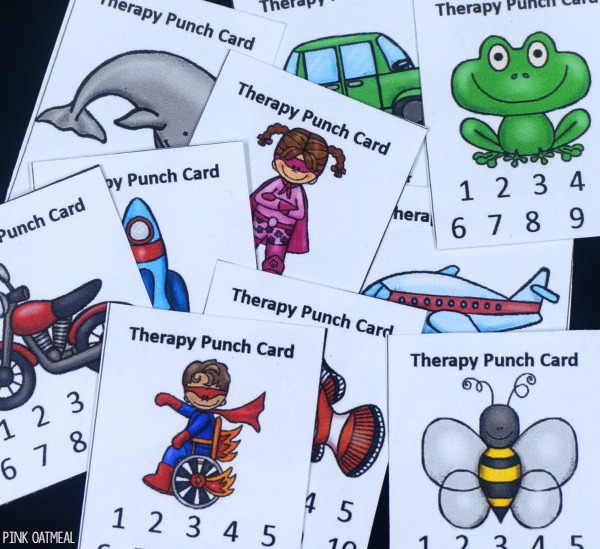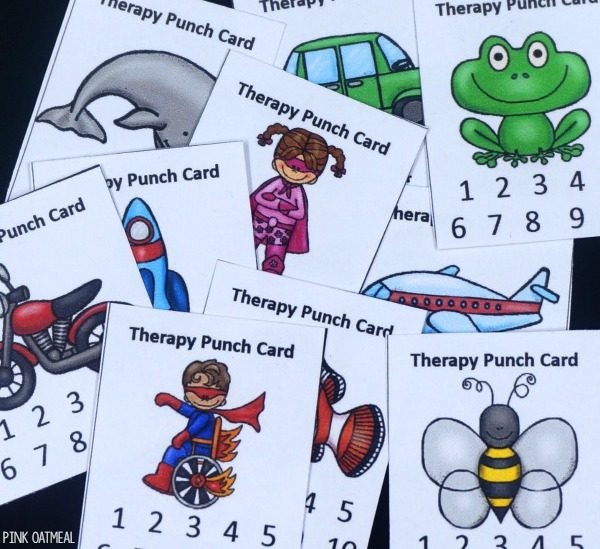 Therapy Awards – Awards are great motivation or recognition for a job well done.  These awards are customized to PT awards and OT awards.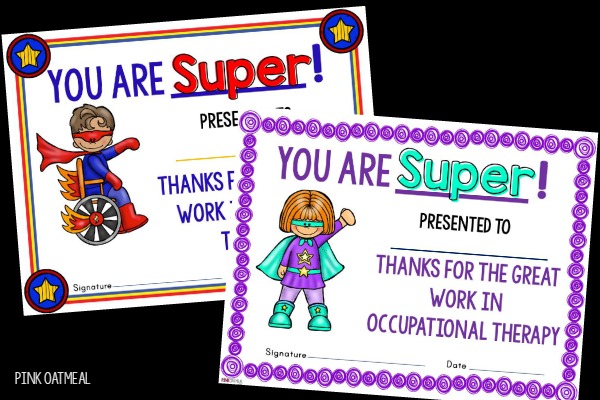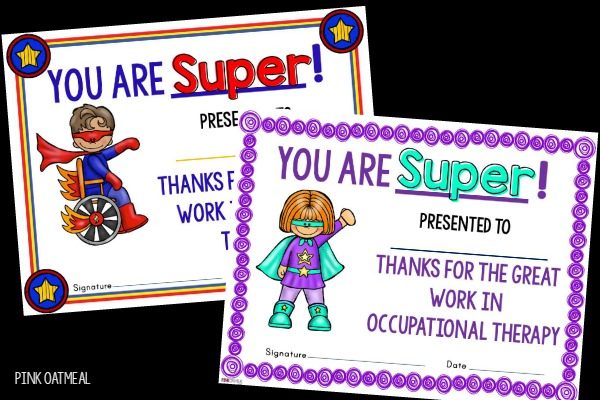 Yoga Cards – Clip Art – These yoga cards consist of clip art pictures related to the pose.  An example would be a picture of a star for the star pose.  Great for the little ones that relate well to the fun pictures!

Yoga Cards – Real Kids – Yoga is so much fun and has so many benefits.  This set of yoga cards has real kids in the yoga poses.

Superhero Brain Break Cards – Super fun ways to move with a superhero theme!  Perfect for your superheros!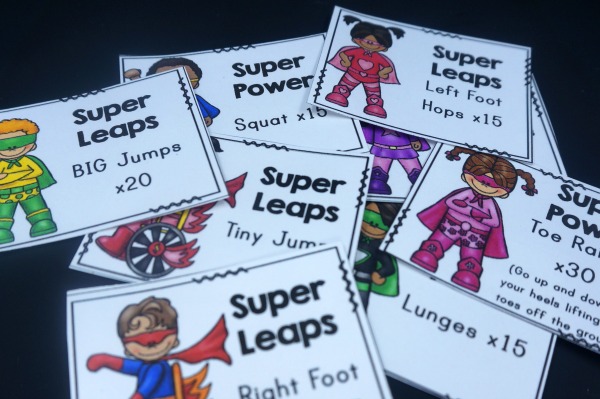 Motor Milestones –  A quick and easy reference for some of the basic motor milestones from birth through age 5!
Motor and Sensory Break Cards – The printables are perfect for a therapy room and the cards are perfect to use with students and for transitions!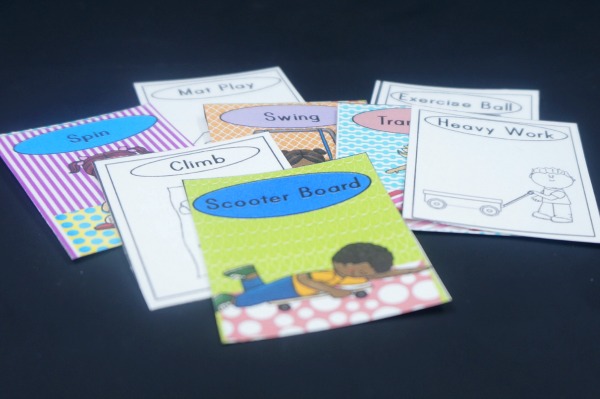 Movement Stations – Take a look at how movement stations can be used.  Great for group sessions or to set up in a therapy room!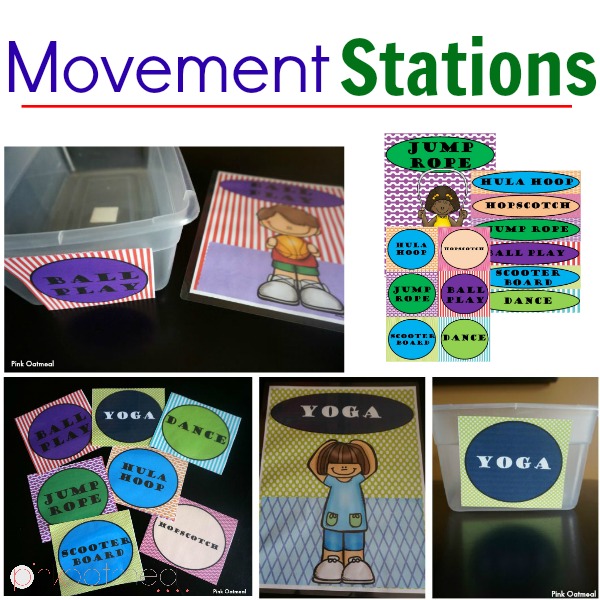 Freebies
Be sure to grab your free communication form in my Back To School Planning post along with your free scavenger hunt in the Movement and Learning post! Along with these freebies, movement charts are a fun way to motivate kids to move and free for you.  If you are the decorating type be sure to grab your therapy printables!  Movement dice are also a fun addition to any therapy session!
YOU MAY BE INTERESTED IN
My store at Pink Oatmeal has ideas to get the kids moving at home, in the classroom, and in therapy!  If you prefer Teachers Pay Teachers you can find me there too with even more ideas to get the kids moving!
I WANT TO HEAR FROM YOU
Let's connect!  Pink Oatmeal is on Facebook, Pinterest, Twitter, and Instagram!